Cajun Shrimp and Quinoa Casserole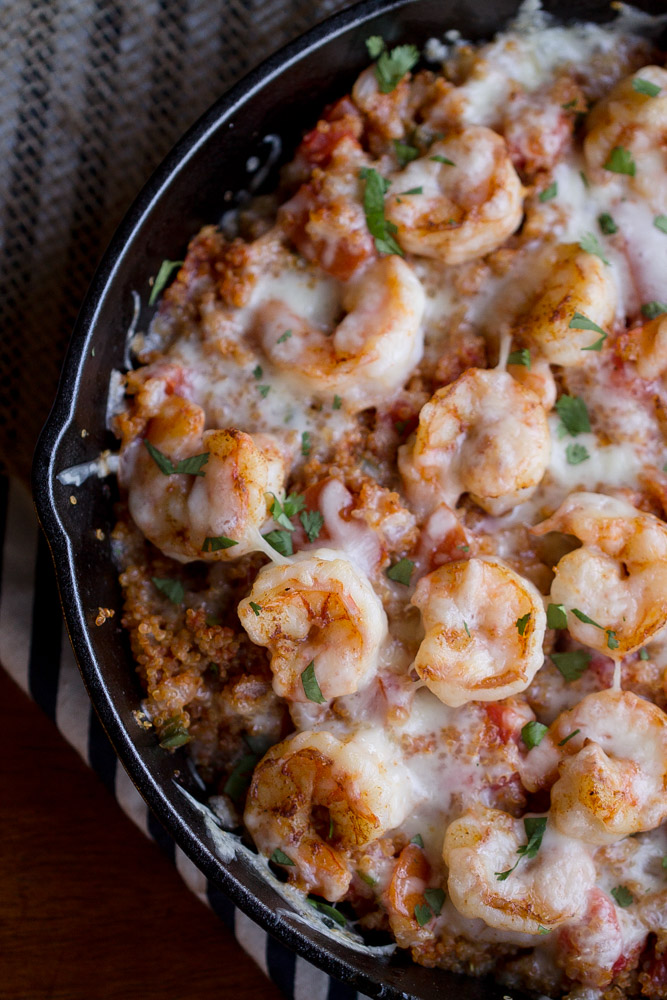 Shrimpy shrimp shrimp shrimp casserole. Made in a cast iron skillet. Cause cast iron skillets just do it better. From stove-top to oven in a cinch. All of those tasty flavors stay in one place until they meet your plate, ready to be devoured.
This was the first recipe I made after we got home from vacation. Our now want to ditch Florida and move to North Carolina vacation. It's beautiful up there. And I got to see snow! Did I mention snow? It only took 32 1/2 years for me to finally see snow. Funny story – I had to ask Ken if what I was seeing was actually snow. It was in the 50s when I first stumbled upon it. I thought snow would be melted in those temps so I figured someone had dumped a bunch of icy, frozen water into a flower bed. Lucky for me, it was snow. And I saw a lot more of it. I even got to walk in it. E-X-C-I-T-E-D. That was me.
Unfortunately, I was sick during the entire vacation. It didn't stop me from enjoying myself, though. And we sorta acted like we lived there – we just lounged around the hotel room and watched TV. But that's not all we did. We did do some exploring, went to a state park, visited downtown, drove around some neighborhoods. We got a little feel of the North Carolina life. Enough to know that it's definitely a place we'd like to possibly move to one day.

Cajun Shrimp and Quinoa Casserole
So don't ya know, this Cajun Shrimp Quinoa Casserole was GOOD! Definitely a great recipe to make after coming home from a vacation that's meals consisted of pizza and restaurant food. This recipe is packed full of protein rich ingredients and fresh veggies and it's clean! And get this, it's on the table and ready to devour in 30 minutes. It's also under 450 calories per serving!
This casserole is easy to make. Chop your tomatoes, sprinkle with cajun seasoning and drizzle with a little olive oil and then set aside. Sprinkle your shrimp with cajun seasoning and then saute in a cast iron skillet until opaque. Remove the shrimp from the pan and then saute some onions and jalapenos. I love the heat but you can leave the jalapenos out if you prefer a milder dish. After the veggies are done cooking, mix in the cooked quinoa, tomatoes, some tomato paste and a few other goodies, top with the shrimp and shredded fontina cheese. Place the casserole in the oven and bake for 15 minutes. It's that simple!
Enjoy the recipe!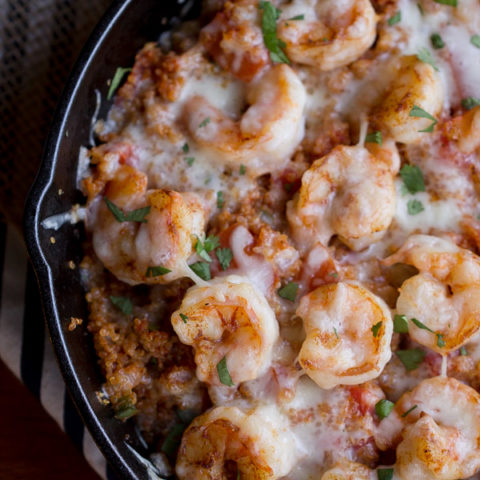 Cajun Shrimp and Quinoa Casserole
Yield: 4 servings
Prep Time: 15 minutes
Cook Time: 15 minutes
Total Time: 30 minutes
Ingredients
3/4 lb large shrimp, peeled and deveined
4 medium tomatoes, cut into chunks
1 jalapeno, seeded and chopped
1/2 C chopped sweet onion
2 cloves of garlic, minced
1 tbsp tomato paste
3 tbsp olive oil
2 1/2 tsp cajun seasoning
Salt and pepper to taste
2 1/2 C cooked quinoa
1 C shredded fontina cheese
Fresh cilantro for garnish
Instructions
Toss the shrimp and 1 tsp Cajun seasoning together, set aside.
Toss the tomatoes with 1 tbsp olive oil and 1 tsp Cajun seasoning, set aside.
Heat 1 tbsp olive oil over medium heat in a cast iron skillet (or any oven-safe skillet.) Cook the shrimp until opaque, about 2-3 minutes per side. Remove from the pan and set aside.
Add the remaining 1 tbsp of olive oil to the pan along with the onion, jalapeno and garlic. Cook until the onion and jalapeno are tender, stirring often. Mix in the quinoa, tomato paste, 1/2 tsp Cajun seasoning and tomato chunks. Top with the shrimp and then sprinkle with the fontina cheese.
Place in the oven and bake at 350 for 15 minutes. During the last 2 minutes, turn on the broiler to high and broil until the cheese is slightly brown and bubbly.
Garnish with fresh cilantro.
Notes
NUTRITION INFORMATION: Serves: Four 1.5C servings; Calories: 377; Fat: 18g; Carb: 28g; Fiber: 4g; Sugars: 3g; Protein: 31g Nutrition information calculated using My Fitness Pal. http://www.myfitnesspal.com/recipe/view/137473240673661 If you don't like quinoa, you can sub the quinoa with brown rice. For cooking quinoa, I always use my rice cooker. I follow the instructions exactly as I would if I were cooking rice. About 1/2 C - 3/4 C of uncooked quinoa will yield 2 1/2 C cooked quinoa. If you don't have a rice cooker, you can cook the quinoa on the stove-top, according to package directions. UPDATE: If you do not have a cast iron or oven-safe skillet, after mixing in the quinoa, tomato paste, Cajun seasoning and tomato chunks in step 4, transfer the ingredients to a casserole dish and then top with the shrimp and fontina cheese. Then bake according to directions.
Nutrition Information:
Yield: 4
Serving Size: 1
Amount Per Serving:
Calories: 486
Total Fat: 24g
Saturated Fat: 8g
Trans Fat: 0g
Unsaturated Fat: 14g
Cholesterol: 214mg
Sodium: 1815mg
Carbohydrates: 35g
Net Carbohydrates: 0g
Fiber: 6g
Sugar: 6g
Sugar Alcohols: 0g
Protein: 34g