Spicy Shrimp Cucumber Noodle Bowl
Thank you Blue Diamond Almonds for sponsoring this post. 
The inspiration for this recipe comes from the California sushi roll. Typically, the California roll is made with Kani, or imitation crab. I didn't want any of that going on in this cucumber noodle bowl so I turned to shrimp. Which worked out well, considering the grocery store I shop at had wild caught shrimp on sale. WIN!
When I order sushi, sometimes I order a roll that is topped with "crunch" which is usually Japenese panko. I wanted to give my cucumber noodle bowl a little crunch so I turned to the complimentary Sriracha Almonds that I received from Blue Diamond Almonds. Perfect, I thought. I'll chop some of those almonds in my food processor and sprinkle them on top of the cucumber noodle bowl. Blue Diamond Almonds make a variety of almond flavors, one of their newest flavors is the Sriracha flavor. These almonds are perfect for snacking, especially if you're a fan of sriracha and all things spicy like I am.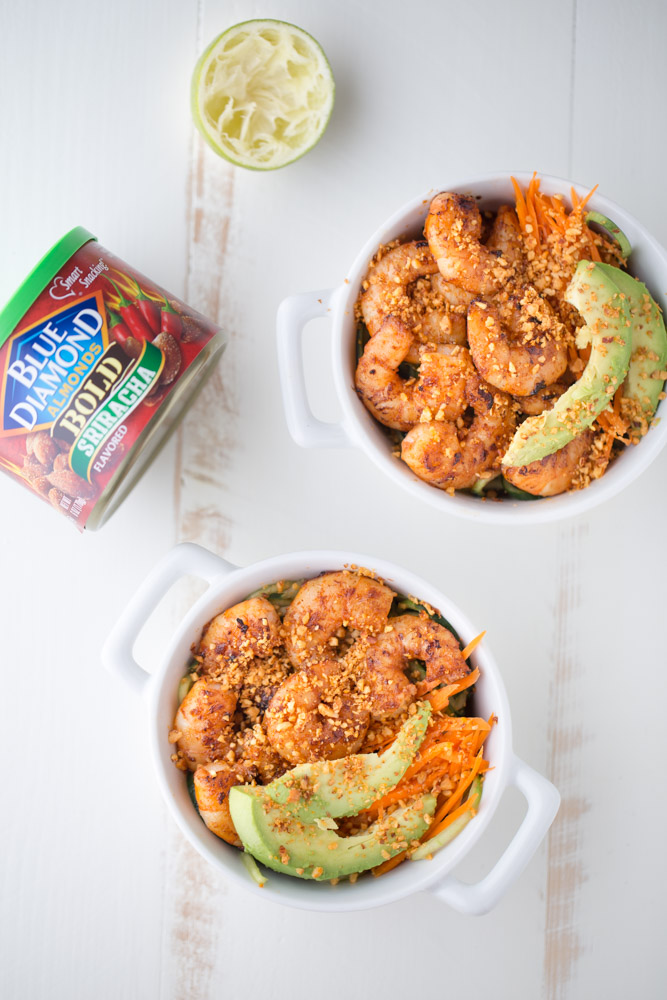 Spicy Shrimp Cucumber Noodle Bowls
The shrimp is tossed in a marinade made using sriracha sauce, olive oil and fresh garlic. The shrimp is cooked on a skillet, 1-2 minutes per side.
To make cucumber noodles, you'll need a spiralizer or a julienne peeler. I use this spiralizer but I've also used this julienne peeler to make noodles. used it to make the shredded carrots used in this recipe. The cucumber noodles are tossed with homemade ponzu sauce. You can used store-bought ponzu but why not make it? It's easy to make.
To assemble the bowls, place the noodles in two bowls and then top with cooked shrimp, shredded carrots, sliced avocado and chopped Sriracha Almonds.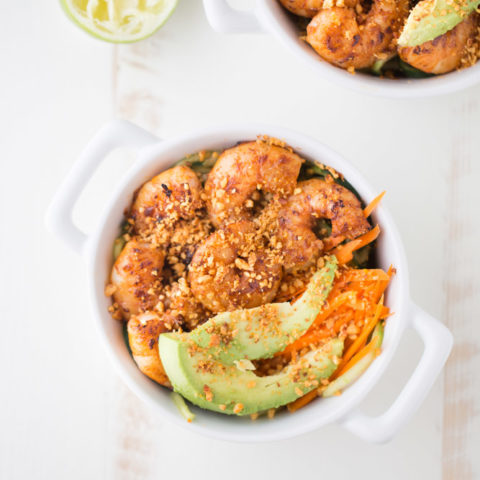 Spicy Shrimp Cucumber Noodle Bowl
Yield: 2 servings

Prep Time: 15 minutes

Cook Time: 5 minutes

Total Time: 20 minutes
Ingredients
1/2 lb large shrimp (about 14 shrimp) peeled. Use wild caught, if you can.
2 tbsp extra virgin olive oil
1 tbsp sriracha sauce
1 clove garlic, minced
2.5 medium cucumbers
pinch of salt
1 small carrot, peeled and julienned into small strips
1/2 ripe avocado, sliced
1 tbsp Blue Diamond Sriracha Almonds
Instructions
In a mixing bowl, whisk together the olive oil, sriracha and minced garlic. Add the shrimp and toss to coat. Set aside.
Sprialize the cucumbers. Break apart the noodles into smaller strands. Place in a mixing bowl and toss with a pinch of salt. Set aside.
Chop the almonds in a food processor.
Heat a skillet over medium high heat. Add the shrimp and cook 1-2 minutes per side. **If using a stainless skillet, spray with cooking spray or coat with a little olive oil before adding the shrimp.
Assemble the bowls. Toss the cucumber noodles with 2 tbsp of ponzu sauce. Divide the noodles between two serving bowls. Divide the shrimp, carrots and avocado between each bowl, placing them on top of the noodles. Sprinkle each bowl with 1/2 tbsp of the chopped almonds.
Notes
Nutrition information is approximate and was sourced via My Fitness Pal
Nutrition Information:

Amount Per Serving: Calories: 371 Total Fat: 23g Saturated Fat: 3g Trans Fat: 0g Unsaturated Fat: 15g Cholesterol: 130mg Sodium: 753mg Carbohydrates: 21g Fiber: 5g Sugar: 11g Protein: 27g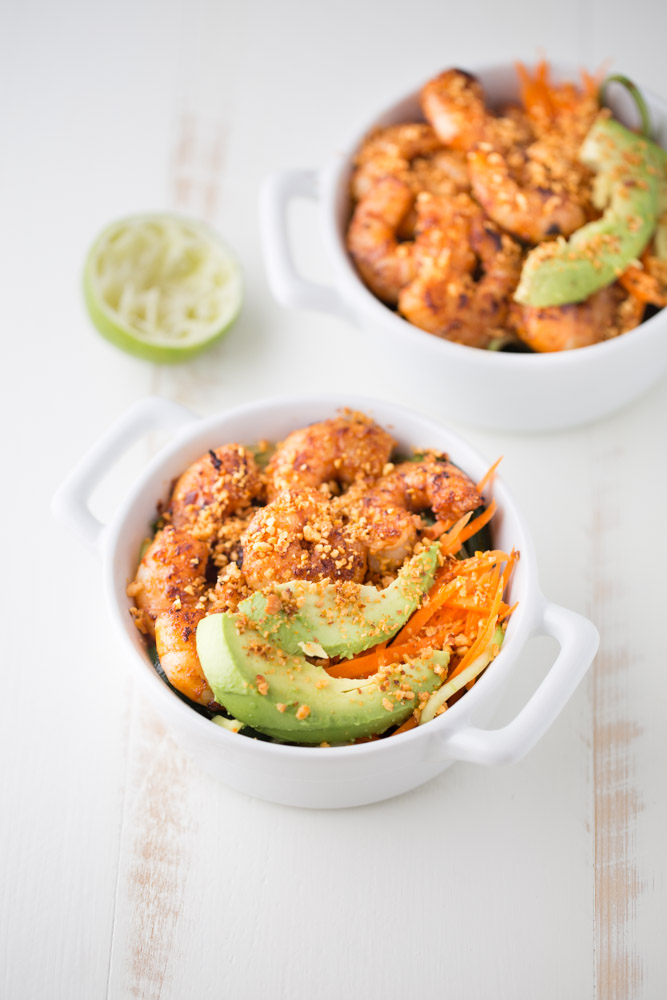 This post was sponsored by and compensated for by Blue Diamond Almonds. All opinions, photos, recipe and content are my own. 
RELATED POSTS
Cucumber Noodles with Spicy Sesame Soy Dressing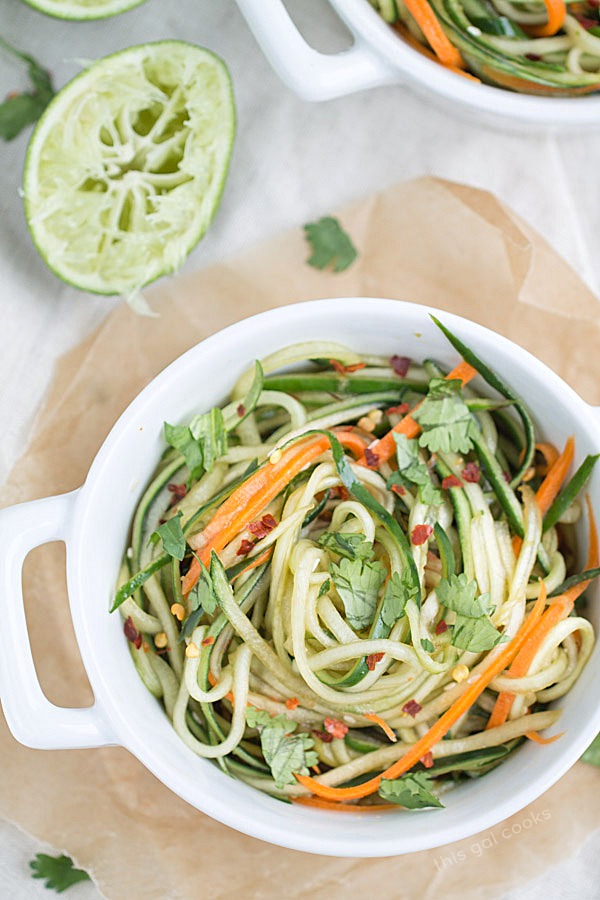 Cajun Shrimp and Quinoa Casserole