Sweet Potato Casserole with Pecan Streusel
Holiday dinner requires Sweet Potato Casserole on that dinner plate. My homemade sweet potato casserole isn't too sweet, it's fluffy and topped with a mind blowing pecan, brown sugar & cinnamon streusel. So good you'll want to make it all the time!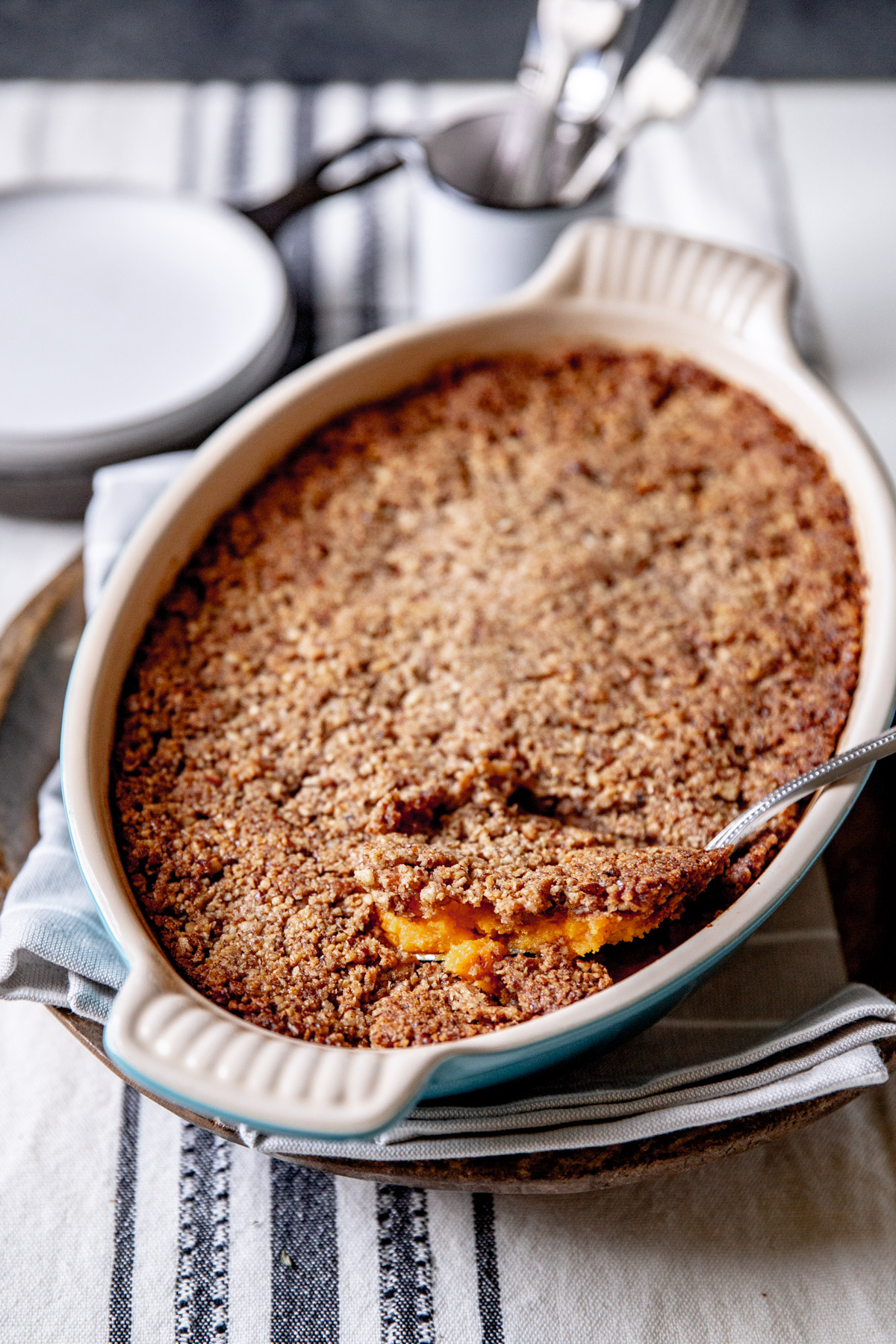 It's holiday season which means the casseroles are rolling out of the ovens and filling our bellies with delicious comfort food. If you're like me you'll have at least two holiday dinner events to bring a dish to – the one you're hosting and the one your job hosts. And if you're hosting Thanksgiving dinner, you probably have more than one thing you have to make. Luckily you can make this sweet potato casserole a day or two ahead of time and reheat when it's time to eat dinner on Thanksgiving day.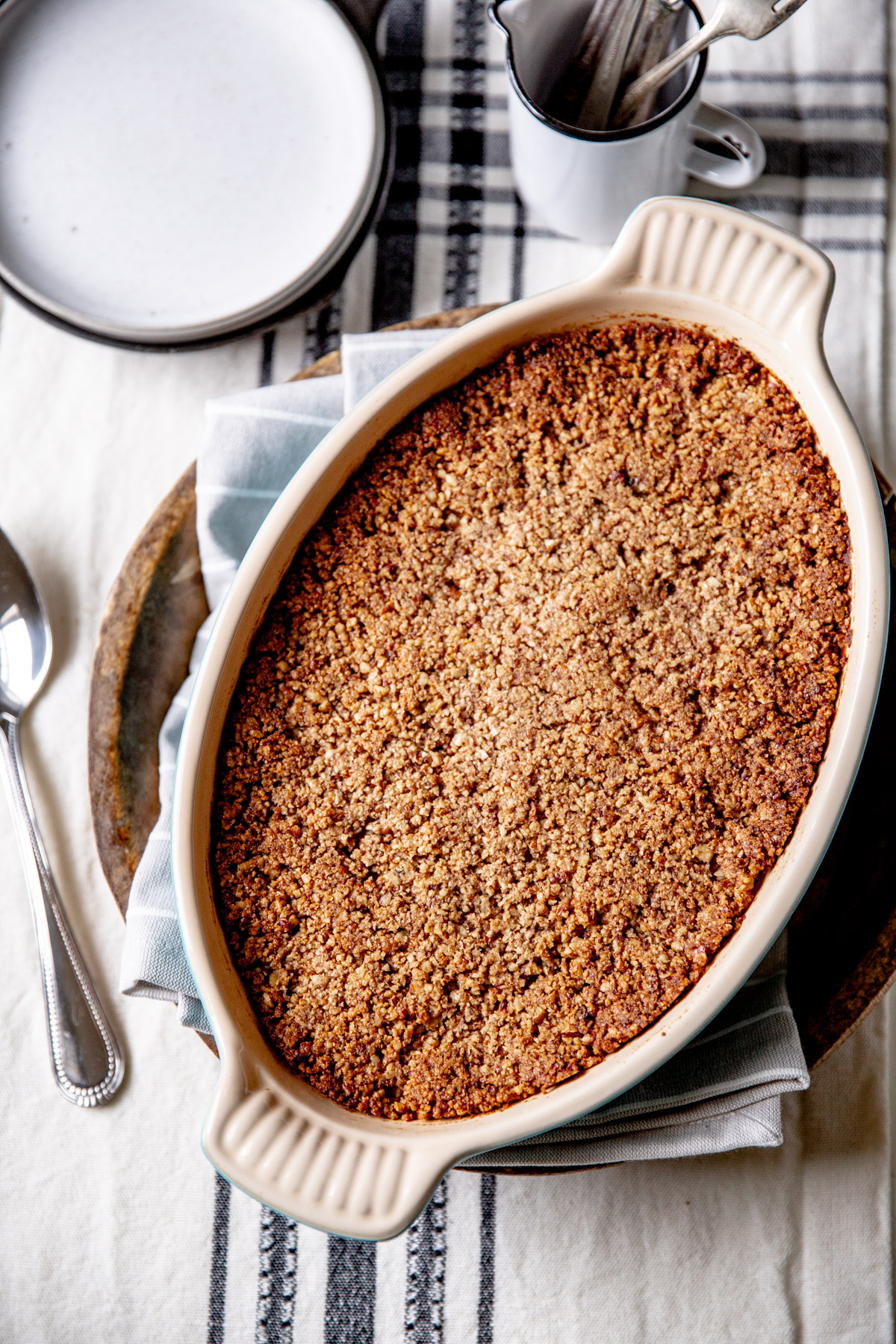 How to Make Sweet Potato Casserole
You'll need four medium sized sweet potatoes, heavy cream, butter, eggs, pecans, brown sugar, cinnamon and salt. Roast those potatoes, mash 'em, add the brown sugar, butter and salt. Mix well and place in a casserole dish. Then make your pecan streusel with butter, cinnamon and brown sugar and top your sweet potato casserole with it. Bake bake bake then eat eat eat.
TIP: you can bake your sweet potatoes ahead of time and then use them to make the casserole on Thanksgiving day. You can also make the casserole a day or two ahead of time and reheat before eating Thanksgiving dinner. Top your sweet potato casserole with the pecan streusel the day of baking If you want your pecan streusel to be crispy-crunchy when you eat it. If you don't care about that, just make the entire sweet potato casserole a day or two ahead of time and reheat it in the oven before you eat. Bring it to room temp before reheating to cut down on that reheating time.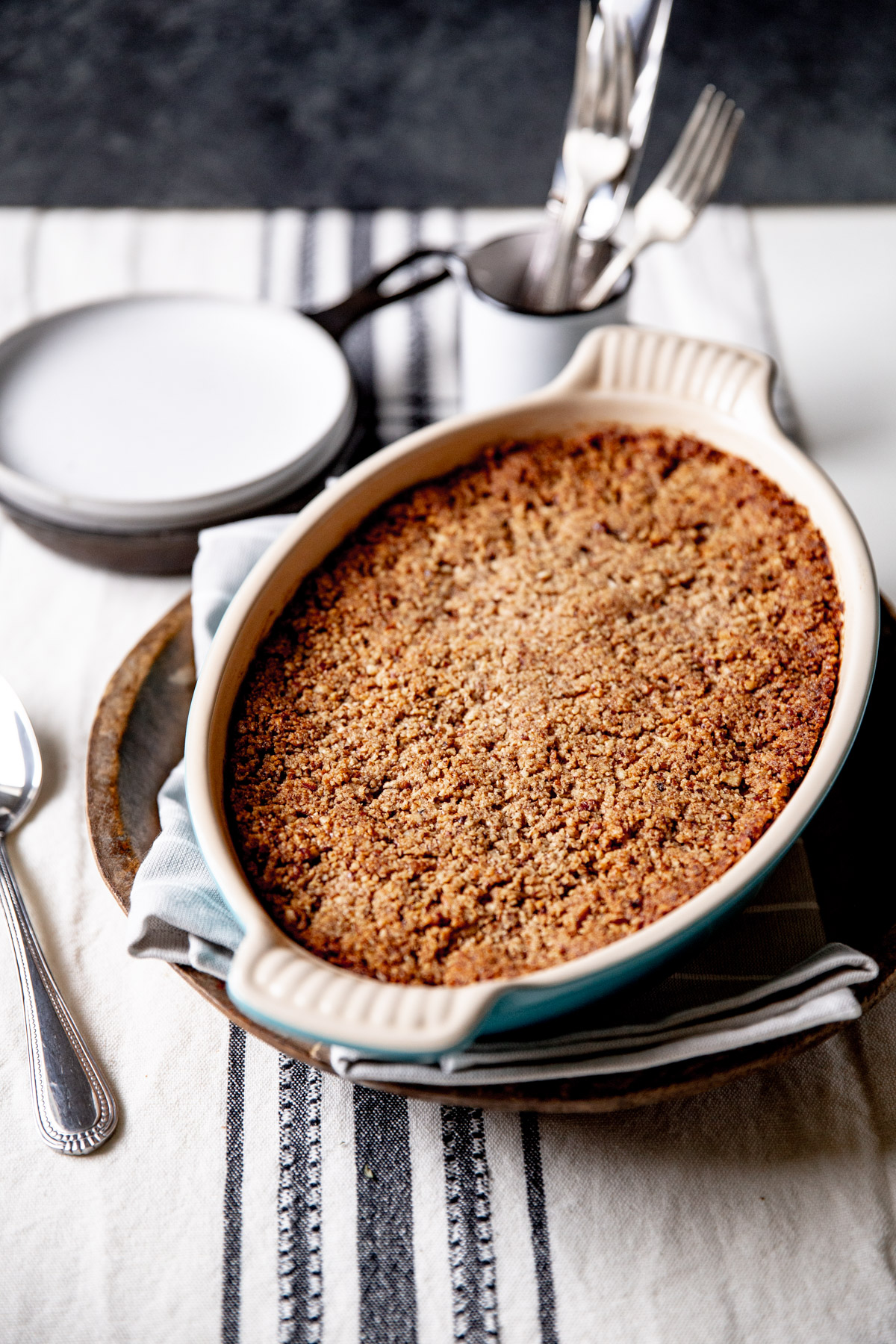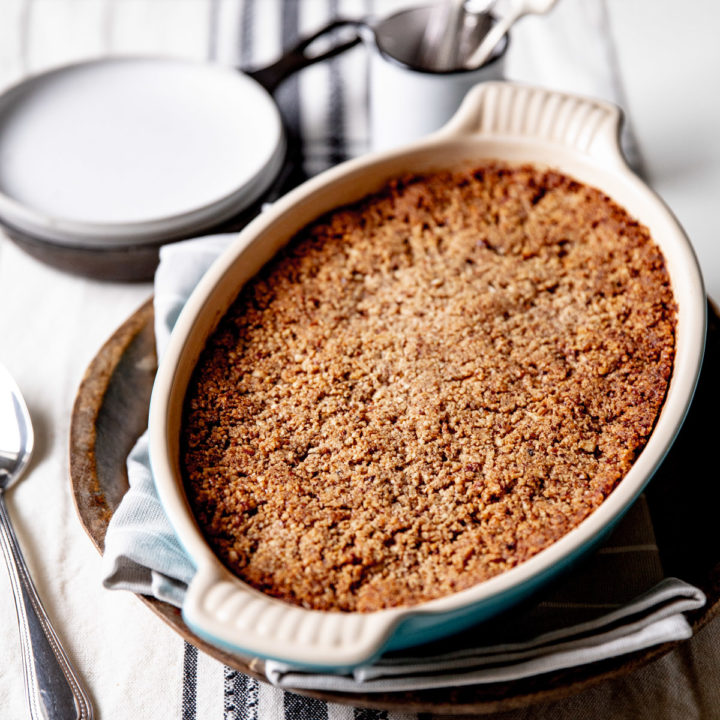 Sweet Potato Casserole with Pecan Streusel
Yield: 8 servings

Prep Time: 1 hour

Cook Time: 40 minutes

Total Time: 1 hour 40 minutes
Ingredients
4 medium sweet potatoes
1/4 C butter, room temp
2 tbsp brown sugar
1 egg, beaten
1/2 C heavy cream
1/2 tsp salt
For the topping
1/4 C butter, room temp
2 tbsp brown sugar
1 C pecans, ground
1/2 tsp cinnamon
Instructions
Preheat oven to 425.
Line a baking sheet with aluminum foil.
Wash the sweet potatoes and place on the prepared baking sheet. Bake 45-50 minutes or until the sweet potatoes are soft. (stick a knife into the potatoes - if it inserts easily and the potato feels soft, the potatoes are done)
Allow the potatoes to cool then remove the potatoes from their skins and place in a mixing bowl. Add 1/4 C butter, 2 tbsp brown sugar, beaten egg, heavy cream and salt. Mash together and then stir until combined.
In a food processor, combine the 1/4 C butter, 2 tbsp brown sugar, pecans, 1/2 tsp of cinnamon and butter. Pulsate until pecans are chopped small (almost ground) and the mixture is well combined.
Place the mashed sweet potato mixture in a lightly greased 1.5 qt baking dish and top evenly with the pecan mixture.
Bake at 350 for 30-40 minutes or until the pecan topping is golden. If the edges of the pecan topping start getting too dark before the center is golden, place a ring of aluminum foil around the edge of the casserole dish and create a cover over the darker parts of the topping.
Recommended Products
As an Amazon Associate and member of other affiliate programs, I earn from qualifying purchases.
Nutrition Information:
Yield: 8 Serving Size: 1
Amount Per Serving: Calories: 324 Total Fat: 27g Saturated Fat: 12g Trans Fat: 1g Unsaturated Fat: 14g Cholesterol: 71mg Sodium: 272mg Carbohydrates: 20g Net Carbohydrates: 0g Fiber: 3g Sugar: 10g Sugar Alcohols: 0g Protein: 4g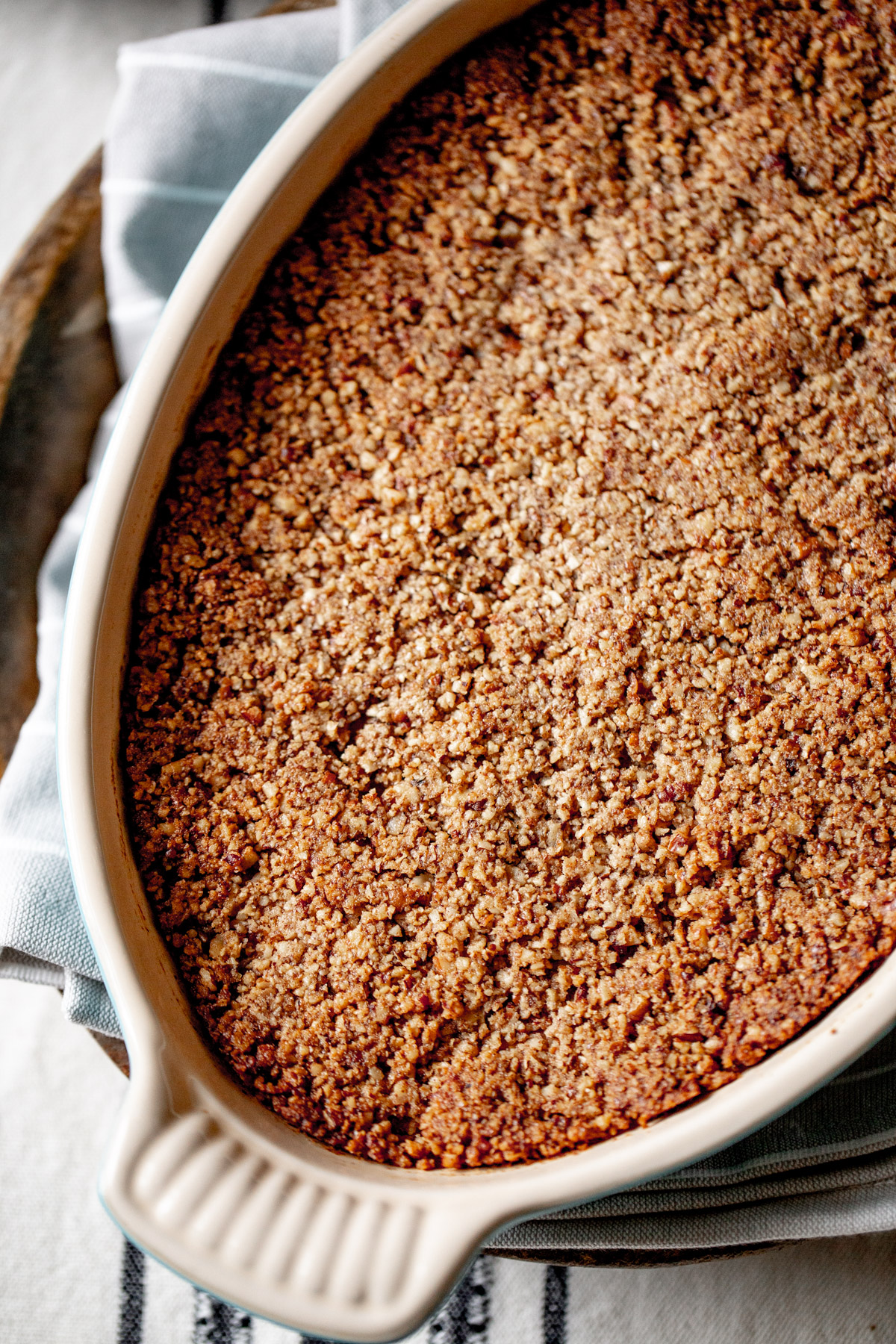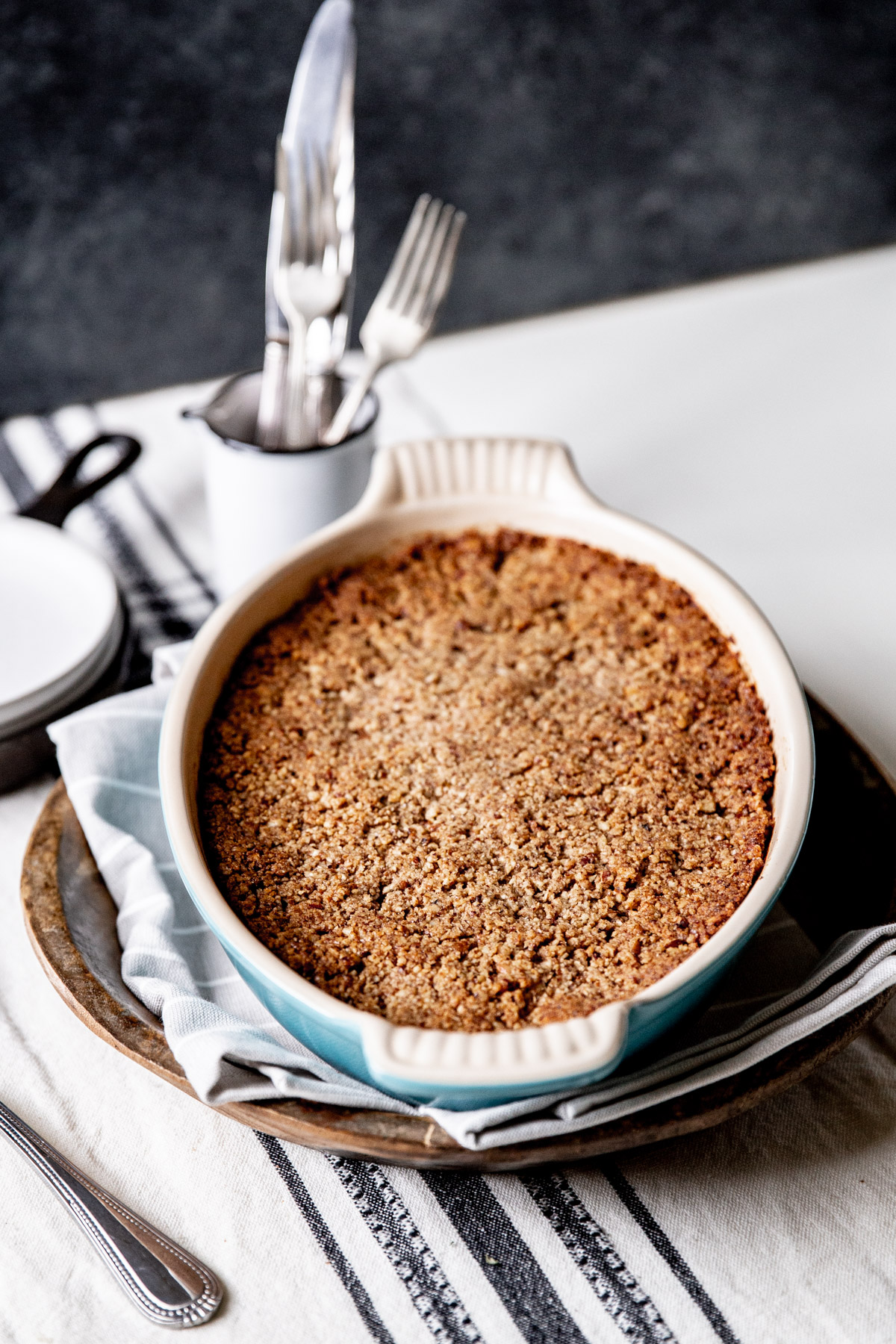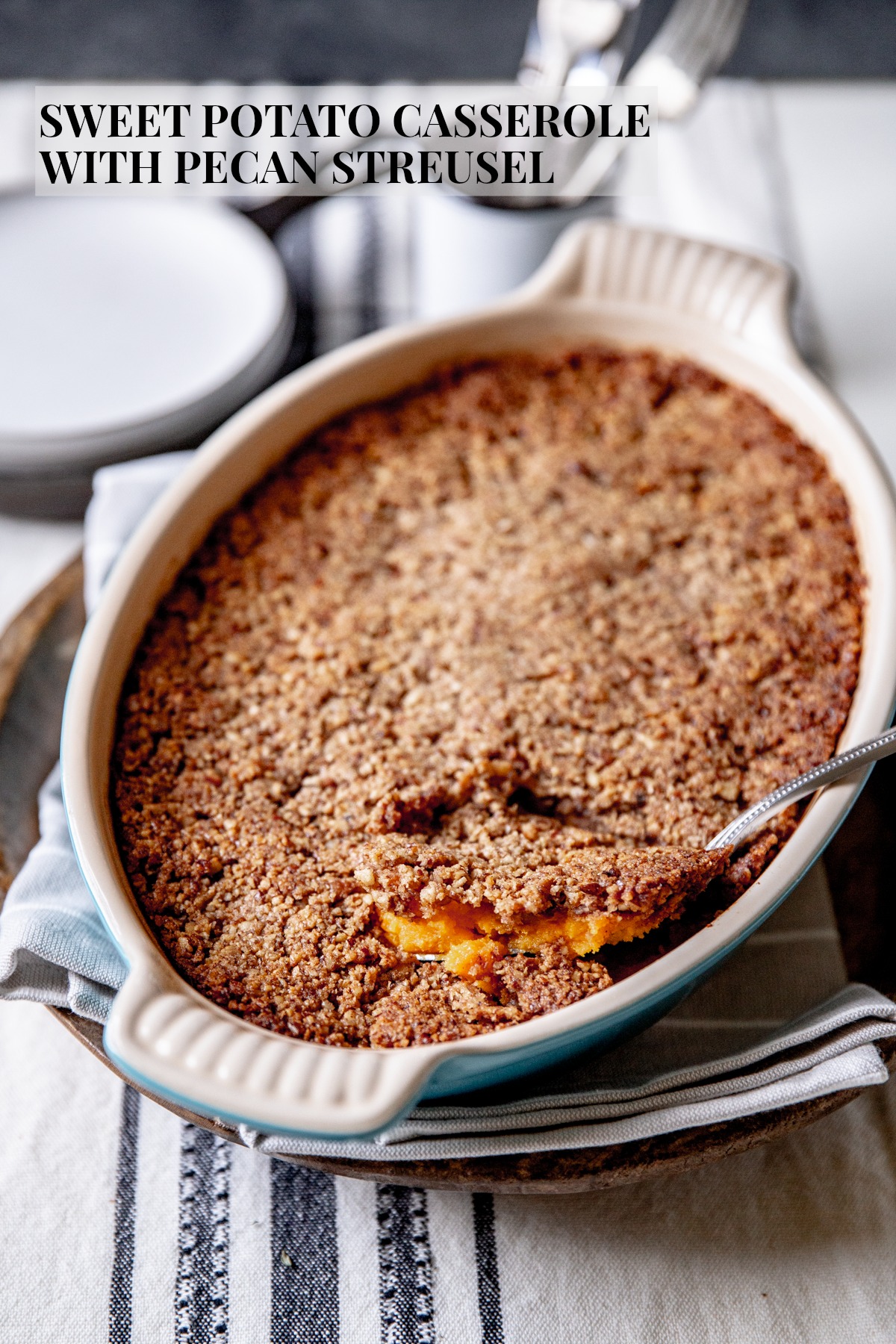 More Thanksgiving Recipes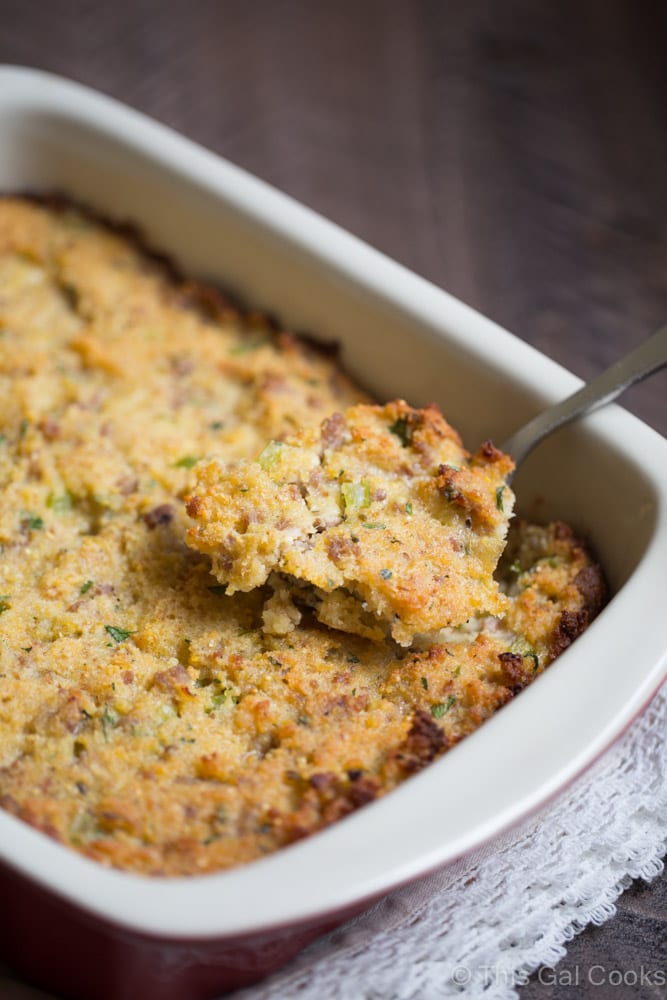 Pumpkin Spice Pudding Pie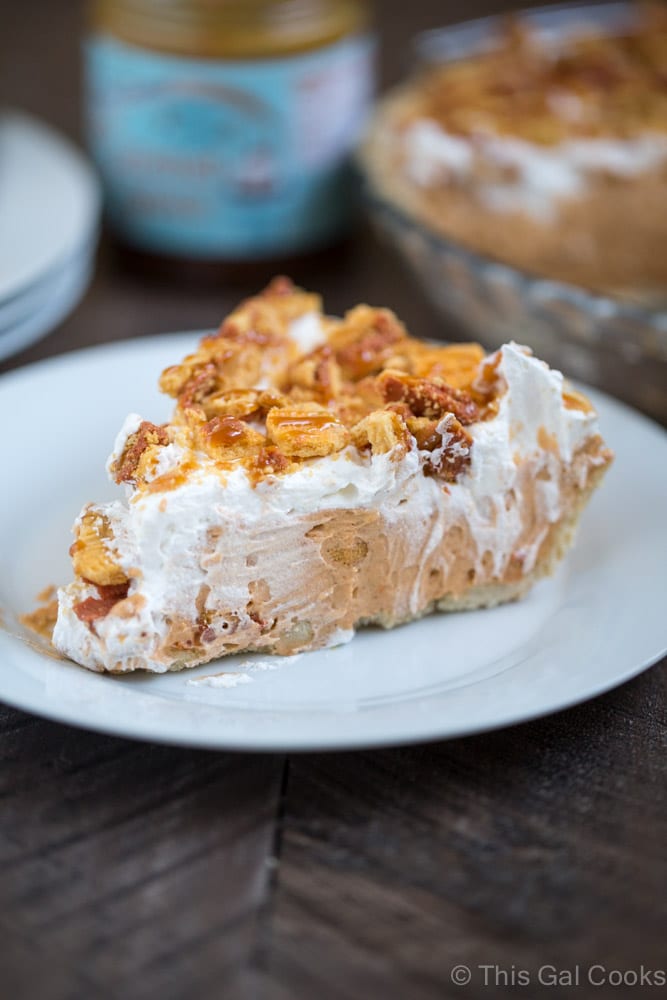 Overnight Pecan Pie French Toast Casserole