Sweet Potato Casserole with Pecan Streusel
Thanksgiving dinner isn't Thanksgiving dinner without a side of sweet potato casserole. Who needs marshmallow topping when you can have sweet and crunchy pecan streusel topping your sweet potato casserole?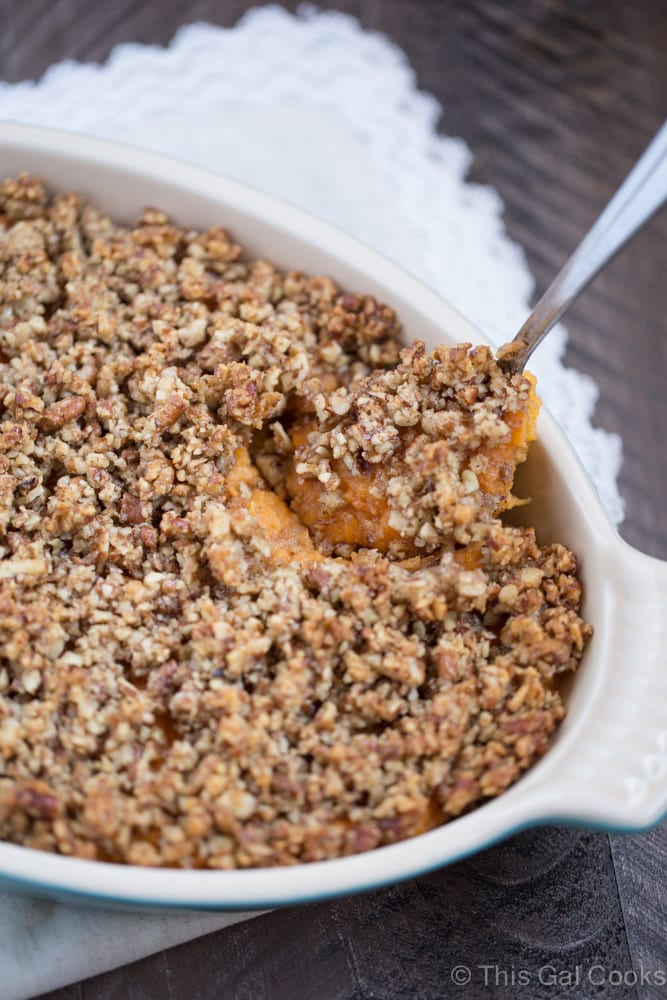 Hello and Happy Tuesday! Are you ready for Turkey Day aka Thanksgiving?
A couple weeks ago I made a few changes to my most favorite sweet potato casserole recipe. I added eggs and coconut milk to the mashed sweet potatoes, reduced the sugar and left out the cinnamon and then I took new photos. I think the recipe tastes incredible with the revisions so I'm sharing the updated recipe with you today.
The original recipe for the mashed sweet potatoes is:
4 medium sweet potatoes
1/4 C brown sugar
1/4 C butter
1/2 tsp ground cinnamon
Find the new recipe below. Please let me know if you have any questions. :)
Original post dated 11/8/2013.
Sweet Potato Casserole with Pecan Streusel
This week has been one darn busy week. On Sunday I spent the entire day cooking a mock Thanksgiving dinner. And between a group project at school and the increase of work at my job, I feel like I am about to explode! I already have 2 1/2 hours of overtime this week. Today will probably make it 3 or more hours. But I'm fine with that. For now. The extra money is always nice. How has your week been?
One of my favorite side dishes for any holiday meal is sweet potato casserole. It's such a simple dish to make and it tastes amazing. The flavors remind me of Thanksgiving and Christmas dinner. My mom always makes it topped with marshmallows and I absolutely love it! But as much as I love marshmallow topped sweet potato casserole, I wanted to try something different this year. Pecan streusel sounded like a perfect fit for the casserole!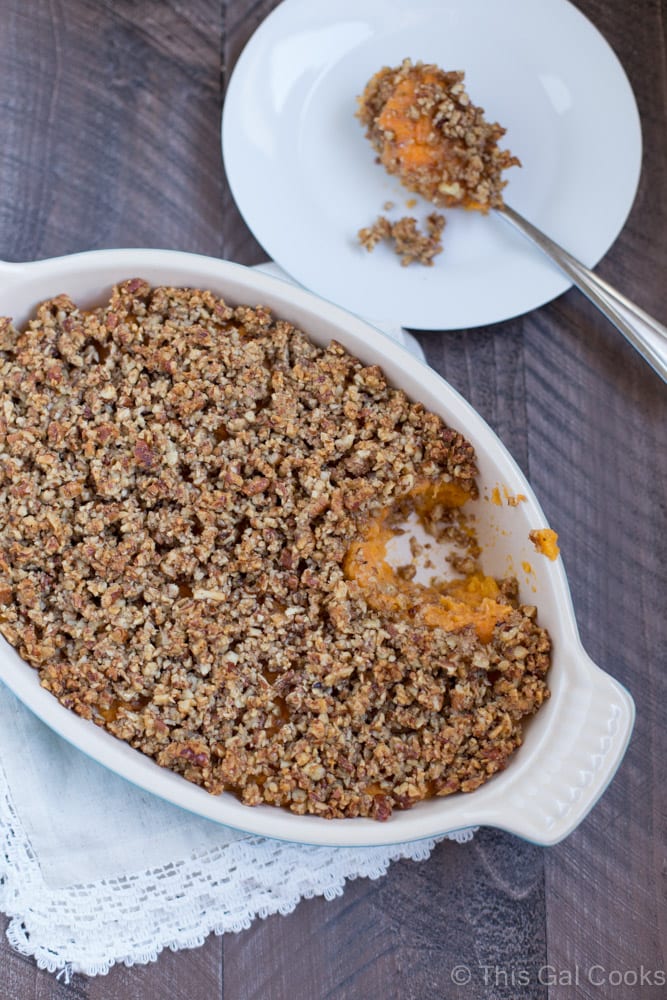 Sweet Potato Casserole with Pecan Streusel
Author: This Gal Cooks
Recipe type: Side Dish
Cuisine: American
Serves: 6-8 servings
Ingredients
4 medium sweet potatoes
¼ C butter
3 tbsp brown sugar
1 egg, beaten
½ C full fat coconut milk
For the topping
¼ C butter, room temp
2 tbsp brown sugar
1½ C ground pecans
Pinch of cinnamon
Instructions
Preheat oven to 350.
Line a baking sheet with aluminum foil.
Wash the sweet potatoes and place on the prepared baking sheet. Bake 40-45 minutes or until the sweet potatoes are soft.
Remove the potatoes from their skins and place in a mixing bowl. Add ¼ C butter, 3 tbsp brown sugar, beaten egg and coconut milk. Mash together and then stir until combined.
In a food processor, combine the pecans, 2 tbsp brown sugar a pinch of cinnamon and butter. Pulsate until combined.
Place the sweet potatoes in a lightly greased 1.5 qt baking dish and top with the pecan mixture.
Bake at 350 for 30-40 minutes or until the pecan topping is golden.
Notes
To cut back on time, you may microwave the sweet potatoes. Use the potato setting on your microwave and enter 4 for the number of sweet potatoes you are cooking.
Nutrition Information
Serving size: ½ C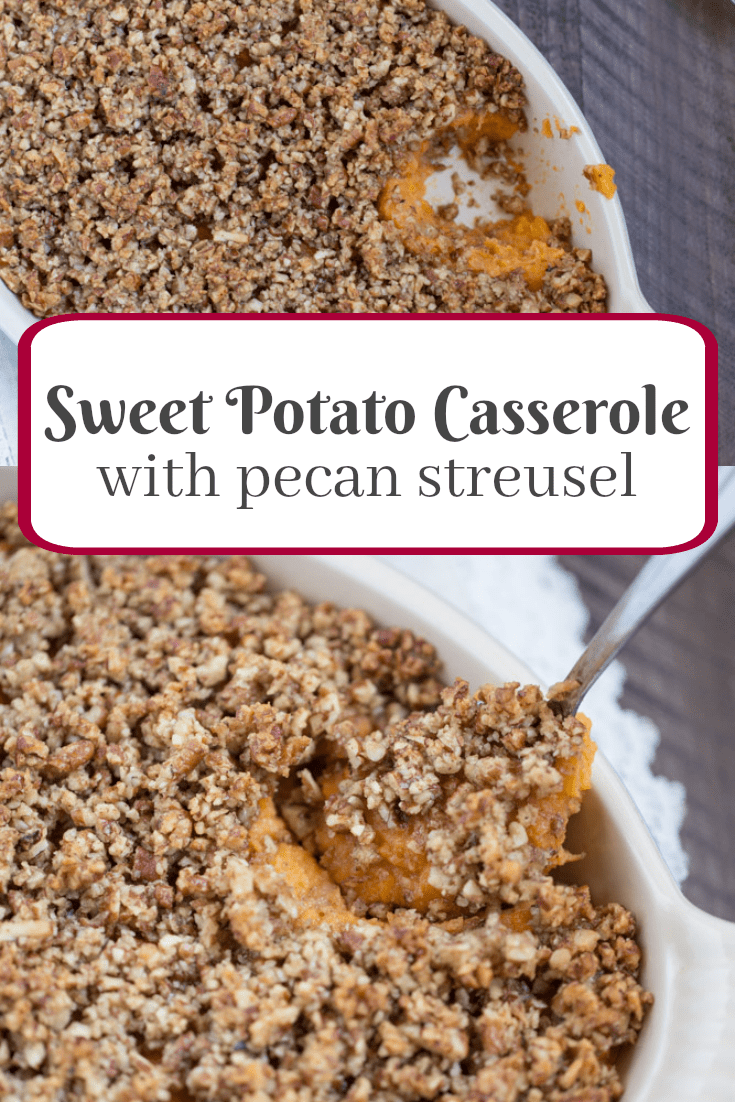 More from This Gal Cooks