Homemade Cornbread Dressing
You guys. This is the BEST homemade cornbread dressing ever.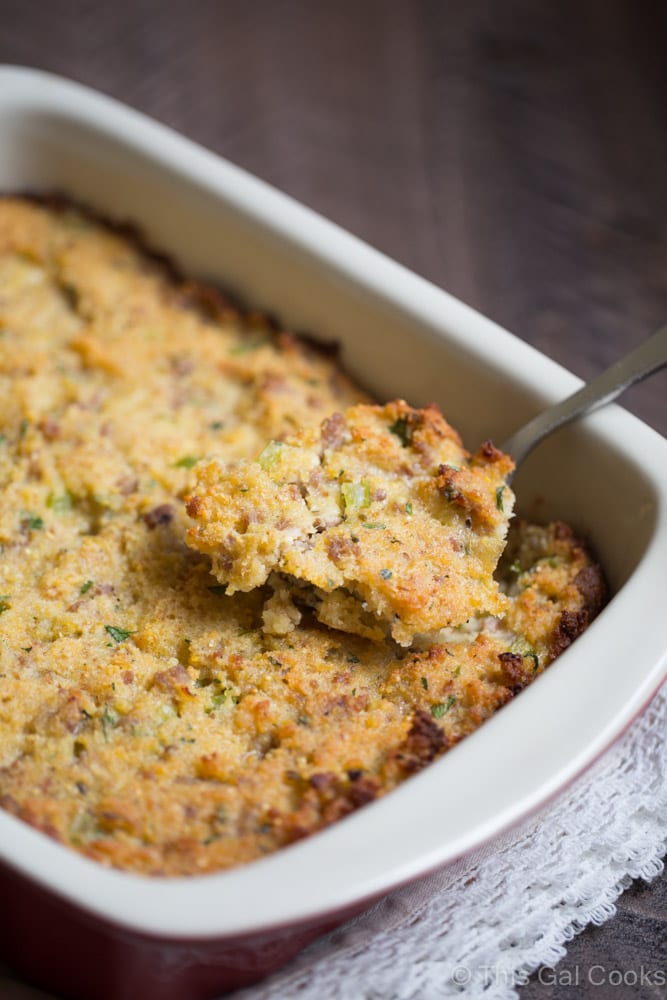 I make it with my homemade cast iron buttermilk cornbread, which happens to be the best cornbread ever. In addition to homemade cornbread, this homemade cornbread dressing is filled with fresh herbs and mild Italian turkey sausage. Mmm mmm good. You'll never go back to any of those other cornbread dressings you used to eat because this one will totally win you over.
Excerpt from original post dated 11/2013.
I have a confession to make. This is the first time that I've made from scratch holiday dressing. I used to purchase bags of dressing and make adjustments to the recipe on the bag. But never again.
Never.
Making homemade holiday dressing is totally worth the effort. And there really isn't much effort to it. Make your cornbread, which can be done a day ahead of time. Saute your sausage and veggies. Crumble your cornbread and then add the sauteed sausage and veggies. Add a little broth and then add the mixture to a baking dish and bake. It's that simple.
Homemade Cornbread Dressing
Homemade Cornbread Dressing
Author: This Gal Cooks
Recipe type: Side Dishes
Serves: 10-15 servings
Ingredients
3 mild Italian turkey sausage links, casings removed
1 prepared Cast Iron Buttermilk Cornbread, cooled
2 tbsp butter
2 tbsp olive oil
½ small onion, chopped
1 C celery, chopped
1 tbsp dry sherry
3 eggs, beaten
1 tsp fresh thyme, chopped
2 tbsp minced fresh parsley
Kosher salt and pepper (a pinch of each or to taste)
1½ C turkey stock
Instructions
Preheat oven to 350.
Crumble your cooled cornbread and place in a large mixing bowl.
In a large skillet or pot over medium heat, melt the butter and the olive oil. Add the sausage and cook until browned, crumbling the sausage as it cooks. Add the onion, celery and sherry. Scrape the bits off the bottom of the skillet and then cook until the veggies are tender.
Add the sausage mixture to the crumbled cornbread and mix well. Allow to cool for a few minutes and then add the eggs, thyme, parsley, kosher salt and pepper. Mix well. Stir in the turkey stock until moistened.
Place the dressing in a well greased 2.5 quart baking dish. Bake at 350 for 30-40 minutes or until the top is golden.
Notes
Adapted from The Williams Sonoma Cookbook
Nutrition Information
Serving size: ½ C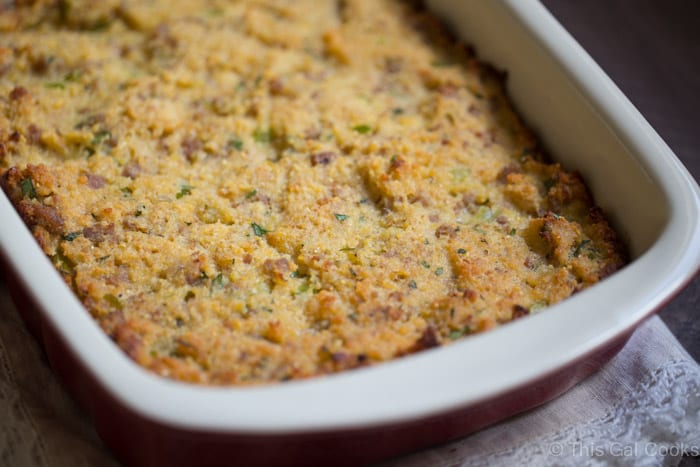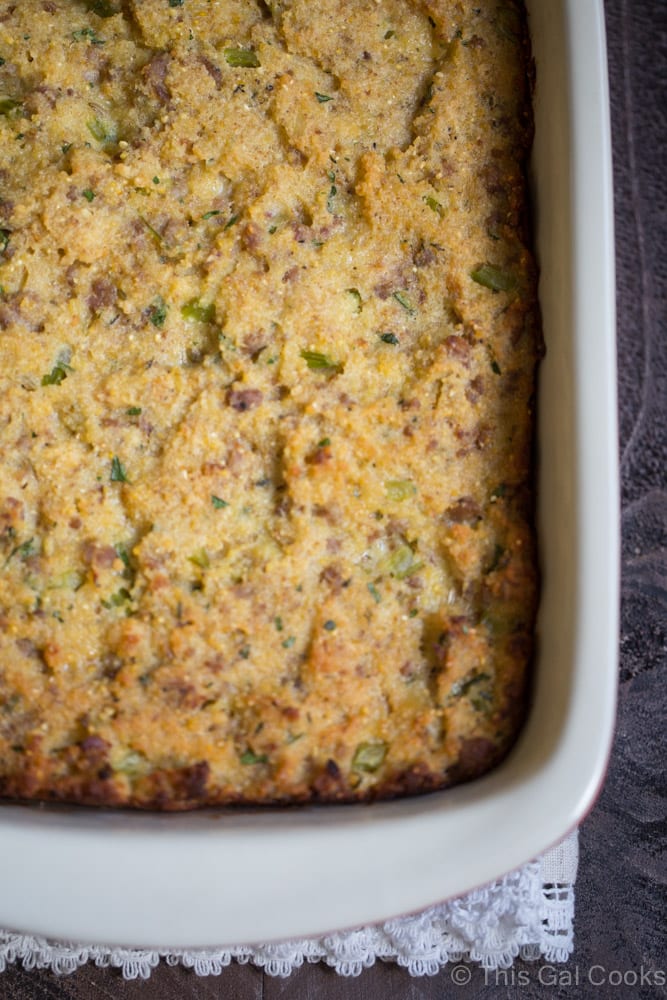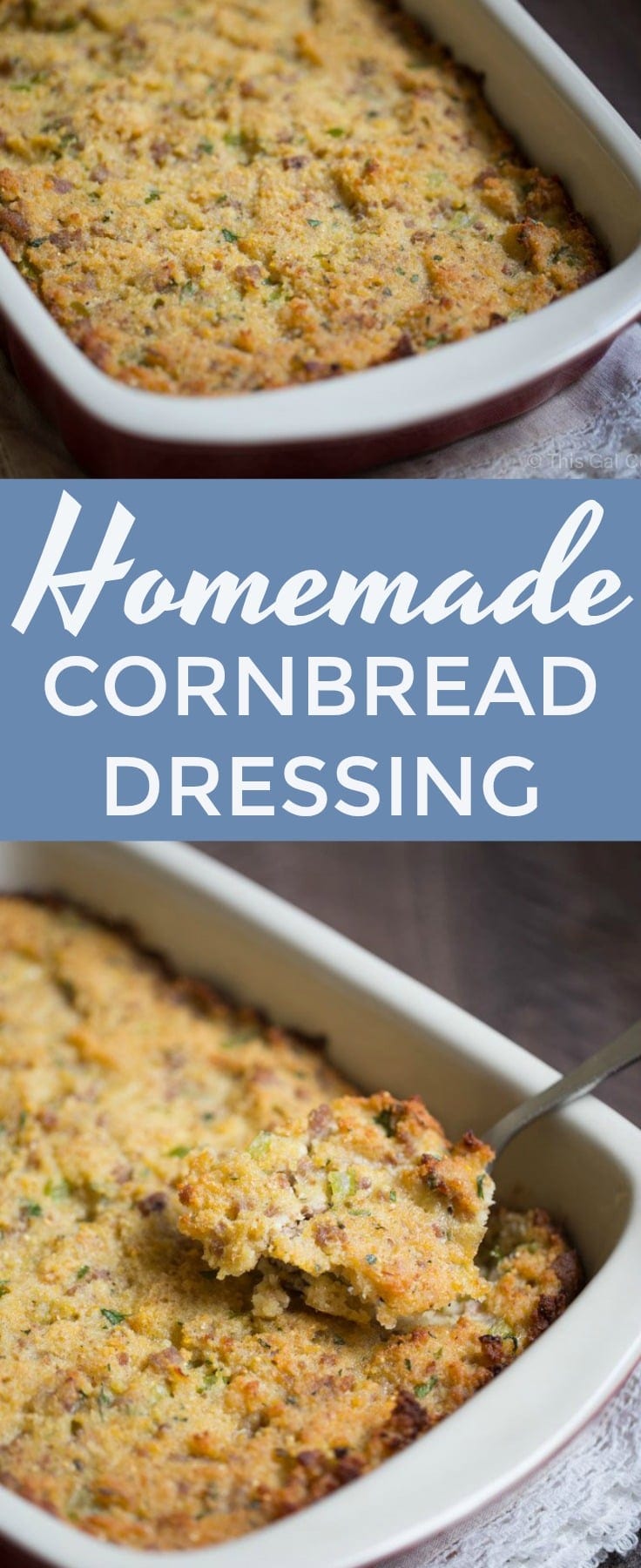 More from This Gal Cooks