Baked Four Cheese Macaroni and Cheese
This is the creamiest Baked Four Cheese Macaroni and Cheese that you'll ever try. It's great for BBQ's,  holidays and as your every-day go-to macaroni and cheese recipe.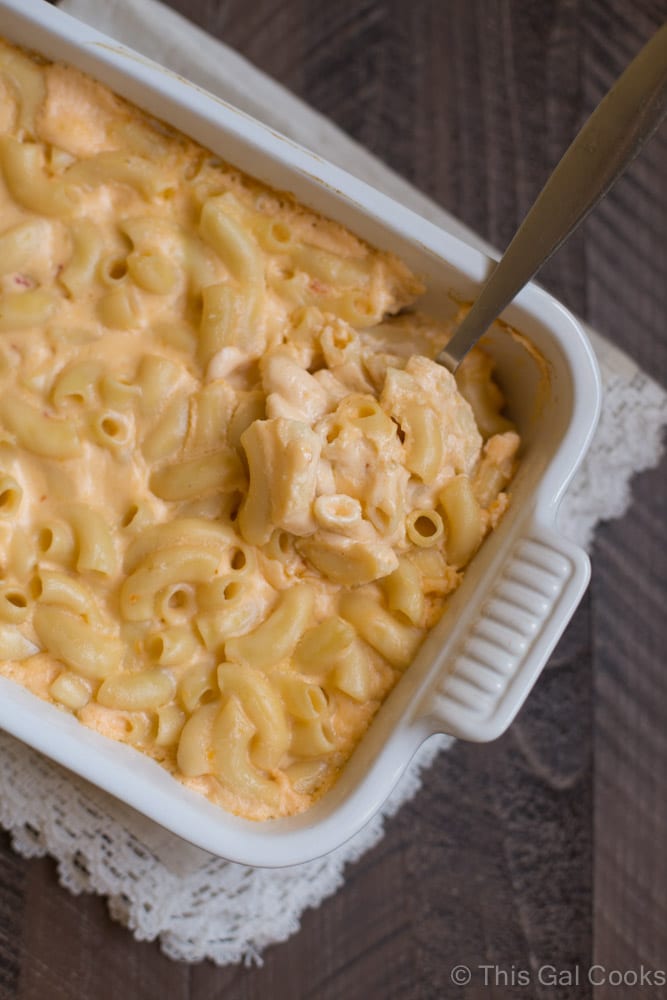 Baked Four Cheese Macaroni and Cheese
Updated 11/8/16. Original posted 7/13/12.
I LOVE macaroni and cheese. It is probably my all time favorite side dish, comfort food, and dish to bring to employee food days and holiday parties. I always make this dish as a side for Thanksgiving, Christmas, Easter and when we have BBQ's at our house.
I made this recipe for the millionth time over the weekend because we did a mock Thanksgiving dinner to practice for the real thing. We are hosting for the first time this year and wanted to practice and perfect our method so we can ensure the food turns out perfect for our guests on Thanksgiving day.
The cheeses I use in this recipe are American, Cream Cheese, Cheddar and Pepper Jack. I think this combo is perfect but if you prefer different cheeses, feel free to substitute them in place of the cheeses used in this recipe. I shred blocks of cheese with my food processor but you may use pre-shredded cheese from your grocery store.
You may add meat and/or veggies to this recipe to make it a complete meal. Simply add the meat and/or veggies to the macaroni and cheese and mix well before baking.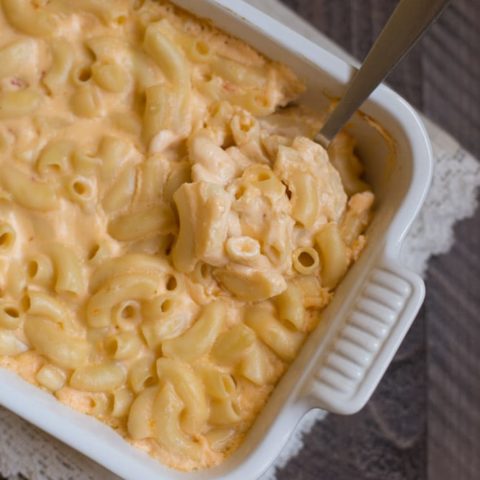 Baked Four Cheese Macaroni and Cheese
Yield: 8 servings

Prep Time: 10 minutes

Cook Time: 25 minutes

Total Time: 35 minutes
Ingredients
8 oz macaroni elbows
6 tbsp unsalted butter
1/4 C flour
1 1/2 C milk
1/4 C heavy cream
8 oz sour cream
4 oz cream cheese, softened
6 slices of American cheese (I used Boars Head brand)
8 oz shredded cheddar
4 oz shredded pepper jack
salt and pepper to taste
Instructions
Preheat oven to 350.
Grease a 2.5 quart baking dish.
Bring a pot of water to a boil and cook the pasta. Drain and set aside.
Melt the butter in a large pot or skillet. Whisk in the flour and stir until thickened.
Gradually whisk in the milk and heavy cream.
Once the milk and cream are incorporated into the flour/butter mixture, add the sour cream and cream cheese. Mix well and stir until the mixture is no longer lumpy.
Mix in the American cheese and stir until melted.
Mix in the shredded cheddar and pepper jack cheeses and stir until melted and no longer lumpy.
Season with salt and pepper to taste.
Pour into the prepared baking dish.
Bake at 350 for 20-25 minutes.
Notes
Serving sizes are approximate.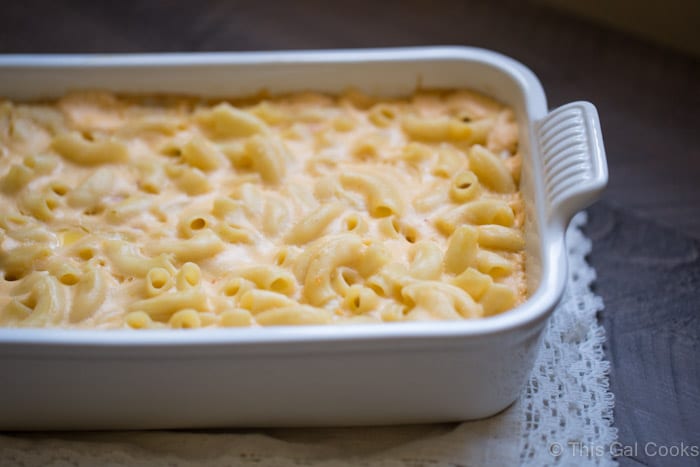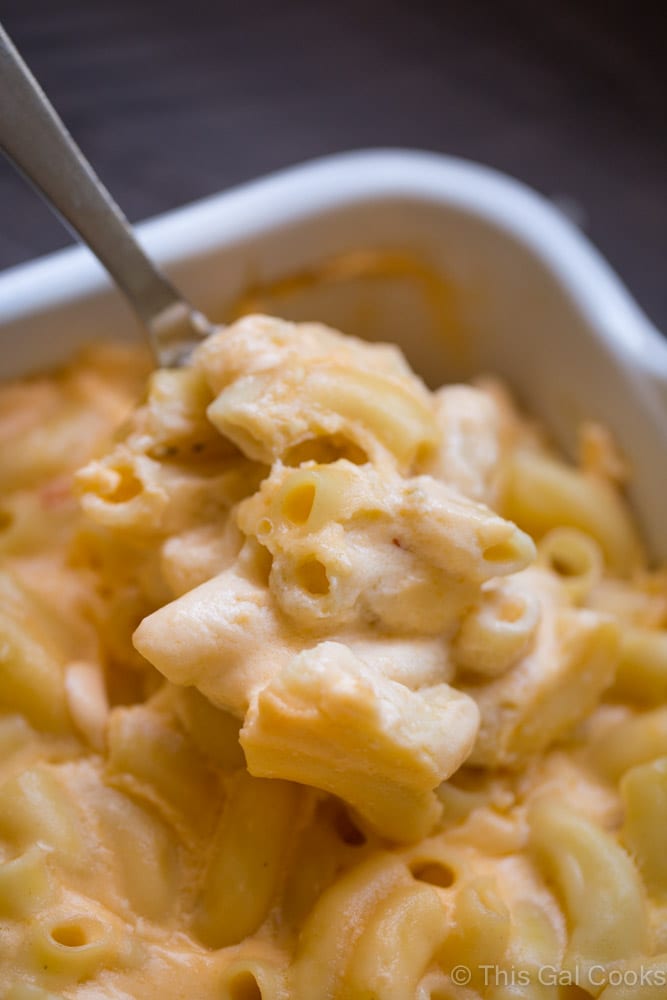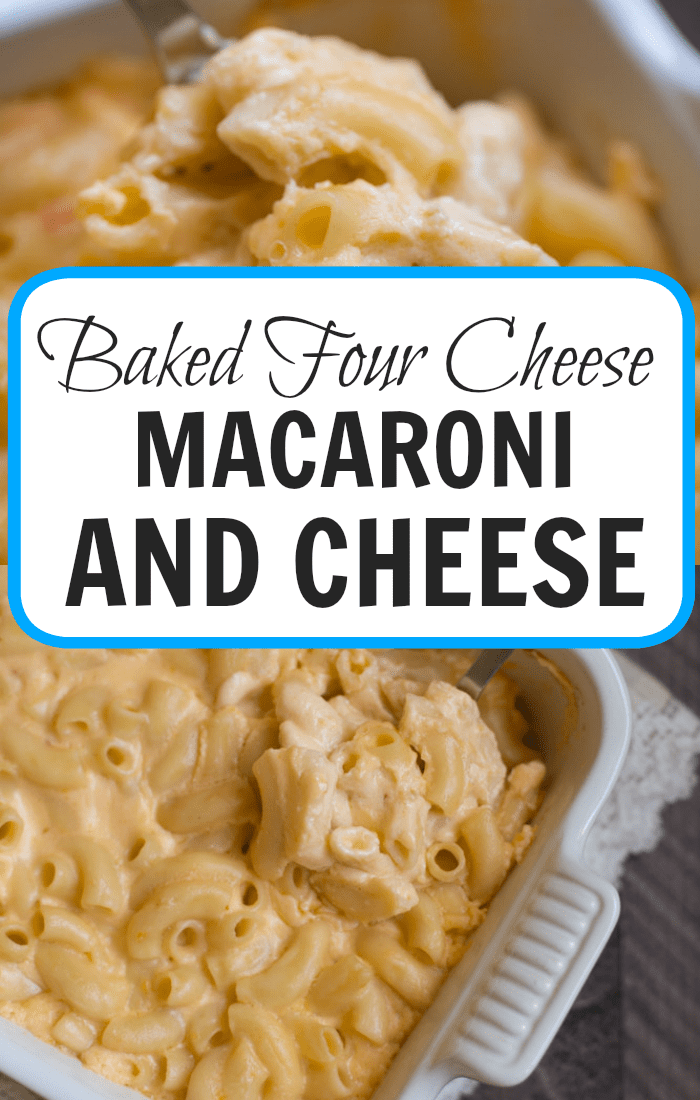 More recipes to try.