Baby Greens Salad with Quinoa
Today we're going to dive into a bowl of Baby Greens Salad.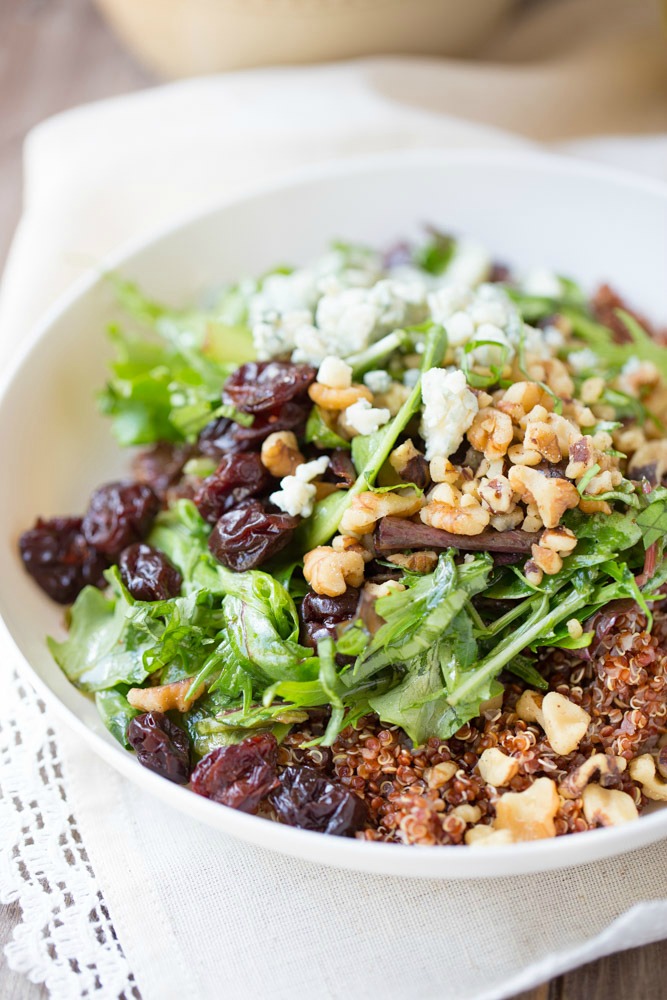 It's fresh. It's flavorful. It's healthy. It's full of quinoa, chopped walnuts, dried cherries and gorgonzola CHEESE! It's tossed with homemade Honey Balsamic Vinaigrette.
The challenge was pretty simple: create a recipe with red quinoa and broiled oranges. This salad started with the intention of using broiled oranges in it. But I decided to do something different with the oranges and used dried cherries in this salad instead. Things that I know pair well with quinoa – dried fruits, walnuts, tangy cheese and basil – were incorporated into this recipe. A simple and flavorful vinaigrette made with honey balsamic vinegar and EVOO was used to dress the baby greens salad.
New goal: write recipe drafts before attempting to make a recipe.
This recipe marks the first time I've actually written out a recipe before creating it. Typically, I create as I go but I found out writing a recipe draft before dragging out the ingredients makes recipe developing much easier. Visit Healthy Seasonal Recipes to learn the 5 Ways to write better recipes.
Baby Greens Salad with Quinoa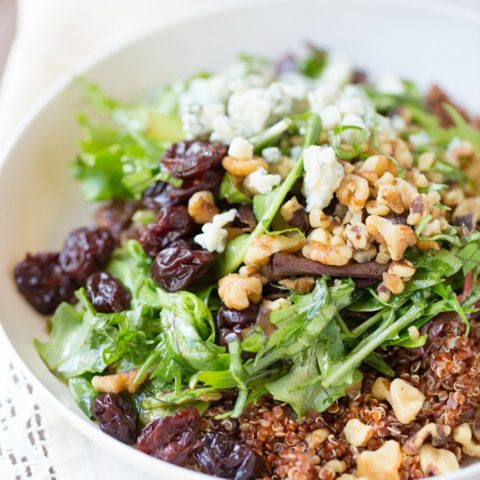 Baby Greens Salad with Quinoa and Honey Balsamic Vinaigrette
Yield: 3 Cups

Prep Time: 25 minutes

Total Time: 25 minutes
Ingredients
⅓ C + 1 tbsp uncooked red quinoa
1 C baby spring mix greens
¼ C chopped walnuts
¼ C dried whole cherries
1-2 tbsp gorgonzola
1 tbsp sliced fresh basil
Instructions
Prepare the red quinoa. Rinse the quinoa well - Place the quinoa in a strainer and rinse thoroughly for about 2 minutes, stirring with your hands as it is rinsed. Then place the quinoa in a rice cooker (or a saucepan if you are cooking on your stove) and rinse with water 2-3 times, draining after each rinse. Cook the quinoa. I cook quinoa in my rice cooker, using the same method used to cook rice. I have a small rice cooker and fill to line 1 with the amount of quinoa used for this recipe.To cook via stovetop, place the quinoa in a medium sauce pan. Add ¾ C water and a pinch of salt and bring to a boil. Cover and reduce the heat to medium low and cook until the liquid is dissolved, 10-15 minutes. Once the quinoa is done cooking, place in a bowl and fluff with a fork. Allow to cool completely.
Assemble the salad. Place the quinoa in a serving bowl. Toss the greens with 1/2 tbsp of the dressing (you can toss with more, if desired, but I don't recommend it). Place the greens over the quinoa and then top with the whole cherries, chopped walnuts, sliced fresh basil and gorgonzola cheese. Drizzle with extra dressing, if desired. Toss to combine.
Notes
nutrition calculation includes 1/2 tbsp of the dressing. Calorie count per 1 tbsp of dressing: 100 calories / 2g Carb / 11g Fat / 0g protein / 67mg sodium / 2g sugar
Nutrition Information:
Yield: 3 Serving Size: 1 Cup
Amount Per Serving: Calories: 380 Total Fat: 20g Sodium: 111mg Carbohydrates: 43g Sugar: 17g Protein: 10g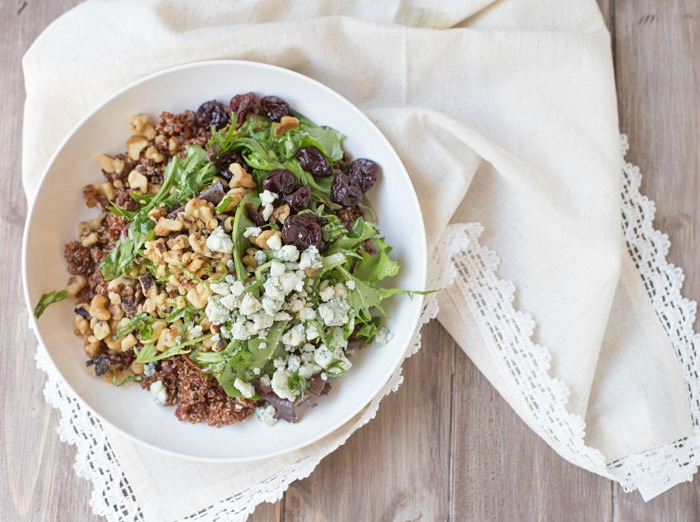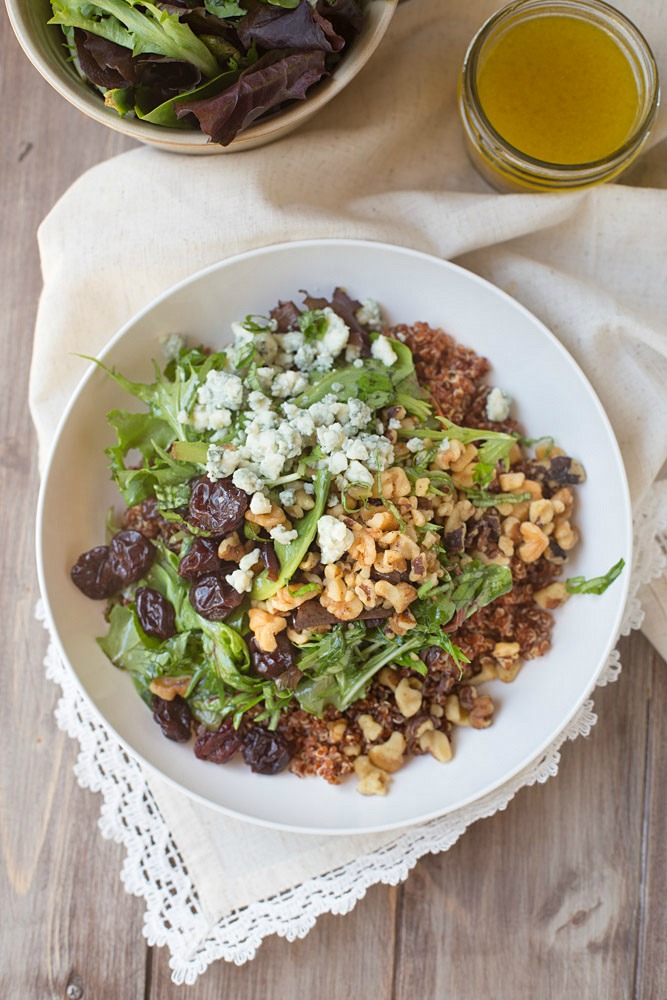 RELATED POSTS
Fresh Berry Salad with Walnuts and Quinoa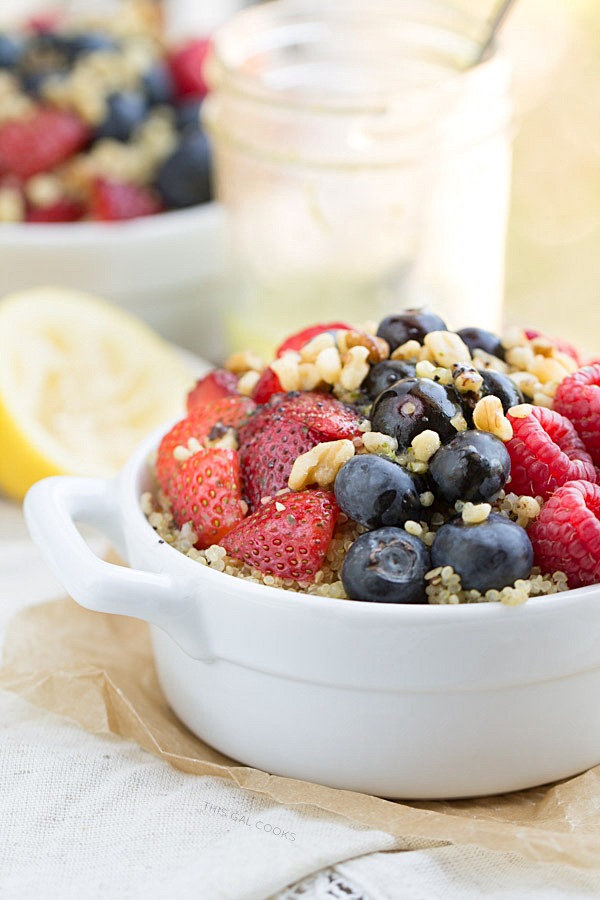 Super Fruit and Walnut Quinoa Salad