Fresh Berry Salad with Walnuts + Quinoa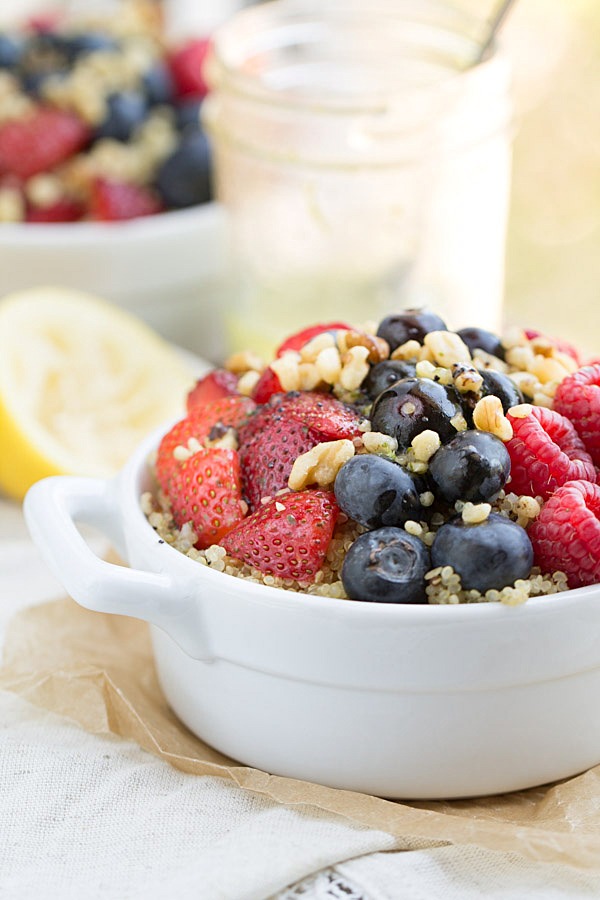 This salad is awesome sauce. Fresh blueberries. Fresh raspberries. Fresh strawberries. Walnuts. Quinoa. Oh and a tart, slightly sweet lemon poppyseed dressing to top it all off.
Fresh Berry Salad with Quinoa
This fresh berry salad is extremely easy to throw together.
Cook the quinoa in a rice cooker. It's easy. Just use the same mehtod you would for cooking rice. If you don't have a rice cooker, you may cook it on the stove according to package directions.
Make the dressing in a food processor. I like my dressing on the tart side but if you prefer a sweeter dressing, just add a little more honey to the mix. You can use the create and taste method – add more honey and/or olive oil until the taste suits you.
After you prep your quinoa and dressing, place the quinoa in cute little bowls. Then top it with the fruit and walnuts. Drizzle with a little dressing. I didn't use all of the dressing.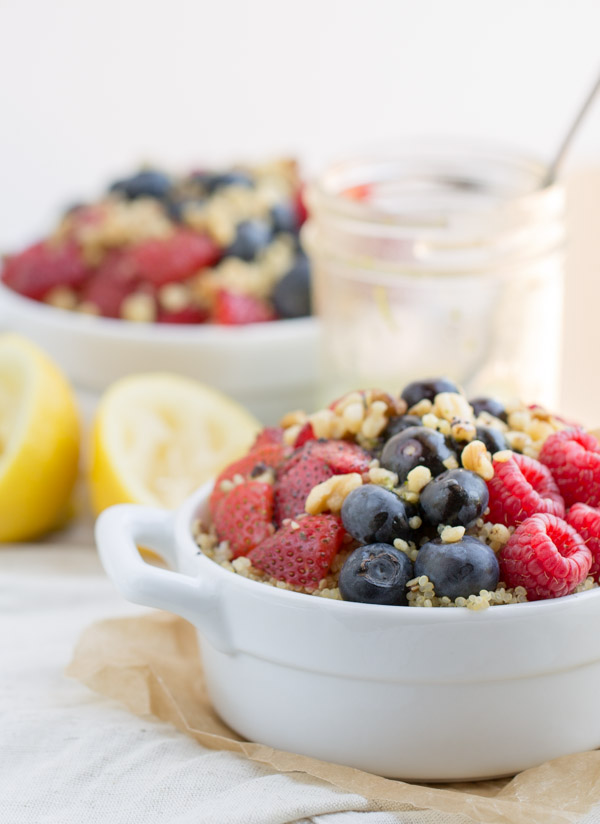 Fresh Berry Salad with Walnuts + Quinoa
This Fresh Berry Salad with Walnuts and Quinoa is full of nutrients and flavor. Top it off with homemade Lemon Poppy Seed Dressing (recipe included).
Author: This Gal Cooks
Recipe type: Salad, Gluten Free
Cuisine: American
Serves: 2
Ingredients
For the salad
2 C cooked quinoa (approximately ½ C uncooked)
½ C strawberries, cut into chunks
½ C blueberries
½ C raspberries
2 tbsp chopped walnuts
For the dressing
1 tsp honey
Juice from 2 lemons
1 tbsp coconut milk
1 tbsp cilantro
½ tsp poppy seeds
½ to 1 tbsp olive oil
Instructions
Cook the quinoa.
To make the dressing, add all dressing ingredients to a food processor and pulsate until blended.
Place the cooked quinoa in bowls. Top with the fruit and walnuts. Drizzle with the dressing.
Notes
Nutrition calculations are approximate.
Nutrition Information
Serving size: 2 C Calories: 360 Fat: 12g Carbohydrates: 59g Sugar: 13g Sodium: 17mg