Skillet Blueberry Cornbread
Blueberry Cornbread: This super delicious, moist cornbread is made with coconut milk, fresh blueberries and brown sugar. Baked to perfection in a cast iron skillet.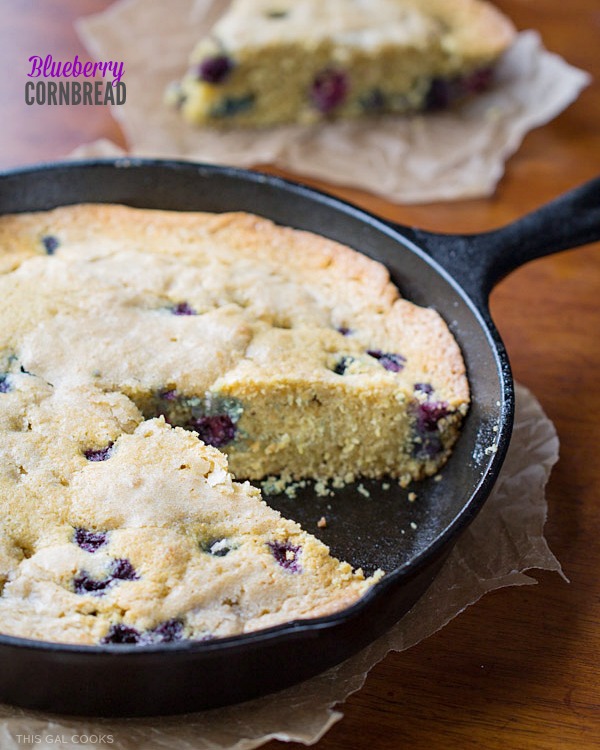 You guys. I ain't gonna lie. This cornbread was finger lickin' crazy good.
And to think, I was a little skeptical of using coconut milk in this recipe. Although coconut milk is rich and creamy, the key to preventing a dry cornbread is to use buttermilk. Or so I thought.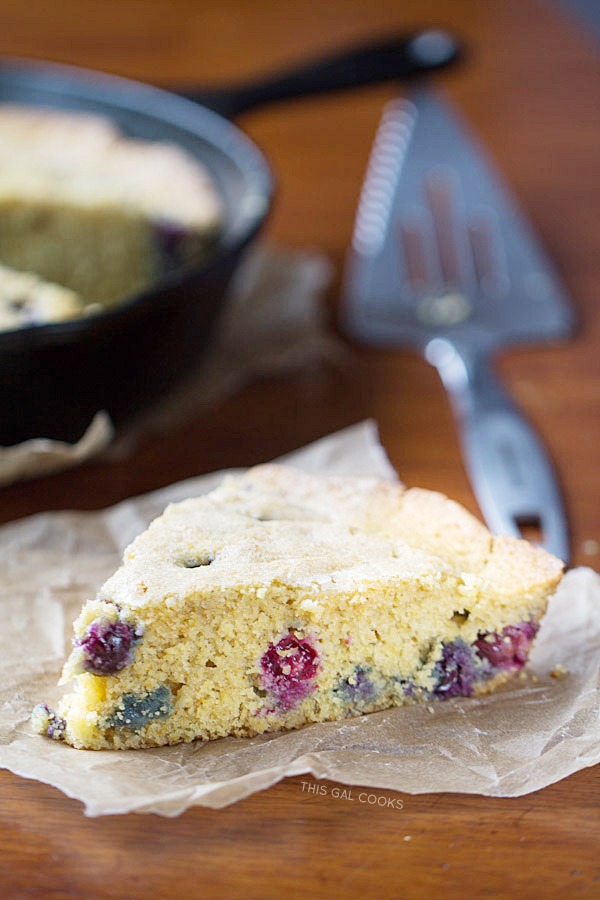 Those of you who have been following this blog for a while know I have a love/hate relationship with dairy, specifically high lactose containing dairy. I made this cornbread on Easter to go along with all of the other tasty food that we made for BBQ day. I'll get to BBQ day in a bit but first, I want to talk about this cornbread and why I used coconut milk. I based this Blueberry Cornbread recipe off of my Cast Iron Buttermilk Cornbread. So why did I use coconut milk instead of buttermilk? Well, it was sorta an experiment. I knew I was gonna eat a ton of macaroni and cheese later that day so I wanted to limit milk products where I could. And you can't really limit the milk products in mac n cheese. Cause mac n cheese without milk and cheese just ain't mac n cheese.
Can you say that fast three times? Mac n cheese without milk and cheese just ain't mac n cheese. Oh you did it? Congratulations! Give yourself a pat on the back.
Anywho, the use of coconut milk resulted in one super moist cornbread. If you put the buttermilk cornbread and the coconut milk cornbread side by side and conducted a taste test, you wouldn't be able to tell the two apart. And nope, you cannot taste the slightest hint of coconut in this bread.
Wait, what's that? You want to talk about BBQ day? Ok. Here ya go.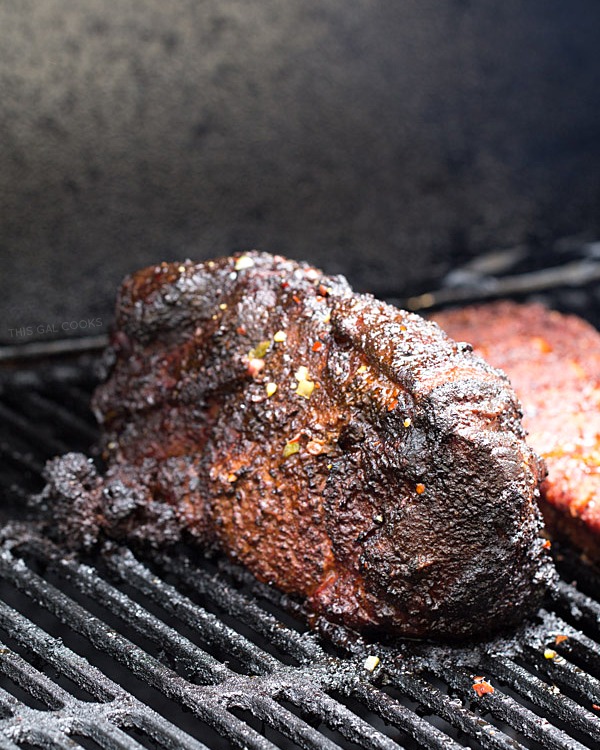 That right up there is essential to any BBQ day. A grill, a smoker and a few hunks of tasty meat. BBQ day at our house means breaking out the smoker and slow smoking a Boston butt roast and a slab of baby back ribs. That Boston butt was on that smoker for 12 hours. And let me tell you, it was fall of the bone amazeballs. The ribs were on for 5-6 hours. They were so darn tender that you could just pull the meat right off the bone with your fingertips. Serve the meats with delicious sides, like this blueberry cornbread, and then stuff your face like there's no tomorrow. Enjoy.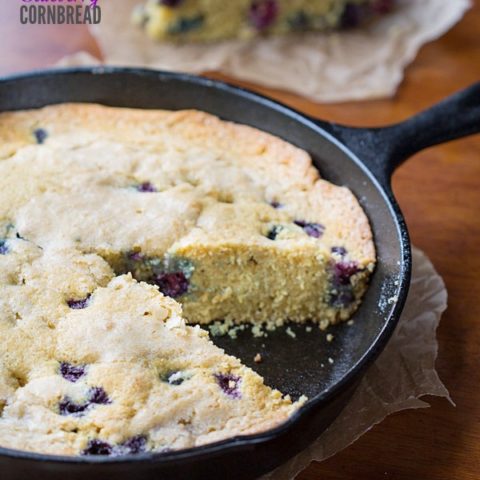 Blueberry Cornbread
Yield: 8

Prep Time: 10 minutes

Cook Time: 25 minutes

Total Time: 35 minutes
Ingredients
1 C all purpose flour
1 C cornmeal
1/2 tsp salt
1/2 C light brown sugar
1/2 C coconut oil, melted
3/4 C full fat coconut milk
1/4 C maple syrup
2 large eggs, room temp
1/2 tsp baking soda
1 C fresh blueberries
1/2 tsp flour for dusting the blueberries
1 tbsp vegetable oil
1 tbsp granulated sugar for dusting the top of the cornbread (optional)
Instructions
Preheat oven to 350.
Whisk together the flour, cornmeal and salt.
Mix the brown sugar and melted coconut oil together until blended. Add the coconut milk, maple syrup, eggs and baking soda. Mix well. Mix in the flour mixture until lumpy.
Toss the blueberries and the 1/2 tsp flour until the blueberries are coated. Fold into the cornbread batter.
Place the vegetable oil in a 10 inch cast iron skillet and place in the oven until the oil is heated, about 4-5 minutes. Using a paper towel, coat the skillet with the oil. Pour any remaining oil into the cornbread batter and mix well.
Pour the cornbread batter into the skillet and bake at 350 for 20-25 minutes or until a toothpick comes out clean.
If desired, dust the top of the cornbread with granulated sugar.
Notes
If the top of your bread starts to brown a little too much while baking, simply cover the skillet with aluminum foil.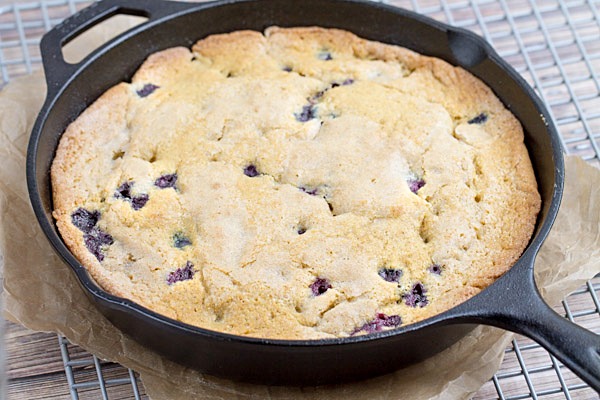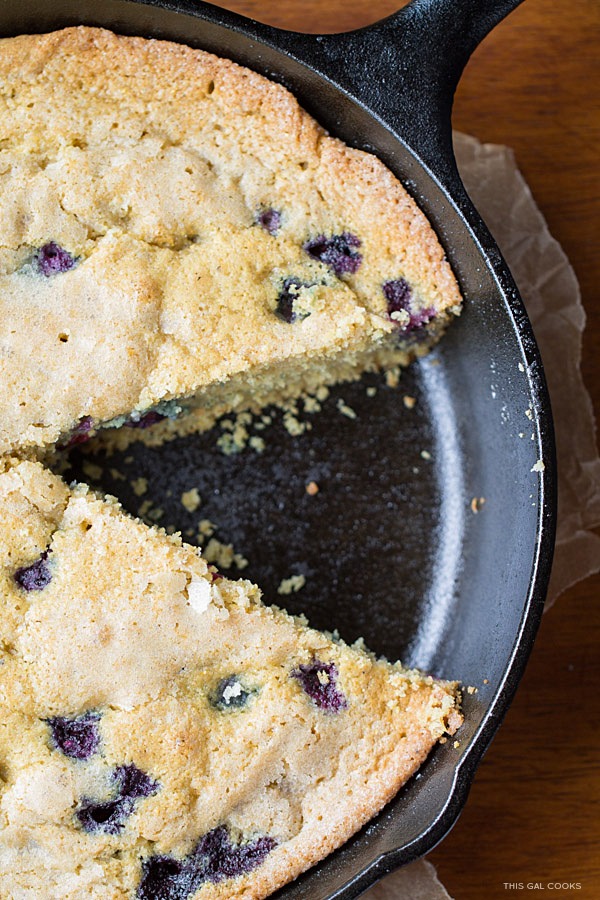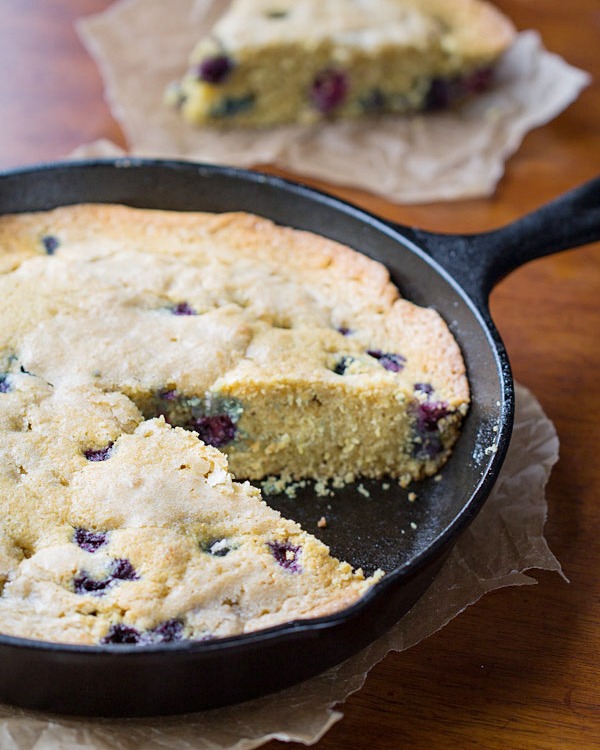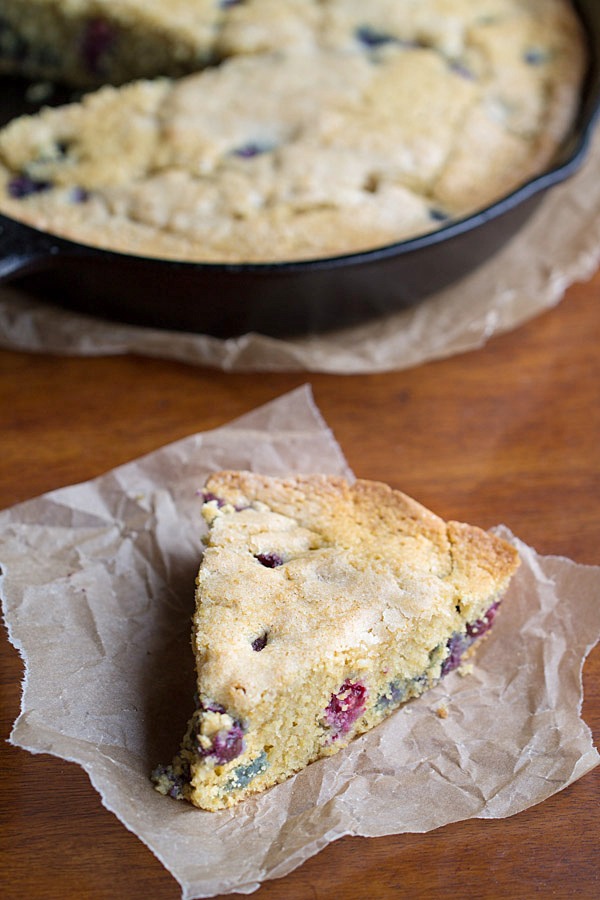 A few more BBQ Day essentials
{Click Images to View Recipes}