Plum Clafoutis Dessert Recipe
Thank you Blue Diamond Almonds for sponsoring this post!
Plum Clafoutis. The classic French custard dessert dish get's a makeover – this clafoutis is filled with fresh plums rather than cherries.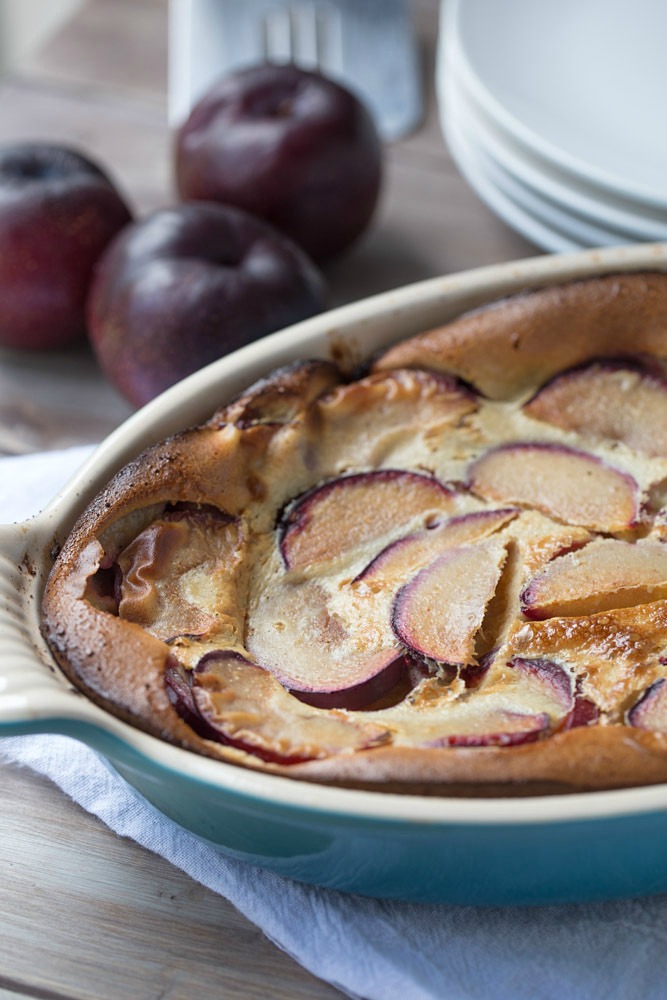 Clafoutis. What is a clafoutis? A clafoutis is a French custard-like dessert dish, typically made with cherries. Fortunately for you, I had some fresh juicy plums sitting on my counter so I made this melt in your mouth Plum Clafoutis.
This plum clafoutis simple to make. Sliced plums are placed in a buttered casserole dish. The almonds are ground in a food processor. The batter is made in a blender. Blend, pour, bake. It's that simple.
So, where do Blue Diamond Almonds fit into all of this talk of clafoutis? I used Blue Diamond Honey Roasted Cinnamon Almonds in the batter. BEST idea ever! Honey, cinnamon and almonds compliment plums so the combo NEEDED to happen. And it did. And then I darn near ate the entire thing myself.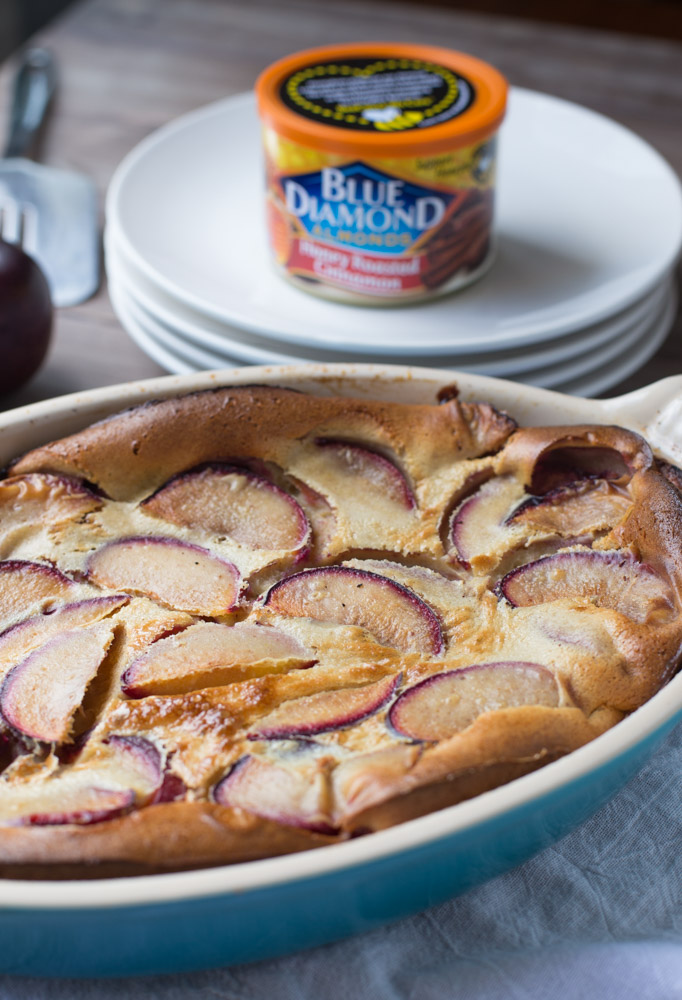 Last month I became a Blue Diamond Tastemaker. How sweet it that? Hello almonds and hello creating fun almond recipes for all of you! My first campaign as a Tastemaker is all about the Honey Dijon and Honey Roasted Cinnamon almonds, hence this Plum Clafoutis made with honey roasted cinnamon almonds. Not only are the almonds great for recipes, they're great for snacking, too. Those honey dijon almonds, well I almost ate the entire container right after I opened them. I've been taking them to work to munch on when the 3pm snack cravings hit. You can bet your last dollar that the Blue Diamond almonds will be coming with us when we go on vacation next week.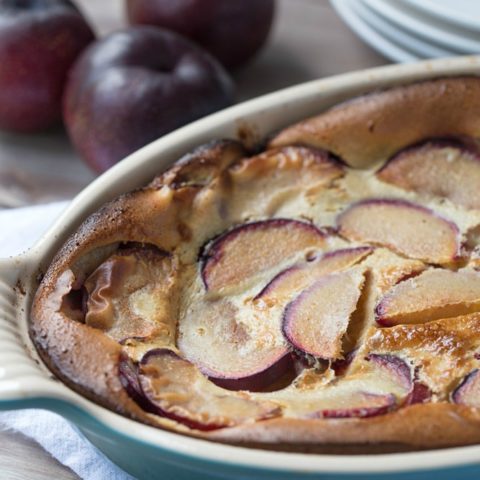 Plum Clafoutis
Yield: 6-8 servings

Prep Time: 10 minutes

Cook Time: 40 minutes

Total Time: 50 minutes
Ingredients
1/2 tbsp unsalted butter, room temp
1tbsp powdered sugar, plus more for dusting
2-3 ripe plums, halved, cored and sliced thin, about 20-24 slices each
½ C granulated sugar
4 large eggs
1 ½ C half and half
2 tbsp dry sherry
2 tsp vanilla extract
½ tsp orange zest
¼ tsp salt
¾ C all purpose flour
½ C Blue Diamond Honey Cinnamon almonds, ground
Instructions
Preheat oven to 425.
Coat the bottom of a 2 quart baking dish (I used an oval dish) with 1/2 tbsp butter. Dust with 1 tbsp powdered sugar. Place the plum slices in the bottom of the dish.
Prepare the batter. Place the sugar, eggs, half and half, sherry, vanilla extract, orange zest and salt in a blender and blend until smooth. Add the flour and ground almonds and blend until smooth. Pour the mixture over the plums in the baking dish.
Bake for 40-45 minutes.
Cool on a wire rack before serving. Once cooled, dust with powdered sugar.
Notes
Adapted from Williams Sonoma Baking Book.

You will need 2-3 medium sized plums for this recipe. If you use smaller plums, you will need more. The goal is to completely cover the bottom of your baking dish with the plums. I needed three to cover the bottom of my baking dish. If your baking dish is shaped differently than the one I used (see pics) then you may need more or fewer plums.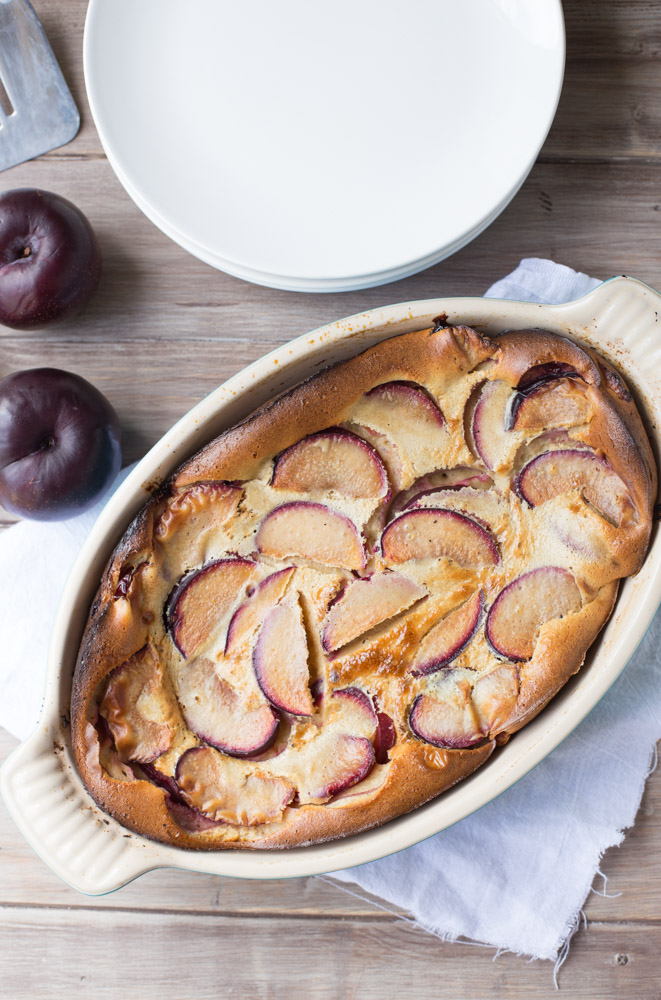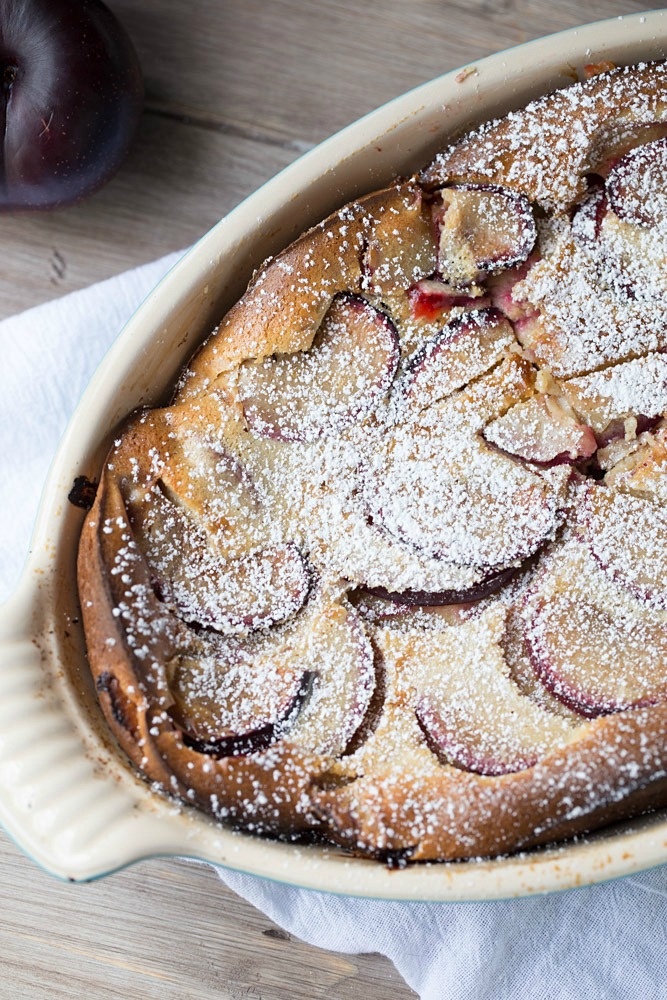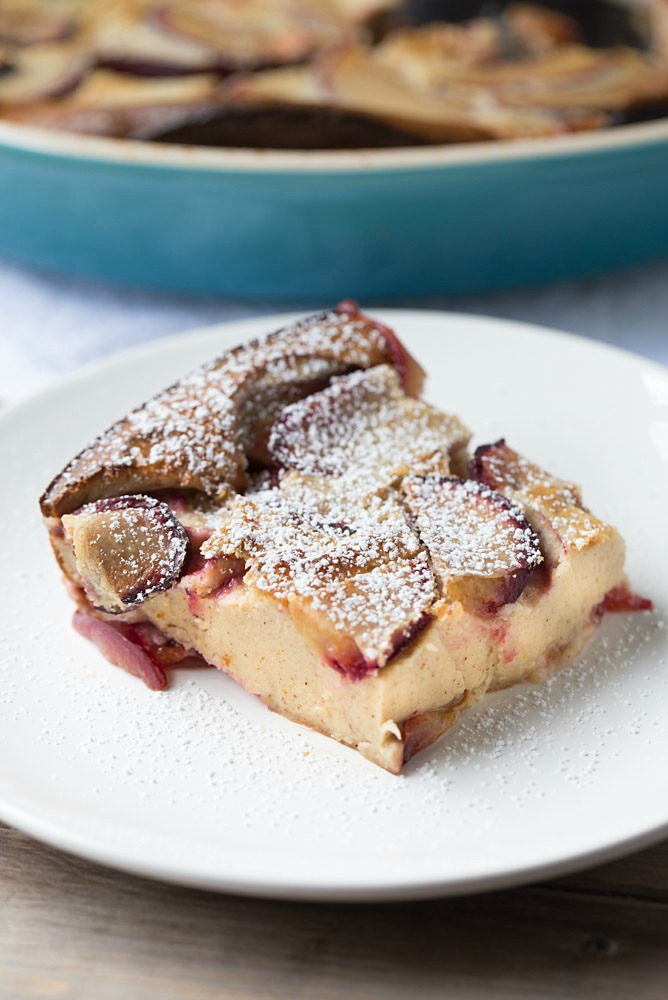 This post was sponsored and compensated for by Blue Diamond Almonds. All opinions, photos and adapted recipe are my own.