Almond Joy Protein Shake (dairy free, vegan)
A simple breakfast recipe: Almond Joy Protein Shake. Great meal replacement at 460 calories. This smoothie keep you full until lunch. Vegan friendly.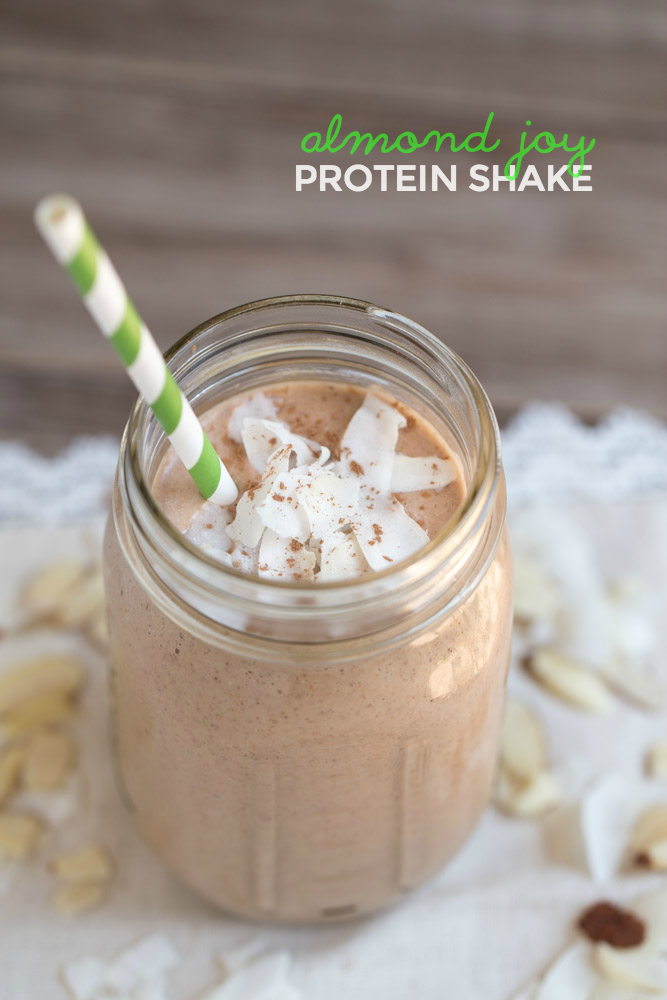 I took the plunge and decided to give plant based protein powders a try. One of the first things I made with the chocolate protein powder was this delicious Almond Joy Protein Shake. It's the perfect balance of chocolate, almonds and coconut and will give you your sweets fix in the morning without having to hit the donut shop!
I know I always say I'm going to quit eating dairy or cut back on it but I just cannot detach myself from cheese and lattes made with dairy milk. I've tried soy, I think it gives me hot flashes. For real. Coconut milk makes the lattes taste too sweet and almond milk, well I haven't gone there yet when it comes to lattes. I'm afraid. Someone told me it makes a latte taste like sawdust. I don't want to waste my money on a sawdust tasting latte.
No siree!
One type of dairy product I can steer clear of is whey based protein powders. I just do not like them so it makes it easy for me to avoid them. One less dairy product that could wreak havoc on my stomach. This is how plant based protein powders entered into my life. I wanted to make some protein boosted meals and smoothies so I got to researching plant protein powders and settled on both chocolate and vanilla from a company I'd never heard (Garden of Life) of but they got good reviews so I took a chance on them.
Totally worth it.
This Almond Joy Protein Shake is worth sipping on, too. I enjoy them for breakfast but you could totally have one to get those mid-afternoon chocolate cravings satisfied. Everything is placed into a blender and blended until mostly smooth. The coconut usually doesn't totally blend so there will probably be small pieces of coconut in the shake. But that's ok because we are talking about coconut here. Coconut can do whatever it wants to do. This protein shake can be made ahead of time, placed into a jar or cup with a lid and placed in a fridge until ready to drink. BUT, this protein shake is really quick to make so it's a great one for busy mornings, too!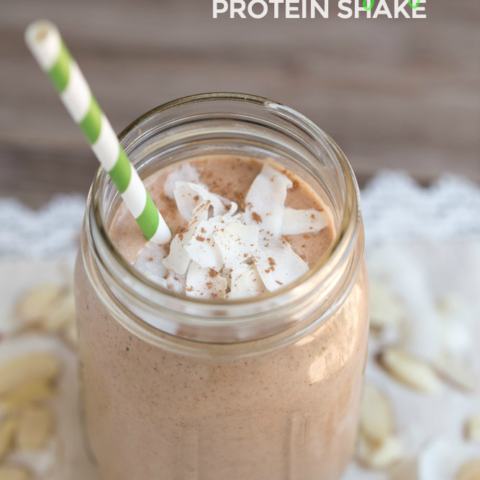 Almond Joy Protein Shake (dairy free, vegan)
Yield: 16 oz

Prep Time: 5 minutes

Total Time: 5 minutes
Ingredients
1 C unsweetened vanilla coconut milk (I use the kind that comes in a carton)
1 scoop of chocolate protein powder (I used plant based)
1/2 frozen banana, cut into chunks
2 tbsp creamy almond butter
2 tsp maple syrup
1/2 tbsp chia seed
1/4 C unsweetened coconut flakes, plus more for garnish, if desired
1 C ice cubes
Instructions
Place all items in a blender. Pulsate a few times and then blend on medium high speed for 1-2 minutes. If using a Ninja blender, use speed 7.
Notes
You can easily double this recipe, if desired.
Nutrition Information:

Amount Per Serving: Calories: 460 Total Fat: 29g Sodium: 1mg Carbohydrates: 33g Sugar: 10g Protein: 26g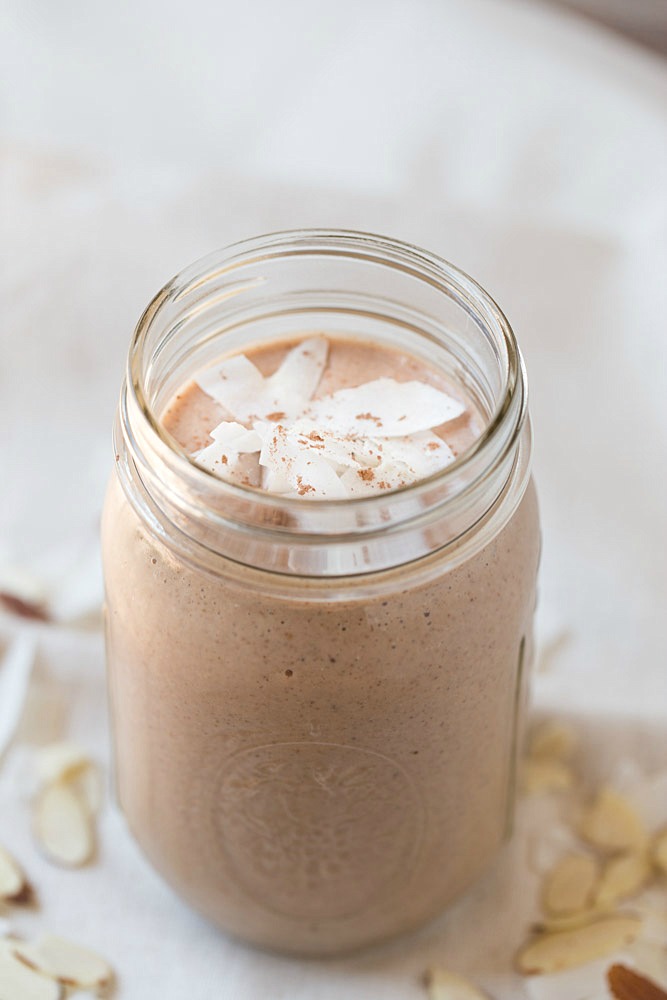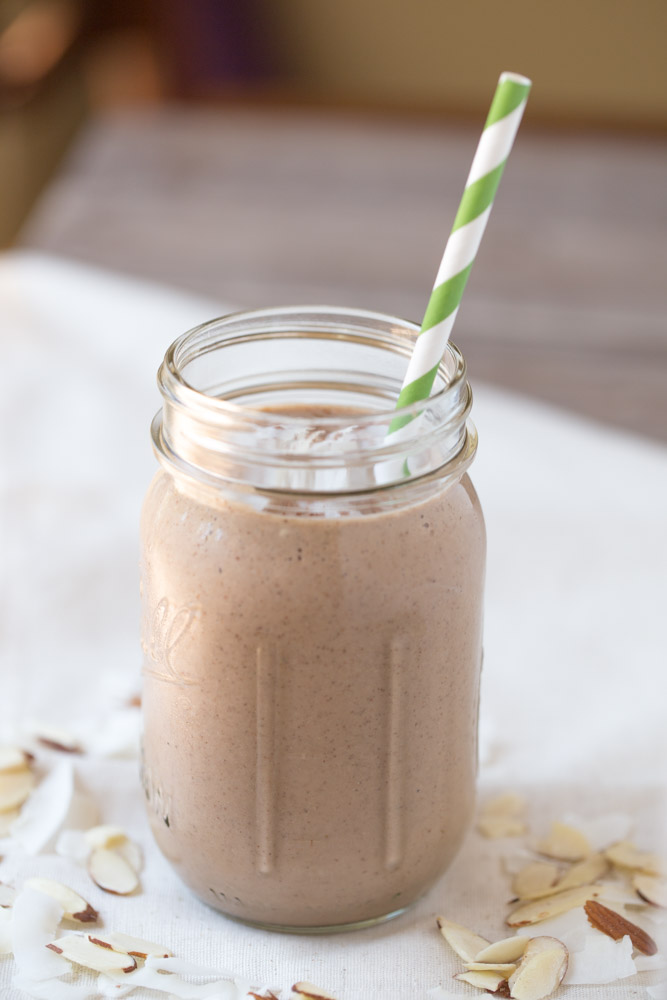 RELATED POSTS
Pina Colada Smoothie with Mango