Cherry Almond Breakfast Shake
This dairy free Cherry Almond Breakfast Shake is so easy to make and is a great healthy option for breakfast! If you love cherries and almonds, this breakfast shake is for you!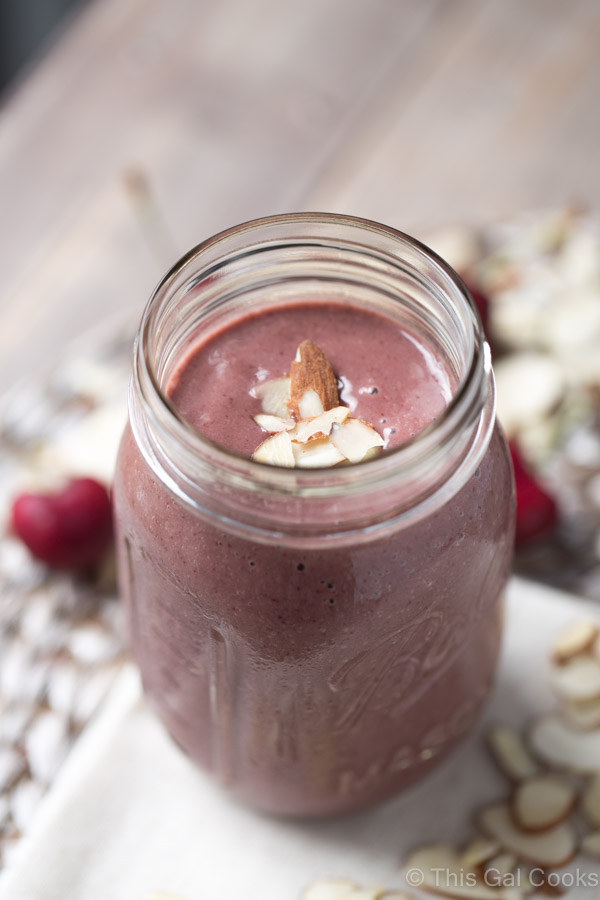 I feel like I've neglected this blog all weekend. And I probably did. But that's ok. I had a good reason to – my mom was in town for a long weekend visit! I work at a bank so I had yesterday off. My mom doesn't work at a bank so she didn't have yesterday off. But I told her to take a vacation day so she ended up having yesterday off. She came to visit on Saturday and stayed until yesterday afternoon. We had a grand time. Ken and I took her out for some craft beers and then some coffee. Well, she didn't have any craft beers. We have had her try so many beers and she doesn't like any of them. She makes the funniest faces after trying them. I told her and Ken that I needed to start a blog called My Mom's Face When She Tries Craft Beer. Because it would be funny and we all need a little funny in our lives, right?
Anyways, after craft beer, coffee and a random car show, we went out to dinner at a place we probably won't go to again. Good food. Not so good atmosphere – unless extremely drunk people at 6pm is your thing. To make up for it, we went to my most favorite restaurant ever on Sunday night. My mom loves it too – we've taken her there a couple of times in the past. And I know I've mentioned it to you before; it's called District Table and Bar. It's in Stuart, FL. If you're ever in Stuart, FL, you HAVE to go to this place. We started of with an order of Grouper Cheek Fritters. For the main course, Ken and my mom both got Lamb Meatballs, with mom getting quinoa salad to go with hers and Ken getting lumpia to go with his. I went all out and ordered swordfish that came with king crab, basil polenta, roasted tomato and farm beans. SO FREAKING AMAZING!
So let's talk cherry and almonds and breakfast shakes. I like cherries. I like almonds. And I like breakfast shakes and smoothies. This shake was actually intended to be a smoothie but after making it, it was more like a shake. So I didn't want to call it a smoothie. I used frozen dark sweet cherries, almond milk and almond butter in it. Hence the name Cherry Almond Breakfast Shake.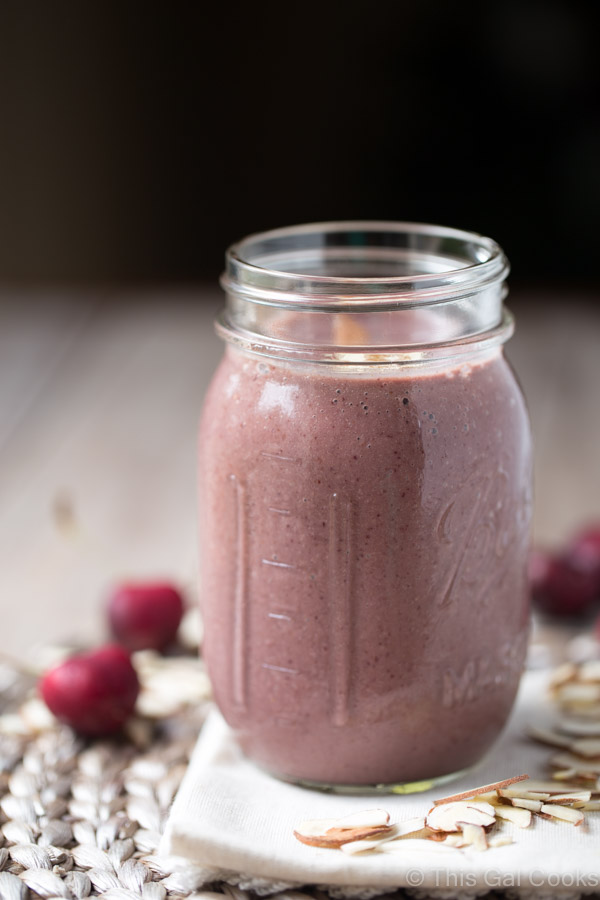 This shake is super easy to make. Seriously, I was sipping on it 10 minutes after I pulled the ingredients out of my pantry and freezer. I made the shake with frozen dark sweet cherries, unsweetened vanilla almond milk, almond butter, a banana and a little maple syrup for sweetness. The almond butter definitely boosts the almond flavor. If you're looking for a subtle hint of almond, reduce the amount to almond butter used to make your shake. Enjoy the recipe and happy breakfast shake drinking!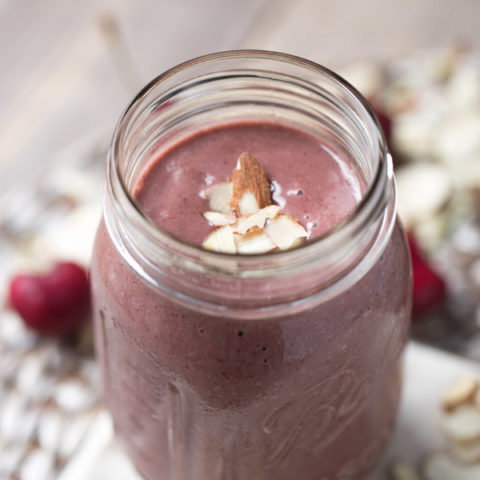 Cherry Almond Breakfast Shake
Yield: 20 oz

Prep Time: 10 minutes

Total Time: 10 minutes

This dairy free Cherry Almond Breakfast Shake is so easy to make and is a great healthy option for breakfast!
Ingredients
2 C frozen dark sweet cherries
1/2 frozen banana, cut into chunks
1 tbsp almond butter
1 tbsp maple syrup
1 C unsweetened vanilla almond milk
Instructions
Place all of the ingredients in your blender. Pulsate a few times to break everything up and then blend until smooth. I used a Ninja Ultima Blender and blended on speed 7 until the shake was nice and smooth.
Pour into two 12 oz glasses and serve.
Nutrition Information:

Amount Per Serving: Calories: 190 Total Fat: 6g Sodium: 81mg Carbohydrates: 38g Sugar: 24g Protein: 4g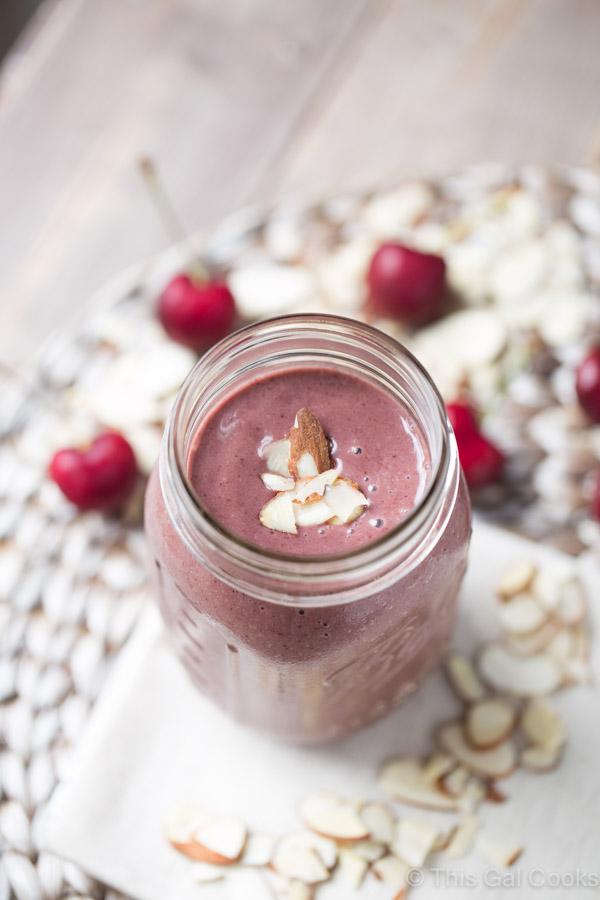 RELATED POSTS
Berry Pie Smoothie | Averie Cooks.
Cranberry Pomegranate Smoothie | Cooking Classy.
Blueberry Peaches and Cream Green Smoothie | Cupcakes and Kale Chips.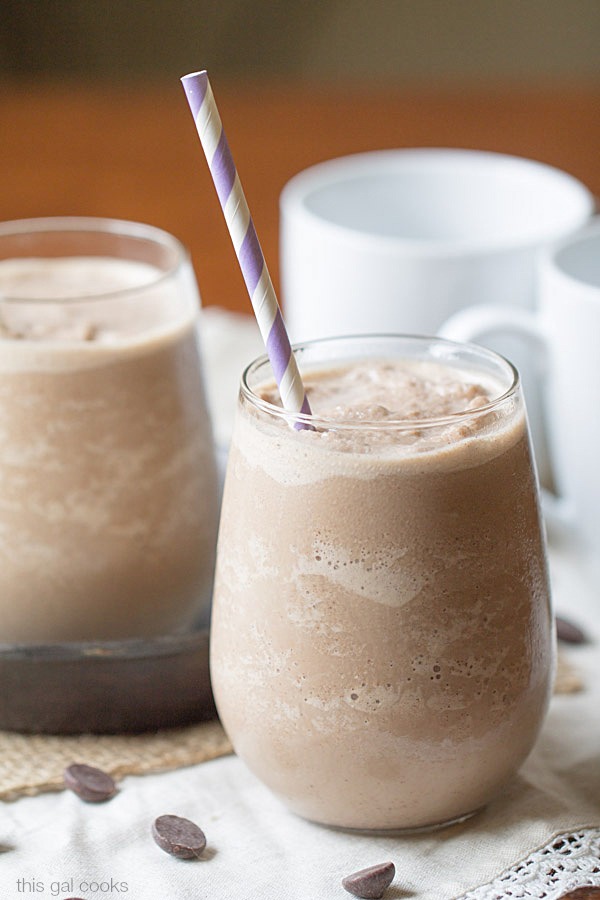 Strawberry Cookies and Cream Kefir Shake