Plated Review: Eating Well Made Easy
Happy Thursday, folks. Today I have a fun product review for you: Have you heard of Plated?
NOTE: link to promo at the end of this post – Four Free Plated meals with the purchase of two!
No? Ok, well let me ask you this. Are you a busy home cook? Do you like to cook meals with fresh, healthy ingredients for your family? Do you often ask yourself why there isn't more time in the day? If you answered yes to any of those, then Plated could totally be for you.
Plated sends fresh ingredients right to your doorstep and you do the cooking.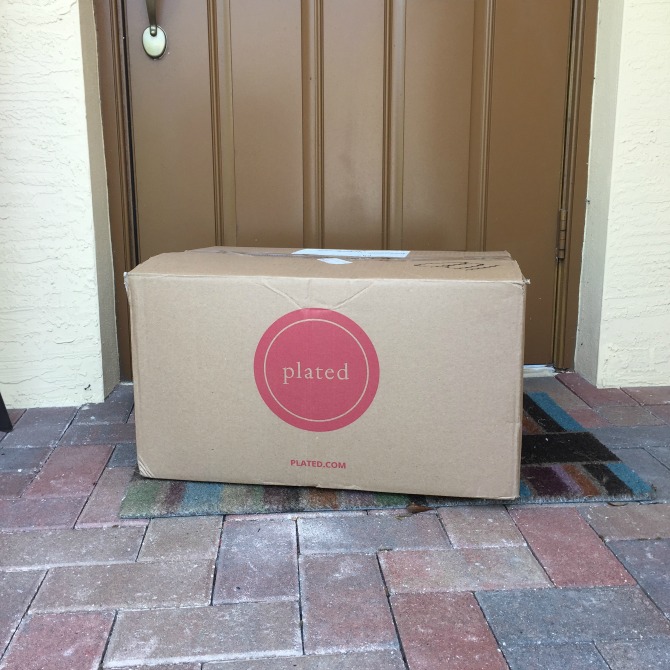 It's kinda like personalized grocery shopping right to your doorstep. Each week, Plated has a unique menu of 4-5 meal options to choose from. You choose the recipes you want to make. Plated delivers the ingredients to make the meals right to your doorstep (certain ingredients, such as eggs, are not sent and must come from your pantry). The fresh, locally sourced ingredient packages are labeled with name of ingredient and recipe that said ingredient belongs to. Recipe cards with PHOTOS help you prep, cook and serve the meals, most in under 45 minutes!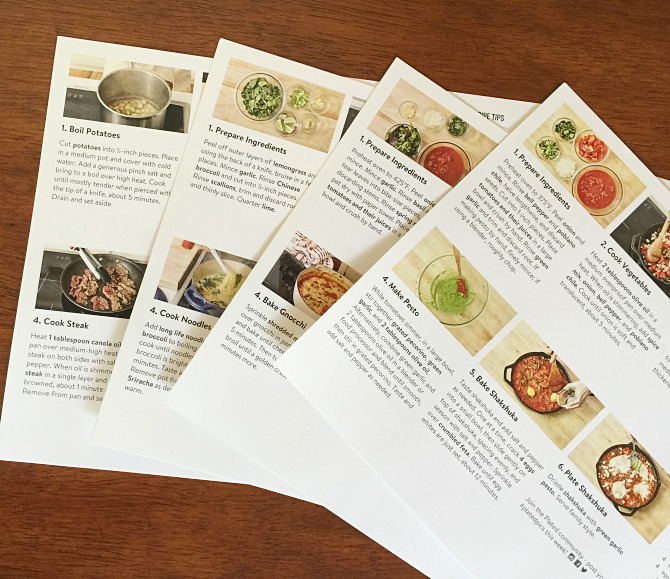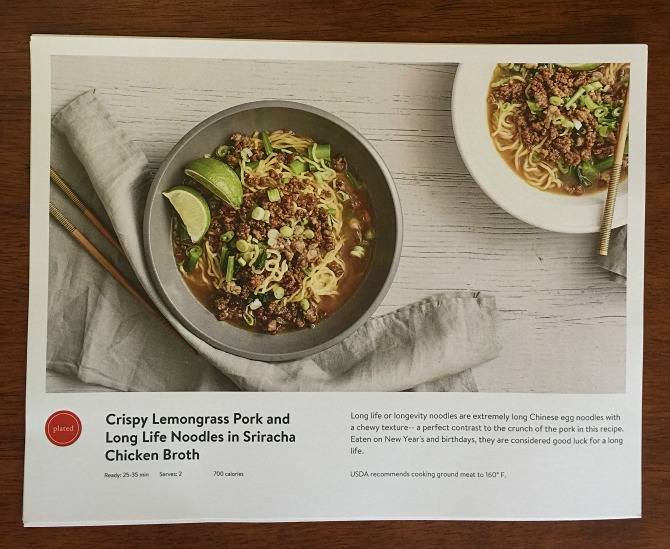 One of the things I like most about Plated is the elimination of waste. How many times have you purchased ingredients for a recipe, only to end up throwing unused ingredients away after making said recipe? I'll be honest, it happens to me ALL THE TIME! Im pretty busy during the week and as much as I like to cook, it just doesn't happen every day of the week. Fresh veggies and herbs often end up in my trash can. Plated solves the waste issue by sending you only what you need for the recipes you choose to make. BUT with all of that being said, I must point out that my experience with Plated actually did result in some waste.
Here's why.
I received four days worth of meals on a Friday evening. We had grilling plans Saturday evening so I didn't make the first Plated meal until Sunday. I made the second Plated meal on Monday – Peruvian Steak Stir-Fry.
Tons of leftovers from that meal so I didn't need to cook anything on Tuesday. By Wednesday, the fresh ingredients I received from Plated were looking less than stellar (instructions say to use all ingredients within 4 days of receiving). So into the trash they went. The only thing I could salvage were two 28 ounce cans of whole tomatoes.
So here's my total opinion of Plated
Love the concept of having fresh ingredients delivered right to my doorstep.
Love the options – low cal, seafood, vegetarian – one of each is included in each week's menu.
Love the simple recipe cards.
Out of the two meals I tried, one was great (Crispy Lemongrass Pork), one was just okay (Peruvian Steak Stir-Fry) and lacked flavor. Ken actually wasn't impressed enough to order anything on a continuous basis. He said the meals reminded him of frozen dinners.
I might order meals from Plated again but only two maximum per week. I didn't like having to throw ingredients for entire meals away.
Plated is cheaper than dining out (cost is at about $12 per plate) but definitely not cheaper than purchasing items from your grocery store.
Ready to Try Plated? Here are some tips.
Choose your meals early in the week. I noticed that many of the popular recipes become unavailable quickly.
Single? While Plated only offers options of meals for two or more people, single folks can still enjoy. Hello leftovers! I'd suggest ordering one or two meals (don't want too much product on hand that could go to waste) and packing the leftovers from each meal for lunch.
Don't over order. It's recommended to use the fresh ingredients within four days of receiving. If you're busy like me or if things come up, meals don't get made which can result in waste.
I'm not sure how freezing the Plated meal ingredients would work. I didn't even think of trying it but if you do try it, let me know how it works for you.
Right now, you can get four FREE plates from Plated with the purchase of two plates. That's a pretty awesome deal. Get the deal here.
Disclaimer: I was not compensated for this post however, I did receive four free meals from Plated in exchange for this review. All opinions are my own.