Banana Almond Mocha Shake
Today we're going to talk about this Banana Almond Mocha Shake. And epic blender disasters.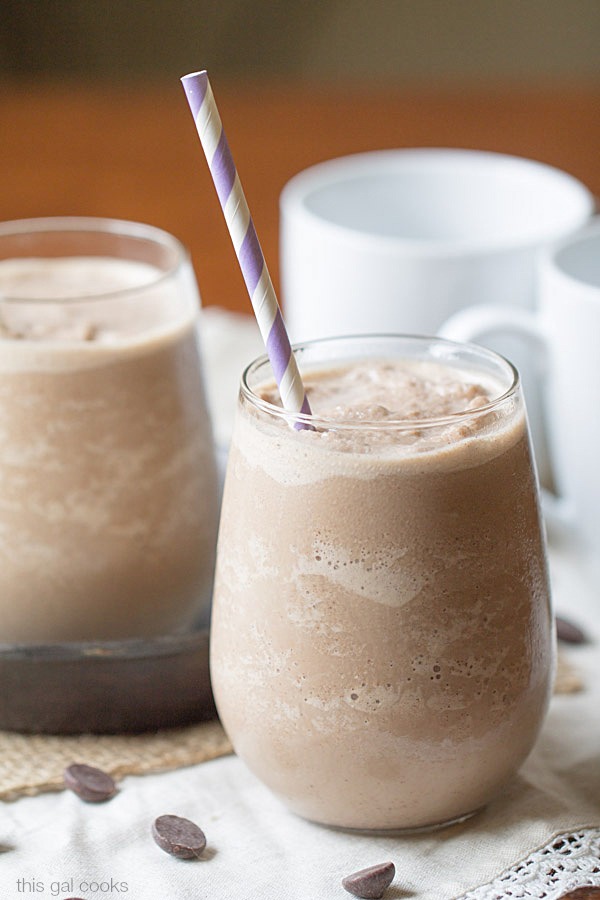 The year was was oh, 1993 or 1994. My younger brother and I were home alone. We were dying for milkshakes and since neither one of us were old enough to drive, we decided to drag out the blender and make our own. Chocolate milkshakes. The perfect afternoon snack on a hot summer afternoon. Chocolate milkshakes. The perfect substance to make the perfect epic mess.
One of us decided it would be a good idea to stick a spoon into the blender while it was in full force blend mode. I'm going to point all fingers towards my brother on this one. Although, I could have easily been the mastermind of spoon meets blender. I'm not really sure what my his intention was. Who sticks a spoon into a blender that's hard at work, blending up delicious chocolate shakes?
Teenagers. Bored teenagers.
The moment that spoon hit the blade of the blender, our walls, and even some of the ceiling, turned the chocolatey shade of milkshake brown. No joke, there was milkshake sludge everywhere. We were laughing our butts off. Seriously rolling on the floor, dying of laughter pains. Until we realized that mom and dad would be home soon. Then we went into full cleanup mode. O.M.G. We cannot let mom and dad know about this. If they find out, we'll never be able to make milkshakes again. Oh the horror.
Enough of this talk of epic messes. Blenders don't always create messes. They happen to create great soups and smoothies too.
I've always had a weird issue with blenders. No expensive blenders. And no plastic jars allowed. BUT, I think my new Ninja Ultima may have changed my mind.
A few weeks ago I was lucky enough to score a free Ninja Ultima Blender, courtesy of Ninja Kitchen. I was pretty excited to try it out. I had never used a fancy blender before. All of my previous blenders were bargain bin blenders, costing less than $30. I was a cheapo when it came to blenders. Heck, I'm a cheapo when it comes to other things too. Dishes, clothes, sheets, other house hold appliances. But not food. And probably not blenders anymore, either.
The Ninja Ultima is kick ass! I hope they don't mind that I said kick ass. But seriously, that's what I said after I made the first drink with it. That's one kick ass smoothie makin' machine right there. I love that it makes smoothie shop quality smoothies. And I love that it comes with individual blending cups as well. Grab and drink on the go.
UPDATE (June 2015): After 1 year of use, the Ninja Ultima Blender motor quit working. I contacted Ninja and they offered to repair the blender if I shipped it to them. Ultimately, I decided to purchase a Blendtech blender instead. 
I decided to make one of the Ninja recipes to share with you today. I made the Bright Side Mocha Shake, with a few changes. More coffee. Frozen Banana. No agave. Sugar free caramel coffee syrup. Lactaid milk instead of almond milk. I love almond milk but the almond milk in my fridge is a bit questionable so I didn't want to use it. True story – that questionable almond milk is still sitting in my fridge. I may be a little lazy from time to time.
Since I made a few changes to the Ninja recipe, I renamed the recipe to Banana Almond Mocha Shake. The almond butter flavor really shines in this shake. But it's good! The consistency of this shake reminds me of the Starbucks Frappuccinos. And that's a huge win right there. Enjoy the recipe.
Banana Almond Mocha Shake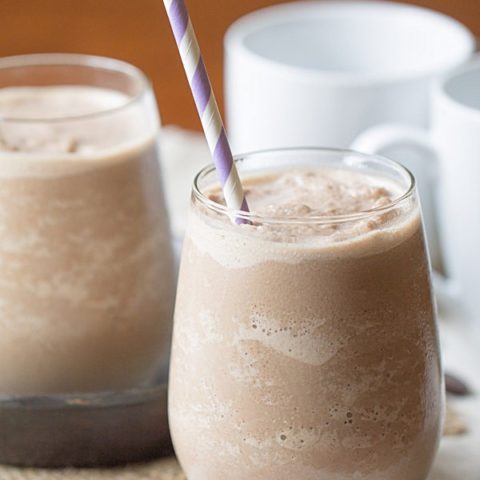 Banana Almond Mocha Shake
Yield: 2

Prep Time: 5 minutes

Total Time: 5 minutes
Ingredients
1 C of your favorite brewed coffee, cooled
1 frozen banana, peeled
3 tbsp creamy almond butter
2 tsp unsweetened cocoa powder
1/2 C milk (I used Lactaid)
2 C ice cubes
1-2 tbsp sugar free caramel syrup
Instructions
Place all of the ingredients into your blender. Blend until smooth.
If using the Ninja blender, Pulse a few times and then gradually increase the speed to speed 6 and blend until smooth. The consistency should be similar to a frappuccino.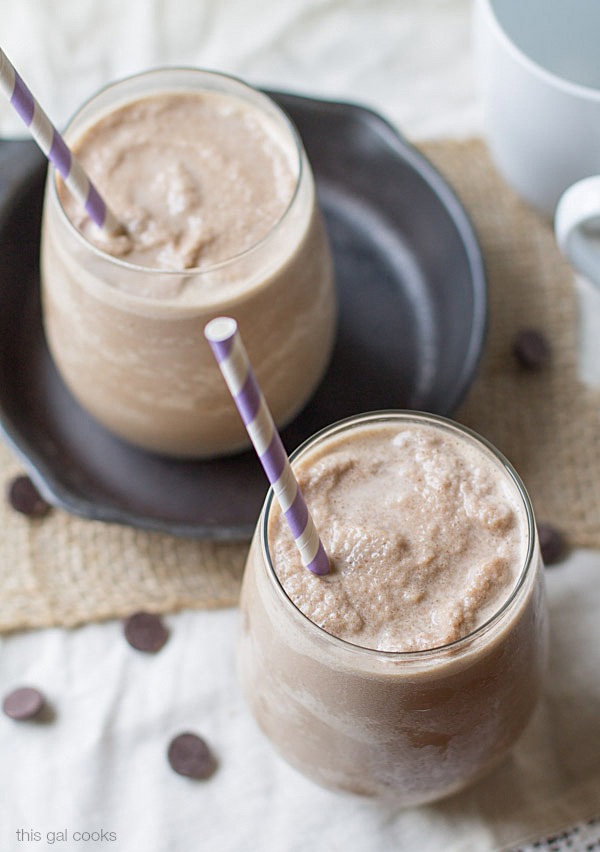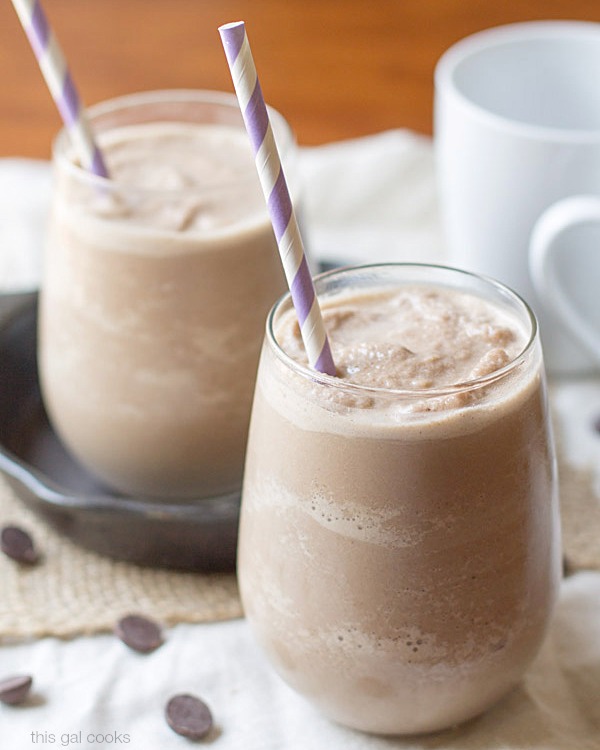 Oh and in case you were wondering, things went ok with mom and dad. We were able to make milkshakes again.
I received a super cool, free Ninja Blender from Ninja Kitchens. This product was free and was mine to keep in exchange for a fun little review. With that being said, please note, all opinions are my own.