No Churn Cherry Cobbler Ice Cream
I believe everyone should have a fool-proof, no churn ice cream recipe in their recipe collection because it's easy to make and doesn't require dragging small appliances out of hard to reach cabinets.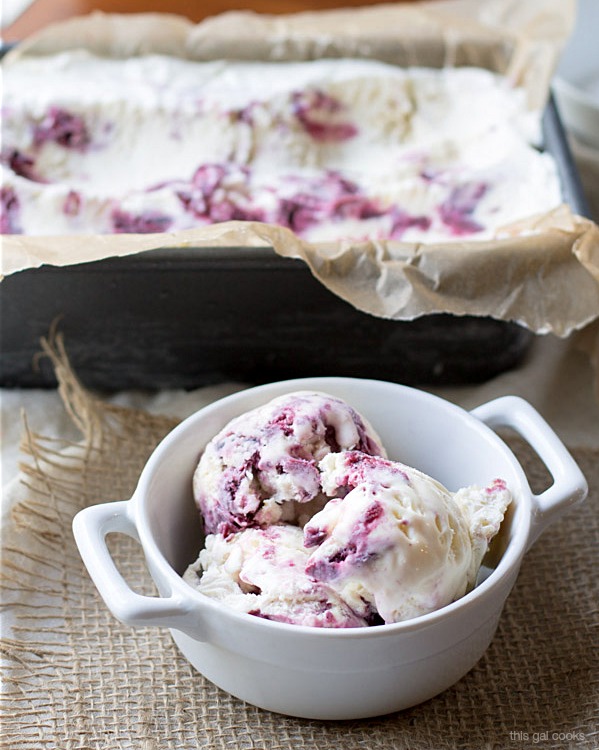 Do you have that problem too? Stuffing small appliances that rarely get used into hard to reach cabinets? Mine always end up in the small cabinet above my refrigerator. Whenever I need to use said appliances, I have to drag out and use the step stool so I'm able to reach them. It's such a pain. If I can make something without having to reach for those appliances, I will.
No Churn Cherry Cobbler Ice Cream
While browsing the web Saturday morning, I found a no churn Key Lime Pie Ice Cream recipe from Fake Ginger. It looked good and it resulted in me craving for a bowl of ice cream. I had a bag of fresh cherries and a carton of heavy cream in my refrigerator. I had sweetened condensed milk in my pantry. These are the staples of a good no churn ice cream recipe.
While I was at BlogHer Food a couple of weeks ago, Emily from It Bakes Me Happy shared this roasted Strawberry Ice Cream on my blog. I used her recipe as the base for my no churn cherry cobbler ice cream recipe. The recipe makes approximately 4-5 pints of ice cream. If you use a standard sized loaf pan, you won't have enough room in the pan for all of the ice cream and cobbler topping.  I put the leftover cobbler topping, ice cream and a drizzle of chocolate syrup into two 10oz ramekins and placed them in my freezer for a few hours. Ken and I were able to enjoy them before the larger batch of ice cream was ready to eat.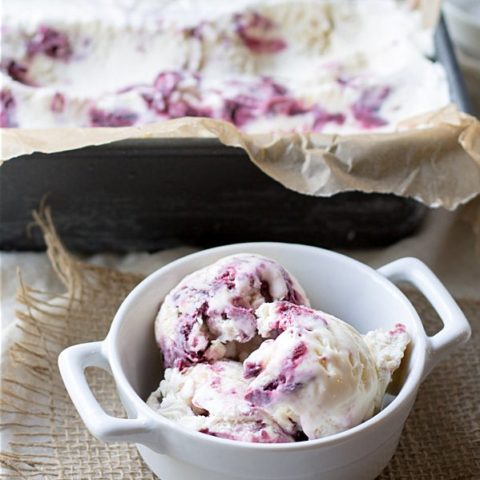 No Churn Cherry Cobbler Ice Cream
Yield: 20

Prep Time: 25 minutes

Cook Time: 6 hours

Total Time: 6 hours 25 minutes

Everyone knows cobbler and ice cream go hand in hand. This No Churn Cherry Cobbler Ice Cream brings the two together in one creamy, crazy good made from scratch dessert!
Ingredients
For the cherry filling:
2 C fresh pitted cherries
2 tbsp brown sugar
1 tbsp bourbon (replace with lemon juice if you don't want to use bourbon)
1-2 tsp cornstarch
For the cobbler topping:
1 1/4 C all purpose flour
1/3 C granulated sugar
2 tsp baking powder
1/2 tsp ground cinnamon
1/4 tsp salt
1 large egg
1/2 C milk
6 tbsp butter, melted
1/2 tsp vanilla extract
For the ice cream
16 oz heavy cream
2 cans sweetened condensed milk
1 vanilla bean, inside scraped out for use in ice cream
Instructions
Preheat oven to 350.
Prepare and bake the cobbler topping. In a mixing bowl, whisk together the flour, granulated sugar, baking powder, salt and cinnamon. In another mixing bowl, whisk together the egg, milk, melted butter and vanilla. Pour the mixture into the flour mixture and mix until all of the flour mixture is moist. Pour the mixture into a cast iron skillet and bake at 350 for 15-20 minutes. Once done baking, remove from the oven and allow to cool. Then cut into small chunks.
Prepare the cobbler filling. In a sauce pan over medium heat, mix together the cherries, cornstarch, bourbon and brown sugar. Cook until the cherries are mashable, about 10-15 minutes, and then mash the cherries. It's ok if you have chunks. You just want to break them up. Once done cooking, set aside and allow to cool.
Prepare the ice cream mixture. In the bowl of a stand mixer (or you can use a hand mixer) beat the heavy cream until soft peaks form. Slowly mix in the sweetened condensed milk and vanilla bean until well incorporated.
Prepare your Cherry Cobbler Ice Cream. Line a 9x5 loaf pan with parchment paper. Place 1/3 of the cherries in the bottom of the pan. Then top with some of the cobbler topping chunks. Pour enough of the ice cream mixture over top to cover the cherries and cobbler topping chunks. Add another 1/3 of the cherries and cobbler topping mixture. Then pour more ice cream over top, covering the cherries and the chunks. Carefully swirl this layer with a butter knife. Pour enough ice cream to come to just under the rim of the loaf pan. Add the remaining cherries and swirl with a butter knife. Cover with plastic wrap by pressing the plastic wrap onto the surface of the ice cream. Freeze for 6-8 hours or overnight.
Notes
Cobbler topping recipe adapted from Williams Sonoma Baking Book.

Ice Cream mixture recipe from It Bakes Me Happy.

Any unused ice cream mixture and cobbler topping can be used to make any other type of ice cream you prefer. I placed the cobbler topping, chocolate syrup and the ice cream into two 10oz ramekins to make Chocolate Cobbler Ice Cream.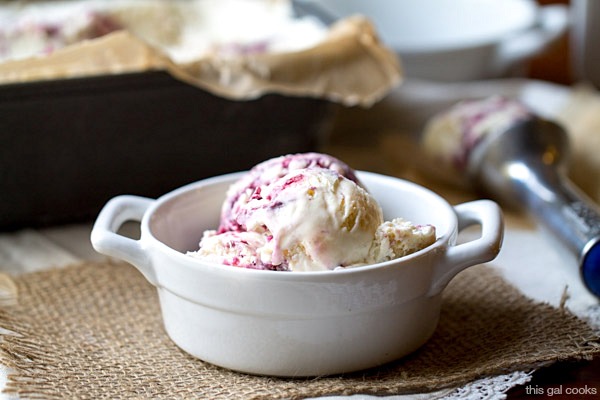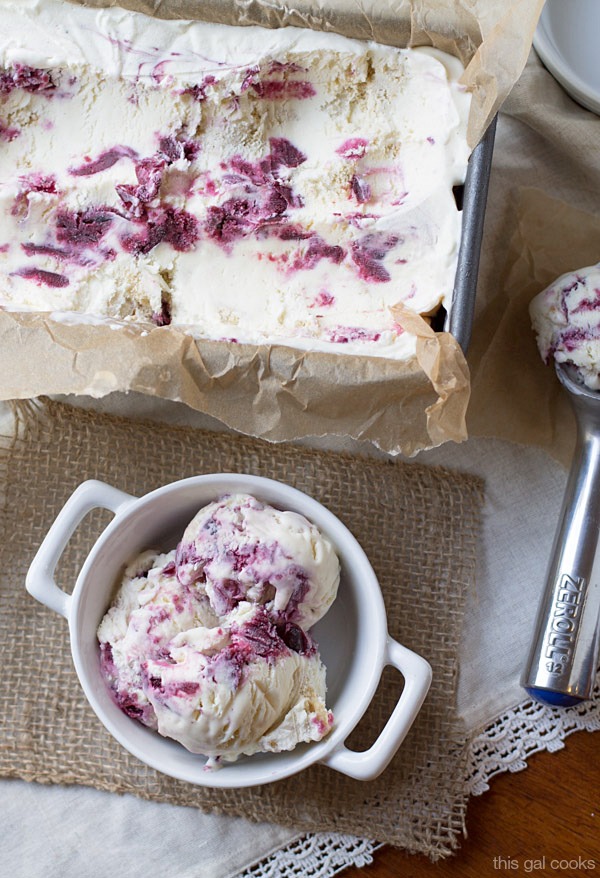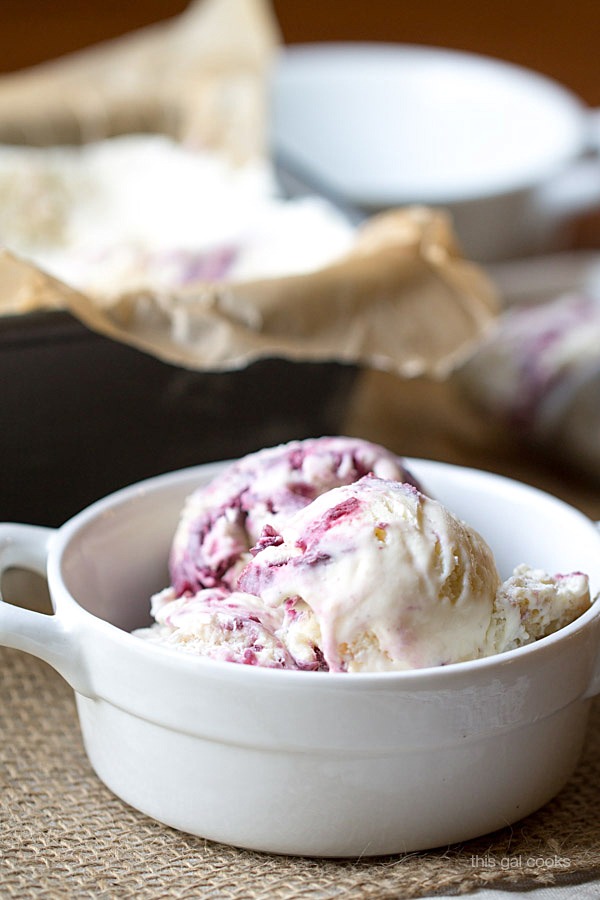 RELATED POSTS
 Fluffernutter Peanut Butter Cup Ice Cream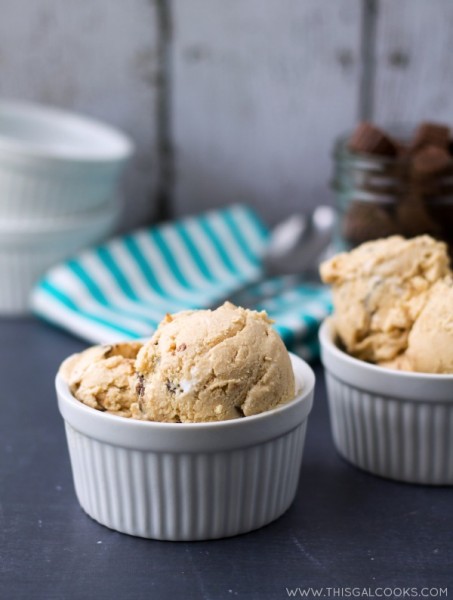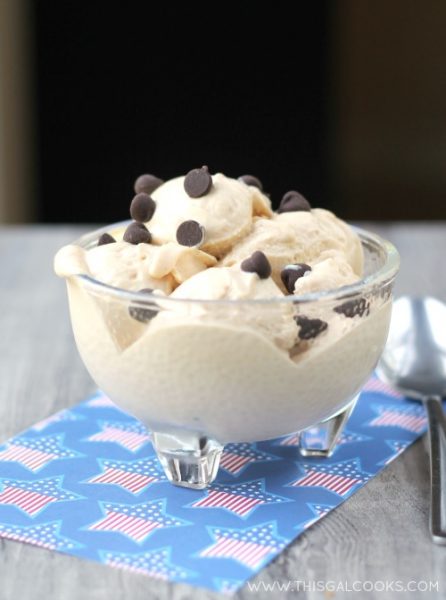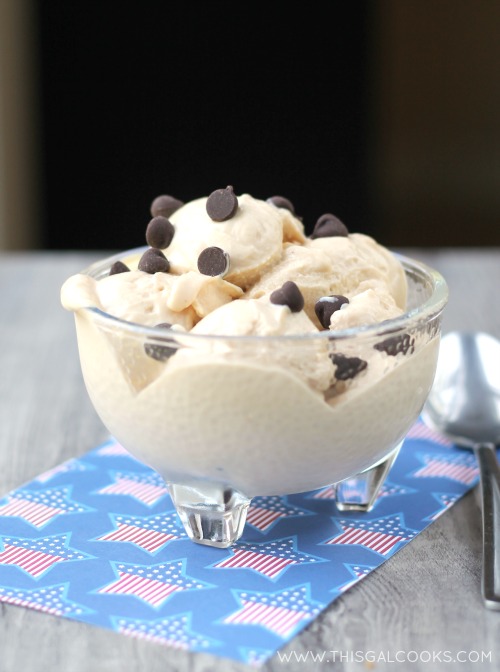 Dairy Free Vanilla Peach Ice Cream