No Churn Cherry Cobbler Ice Cream
I believe everyone should have a fool-proof, no churn ice cream recipe in their recipe collection because it's easy to make and doesn't require dragging small appliances out of hard to reach cabinets.
Do you have that problem too? Stuffing small appliances that rarely get used into hard to reach cabinets? Mine always end up in the small cabinet above my refrigerator. Whenever I need to use said appliances, I have to drag out and use the step stool so I'm able to reach them. It's such a pain. If I can make something without having to reach for those appliances, I will.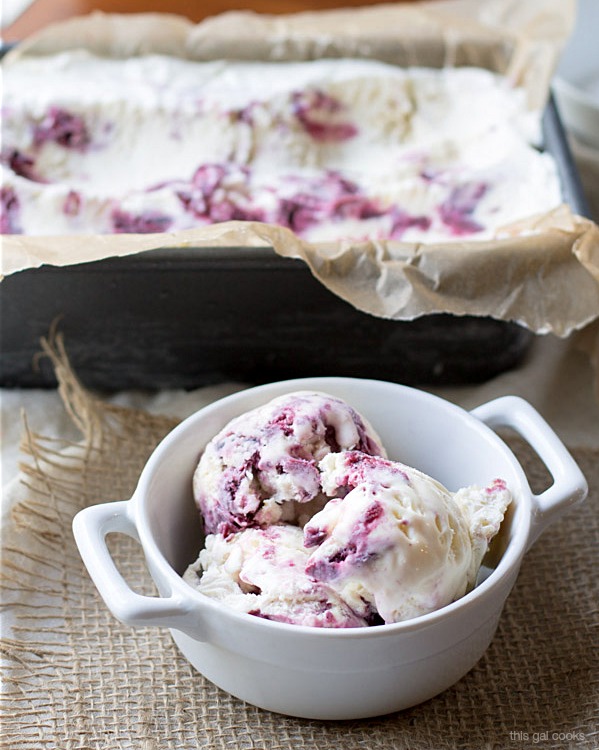 The charm of no churn ice cream lies in its astonishing simplicity and accessibility. You don't need any complex machinery or overly specialized techniques, just a handful of ingredients, a good whisk, a bit of patience, and you'll have yourself a creamy, dreamy frozen delight right in the comfort of your home.
For the uninitiated, 'no churn' refers to a method of making ice cream that doesn't require the traditional ice cream maker. The ingredients are mixed and then frozen, resulting in a deliciously creamy and smooth ice cream. This innovative method allows anyone to enjoy homemade ice cream, no matter how small their kitchen or budget may be.
But today, we're not just talking about ordinary no churn ice cream. We're taking this fabulous dessert to an entirely new level by incorporating the comforting flavors of a classic dessert – cherry cobbler. That's right, we're making No Churn Cherry Cobbler Ice Cream. This unique concoction blends the sweetness of ripe, juicy cherries and the warm, homey essence of a crumbled cobbler into a delightful ice cream that's sure to become a hit in your household.
No Churn Cherry Cobbler Ice Cream
While browsing the web Saturday morning, I found a no churn Key Lime Pie Ice Cream recipe from Fake Ginger. It looked good and it resulted in me craving for a bowl of ice cream. I had a bag of fresh cherries and a carton of heavy cream in my refrigerator. I had sweetened condensed milk in my pantry. These are the staples of a good no churn ice cream recipe.
While I was at BlogHer Food a couple of weeks ago, Emily from It Bakes Me Happy shared this roasted Strawberry Ice Cream on my blog. I used her recipe as the base for my no churn cherry cobbler ice cream recipe. The recipe makes approximately 4-5 pints of ice cream. If you use a standard sized loaf pan, you won't have enough room in the pan for all of the ice cream and cobbler topping. I put the leftover cobbler topping, ice cream and a drizzle of chocolate syrup into two 10oz ramekins and placed them in my freezer for a few hours. Ken and I were able to enjoy them before the larger batch of ice cream was ready to eat.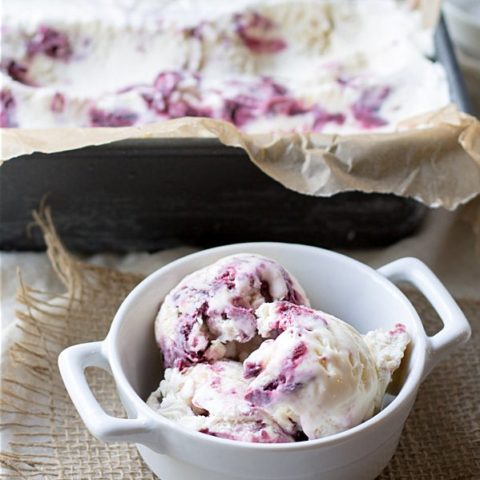 No Churn Cherry Cobbler Ice Cream
Yield: 20

Prep Time: 25 minutes

Cook Time: 6 hours

Total Time: 6 hours 25 minutes

Everyone knows cobbler and ice cream go hand in hand. This No Churn Cherry Cobbler Ice Cream brings the two together in one creamy, crazy good made from scratch dessert!
Ingredients
For the cherry filling:
2 C fresh pitted cherries
2 tbsp brown sugar
1 tbsp bourbon (replace with lemon juice if you don't want to use bourbon)
1-2 tsp cornstarch
For the cobbler topping:
1 1/4 C all purpose flour
1/3 C granulated sugar
2 tsp baking powder
1/2 tsp ground cinnamon
1/4 tsp salt
1 large egg
1/2 C milk
6 tbsp butter, melted
1/2 tsp vanilla extract
For the ice cream
16 oz heavy cream
2 cans sweetened condensed milk
1 vanilla bean, inside scraped out for use in ice cream
Instructions
Preheat oven to 350.
Prepare and bake the cobbler topping. In a mixing bowl, whisk together the flour, granulated sugar, baking powder, salt and cinnamon. In another mixing bowl, whisk together the egg, milk, melted butter and vanilla. Pour the mixture into the flour mixture and mix until all of the flour mixture is moist. Pour the mixture into a cast iron skillet and bake at 350 for 15-20 minutes. Once done baking, remove from the oven and allow to cool. Then cut into small chunks.
Prepare the cobbler filling. In a sauce pan over medium heat, mix together the cherries, cornstarch, bourbon and brown sugar. Cook until the cherries are mashable, about 10-15 minutes, and then mash the cherries. It's ok if you have chunks. You just want to break them up. Once done cooking, set aside and allow to cool.
Prepare the ice cream mixture. In the bowl of a stand mixer (or you can use a hand mixer) beat the heavy cream until soft peaks form. Slowly mix in the sweetened condensed milk and vanilla bean until well incorporated.
Prepare your Cherry Cobbler Ice Cream. Line a 9x5 loaf pan with parchment paper. Place 1/3 of the cherries in the bottom of the pan. Then top with some of the cobbler topping chunks. Pour enough of the ice cream mixture over top to cover the cherries and cobbler topping chunks. Add another 1/3 of the cherries and cobbler topping mixture. Then pour more ice cream over top, covering the cherries and the chunks. Carefully swirl this layer with a butter knife. Pour enough ice cream to come to just under the rim of the loaf pan. Add the remaining cherries and swirl with a butter knife. Cover with plastic wrap by pressing the plastic wrap onto the surface of the ice cream. Freeze for 6-8 hours or overnight.
Notes
Cobbler topping recipe adapted from Williams Sonoma Baking Book.

Ice Cream mixture recipe from It Bakes Me Happy.

Any unused ice cream mixture and cobbler topping can be used to make any other type of ice cream you prefer. I placed the cobbler topping, chocolate syrup and the ice cream into two 10oz ramekins to make Chocolate Cobbler Ice Cream.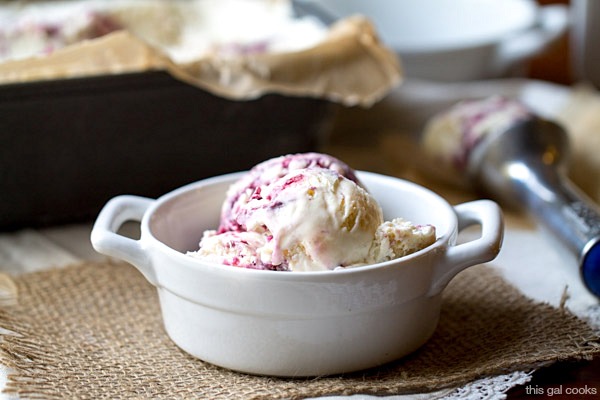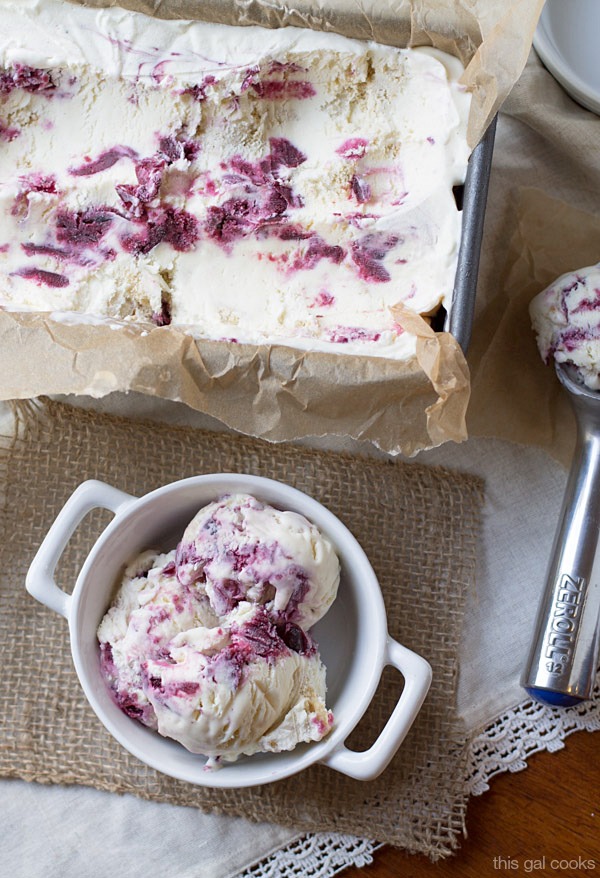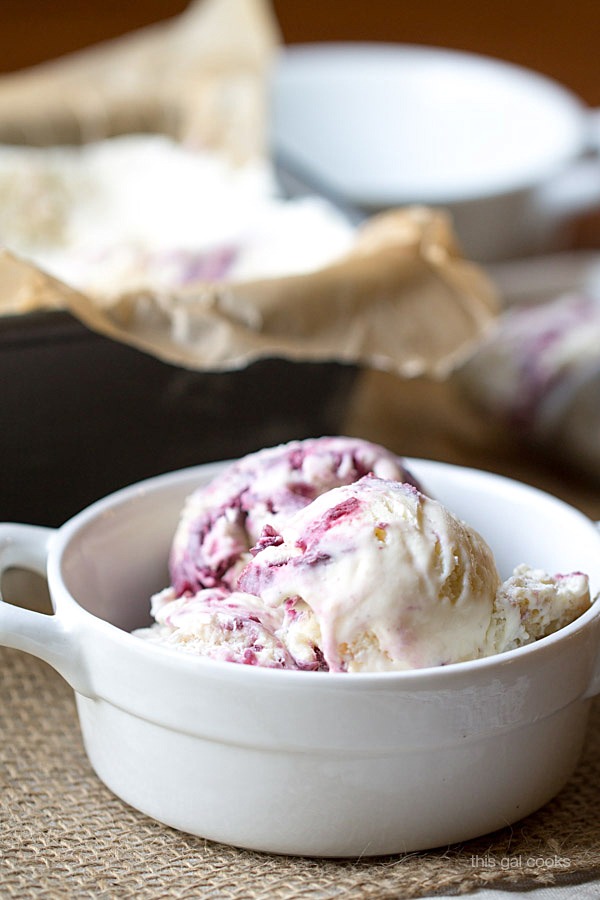 Frequently Asked Questions About No-Churn Ice Cream
Can I use other fruits instead of cherries? Absolutely! This recipe is versatile. You can replace cherries with other fruits like blueberries, strawberries, or peaches. Just keep in mind that the sugar level may need to be adjusted depending on the sweetness of the fruit you choose.
Do I need to use fresh cherries? While fresh cherries offer a great taste and texture, you can also use frozen cherries when fresh ones aren't available. Be sure to thoroughly defrost and drain them to avoid adding too much liquid to your ice cream.
Can I use store-bought cobbler for this recipe? Yes, you can use store-bought cobbler if you're short on time. However, homemade cobbler often tastes better and you have control over the ingredients.
How long will this ice cream stay good in the freezer? The No Churn Cherry Cobbler Ice Cream can last up to 2 weeks in the freezer when stored properly. Just ensure it's covered tightly to prevent ice crystals from forming.
What can I do if my ice cream is too hard to scoop? If your ice cream is too hard, simply let it sit at room temperature for 5-10 minutes before scooping. This should make it easier to scoop without compromising its texture.
Can I make this recipe dairy-free? Yes, you can make this recipe dairy-free by using coconut cream in place of the heavy cream and a dairy-free condensed milk. The texture may be slightly different, but it will still be delicious!
Why is my ice cream icy and not creamy? Ice cream can become icy if it's not churned fast enough or if too much air gets into it. In this no-churn recipe, be sure to whip your cream to stiff peaks and fold in the condensed milk and cobbler gently to maintain the airiness, which helps to keep it creamy.
We hope this answers all your questions! Feel free to leave a comment below if you have any other queries about our No Churn Cherry Cobbler Ice Cream recipe. Happy scooping!
Healthy Ice Cream Alternatives
While traditional ice cream is undeniably delicious, it's often high in sugar and saturated fats. For those who are health-conscious, lactose intolerant, or following special diets, here are some healthy alternatives that allow you to indulge your sweet tooth without sacrificing nutritional value:
Banana Nice Cream: Probably the simplest healthy ice cream alternative out there, banana nice cream is made by blending frozen bananas until they reach a creamy consistency. The natural sweetness of ripe bananas negates the need for added sugars. You can also add in other fruits, nuts, or spices to create your own custom flavors.
Coconut Milk Ice Cream: For a dairy-free, vegan-friendly option, try ice cream made with full-fat coconut milk. It lends a rich, creamy texture that closely mimics traditional ice cream. Sweeten it with a natural sweetener like honey or dates, and add in your favorite mix-ins.
Greek Yogurt Ice Cream: Greek yogurt offers a high-protein, lower-fat alternative to traditional ice cream. Add some honey or maple syrup for natural sweetness, and don't forget your favorite fruits for flavor and added nutrients.
Avocado Ice Cream: Avocado might seem unusual for dessert, but its creamy texture and healthy fats make it an excellent base for ice cream. Pair it with a natural sweetener and some lime or cocoa powder, and you'll have a nutritious, delicious treat.
Cashew Cream Ice Cream: Soaked and blended cashews make a fantastic base for creamy vegan ice cream. Sweeten it with dates or maple syrup and add vanilla or other flavorings for a decadent, plant-based treat.
Frozen Fruit Sorbets: If you're looking for a lighter, refreshing dessert, try making sorbet with frozen fruit. Blend your choice of fruit with a bit of sweetener and some citrus juice until smooth, then freeze.
Remember, the key to healthier ice cream alternatives is using natural, nutrient-dense ingredients in place of refined sugars and heavy creams. You might have to experiment a bit to find your favorite combinations, but the result will be a delicious treat you can enjoy guilt-free.
Check this article out for more healthy ice cream alternatives.
RELATED POSTS
Fluffernutter Peanut Butter Cup Ice Cream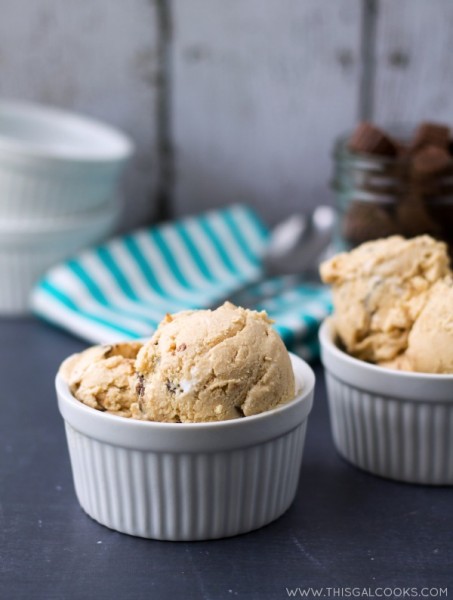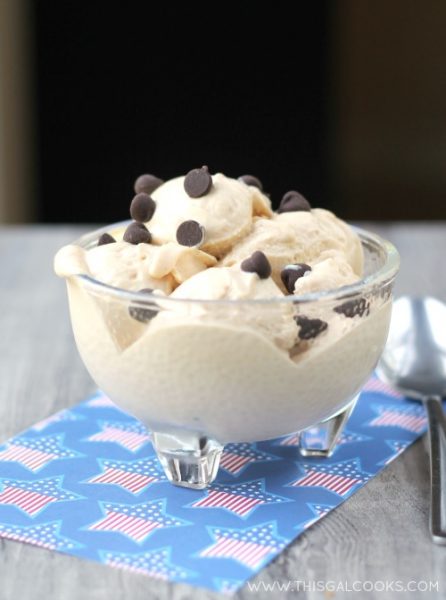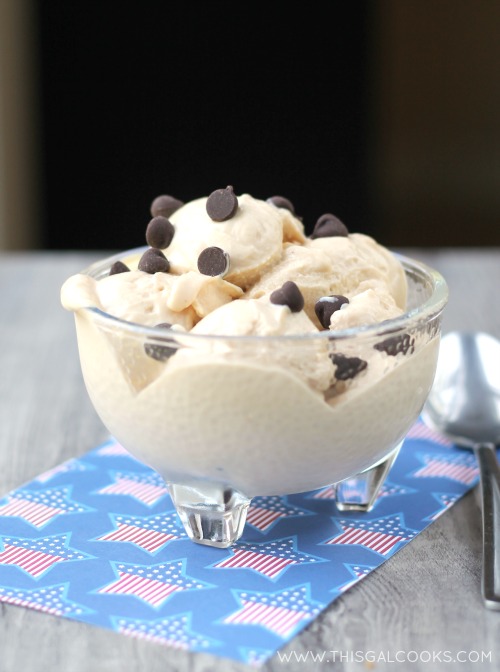 Dairy Free Vanilla Peach Ice Cream