Strawberry Shortcake Ice Cream by It Bakes Me Happy
Hi all! While I'm down in Miami having loads of fun and eating tons of food at BlogHer food, my good pal Emily is taking over the blog to share her delicious ice cream recipe!
Easy, no-churn Strawberry Shortcake Ice Cream is bursting with roasted strawberry flavors and chunks of delicious pound cake.
Hello This Gal Cooks readers! I'm Emily from It Bakes Me Happy, I'm a self professed chocoholic with a serious sweet tooth and an ever growing love of spending time in the kitchen. Today I am so excited to be sharing this Strawberry Shortcake Ice Cream with you all, it's the perfect dessert for the hot summer days that lie ahead.
I love a good scoop of chocolate ice cream pretty much anytime of the year, but in the hot summer months I am partial to something a little more fruity. This strawberry shortcake ice cream is smooth and creamy, with bits of pound cake and a delicious roasted strawberry swirl. Plus the best part about this recipe is how easy it is to make – it's no cook and to top it all off you don't need an ice cream maker!
A couple of months ago I made a double batch of our favorite pound cake and stashed a couple of slices away in my freezer knowing that I was going to make some variation of a strawberry shortcake ice cream soon and boy am I so glad that I did. I just loved the different textures and flavors packed into each bite of this ice cream, I hope you will too!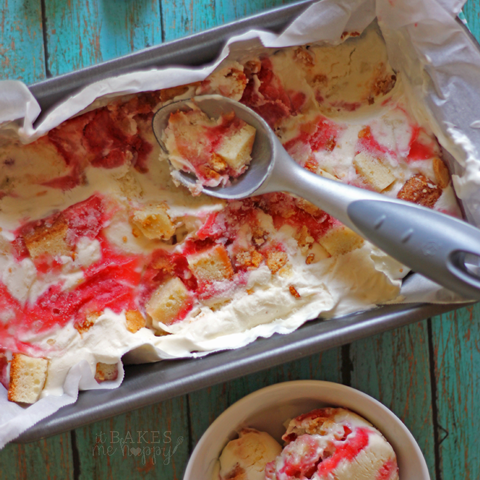 Easy Strawberry Shortcake Ice Cream
Yield: 8

Prep Time: 20 minutes

Cook Time: 4 hours

Total Time: 4 hours 20 minutes
Ingredients
8 oz heavy whipping cream
7 oz sweetened condensed milk
1/2 lb strawberries, washed, hulled & sliced
3 Tbs sugar
2 c diced pound cake
Instructions
Preheat your oven to 350º and place the strawberries in a baking dish and sprinkle with sugar and stir to coat.
Bake for 8-10 minutes, remove from the oven and mash with a fork, set aside to cool.
In the bowl of your stand mixer whip the heavy cream until soft peaks form, slowly add the sweetened and condensed milk and stir to combine.
Spread 1/3 of the strawberry mixture over the bottom of a parchment lined loaf pan.
Add 1/3 of the pound cake and top with 1/2 of the cream mixture.
Repeat the layers: strawberries, pound cake, cream, ending with a layer of strawberries and cake.
Cover the pan with a sheet of plastic wrap, pressing it onto the surface and freeze for 4-6 hours.
Let the pan sit 5-10 minutes to thaw slightly and serve.
Notes
Makes approximately 2 pints of ice cream


A big thanks again to Julie for letting me share a recipe with you all today, I sure hope that she is having a blast this weekend at the BlogHer Food Conference. Thanks for joining me, I hope that you will enjoy a couple of scoops of this ice cream soon! I'd love to have you stop by It Bakes Me Happy to see a few more recipes, like this Half Pound Cake I mentioned above:
or if you're craving something chocolate, then you just have to try these Gooey Caramel Brownies, they are one of my all time favorite brownies recipes!
Enjoy and happy baking!
Meet Emily