Thanksgiving dinner just isn't the same without sweet potato casserole. Ditch the marshmallows and try this Sweet Potato Casserole with Pecan Streusel!

Sweet Potato Casserole with Pecan Streusel
This week has been one darn busy week. On Sunday I spent the entire day cooking a mock Thanksgiving dinner. And between a group project at school and the increase of work at my job, I feel like I am about to explode! I already have 2 1/2 hours of overtime this week. Today will probably make it 3 or more hours. But I'm fine with that. For now. The extra money is always nice. How has your week been?
One of my favorite side dishes for any holiday meal is sweet potato casserole. It's such a simple dish to make and it tastes amazing. The flavors remind me of Thanksgiving and Christmas dinner. My mom always makes it topped with marshmallows and I absolutely love it! But as much as I love marshmallow topped sweet potato casserole, I wanted to try something different this year. Pecan streusel sounded like a perfect fit for the casserole!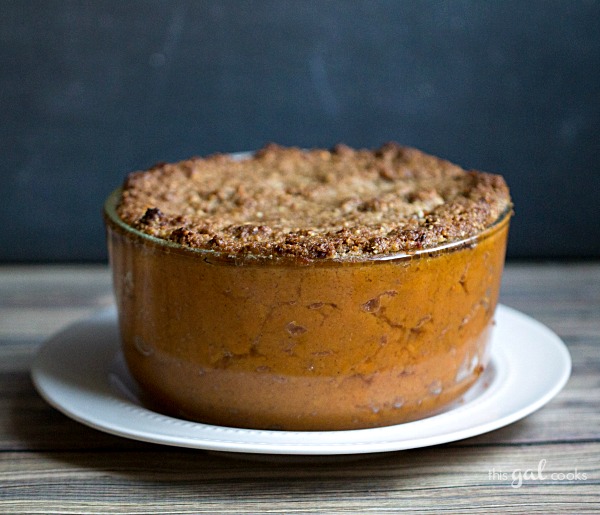 I made this dish for my mock Thanksgiving dinner last weekend. It turned out perfect! Pecans, brown sugar, cinnamon, butter, sweet potatoes. What's not to love? Plus, it's super simple to make. I cooked my sweet potatoes in the microwave. It saves time, which is a perk when you're cooking a large meal. After cooking the sweet potatoes, I removed them from their skins and placed them in a mixing bowl. I added a little brown sugar, cinnamon and butter and then mashed them up. I put the mixture in a small casserole dish and topped it with a mixture of pecans, butter, brown sugar and cinnamon. I baked it for 30-40 minutes, until I got a nice, crisp, golden topping. I hope you enjoy this recipe!

Sweet Potato Casserole with Pecan Streusel
Ingredients
4 medium sweet potatoes
¼ C butter
¼ C brown sugar
½ tsp ground cinnamon
For the topping
¼ C butter, room temp
2 tbsp brown sugar
1½ C ground pecans
Pinch of cinnamon
Instructions
Cook the sweet potatoes until they are soft to the touch. You can bake them but to save time, I microwaved mine. I just used the potato setting on my microwave and selected 4 for the number of potatoes.
Remove the potatoes from their skins and place in a mixing bowl. Add ¼ C butter, ¼ C brown sugar and ½ tsp ground cinnamon and mash together.
In a food processor, combine the pecans, 2 tbsp brown sugar and the pinch of cinnamon and butter. Pulsate until combined.
Place the sweet potatoes in a small casserole dish and top with the pecan mixture. Place in a baking pan to prevent messes in your oven.
Bake at 350 for 30-40 minutes or until the pecan topping is golden.
More from This Gal Cooks