Mushroom and Brie Pizza with Whole Wheat Beer Crust
This divine Mushroom and Brie Pizza with Whole Wheat Beer Crust is the perfect meal for two! Made with a whole wheat blend crust infused with beer, you're sure to please your belly and your taste buds too!
It's Friday! You know what's great on Friday? Pizza! For some reason, pizza and Fridays go together like peanut butter and jelly. I remember when I was in grade school some sort of pizza was always served on Fridays. It was like some sort of code with the schools – feed the students pizza, make them happy. And maybe make them behave? Ha, I don't know about that but I do know that from the time I was in Kindergarten all the way up to when I graduated high school, the cafeterias served pizza on Fridays. One of my favorite pizzas was the octagon Mexican pizzas. No joke, these pizzas were in the shape of an octagon and were topped with Mexican seasoned beef, sauce and cheddar cheese. YUM! I hear you can buy those pizzas at warehouses that distribute to schools. I may have to do that one day. ;)
But seriously, why buy frozen pizzas (even when they are good) when you can make your own delicious pizzas at home? I've made a few great pizzas at home and I especially like making them in my cast iron skillet. The cast iron skillet produces a crispy bottomed crust and gives you a semi deep dish type pizza. It's pretty amazing. Doesn't that pizza up there in that photo look good? Well, it is pretty good! It has some pretty amazing flavor from the onions and rosemary sautéed in an Oktoberfest beer. Don't worry, if you can't find any Oktoberfest beers, you can always use an amber colored beer such as Newcastle Brown Ale. Oh yea, and the sauteed crimini and shiitake mushrooms and shallots just add to the amazing flavor of the mushrooms. You can't go wrong with this pizza. Enjoy!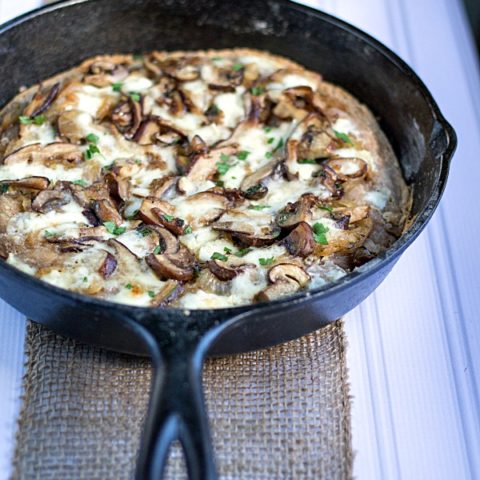 Mushroom and Brie Pizza with Whole Wheat Beer Crust
Yield: 2 servings

Prep Time: 2 hours 15 minutes

Cook Time: 15 minutes

Total Time: 2 hours 30 minutes
Ingredients
For the Pizza Dough
1 packet active dry yeast
3/4 C warm darker beer (about 115 degrees) (I used Harpoon Oktoberfest)
1 tbsp olive oil
1 tsp salt
1 1/4 + 2 tbsp whole wheat flour
1 1/4 + 2 tbsp all purpose flour
For the pizza
1/2 large onion, thin sliced
1 tbsp fresh rosemary, chopped
2 tbsp dark beer (I used Harpoon Oktoberfest) plus a tad bit more for the mushrooms
2 tbsp olive oil
1 3.5oz package of shiitake mushrooms, stems removed and sliced
4oz baby bella mushrooms
1/2 tbsp flat leaf parsley
1/4lb brie cheese, cut into small pieces
Kosher salt and ground pepper
Instructions
For the dough
Place the warm beer and the yeast in the bowl of a stand mixer. Let stand until foamy.
In a mixing bowl, combine the whole wheat and all purpose flours
Add the salt, 1/2 C flour mixture and olive oil to the beer/yeast mixture. Mix with the dough hook until well blended.
Add the remaining flour about 1/2 C at a time and knead for 8-10 minutes. Due to using whole wheat flour, you may need to add a little more liquid to the dough. Do this slowly as you do not want to add to much and make the dough sticky.
Place dough in a oiled bowl and cover. Allow to rise 1-2 hours or until double in size.
Place the dough ball on a floured surface and roll into a 12 inch circle.
Press into the bottom and partway up the sides of a 10 inch cast iron skillet.
For the pizza
In a large pan over medium heat, heat 1 tbsp olive oil. Season with salt and pepper and saute the onions and rosemary until the onions are tender. Add the beer and simmer until the beer evaporates. Place onions in a bowl and set aside.
Add the remaining oil to the pan, season with salt and pepper and saute the mushrooms and shallots until tender. Add a little beer and cook until it evaporates. Mix in the parsley.
Brush the prepared pizza dough with olive oil. Top with sauteed onions, then mushroom mixture and then top with the brie cheese. Bake at 425 for 12-15 minutes.
Notes
Adapted from Williams Sonoma Weeknight Fresh and Fast by Kristine Kidd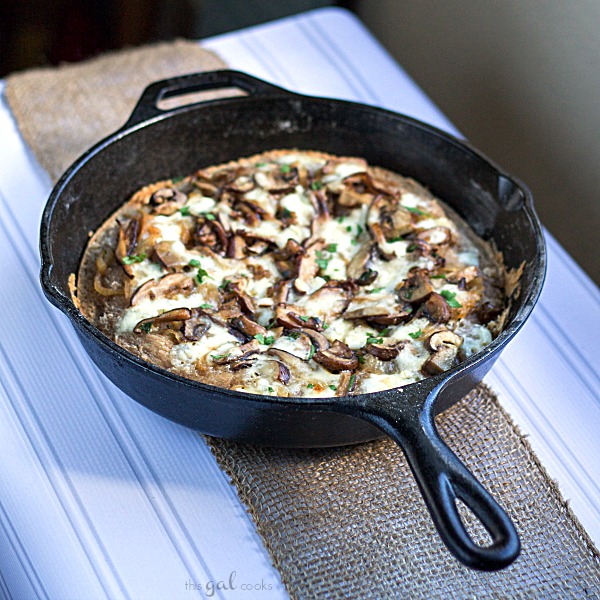 More from This Gal Cooks