Easy Bolognese Sauce with Egg Fettuccine
Make your next dinner fantastic with this Easy Bolognese Sauce with Egg Fettuccine! Simple flavors come together to create one bold, delicious meal!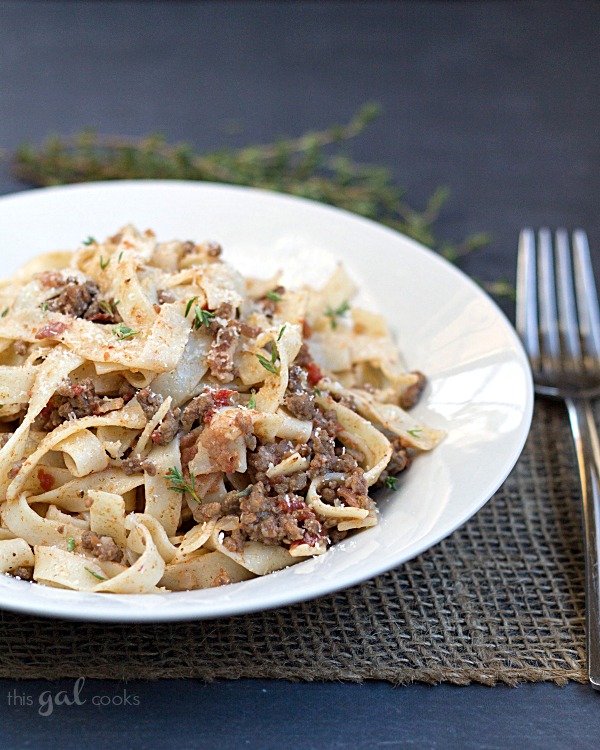 I've been dying to get a few of the William's Sonoma cookbooks. Ok, well not really dying but you get the picture, right? As I was wandering through one of the William's Sonoma stores a couple of weeks ago, I checked out a few of the cookbooks. Again. But I didn't buy one. I was feeling cheap that day so I didn't fork out the money for one. Or a few. But then I had an idea. Why not buy them on Amazon. It saved a trip to the store again (not that I mind going to their stores – I love them – but the closest one is 25 miles away from my house) and I saved a few bucks.
Right after I received them I started browsing the pages. And naturally, I found about 20 recipes that I wanted to try that day. I mean, I want to try just about all of them but there were about 20 that I wanted right then! Oh but wait, there's more! I also but a Williams Sonoma baking cookbook but I won't receive that one until later this week. Just in time for the weekend. I foresee baking in my future! But then again, I always foresee baking in my future.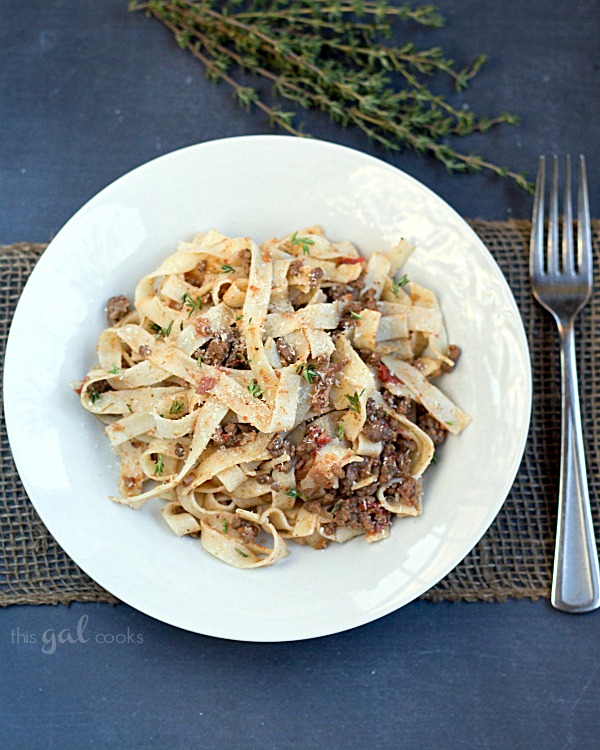 That's a darn good looking meal, isn't it? That happens to be one of the recipes I stumbled upon in the Weeknight Fresh & Fast Cookbook from Williams Sonoma. I pretty much followed the recipe to a T but I used fettuccine rather than pappardelle and I used more pancetta in my version. There's nothing wrong with adding a little more pancetta, am I right? There were a heaping amount of servings of this recipe. I'm not complaining. This will feed my little ole family of two for a few days. But have no fear, if you have a crowd to please, there's more than enough here!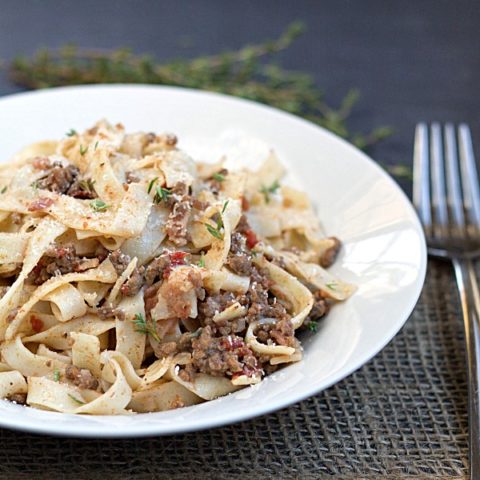 Easy Bolognese Sauce with Egg Fettuccine
Prep Time: 15 minutes

Cook Time: 30 minutes

Total Time: 45 minutes
Ingredients
1lb lean ground beef (I used organic)
4 oz pancetta, chopped
1/2 large onion, chopped
1/2 C dry white wine (I used Chardonnay)
14.5 oz of canned whole tomatoes.
3/4 C chicken broth
2 tbsp heavy cream
1 tbsp olive oil
1/8 tsp ground nutmeg
12 oz egg fettuccine
2 tbsp fresh thyme
Fresh grated parmesan
Instructions
In a large pot over medium heat, heat the olive oil.Add the onion and saute until tender.
Increase the heat to medium high and add the ground beef and pancetta. Season with salt and pepper and cook until the beef is no longer pink.
Add the white wine and boil until evaporated.
Add the tomatoes, chicken broth, cream and nutmeg. Mix well and break up the tomatoes. Reduce heat to low and simmer for about 30 minutes, stirring occasionally.
Meanwhile, cook the pasta according to package directions.Once the pasta is done cooking, drain and toss with the sauce.
Garnish with fresh thyme and grated parmesan cheese
Notes
Adapted from William's Sonoma Fresh & Fast Cookbook by Kristine Kidd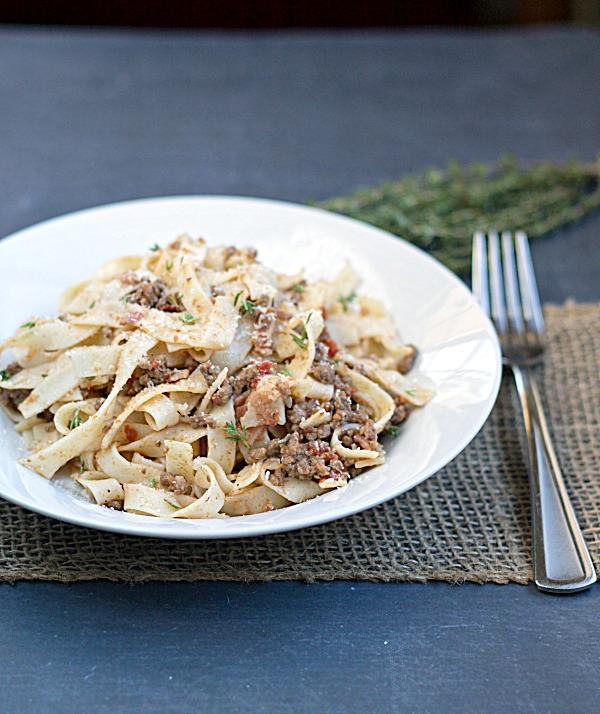 Oh wait, just so you know, I'm not being paid nor was I asked to write about William's Sonoma cookbooks. I just love these cookbooks so much and I will be making some recipes from them so I thought it would only be appropriate to give them credit where credit is due.  
More from This Gal Cooks