Pesto Chicken Pizza Pasta
Pesto Chicken Pizza Pasta! That's what we are going to learn how to make today. But first, I have to tell you this insanely funny story about pizza!
Ken bought a pizza stone a few weeks ago. We've used it a few times but we're still getting the hang of using it on our thermometer-less charcoal grill. Hot spots, they happen and 4 out of 5 of our pizzas ended up with sections of rather burnt bottoms. The other pizza, well that was just an entire epic mess.
Do you want to hear about the epic mess? Sure you do.
So on Super Bowl Sunday, I made a ton of appetizers and we grilled a pizza that turned into a giant calzone-esque blob. Cornmeal. Yeah, it's important if you are going to be sliding an uncooked pizza off of a pan onto a pizza stone that's sitting on a hot grill. I was out of cornmeal but at the time, I didn't think anything of it and just put a ton of flour on the surface that I set my uncooked pizza on. Mind you, this surface was the bottom of a giant plastic serving tray, which isn't exactly the best surface to put uncooked pizza on. When we tried sliding the pizza off of that tray and onto the pizza stone, it wouldn't budge. We tried to slide it off with a large spatula. That didn't work, either. So Ken was like "let's fold it in half" so we did and it looked like a giant calzone. BUT, giant calzone didn't solve our problems. As we were rolling the giant calzone onto the pizza stone, some of the toppings slid out and got all over said pizza stone. By this point, we were laughing and just decided to see what happened. Our calzone turned into a giant blob of pizza dough filled with toppings and with toppings baked into the bottom side of it. The entire ordeal was oddly amusing and a tad bit frustrating, but in the end, giant blob calzone tasted pretty good.
So fast forward a few weeks, when our pantry was stocked with cornmeal and we now owned a pizza peel. We decided to grill more pizza – this time one of those pizza was pesto chicken pizza. There were some burnt spots on that pizza but the cooked parts were oh so good! And the pizza didn't turn into a giant calzone either.
So that story about pizza brings us to this delicious Pesto Chicken Pizza Pasta recipe. One night after work, realizing that I had leftover ingredients used to make the pesto chicken pizza, I decided to whip up a quick dinner with said ingredients – Pesto Chicken Pizza Pasta. It's probably the next best thing to pesto chicken pizza and it only takes about a half hour from start to stuffing face.
Pesto Chicken Pizza Pasta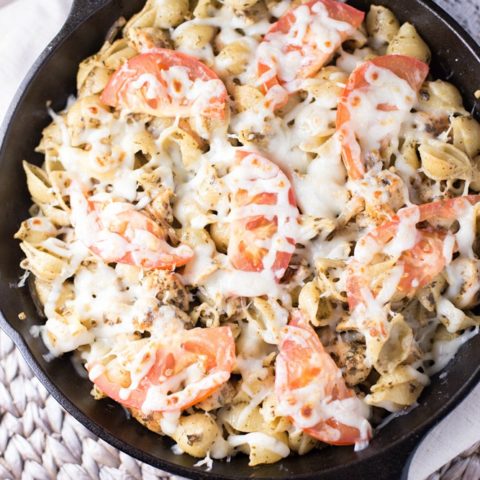 Pesto Chicken Pizza Pasta
Yield: 6 servings

Prep Time: 15 minutes

Cook Time: 10 minutes

Total Time: 25 minutes

Pesto Chicken Pizza Pasta is a simple dinner recipe that uses ingredients that you may already have stocked in your pantry. This delicious dinner recipe is ready to devour in under 30 minutes!
Ingredients
8 oz large pasta shells
2 boneless, skinless chicken breasts, cut into small pieces
3 tbsp extra virgin olive oil
1/2 C dry white wine
1 medium yellow onion, sliced thin
1 small tomato, sliced
salt and pepper
1/2 C shredded mozzarella cheese
2 tbsp fresh shredded parmesan cheese
Instructions
Bring a large pot of water to a boil and add the pasta. Cook for 11-12 minutes or until tender. Drain and set aside.
Meanwhile, cook the chicken. Heat the olive oil in a large oven-safe skillet over medium high heat. Season the diced chicken with salt and pepper and then add to the pan. Cook for 7-10 minutes, until cooked through and slightly browned, stirring often. Once cooked, remove from the skillet and set aside.
Return the skillet to the heat and reduce to low heat. Add the wine and scrape the chicken bits from the bottom of the pan. Add the onions and cook until the wine has dissolved, about 3-5 minutes.
Place the cooked pasta and chicken in the pan with the onions. Stir in the pesto and mix well. Top the mixture with the sliced tomatoes and then top with the shredded mozzarella and parmesan cheeses.
Turn on your broiler to high and broil until the cheese is melted and bubbly.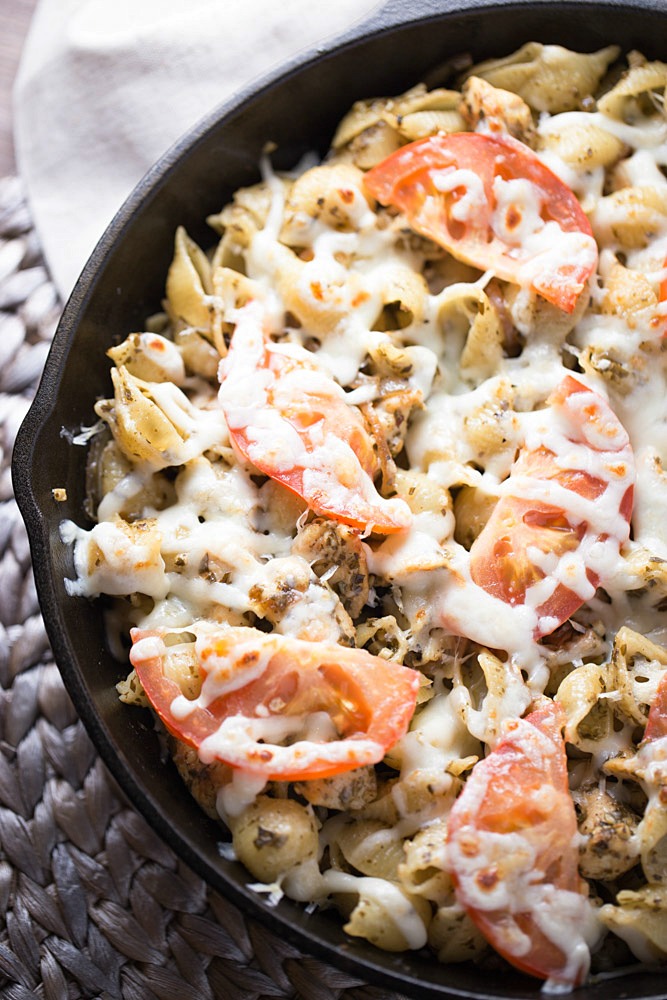 For more recipes, style and travel ideas, follow me around the web!
Instagram // Pinterest // Twitter // Facebook
RELATED POSTS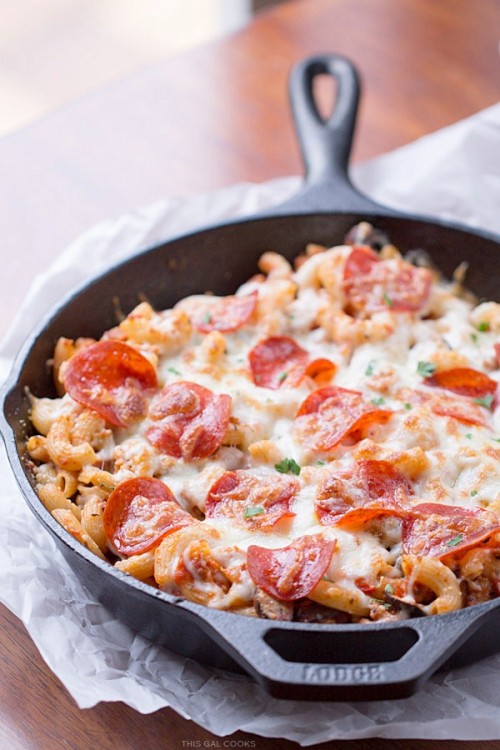 Mushroom and Brie Pizza with Whole Wheat Beer Crust