Skillet Pizza Pasta Bake
Skillet Pizza Pasta Bake: hot Italian chicken sausage, turkey pepperoni, all natural pizza sauce, veggies, gluten free pasta and cheese come together to make this easy to make casserole.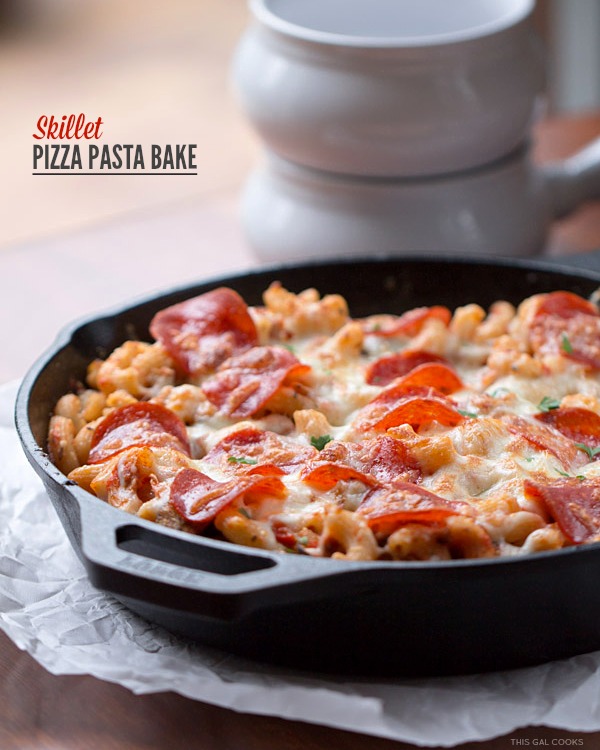 You guys. Seriously, you gotta try this.
Pizza. Gluten Free Pasta. Pizza Sauce. Smiles on all their faces in less than 30 minutes. All of that awesome sauce is packed into this one skillet dish, one pot dish.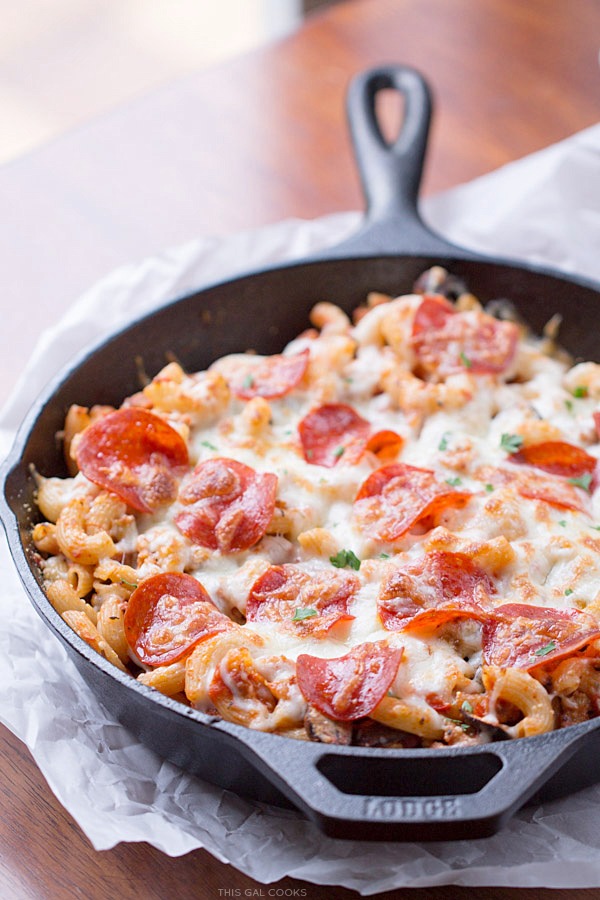 There are three things in this world that I could live off of. Pasta, Mexican food and craft beer. And the craft beer is questionable. Too many of those and I won't be making anything but a few half ass jokes and a ton of trips to the bathroom. TMI? Nah. You've been there before too. Teehee!
Back to those things people can live off of. So there are three things in this world that Ken could live off of. Pizza, pizza and pizza. Haha, just kidding. But he does have an immense love for da pizza.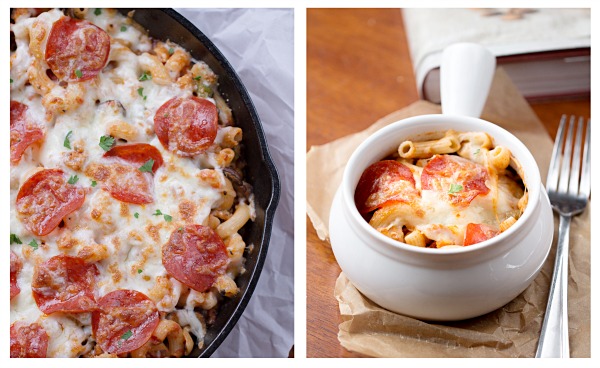 Anywho, I decided to put a couple of our favorite things together to make this Skillet Pizza Pasta Bake. No joke, this meal was ready in under 30 minutes. Don't believe me? Here's the proof. I made this after work and still had time to take photos in natural light. After work is after 5pm in this gal's world.
On to that one skillet, one pot deal that I mentioned earlier. So you cook the pasta in a pot and you cook the rest of it in a skillet. That's some pretty darn scientific stuff right there, isn't it? Or maybe I'm just being silly right now. I'll go with the latter.
I used my favorite 10 inch cast iron skillet for this recipe. I also used gluten free brown rice pasta. However, feel free to use your favorite pasta. For the sauce, I used Delgrosso Pizza Sauce. The sauce is all natural, no sugar added and it tastes amazing. Plus, it's super easy to use. I just picked up a jar from the pasta isle of my favorite grocery store. But if you have a homemade favorite or another brand that you prefer, you can use that instead. Enjoy.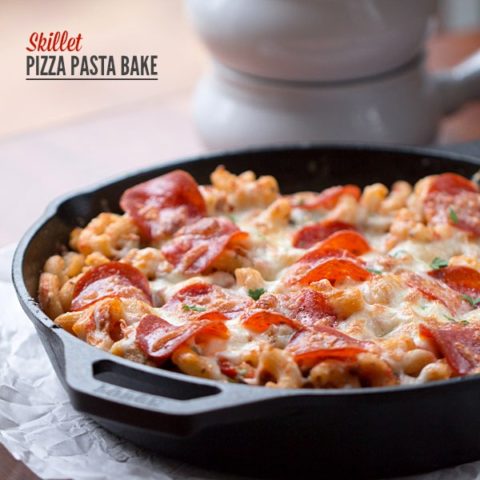 Skillet Pizza Pasta Bake
Yield: 6

Prep Time: 15 minutes

Cook Time: 15 minutes

Total Time: 30 minutes
Ingredients
3 hot chicken Italian sausage links, casings removed
4oz baby bella mushrooms, sliced
1/2 green pepper, chopped
1/2 red pepper, chopped
1/2 sweet onion, chopped
1 tbsp olive oil
13.5 oz jar of all natural pizza sauce (I used Delgrosso Pizza Sauce)
1/2 tbsp Italian seasoning
8oz of gluten free elbow macaroni
2 tbsp grated parmesan cheese
1 C shredded mozzarella cheese
Parsley for garnish
Instructions
Cook the pasta according to package directions then set aside.
Heat the olive oil over medium heat in a large oven-safe skillet. Season the veggies with the Italian seasoning and then add them to the skillet. Cook until tender. Remove from the skillet and set aside.
Add the italian chicken sausage to the skillet and cook until browned. Be sure to break it up/crumble it as it is cooking.
Add the veggies back to the skillet. Then add the pasta and pizza sauce and mix well. Sprinkle with the parmesan and mozzarella cheeses, reserving 1 tbsp of the mozzarella cheese. Top with the pepperoni and then remaining mozzarella cheese.
Bake at 350 for 10 minutes. Then turn on the broiler and broil for 3-4 minutes or until the cheese is browned.
Nutrition Information:

Amount Per Serving: Calories: 300 Total Fat: 10g Sodium: 572mg Carbohydrates: 36g Sugar: 5g Protein: 14g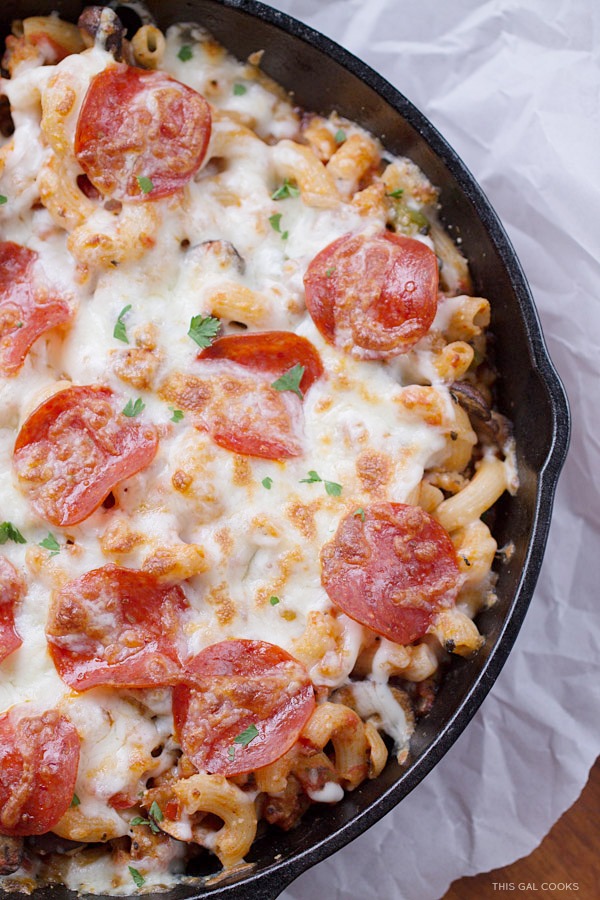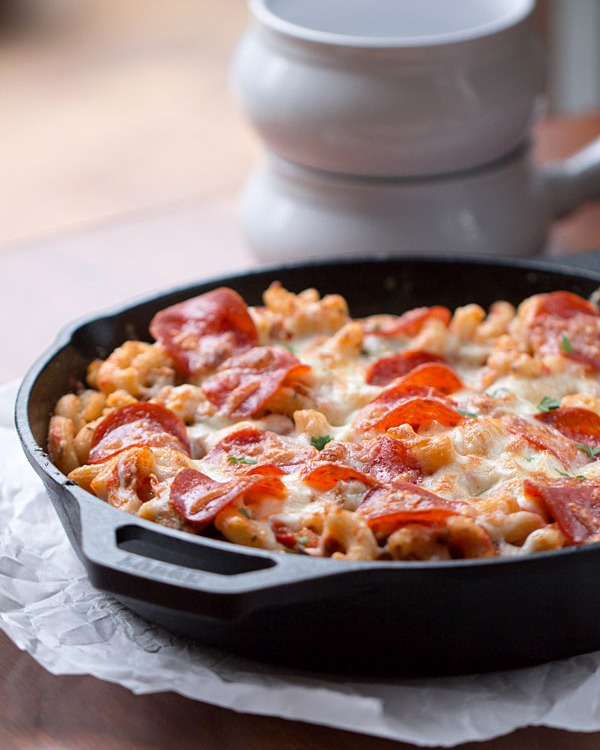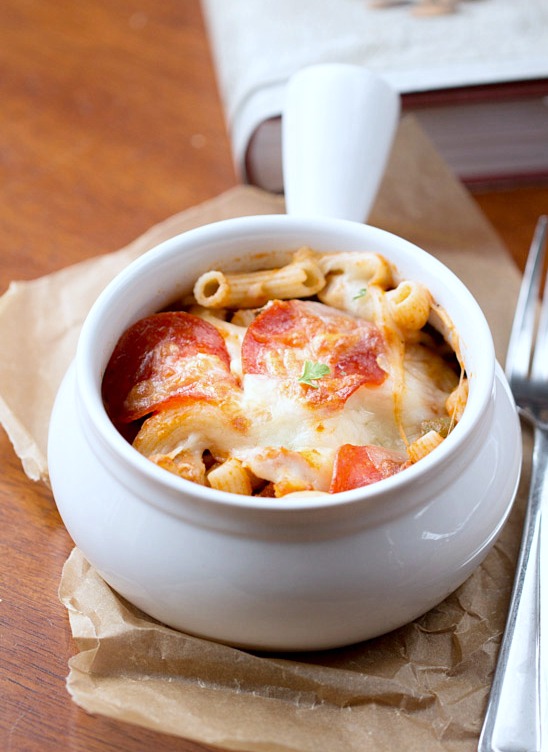 More from This Gal Cooks