Easy Tamale Pie (made in one skillet!)
TAMALE PIE! That's what we're talking about today. So I made this tamale pie on Sunday and OMG. It was a total winner. Ken loved it so much that he had two good sized portions of it. He didn't starve that night. Neither did I. In fact, I had an internal battle with myself about not hoarding the thing and eating the whole darn thing myself.
So remember this huge pot of Beef Chili I made last week? I had tons of leftovers because well, there's only two of us in this house. Well, there's the dog, too. But I wasn't going to give her any chili. That may have resulted in multiple bathroom breaks in the middle of the night. Which means said dog would have gotten in my face, woken me up and made me take her outside at odd hours of the night. Don't get me wrong – I'm glad she let's me know she has to go. But I totally hate having to drag myself out of my nice comfy bed at 3am. Especially on a work night.
Ok, can we stop talking about dog business now? Totally irrelevant to a food post, right?
So about that chili. It was thick. It was hearty. And there were SO many things I could do with it besides eat it out of a bowl with cheese, sour cream and crackers. Cue the tamale pie.
I make a mean from scratch cornbread. Cornbread and chili are one of the best combos ever. So I decided to make my cornbread batter, pour it over the chili and bake. Impromptu tamale pie. Best idea ever.
This stuff is good. I mean finger licking, hoard the whole darn thing to yourself good. What we didn't finish off that night, I took to lunch for work and was like "ya'll are jealous because I have this tamale pie and you don't" to my co-workers. My friend was like OMG that smells good. Then I made her try and bite and then she was all like OMG that is good. I think I sold her on it.
Easy Tamale Pie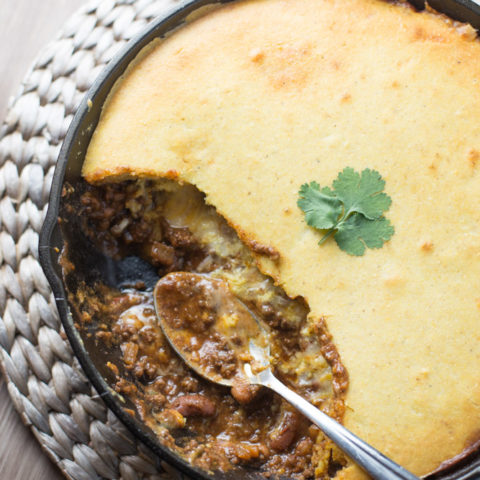 Easy Tamale Pie (made in one skillet!)
Yield: 6 servings

Prep Time: 10 minutes

Cook Time: 25 minutes

Total Time: 35 minutes
Ingredients
For the cornbread
1/4 C butter, melted
1/4 C granulated sugar
1 large egg, room temp
1/2 C buttermilk
1/4 tsp baking soda
1/2 C all purpose flour
1/2 C cornmeal
1/4 tsp salt
1 tbsp canola oil
1 1/2 C shredded Mexican blend cheese
Instructions
Preheat your oven to 400.
Prepare the cornbread batter. In a large bowl, whisk together the melted butter and granulated sugar. Add the buttermilk and baking soda and mix well. Ad the cornmeal, flour and salt and mix until lumpy. Then mix in the canola oil.
Place the chili in a 10 inch cast iron skillet. If you don't have cast iron, you can use any other 10 inch oven-safe skillet. Smooth the chili so it is evenly distributed in the skillet.
Sprinkle the chili with the shredded cheese. Then scoop the cornbread batter over the cheese, trying to cover as much of the cheese as possible. Then use a wooden spoon to carefully spread the batter over top to cover all of the cheese.
Bake at 400 for 23-25 minutes or until the top of the cornbread is golden.
Allow to cool for 10-15 minutes before serving. This will give everything time to set.
Notes
The chili that you use in this recipe needs to be a thick chili rather than a soup like chili. A soup like chili will cause the tamale pie to spread out once removed from the pan. A thick chili will result in the chili staying under the cornbread when removed from the pan, just like a pie!

You can find my full Cast Iron Buttermilk Cornbread recipe here.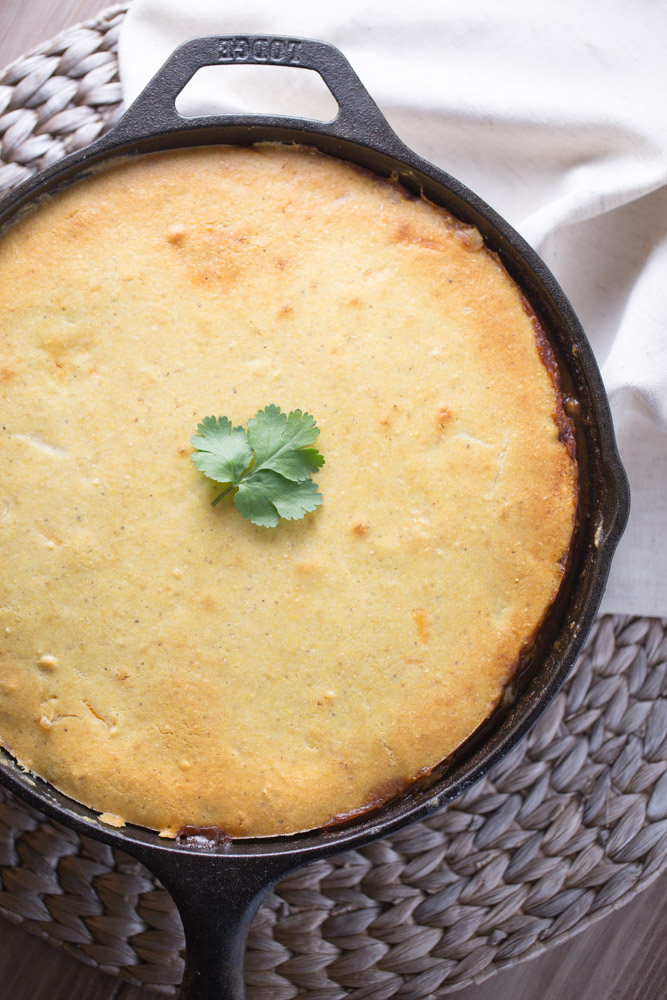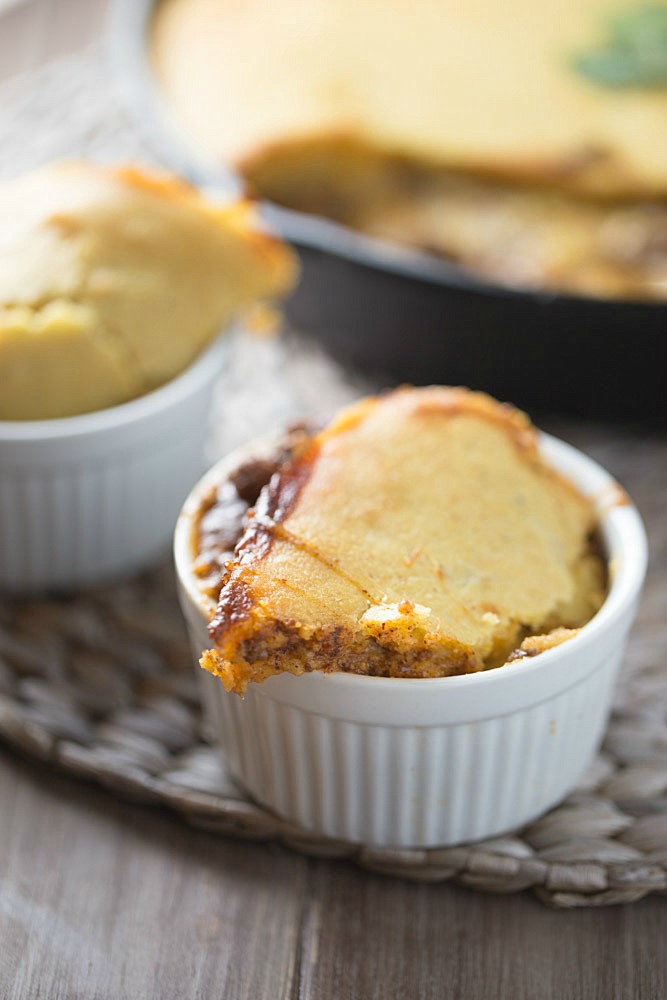 For more recipes, style and travel ideas, follow me around the web!
Instagram // Pinterest // Twitter // Facebook
 RELATED POSTS
Easy Skillet Beef Tex Mex Casserole