Easy Skillet Beef Tex Mex Casserole
If you love Mexican food, you're gonna want to grab a plate and a fork and dig into this Easy Skillet Beef Tex Mex Casserole.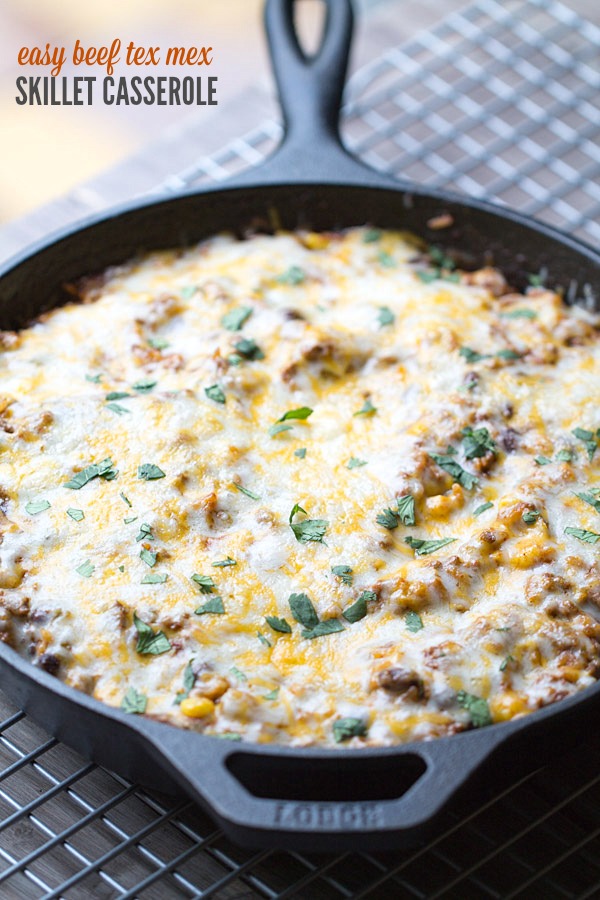 Lean ground beef is browned and then simmered with rice, enchilada sauce, taco seasoning and a little water. Mix in some light cream cheese, black beans, sweet corn, and diced green chilis. Top with shredded Mexican cheese and broil until the cheese is ooey gooey bubbly and slightly browned. BOOM! You've got yourself a darn good one skillet meal that the entire family will love!
There's hardly ever a time that I'll turn down any Mexican food or Mexican inspired dish. In fact, I Mexican food often. Just ask some of the gals I work with. When we order takeout for lunch, 90% of the time my vote goes to Mexican food.
My cravings were stronger than ever during my trip to Vegas. However, I was unable to satisfy them. Boo. Mediocre reviews of the Mexican restaurants within the vicinity of our hotel turned us away. No way were we going to pay an arm and a leg for mediocre food.
One of the first meals I made after returning home was this Easy Skillet Beef Tex Mex Casserole. Let me tell you how easy it is.  The food is ready to devour in under an hour and everything is cooked in one skillet. One skillet meals always steal my heart. Cutting down on the number of dishes to clean puts a big ole smile on this gal's face. I bet it puts one on your face too. ♥︎
Easy Skillet Beef Tex Mex Casserole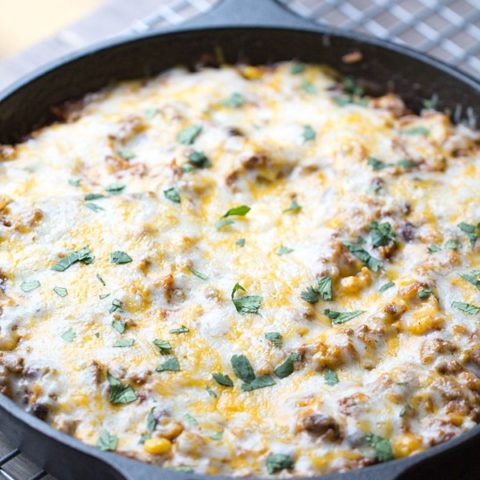 Easy Skillet Beef Tex Mex Casserole
Yield: 6

Prep Time: 10 minutes

Cook Time: 30 minutes

Total Time: 40 minutes
Ingredients
1 lb lean ground beef
1 packet taco seasoning
1 10oz can enchilada sauce
1 C water
3/4 C white rice, rinsed until water runs clean
2 oz light cream cheese, softened
1 4oz can diced green chilis
1 C canned black beans, drained and rinsed
1/2 C frozen sweet corn
1 C shredded Mexican blend cheese
Cilantro for garnish
10 inch oven-safe skillet
Instructions
In a 10 inch oven-safe skillet, cook the ground been over medium heat until browned (do not drain if you are using lean beef). Add the taco seasoning, enchilada sauce, water and rice. Mix well. Cover and simmer for 25-30 minutes or until the rice is tender. Some of the rice may stick to the bottom of your skillet. Just scrape it off the bottom with a spoon.
Once the rice is done cooking, stir in the cream cheese. Add the corn, black beans and diced chilis. Mix well. Top with the shredded cheese.
Broil for 3-5 minutes or until the cheese is melted and bubbly.
Garnish with cilantro, if desired.
Nutrition Information:

Amount Per Serving: Calories: 375 Total Fat: 15g Sodium: 922mg Carbohydrates: 35g Sugar: 3g Protein: 25g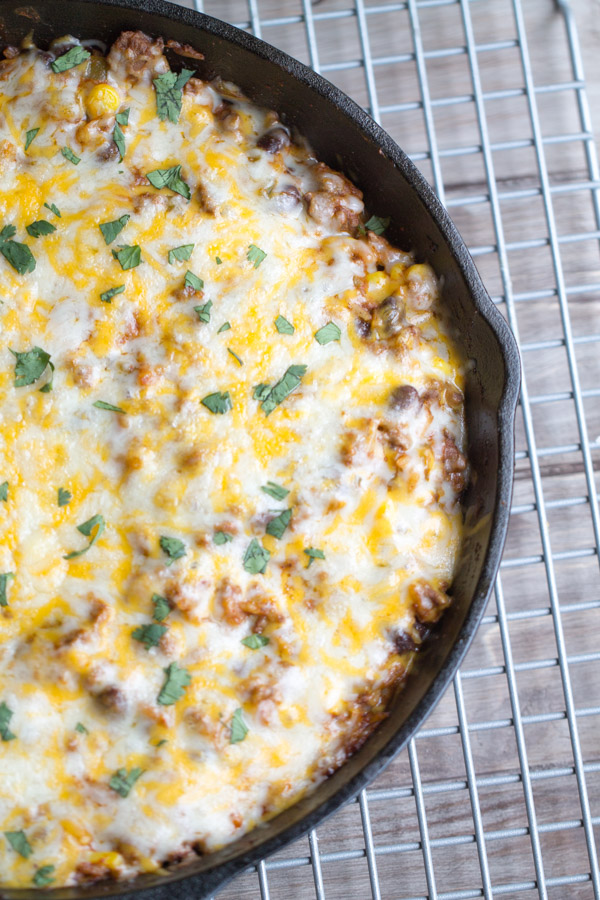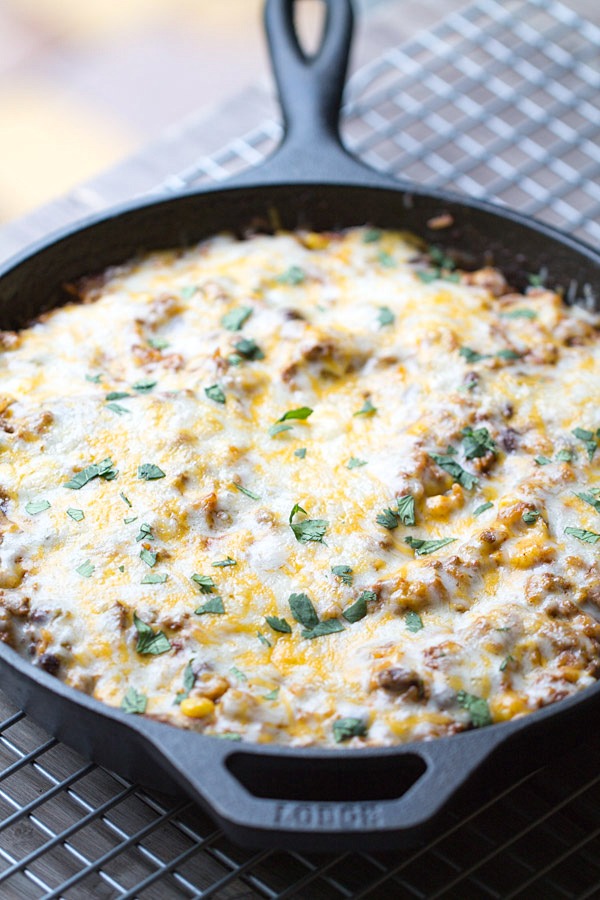 HUNGRY FOR MORE SKILLET RECIPES?
A few from around the web:
One Pot Taco Pasta by Damn Delicious.
Easy One-Skillet Lasagna by I Heart Eating.
Pasta Primavera Skillet by Will Cook for Smiles.
Try my Cajun Shrimp and Quinoa Casserole.