Traffic and Blogging Income September 2013
Good afternoon and Happy Sunday! Since October is here, it's time to go over This Gal Cook's Traffic and Blogging Income for September 2013!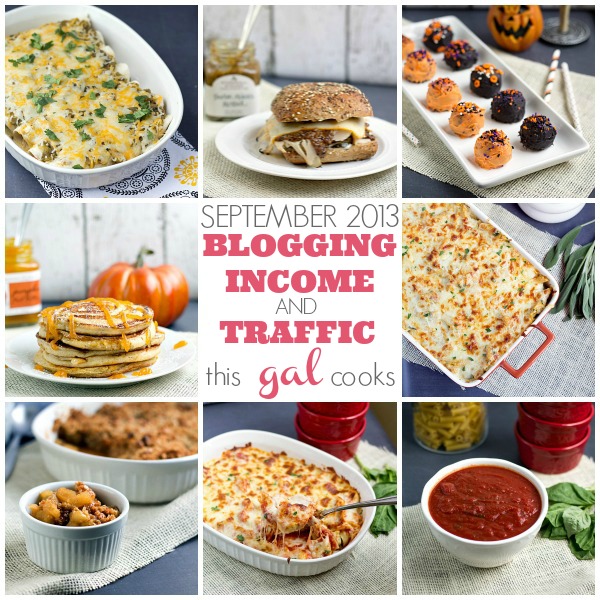 September was a fantastic month for This Gal Cooks. The blog finally hit the 100,000 page views mark for a single month! Page views are up about 30,000 from August. I know I didn't do a post for August so I'll do a quick little overview. September was a busy month and by the time I thought about it, it was almost October!
Quick overview of August
Page views: 77,715
Income: $950.00
Traffic and Blogging Income September 2013
Traffic

As you can see, September's page views were up by just under 30,000 page views. I was completely amazed when I looked at these numbers. I've never had this high of a jump in traffic before. So what happened in September?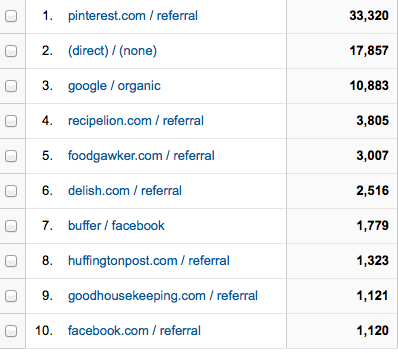 Pinterest happened. Search engines and direct traffic happened. And finally, my posts were shared at a variety of sites during the month of September. Recipe Lion Foodgawker (shared by myself) Delish, Huff Post Taste and Good Housekeeping all shared some of my posts on their site. While the days the posts were actually the highest generator of traffic, since my posts were shared on those sites, I've had continuous traffic from them.
My Pinterest traffic has more than doubled from the August Pinterest traffic. I've been pinning more to group boards and a couple of bloggers with extremely large group boards shared a few of my posts. I highly recommend joining and pinning to a few group boards if you have the chance to.
My blog has started to show up more in the top pages of search engines, specifically Google. I have been using the Yoast SEO app for a few months now and my SEO implementation has gotten much better. I also use a recipe plugin called Ziplist that allows me to upload a photo that shows up next to my recipe link in a Google search result. Here is an example. I searched for "Twenty Minute Easy Tortellini Bake." Not only did it appear first in the Google Search results, a picture of the recipe shows up next to it!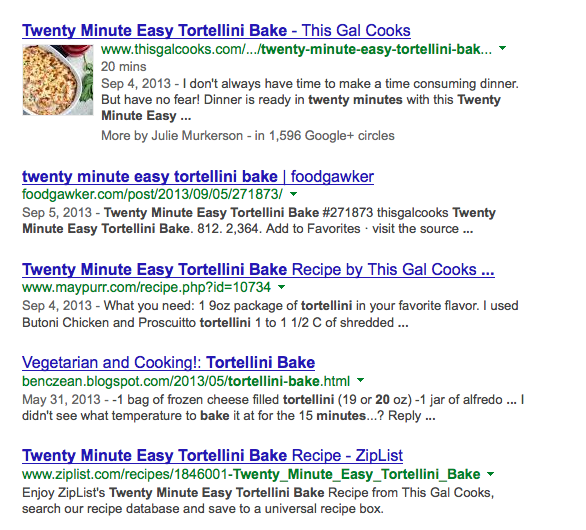 I actually haven't been linking up to parties as much anymore. I just haven't had the time to do it. I still link up to a few each week but it's usually under 5. I also stopped posting so much during the week. I do about 4 posts per week; usually 2-3 recipe posts plus Sunday's Marvelous Mondays post. Why did I do this? I read a great article (apologies – I cannot find the link) that said that you don't have to post everyday to get traffic. People don't always have time to read blogs every day. I know I sure don't have time to read blogs every day! So I cut back! I also stopped my Email to RSS emails and started creating my own emails. I do 2-3 emails per week now. I think an email being sent every time a post goes live is a little too much. Now with that being said, everyone has their own method and I do not criticize what they do. What works for one does not work for another. Different strokes for different folks, right?
Income
September saw a total income of $812.34, expenses of $37.79 for a total net income of $774.55
List of income items:
9/11: Wonderful Brands via Clever Girls Collective (July 2013) – $125.00
9/13: Nature Box campaign via Burst Media (July 2013) – $250.00
9/17: Electrolux via Clever Girls Collective (August 2013) – $125.00
9/24: Google Adsense Revenue for July and August 2013 – $212.34
9/30: Green Giant Veggie Chips via Clever Girls Collective – $100.00
List of Expenses
Giveaway participation – $10
Vista Print Business Cards – $27.79
I hope this post has been beneficial to you. If you have any questions regarding income or traffic, please leave a comment below or send an email if you prefer to be discrete. thisgalcooks (at) gmail (dot) com