Breakfast Sweet Potatoes with Eggs and Sausage
These healthier Breakfast Sweet Potatoes are stuffed with scrambled eggs, chicken sausage, and shredded smoked gouda cheese. Only 300 calories per serving, low fat and low sugar!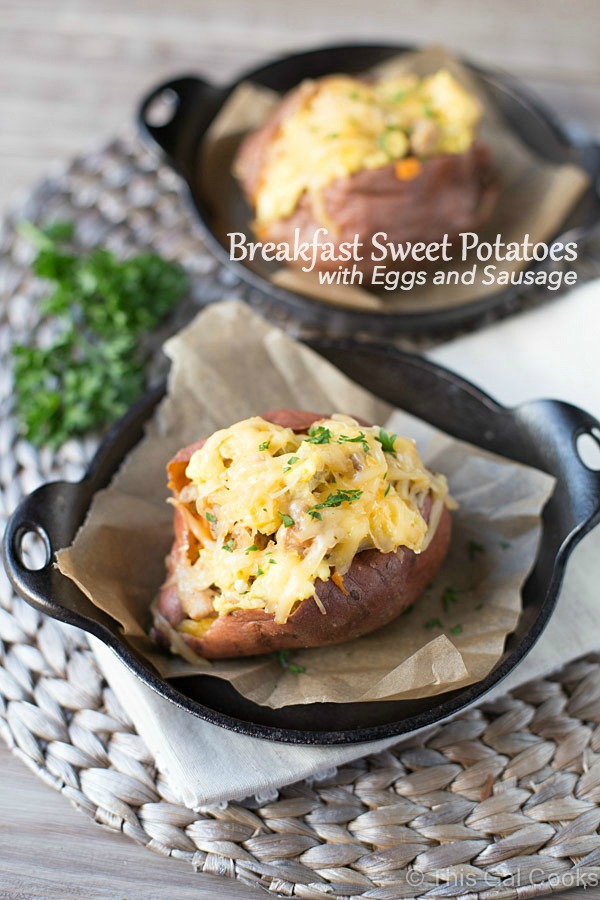 All week I've been kind of like "what blog?" Not really. Well, not totally. I did make a recipe Monday night and this is my third post this week. I've also done some blog reading and social media sharing. BUT this week, my heart has belonged to catching up on episodes of The Walking Dead. I quit watching after episode 9 of season 4. I'm not one for suspense so I read summaries of what happened in the episodes because I really didn't think I would start watching again for a while. I've read some of the comics so I have a general idea of the direction the show is going. But comics vs. show still isn't the same. Also, my friends at work wanted me to get caught up so we could have our Monday morning chats again. So I made a goal to finish watching the second half of season 4 and the first half of season 5 before the second half of season 5 starts. Did you get all of that? Haha, hope so. I've done pretty good this week. I watched one episode per night since Sunday and then I watched two episodes on Tuesday. I went home sick with gawd knows what kind of stomach issue on Wednesday so after I woke up from a nap, I binged watched season 5 and now only have two episodes left to watch. Here's to sticking with goals and making my friends happy.
A few weeks ago I came up with this really good breakfast idea. I had baked some sweet potatoes to have with our dinner but then I realized we had way too much food to choose from for dinner. So I was like sweet potatoes, meh. I have a better idea for you that will come tomorrow morning. I'm going to make you into breakfast sweet potatoes and stuff you with some of the best things in the world like scrambled eggs, chicken sausage and CHEESE! These breakfast sweet potatoes were so good and were the perfect cure for the mild hangovers we had that morning. When you get older, three beers can do it to ya.
If you bake your sweet potatoes the night before, breakfast will be ready in no time in. All you have to do is heat up the sweet potatoes, cook the sausage and eggs, place in the sweet potatoes and top with cheese. Then throw into a hot oven for a few minutes to melt the cheese. If you're baking the morning of eating, give yourself an extra 45 minutes to an hour to let those sweet potatoes bake. My recipe is for two servings but you can easily double or triple if needed.
Breakfast Sweet Potatoes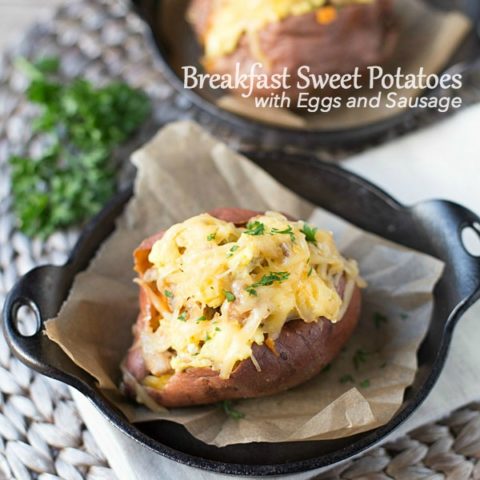 Breakfast Sweet Potatoes with Eggs and Sausage
Yield: 2 servings

Prep Time: 10 minutes

Cook Time: 5 minutes

Total Time: 15 minutes

These healthier Breakfast Sweet Potatoes are stuffed with scrambled eggs, chicken sausage, and shredded smoked gouda cheese. These are totally comfort food made for breakfast!
Ingredients
2 medium baked sweet potatoes
2 mild Italian chicken sausage, casing removed
2 large eggs
1 tsp half and half
2-4 tsp shredded smoked gouda cheese (I shredded it myself)
salt, ground pepper and ground ancho chili pepper, to taste
Instructions
Reheat the sweet potatoes in an oven for 5-10 minutes or in a microwave for 1-2 minutes. I recommend using an oven.
Brown the chicken sausage in a large skillet over medium-high heat, breaking up the sausage as it cooks. Remove from the skillet and set aside, once done cooking.
Prepare the eggs. Reduce the heat of the burner for the skillet to low. Crack the eggs into a bowl. Add the half and half and whisk until smooth. Spray the skillet with cooking spray and then add the eggs and cook to scramble. Once done cooking, remove from the heat and season with desired amounts of salt, ground pepper and ground ancho chili pepper. Add the sausage to the eggs and mix to combine.
Transfer the sweet potatoes to a baking sheet. Carefully cut open the tops and separate the sides slightly. Gently move some of the sweet potato insides around to fluff and make room for the egg/sausage mixture. Stuff as much of the mixture into the sweet potatoes as possible. Top each potato with 1-2 tbsp of the smoked gouda. Place the baking sheet with the potatoes into a 350 degree oven and heat until the cheese is just melted.
Serve any of the leftover egg/sausage mixture on a plate with each potato.
Notes
To bake the sweet potatoes, lightly coat each potato with a small amount of olive oil. Place on a foil lined baking sheet and bake 45 minutes to 1 hour.
Nutrition Information:

Amount Per Serving: Calories: 300 Total Fat: 14g Sodium: 850mg Carbohydrates: 15g Sugar: 3g Protein: 29g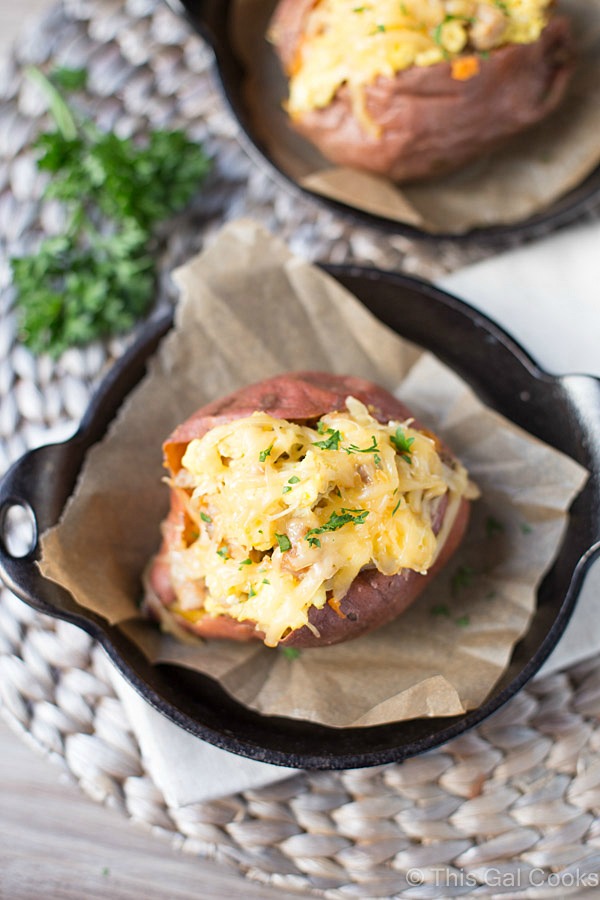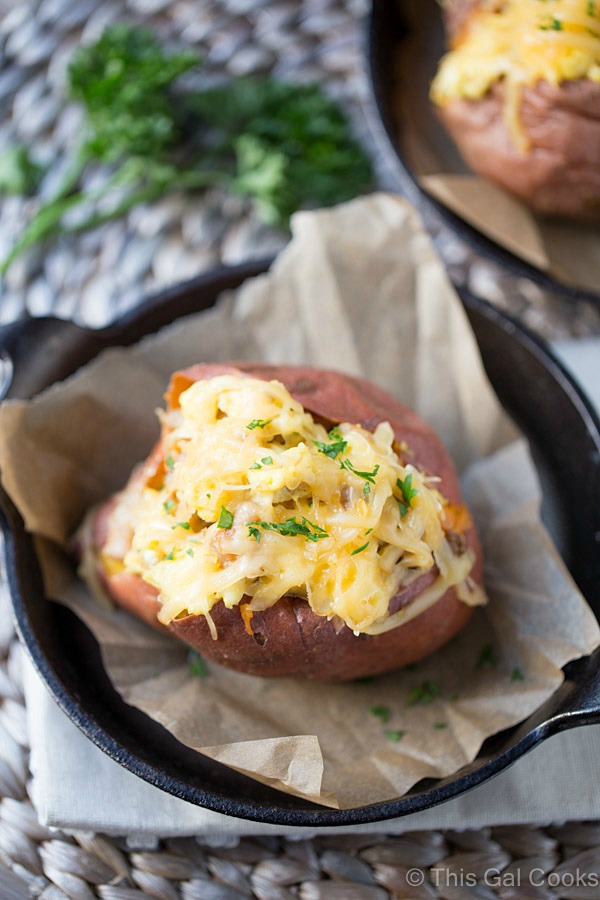 RELATED POSTS
Sweet Potato Oven Fries | Baking A Moment
Sweet Potato Cakes | Will Cook For Smiles
BBQ Chicken Baked Sweet Potatoes | Recipe Runner
Sweet Potato Enchiladas Skillet Casserole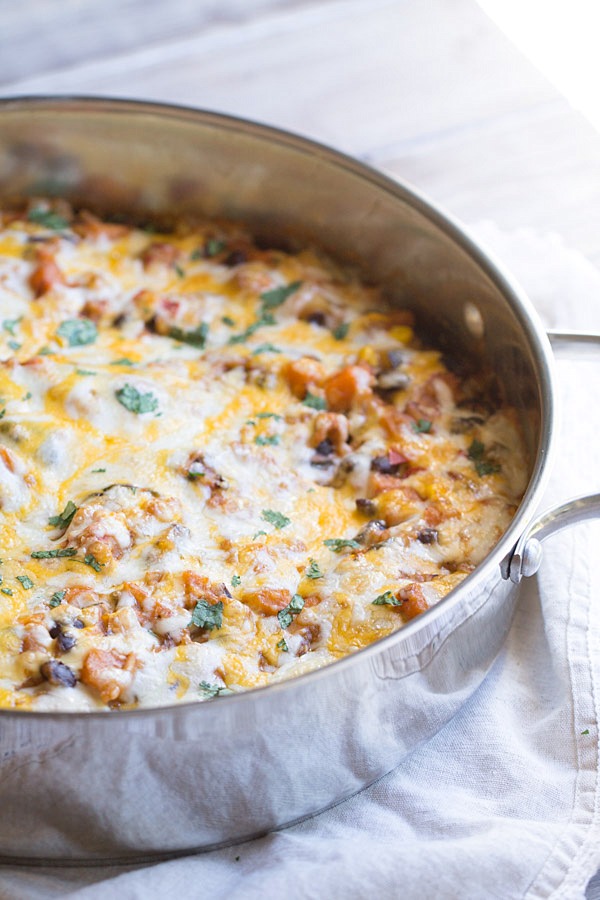 Sausage and Sweet Potato Hash with Baked Eggs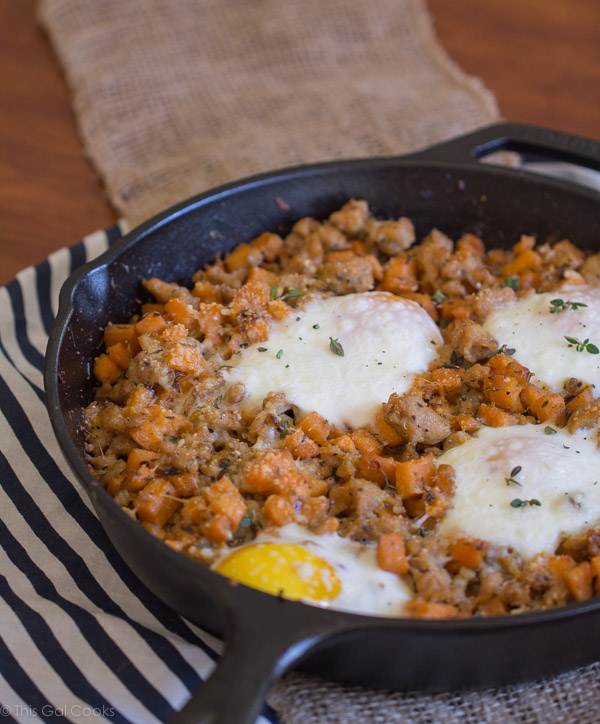 Sweet Potato, Ham and Swiss Tart