Roasted Tomato Soup with Cream and Onions
Today we're going to jump into bowls of Roasted Tomato Soup.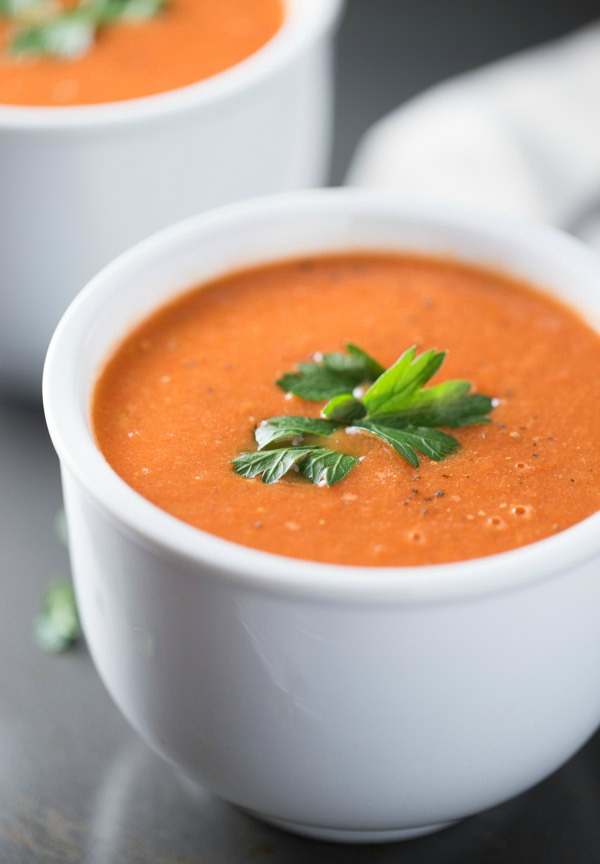 It might be a little messy if we jump into the soup, though. So maybe we should stick with bringing spoons and eating like civilized people. ;)
Before we talk about this roasted tomato soup, I have to tell you about the epic mess I made in my kitchen while making this soup.
Sometimes I don't think before I do things in the kitchen. Sometimes I don't do things carefully while in the kitchen. Just ask Ken – he says I don't wash the dishes carefully because sometimes he finds food stuck on them. I blame it on the dishwasher because the dishwasher does most of my dirty work. And then I tell Ken to wash them himself if he doesn't like the way they are cleaned. Teehee!
So if my kitchen walls, ceiling and cabinets could talk, they would tell you about the night they received a nice dousing of roasted tomato soup. My arm would also tell you that on that same night, it was burned by roasted tomato soup. In an attempt to cut back on time, I decided to use a blender instead of an immersion blender to blend said tomato soup. I did not wait for the soup to cool. I just spooned ALL of it into my blender. I put the lid on the blender and then hit pulse. HOLY CRAP! and other expletives. The pressure from the heat cause the lid of the blender to loosen and tomato soup exploded all over my kitchen and all over my arm. No joke, there was soup splattered on my roof, my cabinets, my floors and 10 feet away into my dining room. My kitchen could have been used in a scene of a horror movie. My arm was bursting with pain. My dog was going to town, licking the tomato soup off the floor. JACKPOT! True story – my dog loves tomatoes so this was the best thing ever next to being given fresh tomato treats.
It took me a while to clean up that mess.
Roasted Tomato Soup
I adapted this recipe from the Williams Sonoma Good For You cookbook. I basically followed the recipe exactly but I used a different method for roasting the tomatoes and I added some half and half for an extra boost of creaminess without adding a ton of calories. The soup is smooth, creamy and pairs well with a grilled cheese sandwich or a light salad. If you prefer a little substance in your soups, you can add some cooked cheese tortellini, macaroni or rice. Simply dipping a crispy grilled cheese sandwich into is is good enough for me. I'll take it plain, too!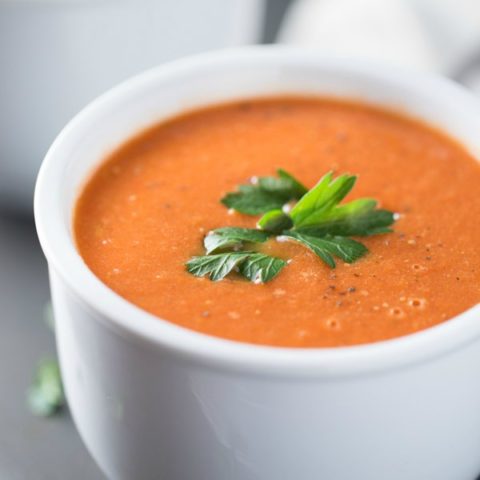 Roasted Tomato Soup with Cream and Onions
Yield: 4-6 servings

Prep Time: 10 minutes

Cook Time: 45 minutes

Total Time: 55 minutes

Roasted Tomato Soup is made with fresh roasted tomatoes, onions, thyme and balsamic vinegar. Half and Half is added for a boost of low calorie creaminess!
Ingredients
3lb of ripe tomatoes (I used tastee-lee)
2 tbsp extra virgin olive oil
2 tbsp balsamic vinegar
1 clove of garlic, minced
2 tsp fresh thyme
1/4 tsp kosher salt, plus more, if desired
1/4 tsp ground black pepper, plus more, if desired
1 small sweet onion, chopped
1/2 C dry white wine (I used pinio grigio)
3 C organic low sodium chicken broth
1/4 C half and half
flat leaf parsley for garnish
Instructions
Turn your broiler onto low. Place the rack in your oven 6 inches below the top burner.
Halve the tomatoes and placed on a foil lined baking sheet, cut side facing up. Whisk together 1 tbsp olive oil, the balsamic vinegar, 1/4 tsp salt and pepper, minced garlic and fresh thyme. Spoon the mixture over the tomato halves. Place the tomatoes in your oven and broil on low for 20-30 minutes or until the tomatoes are soft and slightly wrinkled.
Prepare the soup. In a dutch oven or soup pot, heat 1 tbsp olive oil over medium high heat. Add the chopped onion and cook until the onion is tender, about 3 minutes. Add the dry white wine, bring to a boil over medium high heat and cook for about 5 minutes or until the liquid is evaporated. Add the chicken broth and roasted tomatoes to the onion mixture. Bring to a boil and then cover and reduce heat to a simmer. Cook for 10 minutes.
Puree the soup with an immersion blender or a blender. If using a blender, be sure to cool for a few minutes before adding the mixture to the blender. Add and puree in batches. Add the half and half and puree for about another 30 seconds, or until creamy. Season with more kosher salt and pepper, to taste.
Serve in bowls and garnish with fresh parsley, if desired.
Notes
Adapted from Williams Sonoma Good For You cookbook by Dana Jacobi.
Nutrition Information:

Amount Per Serving: Calories: 110 Total Fat: 7g Sodium: 289mg Carbohydrates: 9g Sugar: 6g Protein: 2g