Chicken Sausage and Sweet Potato Hash with Baked Eggs
Chicken Sausage and Sweet Potato Hash with Baked Eggs. A savory one skillet breakfast dish made with mild Italian chicken sausage, fresh sweet potatoes and parmesan cheese. Around 350 calories per serving.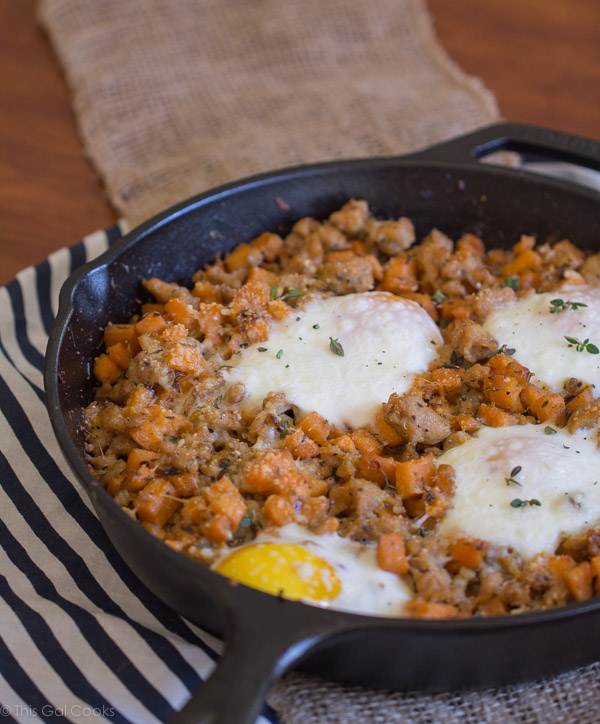 One potato, two potato, three potato, four, give me a sweet potato and maybe a little more. A little more of this Chicken Sausage and Sweet Potato Hash with Baked Eggs. This stuff is good! Like fork lickin', plate scrapin' mouth waterin' good.
A while back my good friend Deb from Cooking on the Front Burner had a rad little giveaway on her blog. Penzy's Spices and Herbs. Have you ever heard of them? I had not until I stumbled upon them on Deb's blog. So at first I was like "those look good." And then I was like "I'll enter Deb's giveaway." You all know what happened next… I won the giveaway. Of course, I had to make something with them right away once they were delivered to my doorstep. I already had this awesome idea swimming around in my head for a breakfast recipe. Perfect timing for the arrival of those herbs.
Chicken Sausage and Sweet Potato Hash with Baked Eggs
I'm a huge breakfast lovin' gal. One of my favorite things to do on the weekend is make a tasty breakfast for Ken and I to enjoy. This Breakfast Egg Bake Casserole and these Blueberry Coconut Pancakes are a few of my favs.
I used mild Italian chicken sausage in this recipe, which cuts down on the fat content A LOT when you compare it to using regular pork sausage. Be sure to pick up a good quality chicken sausage. You'll thank yourself when it comes to flavor. I used Publix Greenwise Mild Italian Chicken Sausage, which is a pretty darn good quality chicken sausage!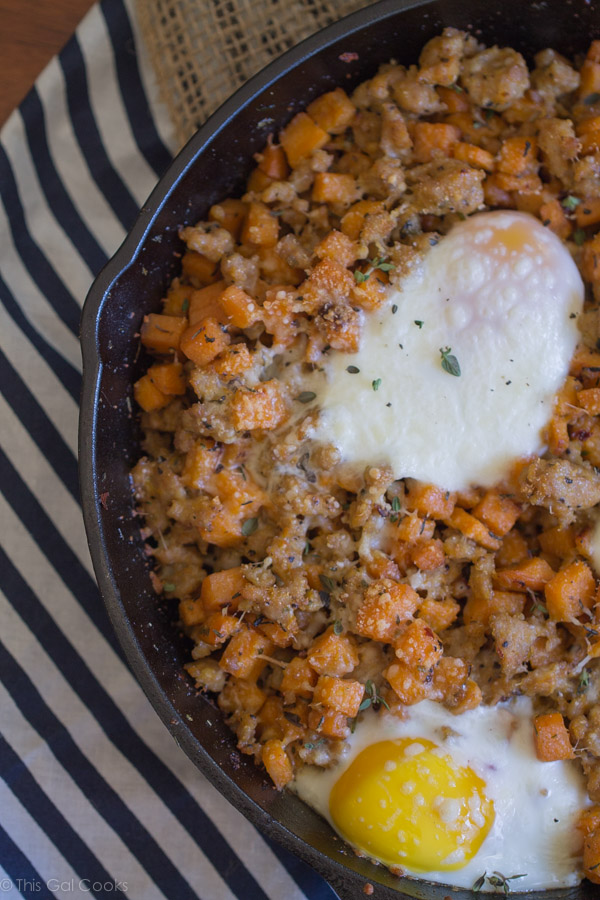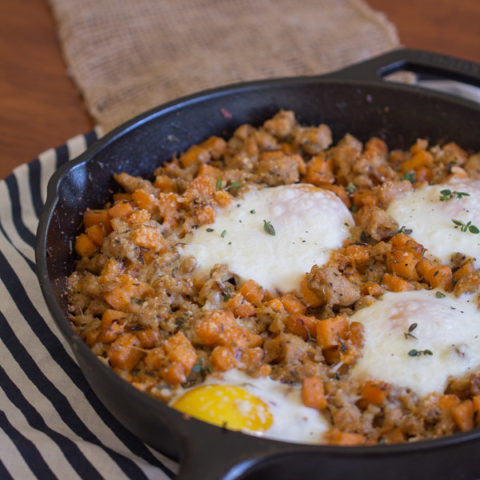 Chicken Sausage and Sweet Potato Hash with Baked Eggs
Yield: 4

Prep Time: 20 minutes

Cook Time: 15 minutes

Total Time: 35 minutes
Ingredients
3 medium sweet potatoes, peeled and diced 9about 3 1/2 cups)
1 lb of mild Italian chicken sausage, casing removed
1 tsp garlic powder
1/2 tsp seasoned salt
1 tsp dried sweet basil
1/2 tsp dried thyme
1/2 tsp dried tarragon
1/2 tsp dried oregano
1/2 tsp red pepper flakes
1/4 tsp ground pepper
4 large eggs
1 1/2 tbsp grated parmesan cheese
1 tbsp olive oil
Fresh thyme for garnish
Instructions
In a cast iron skillet over medium heat, cook the chicken sausage until browned. Break up the sausage while it is cooking so it becomes crumbly. Remove form the skillet and set aside.
Whisk together the spices and toss with the diced potatoes. Add the olive oil and mix well. Place the potatoes in the cast iron skillet and cook on medium to medium high heat until tender. If they begin to start drying out or sticking to the pan, add a little more olive oil to the pan. I did cover the potatoes for a few minutes so they would cook faster.
Once the potatoes are done cooking, mix in the chicken sausage. Crack the eggs over the top of the potato/sausage mixture and then sprinkle with parmesan cheese.
Bake at 350 for 15 minutes. If you want firmer eggs, cook a little longer.
Remove from the oven and garnish with fresh thyme.
Nutrition Information:

Amount Per Serving: Calories: 350 Total Fat: 10g Carbohydrates: 26g Sugar: 5g Protein: 31g


So…are you ready for breakfast now?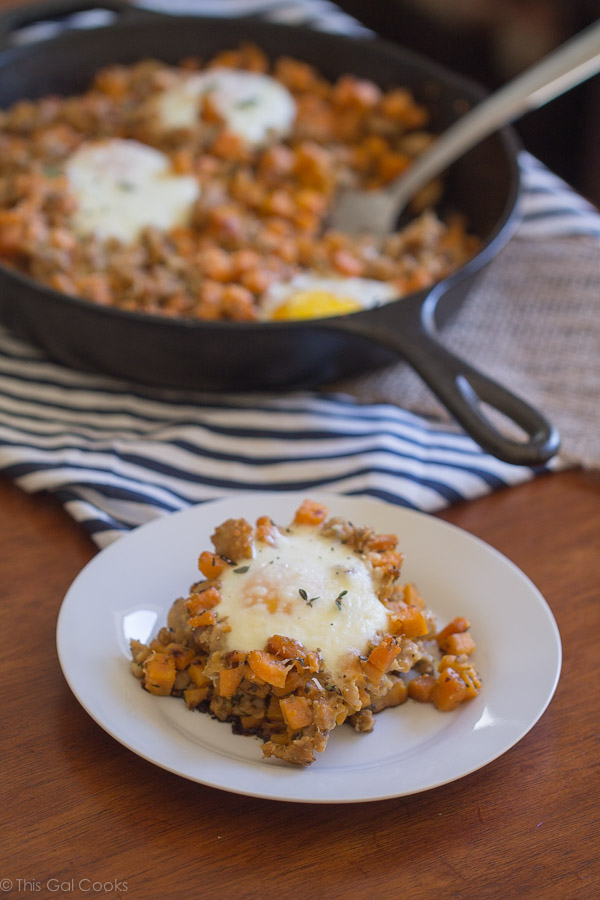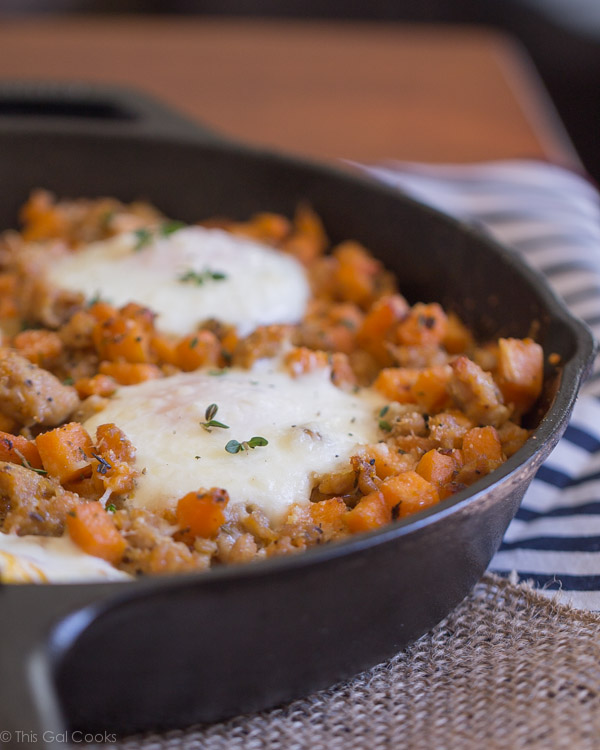 More tasty recipes from This Gal Cooks