Crock Pot Italian Chicken Pasta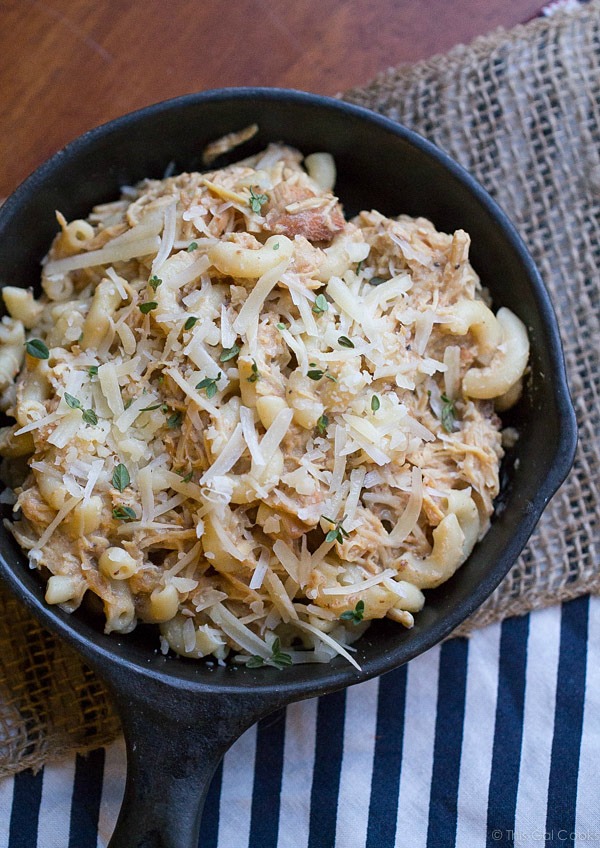 Doesn't food look great in a cast iron skillet? Of course, it tastes great when made in a cast iron skillet. But alas, this recipe is actually a crock pot recipe, hence the name Crock Pot Italian Chicken Pasta. But I just couldn't help but use this little mini cast iron skillet when doing the food photo shoot. I tried a cream and deep orange colored bowl but it just didn't compare to the look of this cute little cast iron skillet.
Plus, this mini skillet was looking for another job. Right now, it's full time job is holding k-cups on my coffee bar. It wanted a change so I hired it to be one of my food props.
Ah so, can you believe that it's already March? I just noticed that the trees in my yard are starting to sprout new leaves. For those of you who don't live in Florida, yes, the trees start sprouting new leaves pretty early in the year. Sometimes late February but usually March. Oh and the weather is beautiful. We have our A/C turned off and our windows open.
Sorry, northern folks, I'm not rubbing that in too much, am I?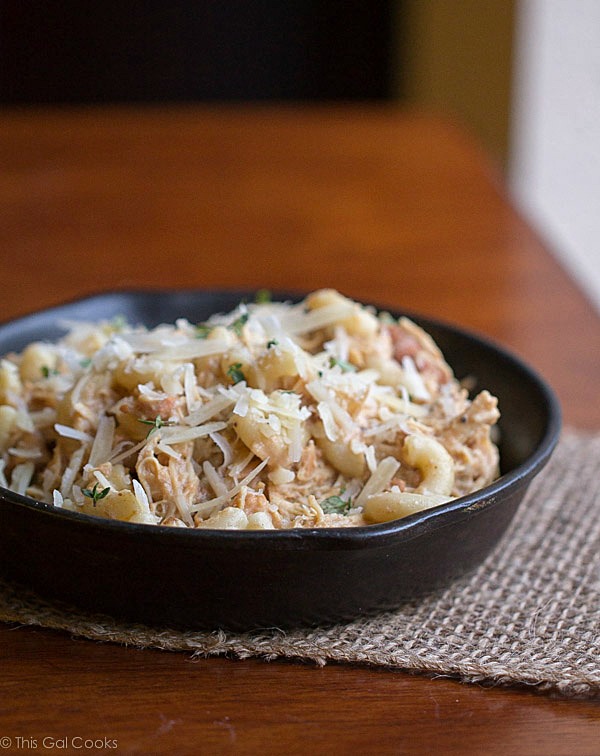 Crock Pot Italian Chicken Pasta
THIS is good. Very good. Like knock your socks off good. Chicken slow cooked in a homemade cream of chicken soup mix, greek yogurt and Italian Dressing Seasoning mix. Nuff said.
Homemade cream of chicken soup mix? Yeah, I'm not too big on all of the ingredients in the store bought stuff. At least not anymore. I used to use the store bought stuff quite often but then I realized it's pretty easy to make your own mixture. Half and Half, melted butter, chicken stock, all purpose flour. That's it. Just whisk together and you have something similar to canned cream of chicken soup without the long list of ingredients!
Kind of ironic, though. I did use store bought chicken stock but you can use your own if you have some of your own homemade stock. If you don't have time to make your own stock, or if you don't have any laying around, you'll be pretty safe using an organic broth that you can pick up from your grocery store.
This recipe was adapted from Julie's Eats and Treats Crock Pot Chicken Bacon Ranch Pasta.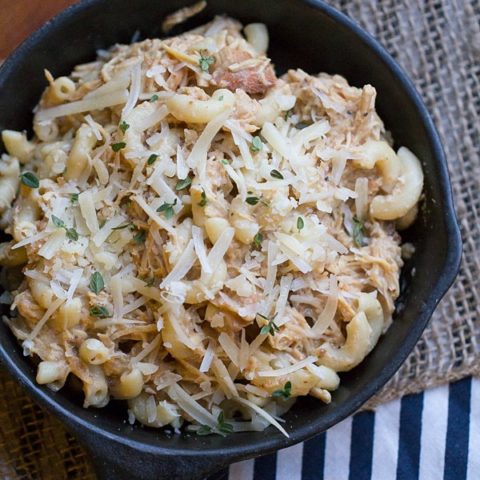 Crock Pot Italian Chicken Pasta
Yield: 5

Prep Time: 10 minutes

Cook Time: 6 hours

Total Time: 6 hours 10 minutes
Ingredients
2 boneless, skinless chicken breasts
1 packet of Italian dressing seasoning
1 C Greek yogurt
2 cloves of garlic, minced
1/2 C chicken stock
1/2 C half and half
3 tbsp all purpose flour
2 tbsp melted butter
1/4 tsp ground pepper
8 oz of macaroni
Instructions
Spray your crock pot with cooking spray, or line with a crock pot liner. Place the chicken in the crock pot.
Whisk together the half and half, chicken stock, all purpose flour, melted butter, garlic, Italian dressing seasoning, Greek yogurt and ground pepper. Pour over the chicken in the crock pot.
Cook on low for 6 hours. When done cooking, remove the chicken from the crock pot and shred. Whisk together the liquid in the crock pot until smooth. Return the chicken to the crock pot and mix well, until it's coated with the liquid/sauce in the crock pot.
Cook the macaroni until it reaches your preferred firmness. Drain and then mix the macaroni with the chicken mixture in the crock pot.
Serve in bowls and top with Parmesan cheese and fresh thyme.
Nutrition Information:

Amount Per Serving: Calories: 300 Total Fat: 11g Carbohydrates: 26g Sugar: 6g Protein: 20g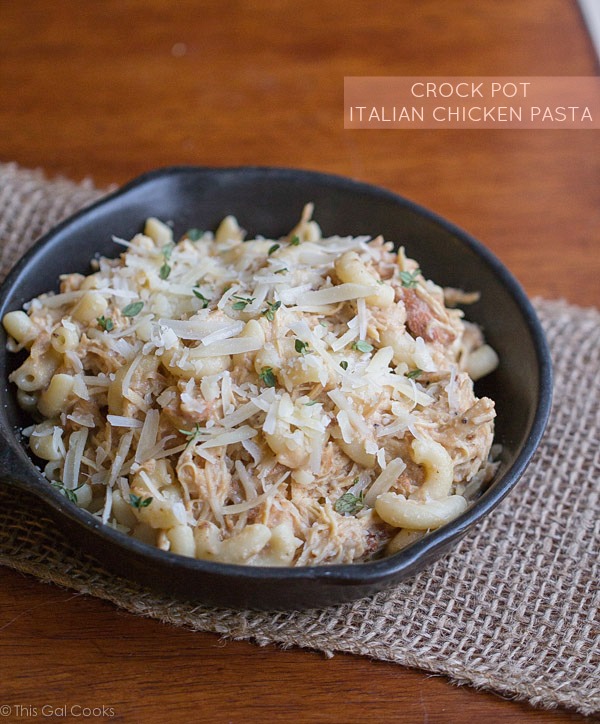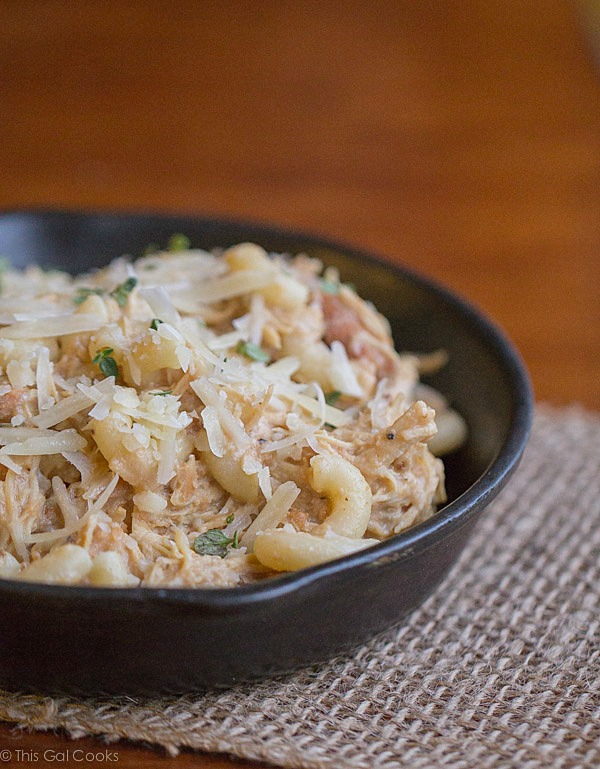 More Tasty Recipes from This Gal Cooks