Sweet Potato, Ham and Swiss Tart
Let's enjoy an easy breakfast that can also be dined on for dinner. Let's enjoy this Sweet Potato, Ham and Swiss Tart.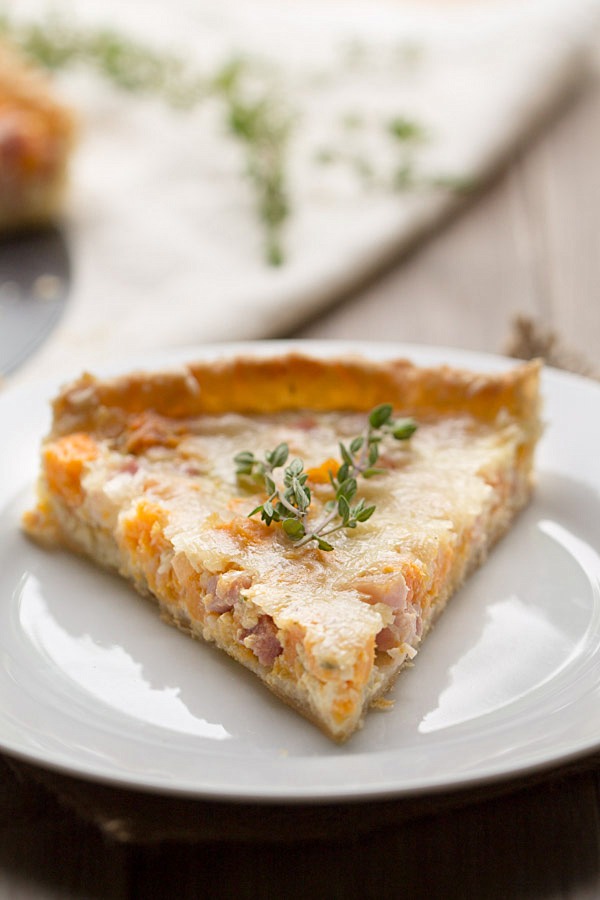 I based the recipe for this tart off of a recipe that I found in the Williams Sonoma Baking Book. Their recipe called for gruyere cheese and regular white potatoes. I wanted to use sweet potatoes.I didn't feel like waiting at the deli counter to pick up some gruyere so I opted for Swiss instead.
You could enjoy this tart for breakfast or dinner. I enjoyed it for both. I baked mine over the weekend and had it for dinner one night and breakfast for the following couple of days. It made for a good and easy breakfast to take along to work. Enjoy the recipe!
Sweet Potato, Ham and Swiss Tart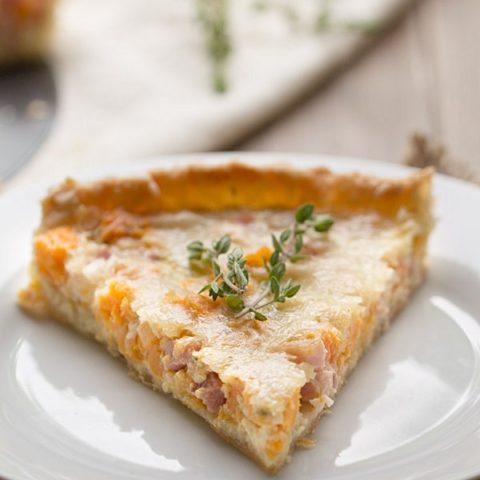 Sweet Potato, Ham and Swiss Tart
Yield: 6

Prep Time: 15 minutes

Cook Time: 15 minutes

Total Time: 30 minutes
Ingredients
1 9 inch pie crust
1 small sweet potato, diced (approximately 1 C)
3/4 C black forest ham, diced
1 tbsp butter
1/4 C sweet onion, diced
1 tbsp fresh thyme, chopped
1/2 C half and half
1 large egg
1/4 tsp kosher salt
1/4 tsp ground black pepper
2/3 C shredded Swiss cheese
Pinch of nutmeg
1 9 inch tart pan
Instructions
Preheat oven to 375
Blind bake the pie crust for 10 minutes. Remove from the oven and set aside to cool.
Bring a pot of water to a boil and cook the diced sweet potato until tender, about 10 minutes. But check it after about 5 to see how tender it is. You don't want the potatoes to be so mushy that they fall apart.
In a skillet, melt the butter over medium heat. Add the onion and thyme and saute until the onion is tender, about 5 minutes. Add the cooked sweet potatoes and stir to coat. Remove from heat and mix in the ham. Pour into the bottom of the cooled crust and top with the Swiss cheese.
Whisk together the half and half, egg, pepper, salt and nutmeg. Pour the mixture over the potato mixture and allow to spread out. Press down the mixture with a fork.
Bake at 375 for 15 minutes. Cool for 15 minutes before serving.