Sausage Cheddar and Olive Oil Muffins
Let's satisfy our hunger with a few of these Sausage Cheddar and Olive Oil Muffins.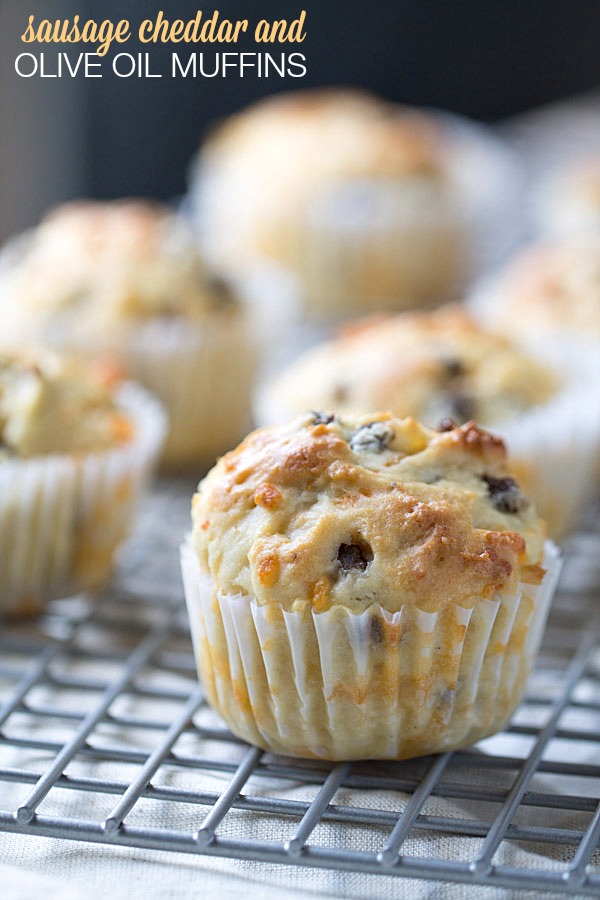 Did you know August is National Olive Oil Month? No joke, it really is. In honor of National Olive Oil Month, I've taken the Pompeian Pledge and replaced butter with extra virgin olive oil in some of my recipes.
I use Pompeian extra virgin olive oil in dressings, marinades, for sautéing and roasting. But it's simple to use in place of butter. This easy conversion chart will guide you on replacing butter with olive oil in all of your recipes.
Let's talk muffins.
I use butter in most of my muffin recipes. I always thought butter was a must have in any muffin or quick bread recipe. After making these Sausage Cheddar and Olive Oil Muffins, I realized that butter isn't necessary. Extra virgin olive oil is light tasting and will not over power the other flavors in your recipes.
You'll usually find sweet muffins coming out of my oven. These Raspberry Lemon Muffins and these Best Blueberry Banana Yogurt Muffins are always winners. But alas, I was craving something savory for breakfast. I went to work in the kitchen and about 30 minutes later, these Sausage Cheddar and Olive Oil Muffins emerged from my oven. ♥︎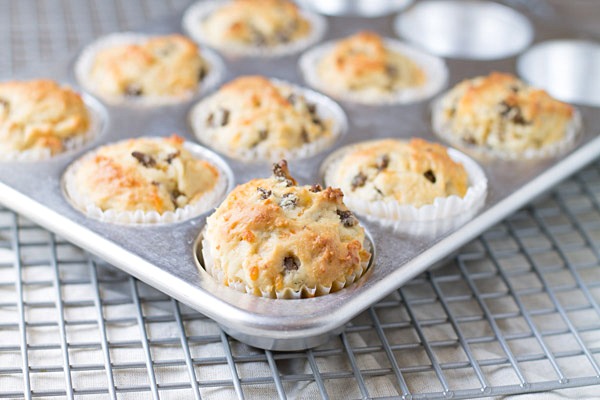 You'll only need one mixing bowl for this recipe. I measured and whisked together my half and half, egg and olive oil in a 2 cup measuring cup and then poured over the flour mixture. You'll need to use a little elbow grease while mixing the batter as it's very thick. After I wore out my arm mixing, I folded in some shredded cheddar cheese and cooked crumbled turkey sausage. You can find the sausage in the refrigerated meats section of your grocery store.
I used a cookie scoop to scoop the batter into the lined muffin cups. Cookie scoops make muffin prep so much easier…and cleaner too! I baked the muffins at 400 for 20 minutes and then let them cool before serving. Enjoy.
Sausage Cheddar and Olive Oil Muffins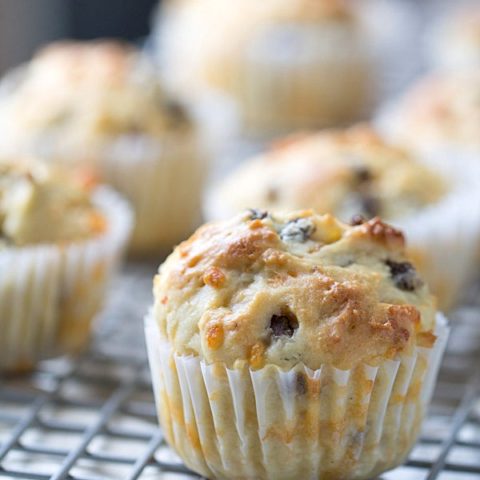 Sausage Cheddar and Olive Oil Muffins
Yield: 12

Prep Time: 10 minutes

Cook Time: 20 minutes

Total Time: 30 minutes
Ingredients
1 3/4 C all purpose flour
1/4 C light brown sugar
1/4 tsp salt
2 tsp baking powder
3/4 C half and half
1/4 C Pompeian Extra Virgin Olive Oil
1 egg
1 tbsp water
1/2 C shredded cheddar cheese
1 C crumbled cooked turkey sausage
12 cup Muffin pan
Cupcake liners
Instructions
Preheat oven to 400
Line a 12 cup muffin pan with cupcake liners
In a mixing bowl, whisk together the flour, salt, baking powder and brown sugar. In a 2 cup measuring cup, measure out the milk and then add the water, egg and olive oil. Whisk until blended. Pour over the flour mixture and them mix with a wooden spoon until thick and lumpy. Fold in the cheddar cheese and crumbled cooked sausage.
Scoop the batter into the muffin cups using a cookie scoop. Fill each cup about 2/3 full.
Bake at 400 for 20 minutes. Remove from the oven and cool for 20 minutes before serving.
Notes
The batter will be very thick. If it is too thick to fold in the cheese and sausage, add 1-2 tbsp of extra water.
Nutrition Information:

Amount Per Serving: Calories: 159 Total Fat: 7g Sodium: 215mg Carbohydrates: 19g Sugar: 4g Protein: 5g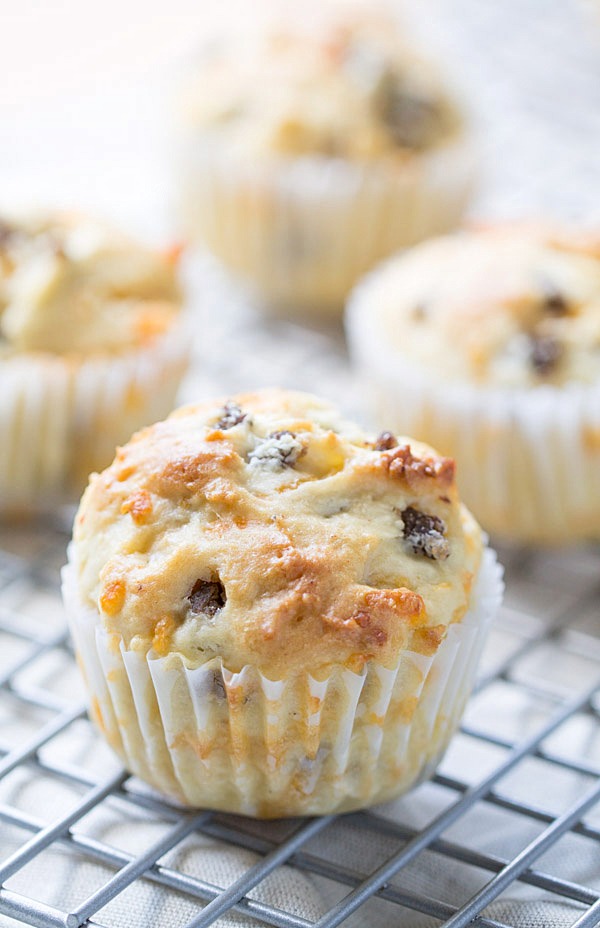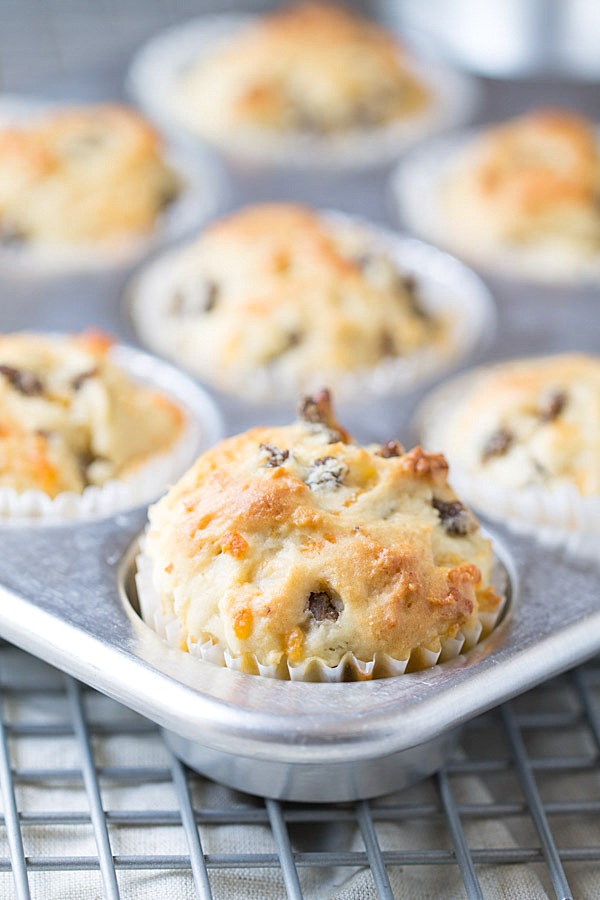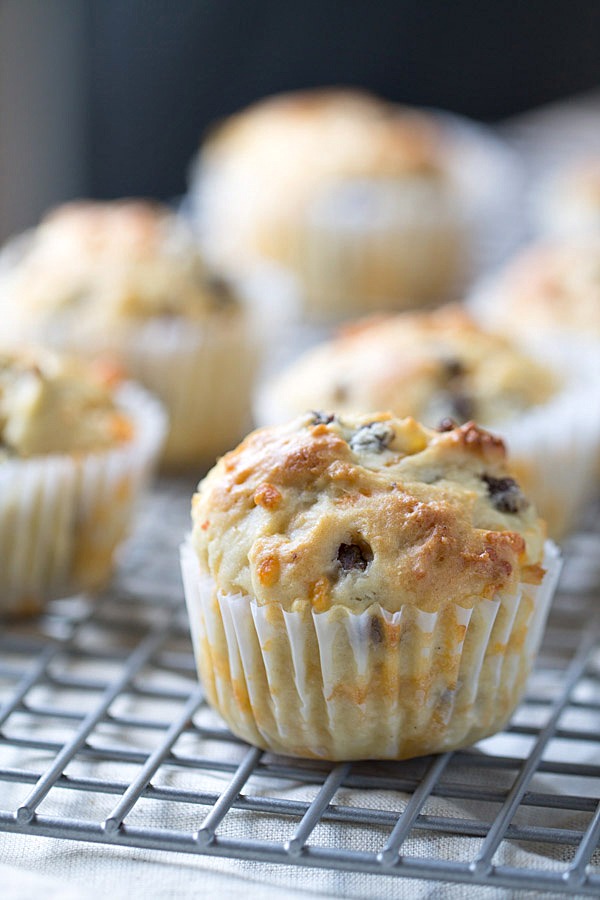 I'm a member of the Pompeian #PantryInsiders. This is a sponsored post written on behalf of Pompeian, however, all opinions and recipes are my own.
HUNGRY FOR MORE?
A few more recipes that sub butter with olive oil
Olive Oil Pound Cake by It Bakes Me Happy
No Butter Biscuits by Cookistry
A few more recipes that utilize Pompeian olive oil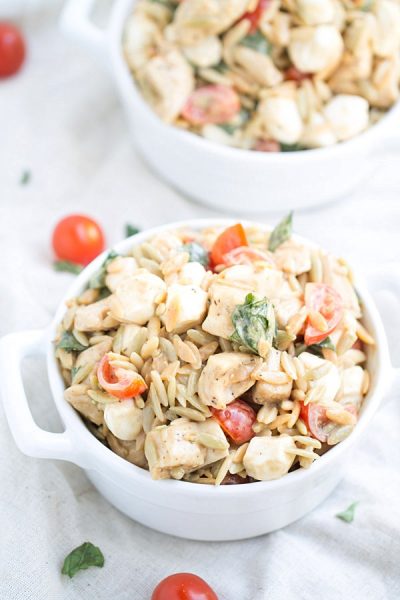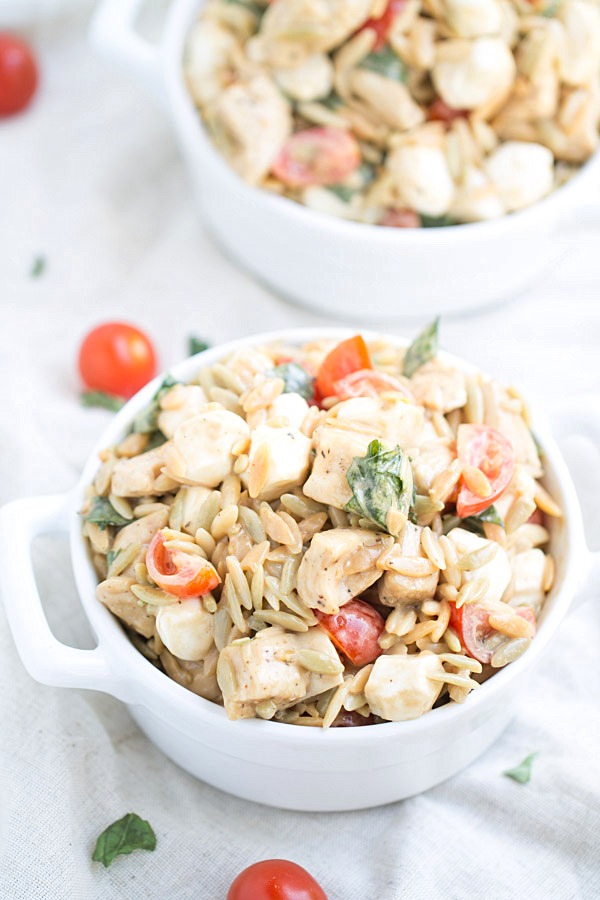 Low carb Greek Cucumber and Tomato Salad