Grapefruit Upside Down Cake

From scratch Grapefruit Upside Down Cake is made with fresh, sweet Florida Grapefruit and a cake batter that results in a soft, fluffy cake. Garnished with fresh chopped basil for complimentary flavor.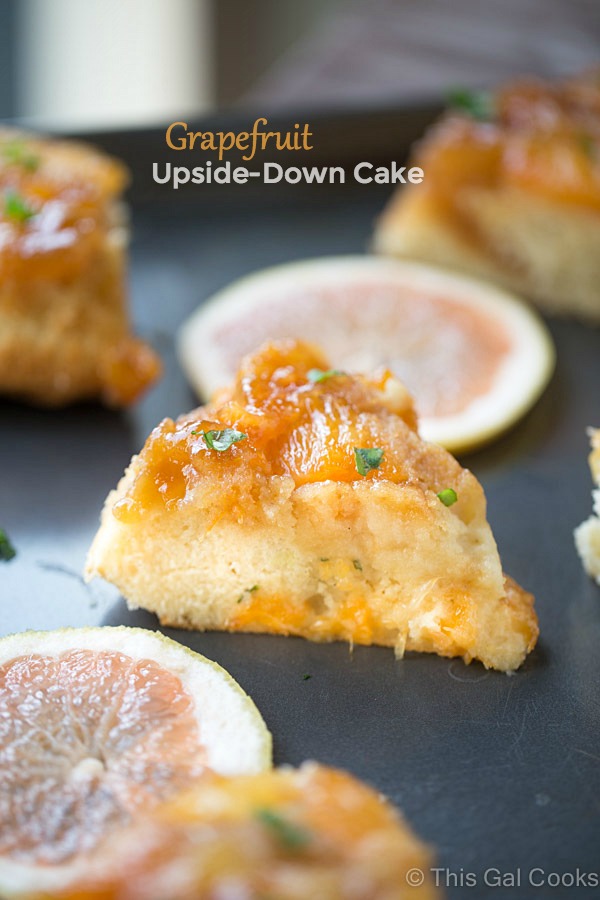 Today I want to talk about delicious Florida grapefruit. Sure, it may not be as pretty as the grapefruit grown in other areas but Florida grapefruit is the sweetest most delicious grapefruit you'll ever taste! I live in Florida and can get my hands on Florida grapefruit year-round. But did you know that you can often find Florida grapefruit in markets in other states between the months of November and May? Just checked – it's only February so you need to get to the market and pick up some delicious Florida grapefruit! We are traveling to Asheville, NC in April and you can bet your last dollar that I'll be checking to see if I can get my hands on some Florida grapefruit while on vacation!
Before looking outside of the box, I only considered grapefruit as a fruit to enjoy in a smoothie, as juice, in a salad or simply sprinkled with a little sugar. But today I am going to show you that you can also enjoy fresh grapefruit in baked goods, like this Grapefruit Upside Down Cake.
Ken is a fan of grapefruit. A whole grapefruit provides him with over 100% of the daily recommended value of vitamin C. He loves grapefruit juice and he loves plane ole grapefruit, too. He also likes cake. Who doesn't? Initially I was going to make a healthy grapefruit recipe but for the love of Ken, and to live on the edge a little, I settled on a grapefruit upside down cake. Ken was happy about this. What's not to be happy about? The cake was soft and fluffy. The topping was sweet and tart from the grapefruit and the brown sugar.
Basil is one of the herbs that grapefruit pairs well with so I added some chopped fresh basil to the cake batter and to the top of the cake for garnish. I added a pinch of allspice to the batter as well. It was totally random and I really don't think it affected the flavor at all. So use it or leave it out, whichever you prefer. Serve the cake with vanilla bean ice cream or fresh homemade whipped cream. Or enjoy it alone like we did!
Grapefruit Upside Down Cake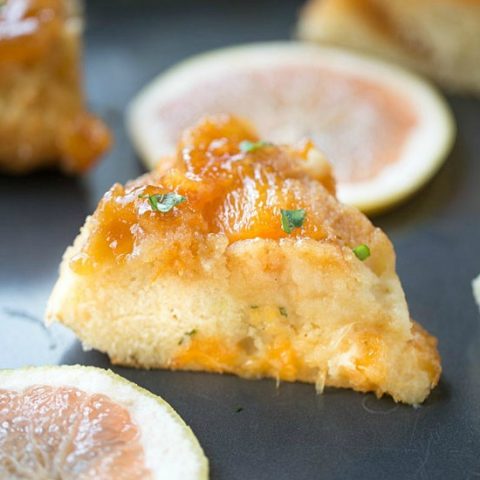 Grapefruit Upside Down Cake
Yield: 8 servings

Prep Time: 20 minutes

Cook Time: 40 minutes

Total Time: 1 hour

From scratch Grapefruit Upside Down Cake is made with fresh, sweet Florida Grapefruit and a cake batter that results in a soft, fluffy cake. Garnished with fresh chopped basil for complimentary flavor.
Ingredients
2 whole ruby red grapefruit
4 tbsp unsalted butter
3/4 C packed brown sugar
1 3/4 C all purpose flour
1 tsp baking powder
1/4 tsp salt
1/4 tsp fresh chopped basil plus more for garnish.
1/8 tsp ground allspice
2 large eggs
2 tsp vanilla extract
3/4 C butter, room temperature
1 C granulated sugar
1/2 C reduced fat milk
Instructions
Preheat your oven to 350 degrees.
Grease a 9 inch baking pan with cooking spray. Wipe away excess with a paper towel.
Cut the grapefruit in half lengthwise. Carefully remove the grapefruit from the peel by cutting around the inside and between each piece of the grapefruit. Then pop the grapefruit out of the peel with a fork. Set aside.
In a saucepan, melt the 4 tbsp butter over medium heat. Add the brown sugar and stir until bubbly. Pour the mixture into the prepared cake pan. Place the grapefruit pieces on top of the mixture and then set aside.
Prepare the cake by whisking together the flour, baking powder, salt, allspice and basil. In another bowl, whisk together the eggs and vanilla extract. In the bowl of a stand mixer, beat the 3/4 C butter on medium speed until fluffy. Gradually add the granulated sugar and beat for 2-3 minutes. Add the egg mixture and beat until combined. Add the flour mixture in 2 batches, alternating with the milk. Beat until smooth.
Pour the mixture over the grapefruit pieces in the cake pan. Smooth evenly. Bake for 35-40 minutes.
Remove the cake from the oven and cool on a wire rack for 10 minutes. Once cooled, loosen the cake by running a butter knife around the edge of the pan. Flip the cake over on a plate. Garnish with chopped basil, if desired.
Notes
Adapted from William's Sonoma Baking Book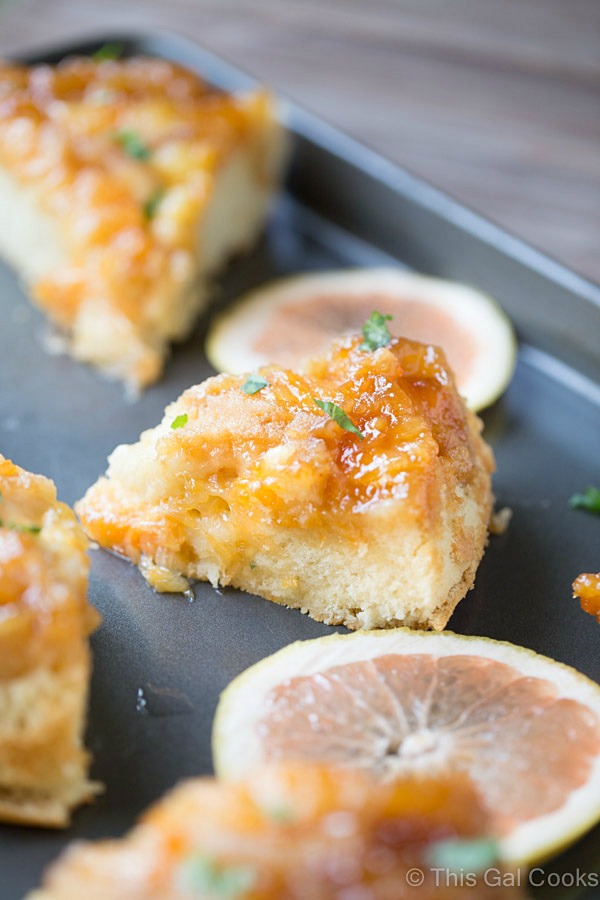 I was selected for this opportunity as a member of Clever Girls and the content and opinions expressed here are all my own.
Love this Grapefruit Upside Down Cake? Here are a few more grapefruit recipes that you may love!
Baked Grapefruit Donuts | Urban Bakes.
Grapefruit Orange Pound Cake | Blahnik Baker.
Tropical Grapefruit Parfait | The Seasoned Mom.