Tropical Raspberry Coconut Smoothie
Tropical Raspberry Coconut Smoothie. A dairy free smoothie made with raspberries, mango, pineapple and coconut milk. Vegan friendly.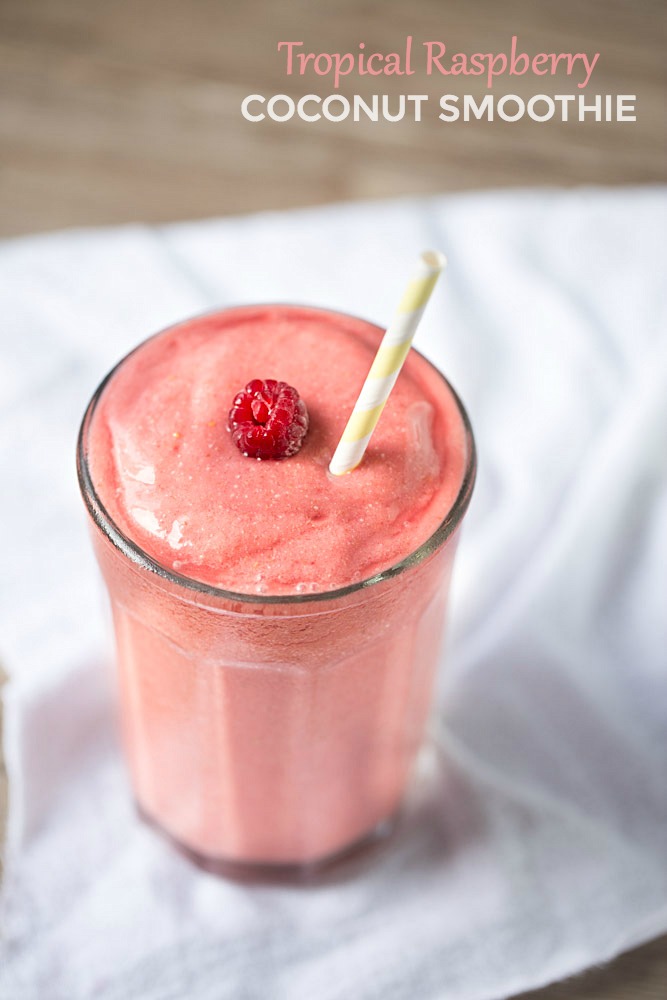 Tropical Raspberry Coconut Smoothie
You guys. I've been swimming in smoothies lately.
A couple week ago I made this Tropical Raspberry Coconut Smoothie that I'm sharing with you today. Then I bought some plant based protein powder and chia seeds and I've been making protein smoothies ever since. Once I get those perfected, I'll be sharing the recipes with you!
Today's smoothie is all about the tropical flavors. Imagine you're sitting on a warm sandy beach, sipping on this smoothie while watching the blue-green waves crash upon the shore. That's nice, isn't it?
This smoothie is full of raspberries, pineapple, mango, banana, coconut and unsweetened vanilla coconut milk. I use the kind in the carton to cut back on fat and calories. I added some flax seeds to give the smoothie a boost of fiber and protein. This smoothie is easy and quick to make. I make smoothies before I go to work in the morning and that's saying a lot. I'm a wake-up-at-the-last-minute kind of person. Often, I don't have time to make anything hot or fancy for breakfast. Move over sausage and eggs, smoothies have become my best Monday – Friday breakfast pal.
Using frozen fruit is key when making a smoothie. Frozen fruit is cheaper and can be used year round. It keeps your smoothie icy cold. It taste's just as good as fresh fruit. You can keep loads of it in your freezer without worrying about it going bad. When it comes to bananas, I buy fresh bananas and then freeze them.  At .69 per pound, you can't beat the price of freezing your own.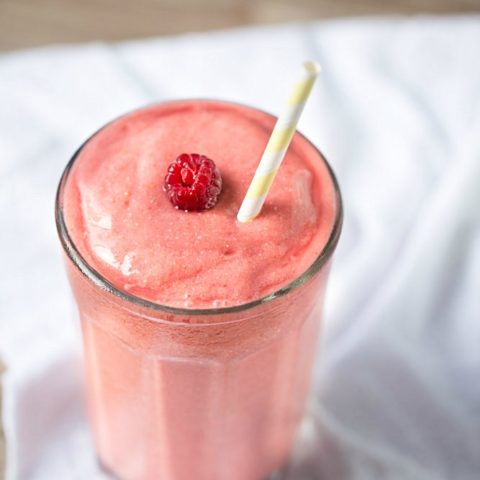 Tropical Raspberry Coconut Smoothie
Yield: 2 servings

Prep Time: 5 minutes

Total Time: 5 minutes
Ingredients
1 C unsweetened vanilla coconut milk (I use So Delicious that comes in a carton)
1/2 C orange juice
1 C frozen raspberries
1/2 C frozen pineapple chunks
1/2 C frozen mango chunks
1/2 of a peeled frozen banana
1 tbsp flax seed
1 tbsp unsweetened shredded coconut or coconut flakes
Instructions
Place all of the ingredients in your blender, starting with the OJ and the coconut milk. You want to have the liquids in the bottom of the blender for best blending.
Pulsate a couple of times and then blend on medium high speed (speed 7 on the Ninja Ultima) for 1-2 minutes.
Pour into glasses and enjoy.
Nutrition Information:

Amount Per Serving: Calories: 190 Total Fat: 6g Sodium: 1mg Carbohydrates: 43g Sugar: 29g Protein: 4g



RELATED POSTS 
Berry and Toasted Coconut Smoothie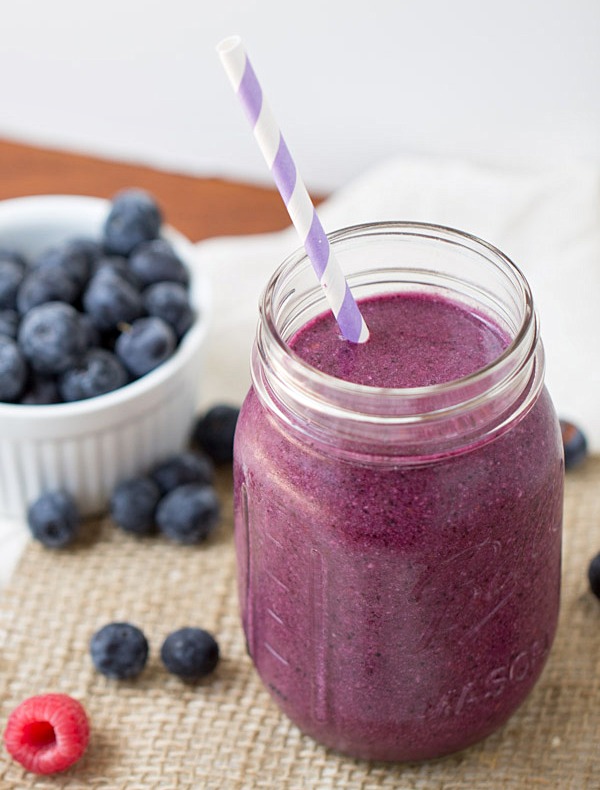 Pina Colada Smoothie with Mango