Roasted Tomatoes with Eggs and Quinoa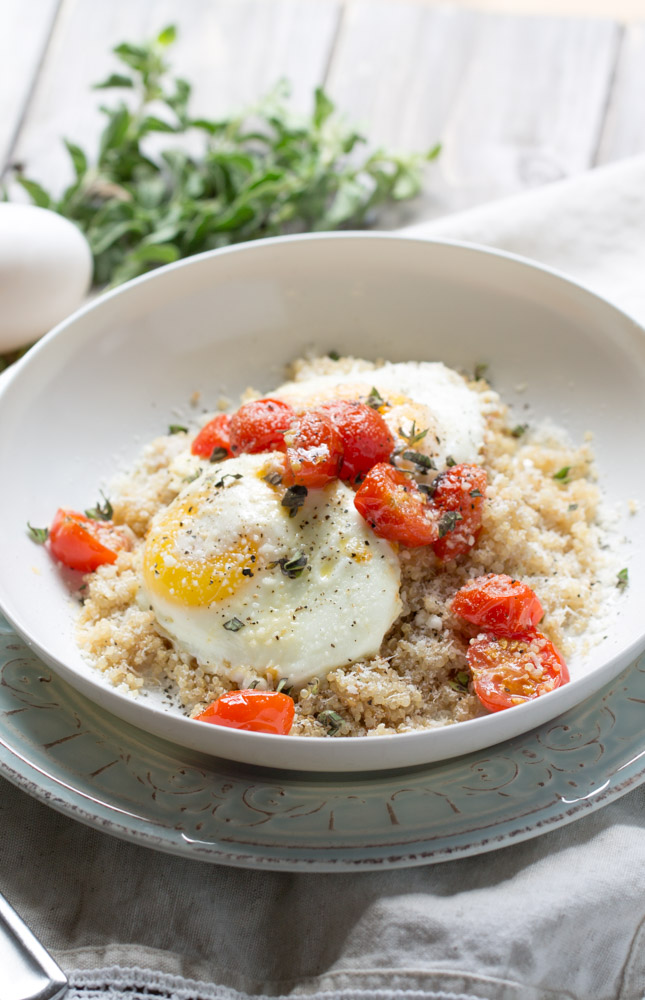 I made this Roasted Tomatoes with Eggs and Quinoa just for myself. Ken doesn't like this type of breakfast food. He's more of a pancakes and coffee cake fan. That's not to say that I don't like pancakes and coffee cake. I do. BUT, I cannot stuff my face with those every single day or I would be as huge as a house. Somehow Ken is not as huge as a house. I need to figure out his secret to not always eating healthy, not always exercising and not being as huge as a house.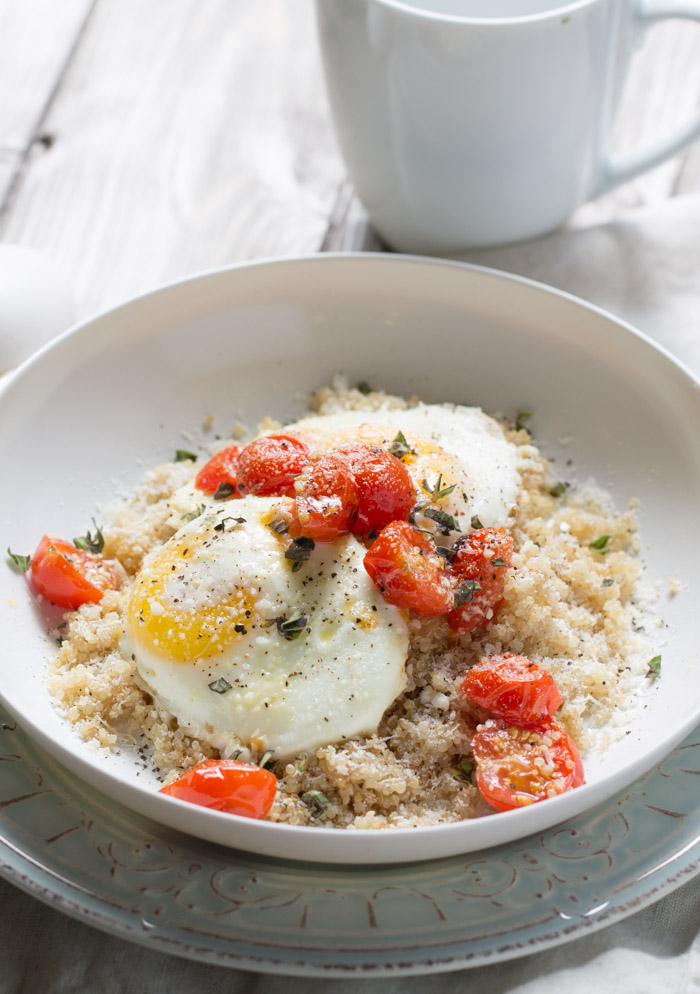 Roasted Tomatoes with Eggs and Quinoa
This is a recipe for one but you can easily double, triple or quadruple it if you're feeding more than just yourself. This recipe requires very little prep work. If you don't have any leftover quinoa hanging out in your fridge, you can easily make some in a rice cooker. If you don't have a rice cooker, GO TO THE STORE NOW and get one! It will make your life so much easier when it comes to cooking rice and quinoa. This gal doesn't have time to watch a pot of rice or quinoa. I'm sure you don't, either.
OH, another convenient perk to this recipe – you can make it and take it. I do it all the time. I throw all of the ingredients in a container and take it to work with me. Breakfast and coffee at the work desk. Word.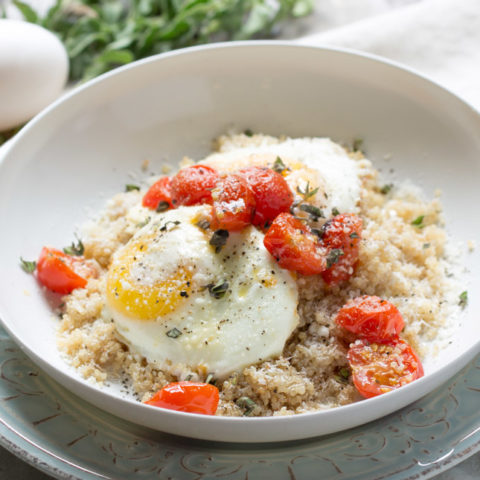 Roasted Tomatoes with Eggs and Quinoa
Yield: 1 serving

Prep Time: 10 minutes

Total Time: 10 minutes
Ingredients
6 cherry tomatoes, halved
1 tsp olive oil
1/2 C cooked quinoa
1 tbsp grated parmesan cheese, divided
Pinch of sea salt
2 large eggs
1 tsp fresh chopped oregano
Pinch of ground black pepper
Instructions
Turn your broiler onto high. Place the tomatoes in an oven safe dish. Drizzle with olive oil. Broil for 5 minutes or until slightly charred.
Toss the quinoa with 1/2 tbsp of the parmesan cheese and a pinch of sea salt. Place in a shallow bowl or on a plate.
In a skillet, cook the eggs to your preference. I cooked mine sunny side up.
Place the eggs over the quinoa and then spoon the tomatoes over top. Sprinkle with the remaining parmesan cheese, oregano and black pepper.
Nutrition Information:
Yield: 1 Serving Size: 1
Amount Per Serving: Calories: 337 Total Fat: 17g Saturated Fat: 5g Trans Fat: 0g Unsaturated Fat: 11g Cholesterol: 376mg Sodium: 376mg Carbohydrates: 26g Net Carbohydrates: 0g Fiber: 4g Sugar: 4g Sugar Alcohols: 0g Protein: 19g