Apple Pie Butterscotch Snickerdoodle Bread
This bread is so good.
And a little messy, too. But messy bread is alright when the mess comes from a crunchy cinnamon and brown sugar topping. Imagine biting into a slice of cinnamon toast filled with apple pie spice and butterscotch chips. If you make this bread, you won't have to imagine that anymore. This dense, flavorful quick bread is packed with all of those things. It's topped with a mixture of cinnamon and brown sugar that turns delightfully crunchy during the baking process. Slather some butter on a slice for maximum enjoyment.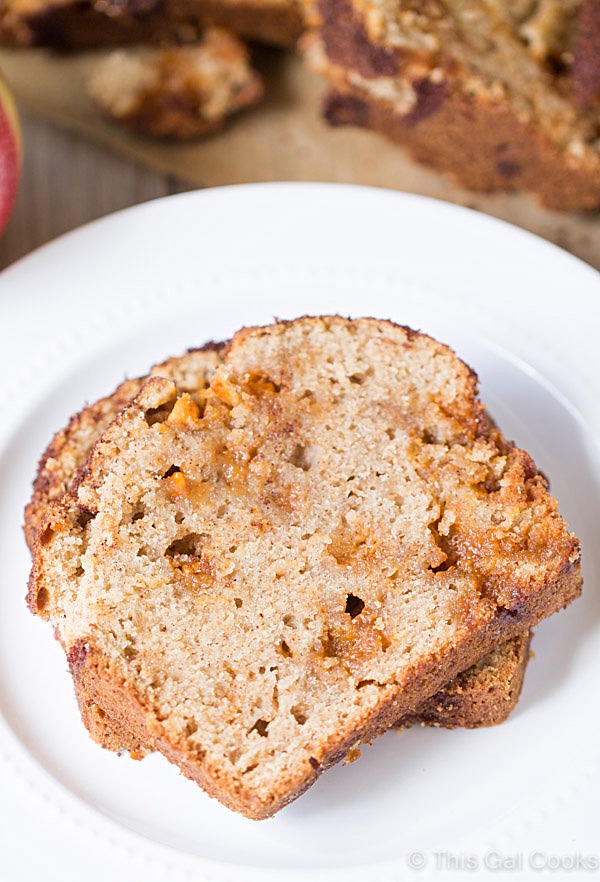 This Apple Pie Butterscotch Snickerdoodle Bread wins the approval of Ken. He had two slices of it shortly after it came out of the oven. The first slice was a taste test slice. I could tell he liked it when he entered the kitchen, searching for another slice. I had a hard time not devouring all of it. But I limited myself to one slice…until Monday morning. Monday morning called for two slices of this delicious bread. And let me tell you, letting this bread sit for a day will give you an even MORE delicious bread! All of the amazing flavors of fall have time to mingle. Total swoon-worthy stuff right there.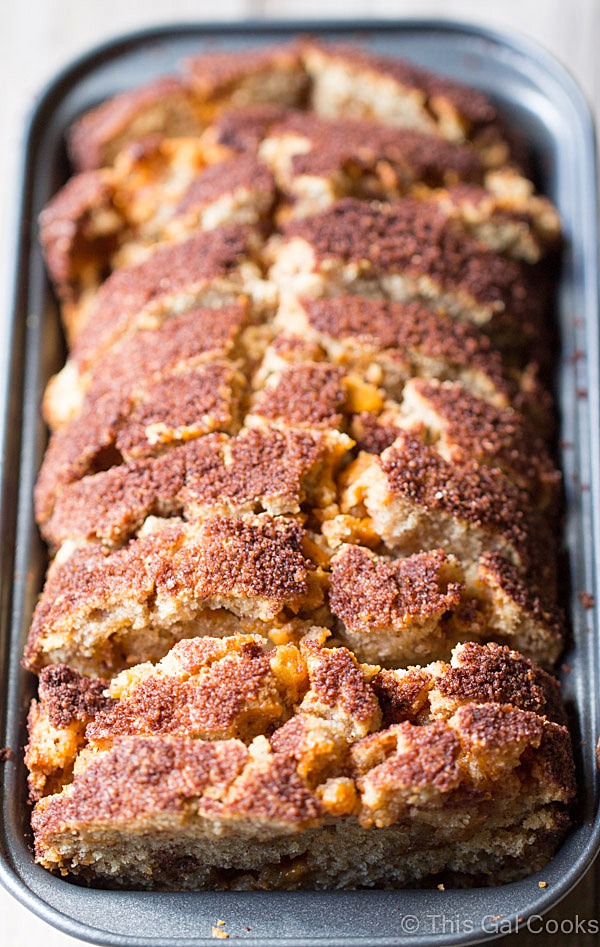 This loaf will serve about 10 people at 2 slices each, depending on how thick you cut the slices. I could keep this entire loaf to myself but I don't want to ride the guilt train this week. So what Ken and I do not devour will be shared with co-workers. This would be perfect to serve Thanksgiving morning or even as an after Thanksgiving dinner snack. Pair it with a hot cup of coffee or tea to keep those smiles coming and those eyelids open. Unless of course you take your tea and coffee decaf. In that case, those eyelids might start closing.
Enjoy the recipe.
Apple Pie Butterscotch Snickerdoodle Bread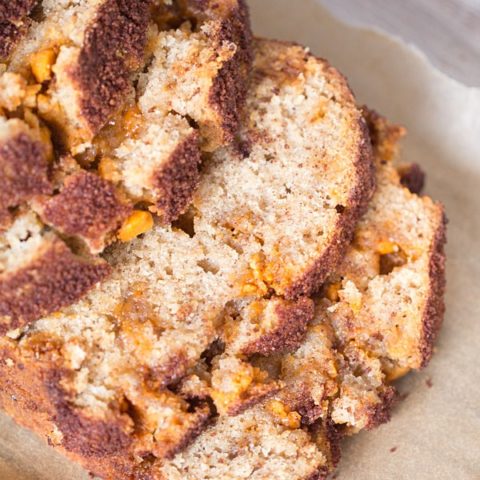 Apple Pie Butterscotch Snickerdoodle Bread
Yield: 20 slices

Prep Time: 20 minutes

Cook Time: 55 minutes

Total Time: 1 hour 15 minutes
Ingredients
1 3/4 C all purpose flour
1/2 C whole wheat flour
3/4 C granulated sugar
2 tsp baking powder
2 tsp apple pie spice
1/2 tsp salt
1 C apple sauce
1/2 C vegetable oil
1/2 C light brown sugar
1/4 C water
2 large eggs
1 tsp vanilla extract
1 C butterscotch chips
1 tbsp all purpose flour
2 tbsp brown sugar
1 tbsp cinnamon
Instructions
Preheat your oven to 350. Lightly coat a 9x5 bread pan with cooking spray.
In a large mixing bowl, whisk together the flours, granulated sugar, baking powder, salt and apple pie spice. In another mixing bowl, whisk together the apple sauce, brown sugar, water, eggs, vegetable oil and vanilla extract. Fold the wet ingredients into the dry ingredients. Do not overmix. The batter should be lumpy.
Toss the butterscotch chips with 1 tbsp of flour. Fold into the batter.
Pour the batter into the bread pan. Smooth the top with the backside of a spoon.
Whisk together the cinnamon and 2 tbsp brown sugar. Sprinkle desired amount over top of the bread batter.
Bake at 350 for 50-60 minutes. Check often to be sure the topping is not getting too dark. If it starts to get too dark, cover loosely with aluminum foil.
Cool completely on a wire rack. Once cooled, remove the bread from the pan and slice to serve.
Notes
Adapted from Food Network Magazine, Fall 2014
Nutrition Information:

Amount Per Serving: Calories: 400 Total Fat: 18g Sodium: 135mg Carbohydrates: 54g Sugar: 32g Protein: 4g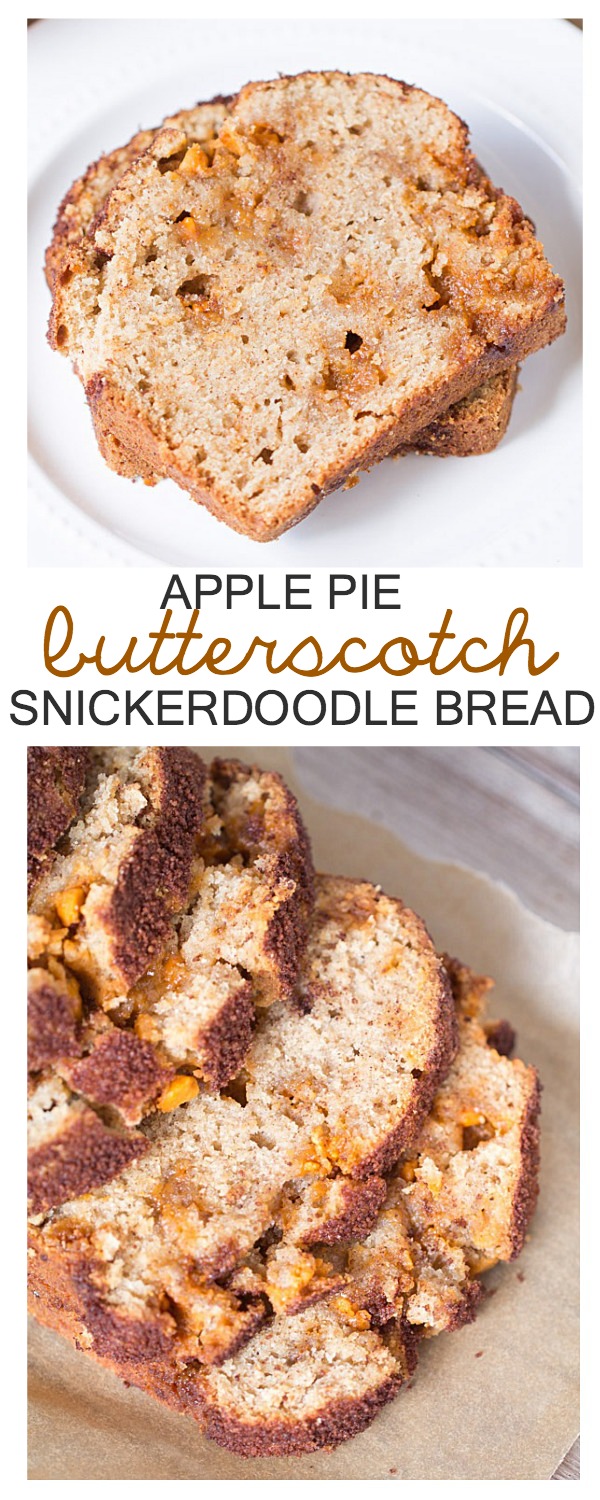 HUNGRY FOR MORE? 
Try these recipes from other bloggers around the web.
Glazed Strawberry Bread from Sally's Baking Addiction.
Buttermilk Pumpkin Bread from Kitchen Confidante.
Orange Zucchini Bread from Blahnik Baker.
A couple of my recipes.