Spicy Asian Chicken Meatballs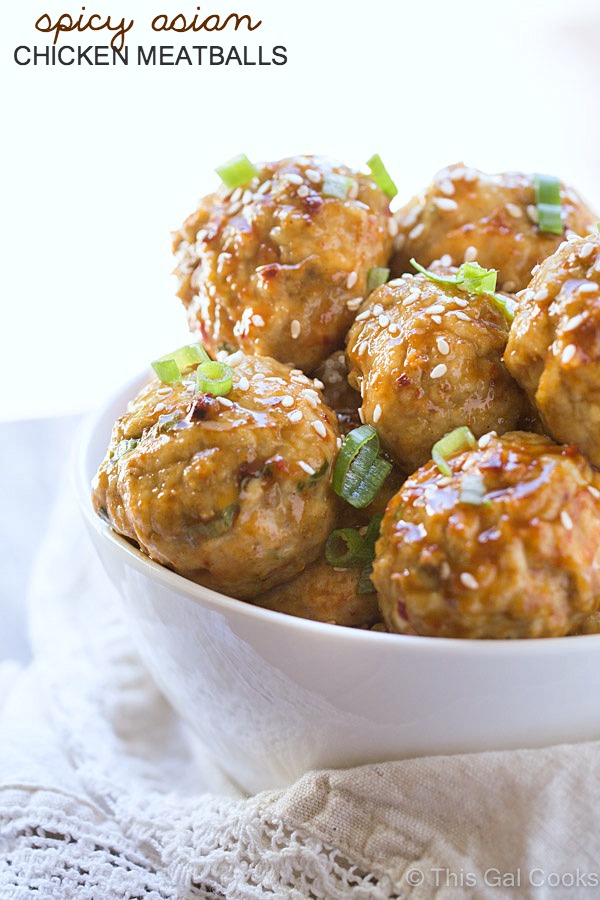 You guys. It's Meatball Monday.
Wait, isn't it supposed to be meatless Monday? No, not on this blog because today is Monday and I'm sharing a meatball recipe. So it's Meatball Monday!
How cheesy is that, Meatball Monday? It ranks pretty high on the cheesy-ness factor and that's ok. One of my areas of expertise is cheesy-ness, and that includes the food type as well. But as much as I love all things cheesy, you won't find any cheese in these meatballs. Rather you'll find chicken and robust asian spices with a kick of heat that comes from my friend Sriracha Sauce.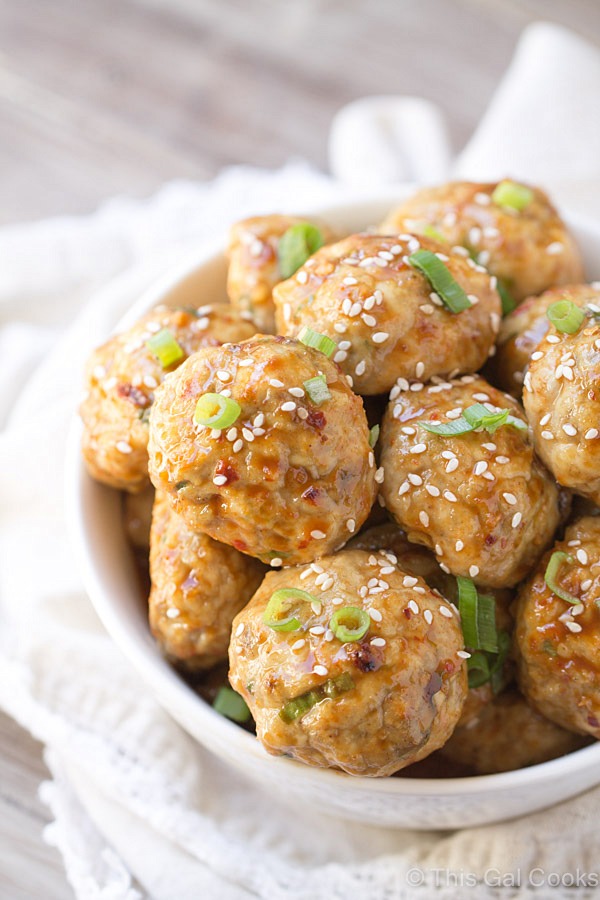 Ken and I LOVED these Spicy Asian Chicken Meatballs. I can always tell when he really likes something I make. He always gets seconds. Or maybe he is just extremely hungry. I think it's a little of both.
Right after I made these, we ate them by themselves. No sides. No rice to serve them over. Just straight from a bowl. They were that darn good. The following night, we ate the leftover meatballs over some rice. It made for a perfect quick meal after a long day at work.
Since I made these rather early in the day, I needed to keep them warm while they were waiting to be devoured by us. I just threw them into my slow cooker and turned the heat setting to warm. Worked like a charm. You could do this for a party or gathering, too. Enjoy the recipe.
Spicy Asian Chicken Meatballs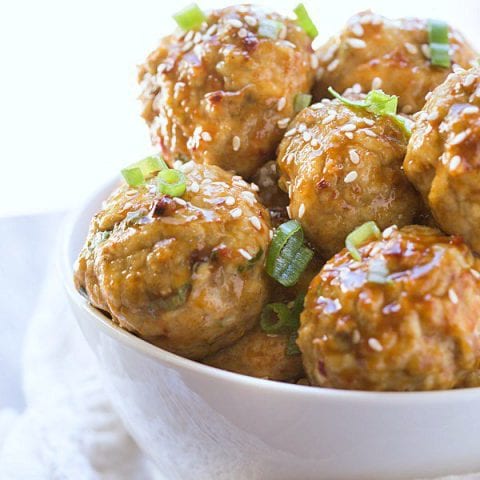 Spicy Asian Chicken Meatballs
Yield: 25-30 meatballs

Prep Time: 20 minutes

Cook Time: 10 minutes

Total Time: 30 minutes

Delicious meatballs made with ground chicken and robust asian spices with a kick of heat that comes from Sriracha Sauce.
Ingredients
For the meatballs
1lb ground chicken breast
1lb ground chicken (50% less fat)
2/3 C panko
2 tbsp sesame oil
1 tsp Chinese 5 spice
1/2 C thin sliced green onion
2 cloves of garlic, minced
2 large eggs, beaten
3/4 tsp salt
For the sauce
1/2 C hoisin sauce
1/4 C Mirin (rice vinegar)
2 cloves garlic, minced
1 tsp red pepper flakes
1 tsp ground ginger
2 tbsp low sodium soy sauce
1 tbsp brown sugar
1/4 C chicken broth
1-2 tsp sriracha sauce
1 tbsp tomato paste
1-2 tbsp cornstarch (used to thicken the sauce)
Instructions
Preheat your oven to 400. Line a baking sheet with aluminum foil. Lightly spray with cooking spray. Remove any excess spray with a paper towel.

Place all of the meatball ingredients into a large mixing bowl. Mix with your hands until well incorporated. Place in your refrigerator for 10 minutes to firm the mixture. Roll the meatballs into 1 1/2 - 2 inch balls and place on the baking sheet. Bake for 10-12 minutes or until an internal temperature of 165 is met. ***see tip in notes for how to roll chicken meatballs***

While the meatballs are baking, make the sauce. In a sauce pan, whisk together all of the sauce ingredients, minus the cornstarch. Once the ingredients are mixed well, gradually whisk in the cornstarch until the sauce reaches your desired thickness.

Place the cooked meatballs in a large bowl and pour the sauce over top. Toss to coat. Garnish with sesame seeds and green onions.
Notes
Meatball Prep

The meatball mixture is very sticky. In order to easily roll the meatballs, this is the method I used. I portioned off each meatball and placed them on the baking sheet. Then I rubbed a little sesame oil on my hands and rolled each meatball portion into a ball. This prevented the meat mixture from sticking to my hands.

Adapted from Gimme Some Oven
Nutrition Information:

Amount Per Serving: Calories: 230 Total Fat: 8g Sodium: 652mg Carbohydrates: 16g Sugar: 4g Protein: 18g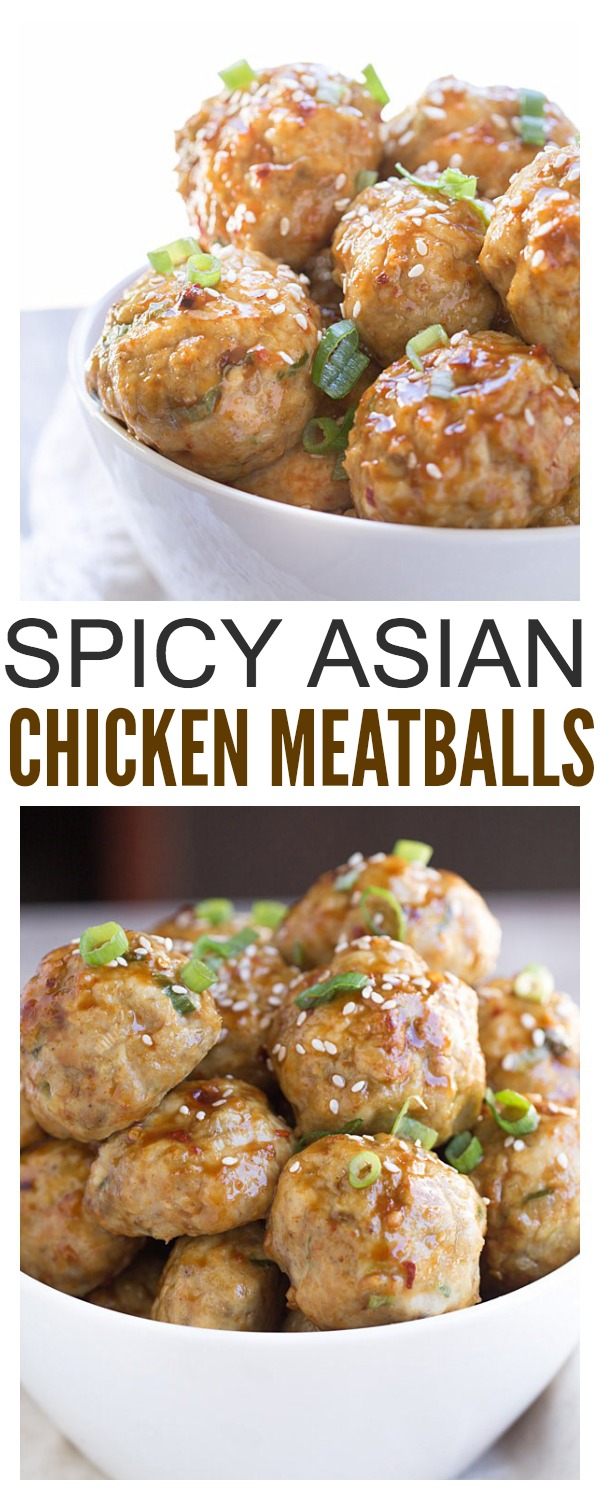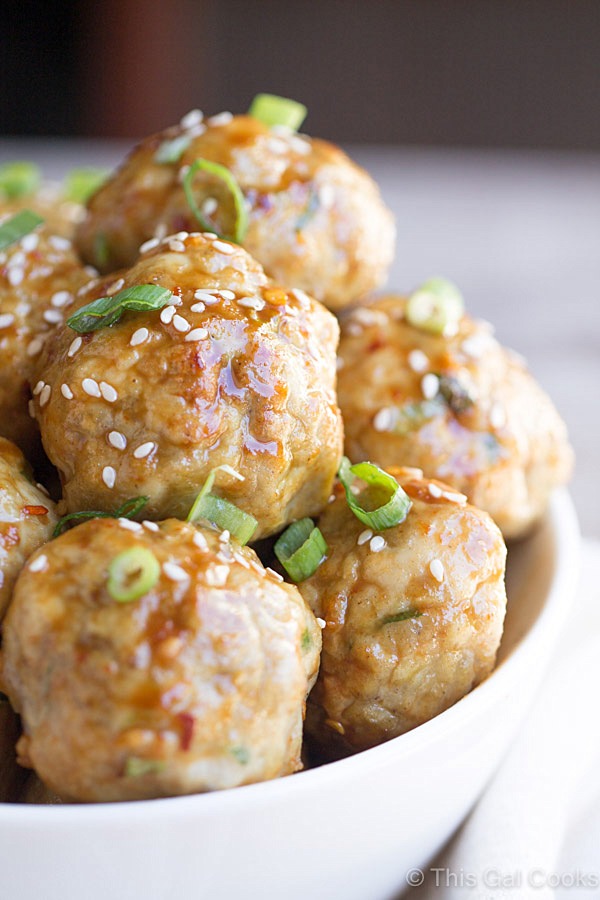 HUNGRY FOR MORE?
Try these recipes from other bloggers.
Korean Style Cocktail Meatballs from Spoon Fork Bacon.
Teriyaki Meatballs from Mom on Timeout.
Crockpot Turkey Meatballs from Sally's Baking Addiction.
More appetizer recipes from This Gal Cooks.