Tomato Bacon Spinach Quiche
This savory Tomato Bacon Spinach Quiche is perfect for breakfast, lunch or dinner. Make it the night before, have an quick breakfast in the morning!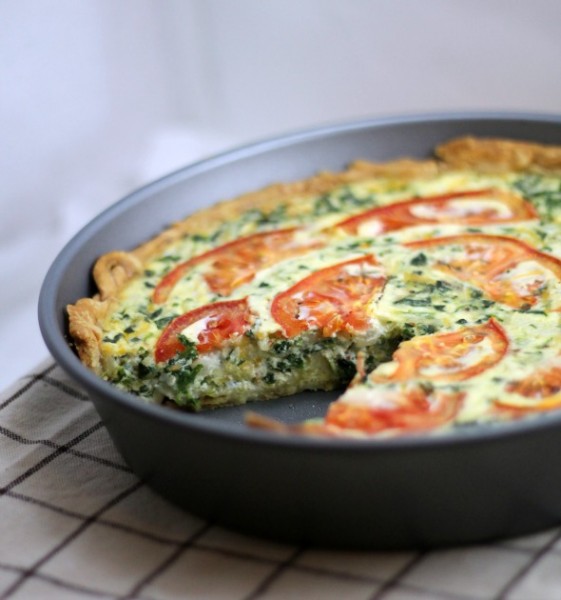 Tomato Bacon Spinach Quiche
Something that I enjoy greatly but don't bake often enough is quiche. Quiche is a pretty versatile meal. You can make it with just about any meat or veggie and it's great for breakfast, lunch or dinner. The typical quiche that I prepare consists of ham, onion and swiss cheese. Last night I decided to go outside the box and make a different type of quiche. I had leftover pie crust dough from a recipe I made last week (not a homemade pie dough, this one was store bought) as well as some bacon and frozen spinach. I decided to make a Tomato Bacon Spinach Quiche to give us dinner and perhaps breakfast for a couple of days. All I had to get was a tomato and some more shredded cheese (which happened to be BOGO free at my grocery store this week!) This quiche turned out pretty good. I will definitely make it again. The addition of the tomatoes really paired well with the spinach and bacon. I hope you enjoy this recipe.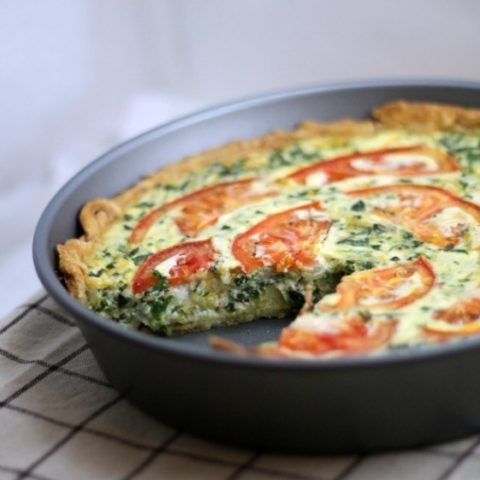 Tomato Bacon & Spinach Quiche
Yield: 8 servings

Prep Time: 15 minutes

Cook Time: 45 minutes

Total Time: 1 hour
Ingredients
1 9 inch pie crust
3 slices of bacon, cooked crisp and chopped up
1/3 C frozen spinach, thawed, rinsed and squeezed dry (1/3 C after squeezing dry)
3 tbsp onion, chopped
4 large eggs, beaten
1 C half and half
1/2 C milk
1/2 C shredded Swiss cheese
1/2 C shredded cheddar cheese
1/2 tsp ground pepper
1/8 tsp seasoned salt
3/4 of a tomato, thin sliced, slices halved
Instructions
Place the pie crust in a 9" round cake pan. Freeze for 15 minutes.
Bake the pie crust at 350 for 15 minutes.
In a mixing bowl, combine the beaten eggs, cheeses, milk, half and half, bacon, spinach, onion, pepper and seasoned salt.
Pour the mixture into the prepared pie crust and even out if needed. Top with the sliced tomatoes.
Bake at 350 for 45 minutes or until a toothpick inserted into the center comes out clean.
Cool on a wire rack for at least 15 minutes before serving.