Moroccan Carrot Soup Recipe
Oh so you want a creamy, dairy free soup that's packed with bold flavors? There's a recipe for that. And I have it right here. Creamy. Tasty. Moroccan Carrot Soup.
Oh hi there friends. I know it's a tad bit early for a post but today is Secret Recipe Club reveal day. Yours Truly just happens to now be a member of the club, which is pretty rad. I had only been anxiously loitering the waiting list for months when I was finally told "hey, stop loitering and come on in and join the club!"
This month I got to explore the delightfully tasty Della Cucina Povera. I'm so happy that I was assigned Francesca's blog because, well, I want to eat all of the food! She shares healthier, made from scratch recipes that will make you swoon. I want to make all of them but settled on the tasty carrot soup for now.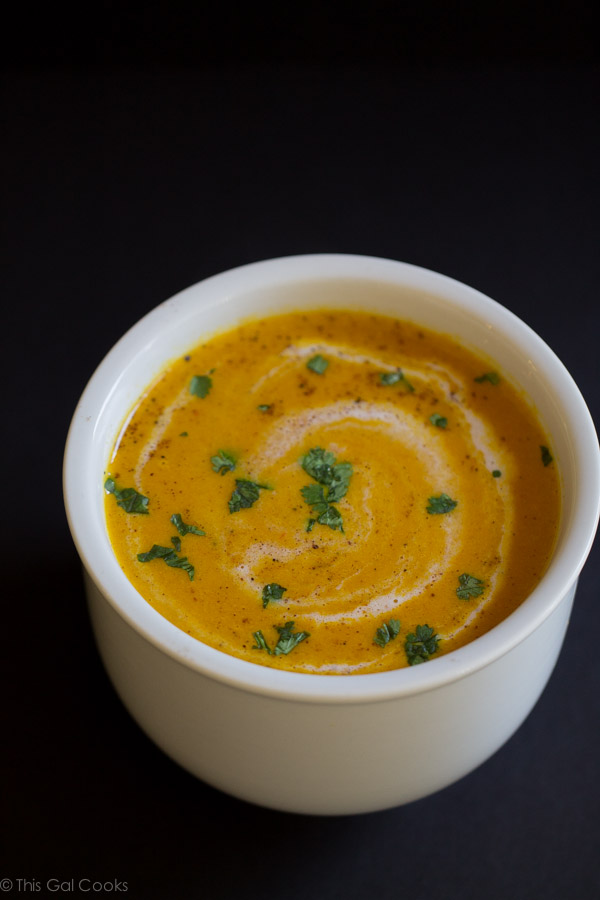 Moroccan Carrot Soup
I made a few changes to the original recipe, the main one being that I cut back on the chicken broth and added coconut milk to give the soup a creamier texture and a richer flavor. Lactose and I aren't the best of friends so I said no-no to heavy cream and half and half. I also added a little ground ginger and turmeric to the mix since they are two spices that I am quite fond of. Overall I'm quite happy with this soup. It was a tad bit gritty but I blame my cheap $20 blender on that. One day, oh one day a Vitamix or BlendTech blender shall be mine. A gal can dream, right? Or decide to part ways with $400 so she can have the fancy blender of her dreams.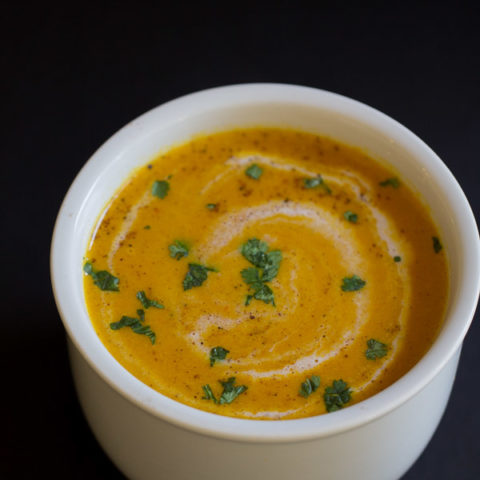 Moroccan Carrot Soup Recipe
Yield: 6

Prep Time: 10 minutes

Cook Time: 30 minutes

Total Time: 40 minutes
Ingredients
1 small red bell pepper, coarsely chopped
5 average sized carrots, coarsely chopped (about 2 cups)
1/2 C chopped sweet onion
2 cloves of garlic, minced
1 tbsp extra virgin olive oil
2 C vegetable broth or chicken stock
1 C coconut milk
1 tbsp honey
1/2 tsp ground cinnamon
2 tbsp ground coriander
1/4 tsp ground ginger
1/4 tsp ground turmeric
Salt to taste
Chopped cilantro for garnish
Instructions
Heat the olive oil in a large dutch oven. Add the onions, garlic, red pepper and carrot. Cook until tender, about 5 minutes.
Add the spices and enough of the broth to cover the vegetable mixture. Bring to a boil and cook 3-5 minutes.
Remove the mixture from the pot and place in a blender. Puree until smooth. Return to the pot and add the remaining broth, coconut milk and the honey. Reduce heat and simmer for 20-30 minutes. Add salt to taste.
Serve in soup bowls and garnish with a little coconut milk or greek yogurt and chopped cilantro leaves. I sprinkled mine with a little nutmeg as well
Notes
Make it vegan: replace the chicken stock with vegetable stock and the honey with agave nectar.
Nutrition Information:
Yield: 6 Serving Size: 1
Amount Per Serving: Calories: 157 Total Fat: 11g Saturated Fat: 8g Trans Fat: 0g Unsaturated Fat: 3g Cholesterol: 1mg Sodium: 408mg Carbohydrates: 13g Net Carbohydrates: 0g Fiber: 3g Sugar: 7g Sugar Alcohols: 0g Protein: 3g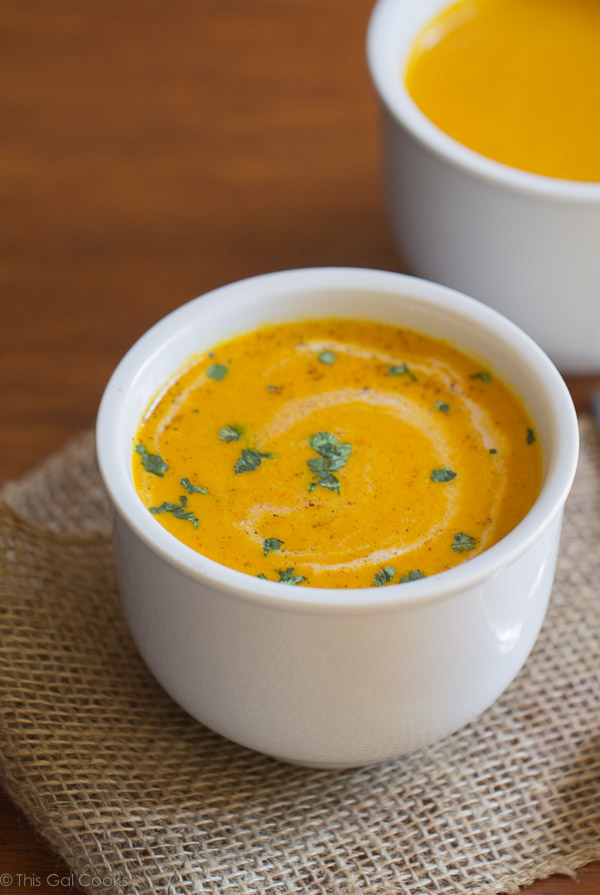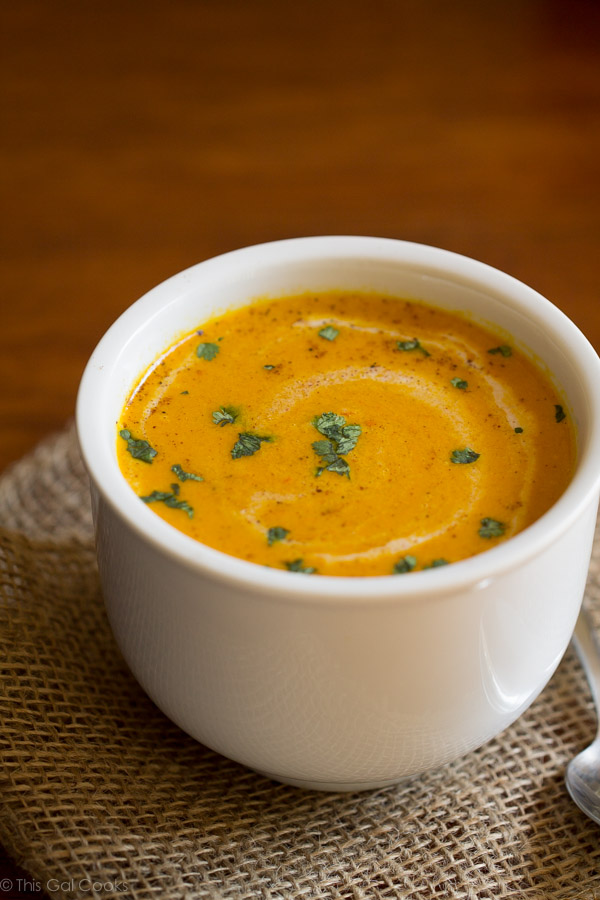 More tasty recipes from the Secret Recipe Club