Moroccan Chickpea and Lentil Stew
Lately I've been interested in learning about and cooking ethnic inspired foods. I've tried Mediterranean style food and a few Indian inspired foods and I really enjoy the flavors of those types of foods. The combination of the spices is fantastic. My boyfriend also enjoys these types of foods. I started browsing some Moroccan inspired recipes and decided to give one of them a try. You can see the original recipe here. I had all of the ingredients on hand so why not? The spices required included cinnamon, nutmeg, turmeric and hot pepper sauce. What a great combination. Of course, I am love with the flavor of curry so I decided to add curry powder to this recipe. The result was a fabulous, thick vegetarian (well, almost vegetarian – I only had chicken stock on hand so it does have a meat product in it but it doesn't have actual meat in it) stew that tasted absolutely wonderful. You can't go wrong with this flavor packed, nutritious meal. I hope you enjoy this recipe!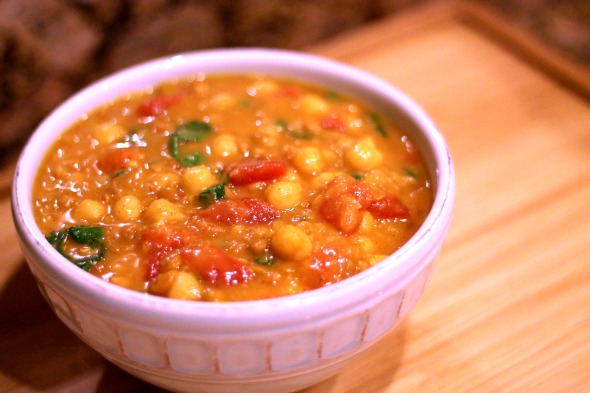 Moroccan Chickpea and Lentil Stew
Ingredients
1 15 oz can of chickpeas, drained and rinsed
1 15 1/2 oz can of lentils, drained
1 14.5 oz can of diced tomatoes, drained
1 onion, chopped
2 cloves of garlic, chopped
1/2 tsp ground cinnamon
1/2 tsp curry powder
1/4 tsp ground ginger
1/2 tsp ground turmeric
1/2 tsp siracha hot sauce
1 C chicken broth
1/4 C fresh parsley
1/4 C fresh cilantro
1 tsp fresh lemon juice
2 tbsp flour
3 tbsp butter
salt and pepper to taste
Directions
In a large pot, melt the butter over medium heat. Add the onion and garlic and saute until tender.
Add the flour, cinnamon, curry, turmeric, ginger and hot pepper sauce and mix well.
Add the chick peas, lentils, diced tomatoes and chicken broth. Bring to a boil. Reduce heat and simmer for 30 minutes.
Stir in the parsley, cilantro and lemon juice.
Add salt and pepper to taste.
Serve over rice and top with feta cheese, if desired.