Strawberry Cheesecake Napoleon
Fresh strawberries, vanilla pudding, cool whip, cream cheese and puff pastry come together to make these Strawberry Cheesecake Napoleons.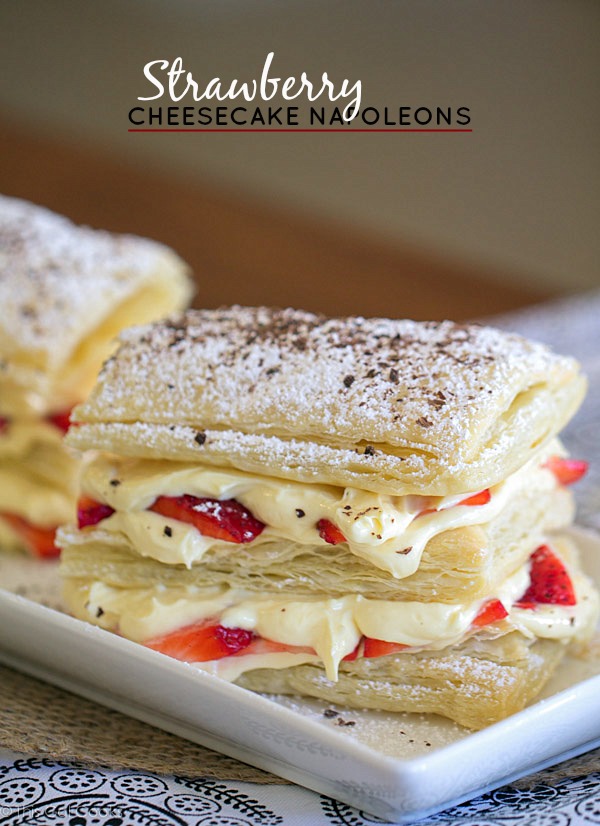 DESSERT! It's been a while since I posted a dessert. So I'm posting one today. After all, I've had this Strawberry Cheesecake Napoleon recipe sitting around, waiting to be posted for almost two months now. It deserves some much needed blog love.
I've been on a mostly healthy kick for a while but every now and then I enjoy indulging in a tasty sweet treat, especially when it involves fresh strawberries and vanilla pudding. But come to think of it, the only evil sweet treats I've indulged in lately is a big ole slice of cheesecake and some M&Ms. And they were both well worth it. The day I ate that big ole slice of cheesecake, I told myself "it's a good thing you've been eating fairly low carb foods for the past week."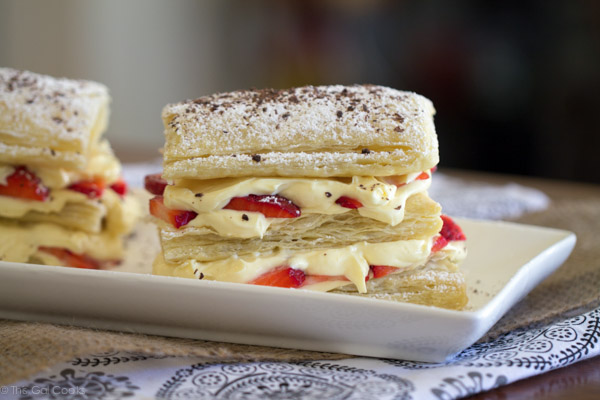 Strawberry Cheesecake Napoleons
Oh so that's the dessert you wanted, eh? Well let me share a little secret with you. That dessert right up there is easy to make. A little messy, yes, but easy, nonetheless.
I said "oh I want to make a sweet treat." My freezer replied "there's a neglected box of puff pastry weighing me down inside, hint hint." So I saved my freezer from the agony of being weighed down by a box of puff pastry, grabbed that box of puff pastry and then BOOM, there's a napoleon recipe glaring at me. I love it when my food talks to me – translated: I love it when food packages give me recipes to try.
I pretty much followed the recipe to a T but I got a little creative and added some cream cheese to the mix to make it sorta cheesecake-esque. Keyword: a little creative. I don't know how creative throwing cream cheese into a recipe is but I felt creative at the moment and that's what counts, right?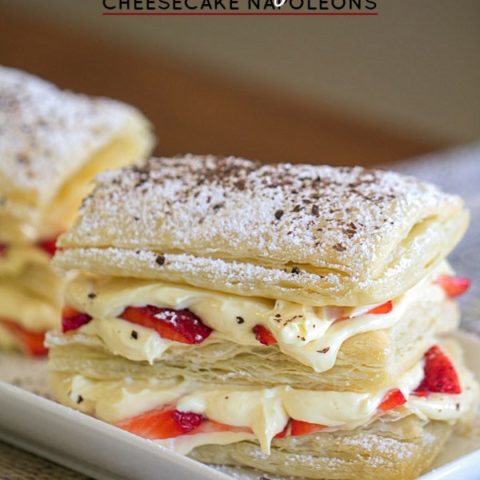 Strawberry Cheesecake Napoleon
Yield: 3-6

Prep Time: 10 minutes

Cook Time: 15 minutes

Total Time: 25 minutes
Ingredients
1 puff pastry sheet, cut into 3rds and thawed according to package directions
1 C cool whip
1 3.4 oz package of instant vanilla pudding
4 oz cream cheese, softened (I used low fat)
1 C + 2tbsp of milk
1 oz semi sweet chocolate, shaved
1 C fresh strawberries, sliced
Powdered sugar for dusting
Instructions
Place the puff pastry pieces on a baking sheet. Bake at 350 for about 15 minutes. Remove from the oven and allow to cool. After the pastry is cooled, cut into 6 even sized pieces.
Combine the milk and the pudding. Whisk in the cool whip and then beat in the cream cheese.
Spread some of the pudding mixture onto two of the puff pastry pieces. Add a layer of strawberries and then another layer of the pudding mixture. Take two more pieces of puff pastry and place on top of each section. Spread each piece with some pudding, strawberries , the remaining pudding and then top each section using the remaining two pieces of puff pastry (reference photos for examples.) Dust with powdered sugar and then top with shaved chocolate.
Notes
Adapted from the Pepperidge Farm Puff Pastry box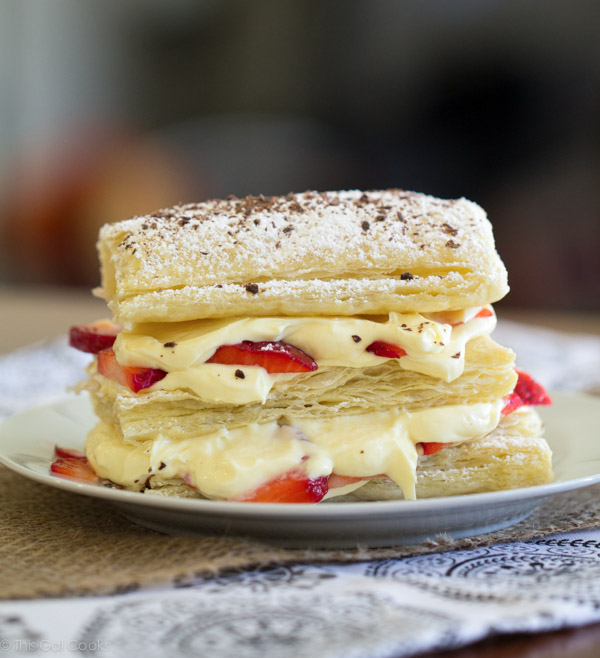 So how about dem apples? Er how about dem strawberries?
More tasty recipes from This Gal Cooks