Grilled Salmon and Vegetable Orzo Salad
For the semi-vegetarian's  in your life, serve up a big ole bowl of this Grilled Salmon and Vegetable Orzo Salad. It's tossed in a creamy Greek style dressing that's bursting with flavor and it's filled with grilled veggies and salmon!
Subscribe to my newsletter to get recipes delivered to your inbox!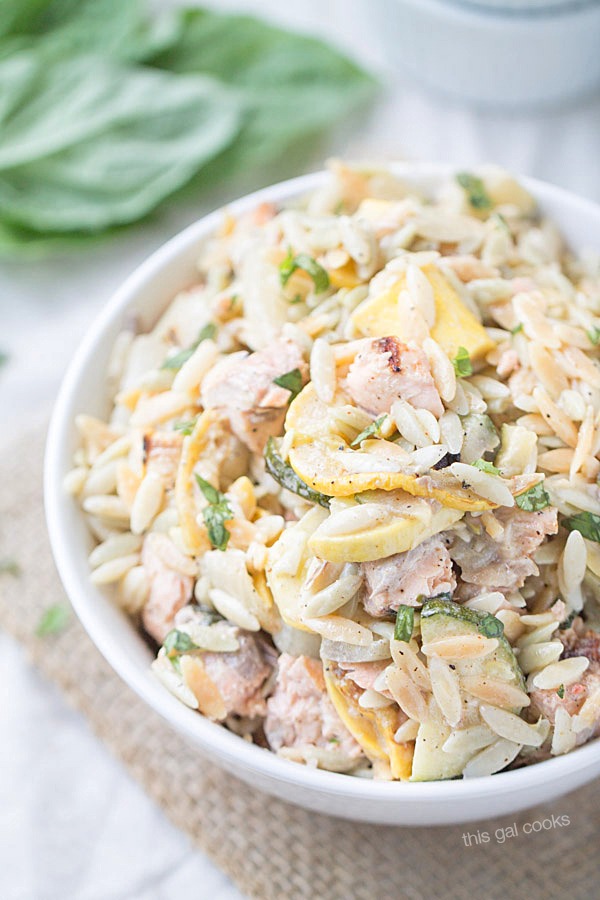 I go through these phases where I don't want to eat meat. No beef. No pork. No chicken. The only meaty food I will eat while going through these phases are a few select seafood items. And sometimes I'm even hesitant with that.
I've always been a huge animal lover. I'm the girl who will pull her car over and run out into a road to save a turtle that is trying to cross the road. I'm the girl who will catch bugs and lizards that I find in my house and then save them by putting them outside.
When I was younger, I didn't eat a lot of beef and you couldn't get me to touch a steak. I've never been a huge fan of pork and usually only eat it if it's spelled B-A-C-O-N. But I can live with or without bacon. Yeah, it's pretty darn good. But it's not something that I have to have. Plus, pigs are cute and I feel bad when I eat bacon. Or any pork for that matter. Same with cows. Cows are so cute. I feel bad when I eat beef. Usually not right when I'm eating but mostly after the fact.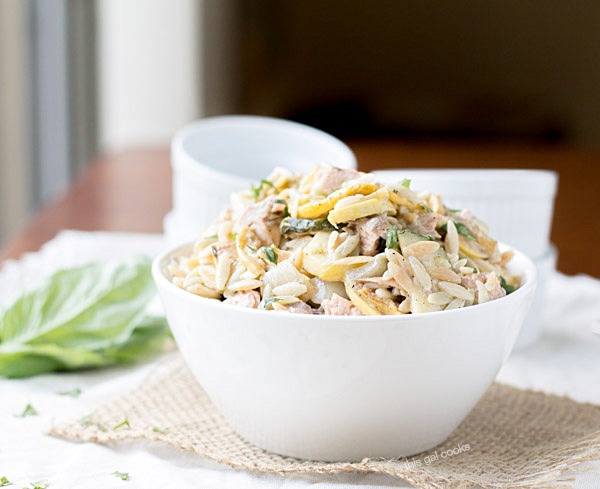 Seriously, this is an internal conflict that I have with myself often. I question why I eat meat when I'm such a huge animal lover. I question why I just can't stop eating it. I've stopped eating it a few times. And I've gone without any meat, with the exception of a slice of grilled salmon, for over two months. That's my longest stint ever. It happened after I watched Forks Over Knives. Yeah, if you haven't watched that, it will totally throw you into the internal conflict of meat versus no meat. But alas, I eventually went back to eating meat. And so goes the internal conflict, once again.
Grilled Salmon and Vegetable Orzo Salad
I've done a good amount of research on vegetarian versus vegan versus paleo eating lifestyles. They each have great benefits. I personally don't think one is better than the other. I've seen evidence that supports the statement that people who live vegetarian lifestyles are generally healthier than those who live vegan or meat based lifestyles. And I've seen evidence that supports those who live Pescetarian lifestyles (avoiding all meats except for fish and shellfish) are healthier than any of the former. What it all boils down to: do what's best for you, both ethically and health-wise. For me, my ideal diet would be strictly vegetarian. I can't do vegan because there's this thing called cheese that I absolutely will not give up. For now, while I once again try to make the transition from meat to no meat, I'll stick to veggies and seafood.
With all of this talk of vegetarianism and my love of seafood, I decided to share a tasty little salad recipe with you today. I made this Grilled Salmon and Vegetable Orzo Salad using some grilled salmon, squash, zucchini and onions that we had leftover from the previous night's dinner. I tossed all of it with a simple dressing that I made with olive oil, Greek seasoning, red wine vinegar and a little mayo. I add the mayo to give it a little creaminess but you can leave it out, if you prefer. However, leaving the mayo out with alter the flavor of the dish. Enjoy the recipe.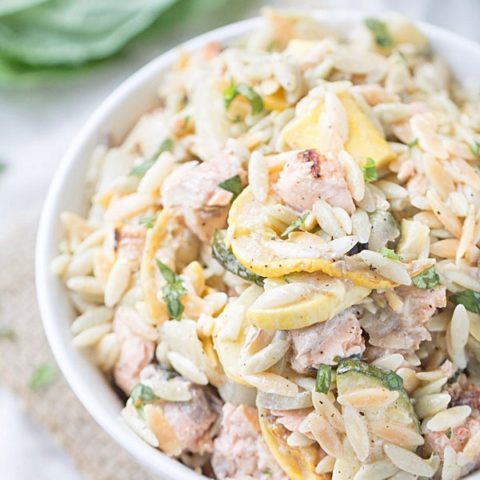 Grilled Salmon and Vegetable Orzo Salad
Yield: 6

Prep Time: 15 minutes

Total Time: 15 minutes
Ingredients
1/2lb grilled salmon, cut into small chunks
2 C cooked orzo
1 1/2 C chopped grilled veggies. I used a combination of grilled squash, zucchini and onion
2 tbsp red wine vinegar
1 tbsp olive oil
2 tbsp mayo
Chopped fresh basil for garnish
Instructions
In a mixing bowl, toss together the orzo, veggies and salmon.
In another bowl, whisk together the mayo, red wine vinegar, olive oil and greek seasoning. Pour over the orzo mixture and mix well.
Garnish with fresh basil.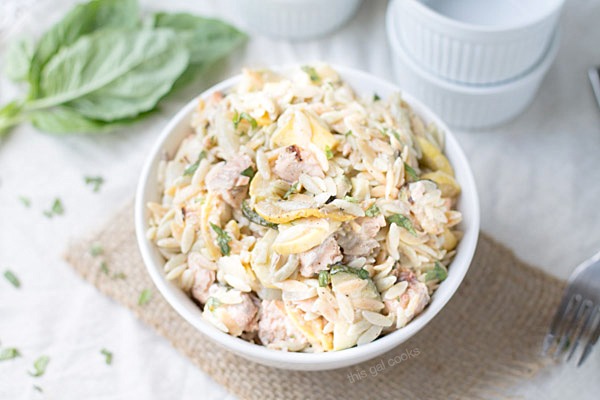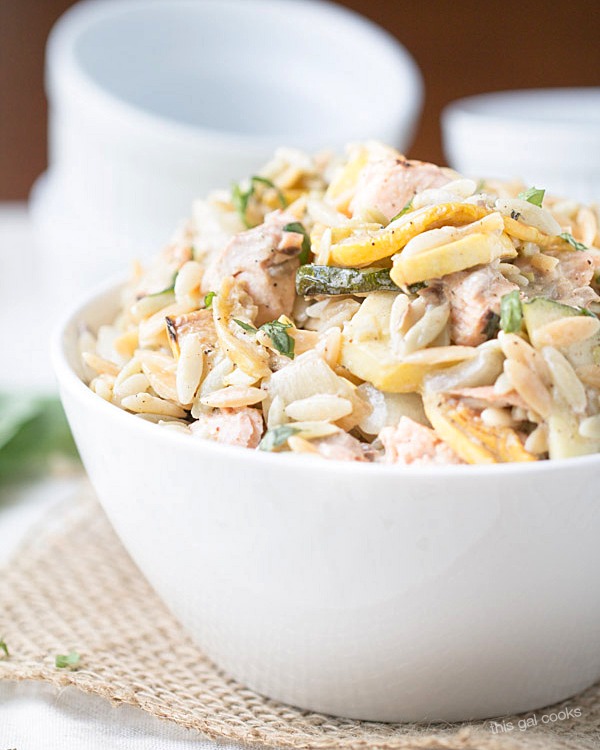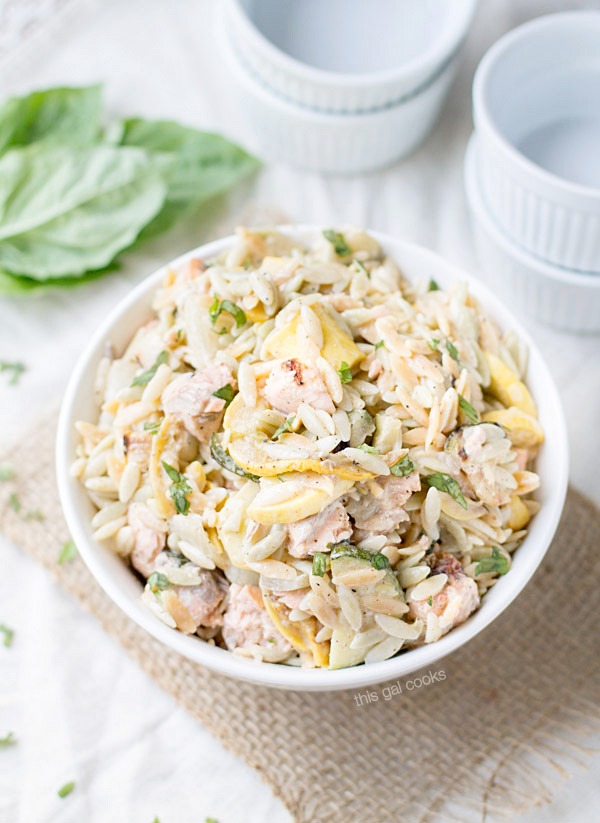 HUNGRY FOR MORE?
Try this Cucumber Noodles with Spicy Sesame Soy Dressing. Low carb and delicious!
This Greek Cucumber and Tomato Salad is always a hit!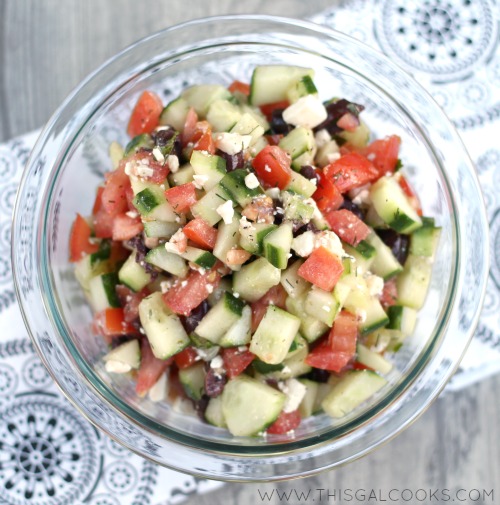 You'll love this Savory Orzo with Mushrooms. Delicate yet filling!