Lemon Poppyseed Tea Cookies + Summer Tea Time
I am a member of the Collective Bias® Social Fabric® Community. This shop has been compensated as part of a social shopper amplification for #CollectiveBias and its advertiser.
These tasty little Lemon Poppyseed Tea Cookies are perfect for Summer Tea Time. Pair them with Lipton Fresh Brewed Iced Tea for a refreshing afternoon tea time snack!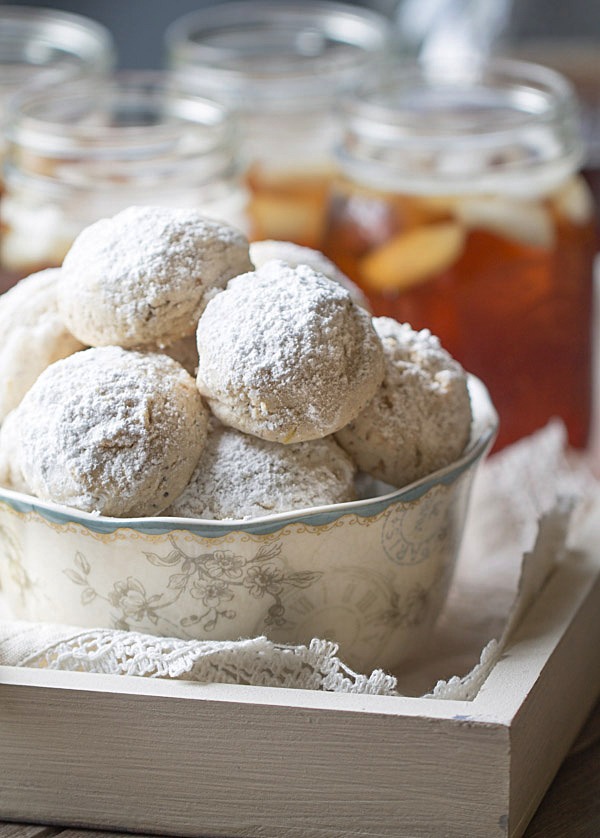 When I was a wee little kid, I remember my mom making big ole jars of sun tea. When I say big, I mean big. You know those crazy huge jars of pickles that you often find at the big box warehouse stores? The ones where not only is the jar jumbo size, the pickles are too. After a bunch of those pickles were devoured, my mom kept the jar. At least I think that's how it went. Maybe someone else's family devoured those pickles and then gave the jar to my mom.
I don't remember having any of those pickles at our house. But maybe I don't remember because I was too busy being a kid, running around playing outside or playing scientist with my science kit. Whatever the case may be, my mom ended up with a huge empty pickle jar and she started making sun tea in it.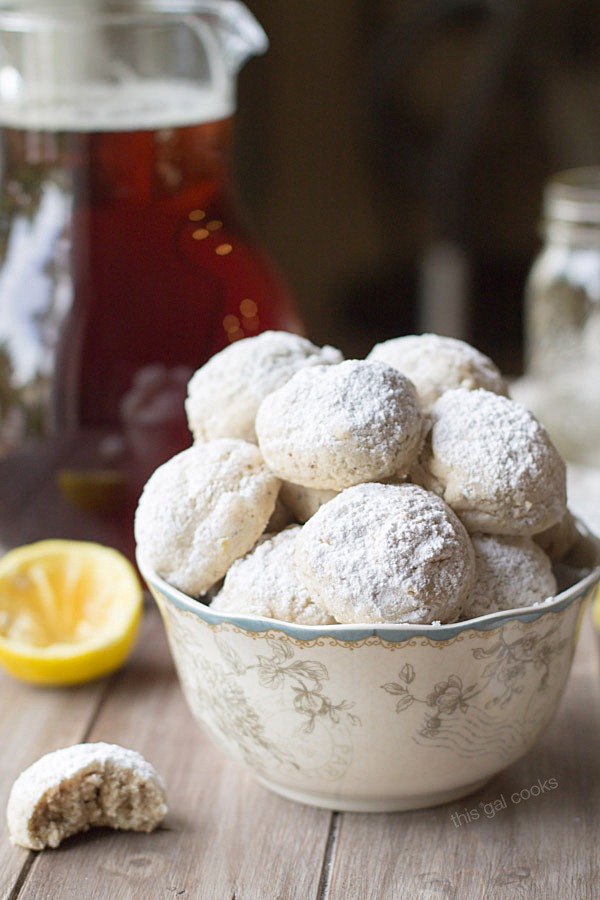 If you don't know what sun tea is, let me explain it. You fill up a jar with water, place some tea bags in the jar and then set the jar on a table next to a bright window. The sunlight that peeps in through the window slow brews the tea. After the sun tea was finished brewing, my mom loaded it up with sugar. My dad grew up in the south and he loved his sweet tea. Now I'm not really a fan of sweet tea anymore but I sure did like it back then! Nowadays I prefer plane ole unsweet tea. It's a #TEArifficPairs with cookies. Especially these Lemon Poppyseed Tea Cookies.
My favorite brand of tea has always been Lipton. Sometimes I buy the family size bags so I can make a huge pitcher for Ken and I to enjoy. Sometimes I buy the little individual bags so I can enjoy a nice cup of hot tea. Sometimes I keep both on hand because, well you know, you can never have enough tea. When I was at Wal-Mart the other day, I saw this Lipton Fresh Brewed Iced Tea.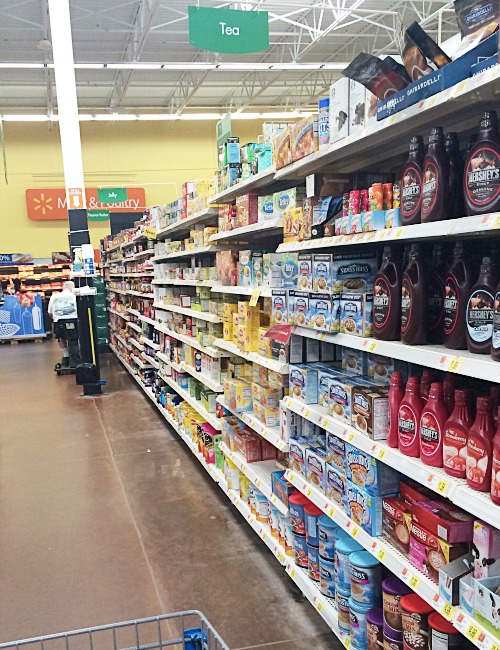 The box says it's specially blended for iced tea. I was like "whoa, tea made specially for iced tea?!" I had to buy a box so I could try it to see if it compares to the classic Lipton tea bags and if it works any better for iced tea than the classic Lipton tea bags. Looks the same. Smells the same. Tastes the same! But to me, it's a little smoother than traditional tea that's brewed and then cooled.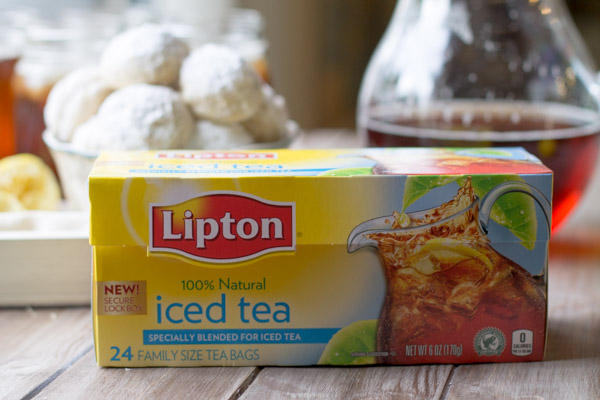 On a hot summer afternoon, I like to enjoy a glass of ice cold unsweet tea. Lemon Poppyseed Tea Cookies are an added benefit to the tea. Sittin' on my back patio with my feet propped up, glass of iced tea in one hand, tea cookie in the other. Now that's what I'm talkin' about.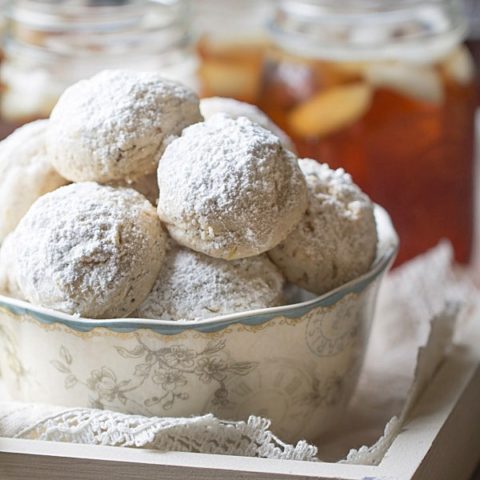 Lemon Poppyseed Tea Cookies + Summer Tea Time
Yield: 9

Prep Time: 20 minutes

Cook Time: 15 minutes

Total Time: 35 minutes
Ingredients
1 C butter, room temperature
3/4 C confectioners sugar, plus more for sifting over the cookies
1 tsp lemon zest
1 tsp vanilla extract
2 tsp fresh lemon juice
2/3 C ground pecans
1 3/4 C all purpose flour
1/4 C coconut flour
1/4 tsp salt
3/4 tsp poppyseeds
Instructions
Preheat your oven to 325. Line two baking sheets with parchment paper.
In the bowl of a stand mixer, beat the butter until creamy. Add the 3/4 C confectioners sugar, the lemon zest, lemon juice and vanilla extract and mix until blended. Then mix in the poppyseeds.
In another mixing bowl, whisk together the pecans, flours and salt. Gradually add to the butter mixture while beating on low. Continue to beat until combined. The dough will be thick and a little crumbly.
Shape the dough into 1 tbsp balls. I used a 1 tbsp size cookie scoop to do this. Place the dough balls onto the parchment lined baking sheets, about 1 - 2 inches apart.
Bake for 10-15 minutes or until the edges are slightly golden. After baking, dust the cookies with some confectioners sugar. I just put the sugar into my sifter and sifted over the cookies. You can also dip the cookies into the confectioners sugar.
Notes
Makes approximately 18 cookies.

If you don't have a stand mixer, you can use a hand mixer.

Recipe loosely adapted from the Williams Sonoma Baking Cookbook.