Curry Shrimp Stuffed Mushrooms
I love a good stuffed mushroom.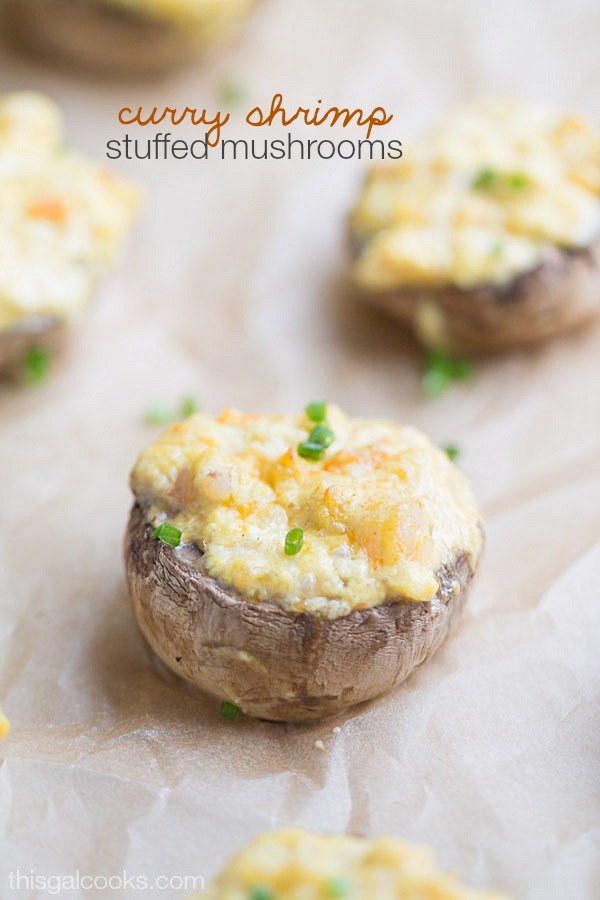 These flavorful Curry Shrimp Stuffed Mushrooms are stuffed with a mixture of cooked shrimp, cream cheese, curry powder and they're topped with fresh chives. I made them with the leftover shrimp I had from making this Cheesy Chipotle Shrimp and Corn Dip.
I've had a love/hate relationship with mushrooms for most of my life. When I was a kid, I loved them. I loved them so much that I would eat them raw, straight from a bowl. By the time I reached my teenage years, I hated them. You couldn't get me to eat anything that had touched mushrooms. Forget picking them off of a pizza that was mistakenly topped with them. I could still taste them. I wouldn't dare eat that pizza.
Luckily, Ken swayed me into trying mushrooms again. It was a late fall afternoon. We were on a date to Romano's Macaroni Grill. I said what the heck, why not? I ordered a creamy pasta dish with mushrooms. After the first bite, I knew my love for mushrooms had returned.
I'm so glad my love for mushrooms returned. I get to enjoy delicious mushroom appetizers like these Curry Shrimp Stuffed Mushrooms.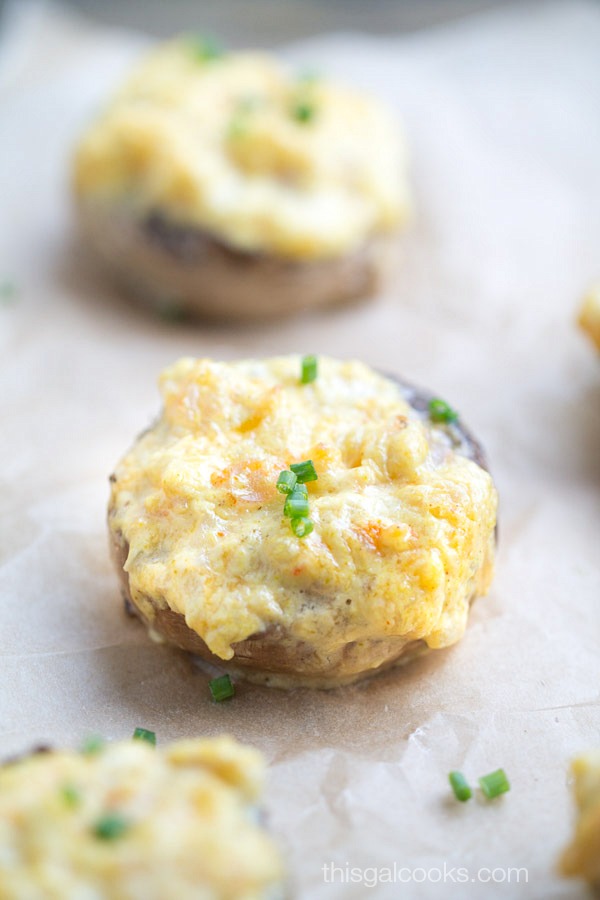 These little bites of mushroom-y goodness are SO easy to make. Remove the stems from your shroomys. Chop up the shrimp and onions. Mix all of the ingredients in a big ole mixing bowl. Stuff the mushroom caps with that goodness. Bake and then D-E-V-O-U-R!
Curry Shrimp Stuffed Mushrooms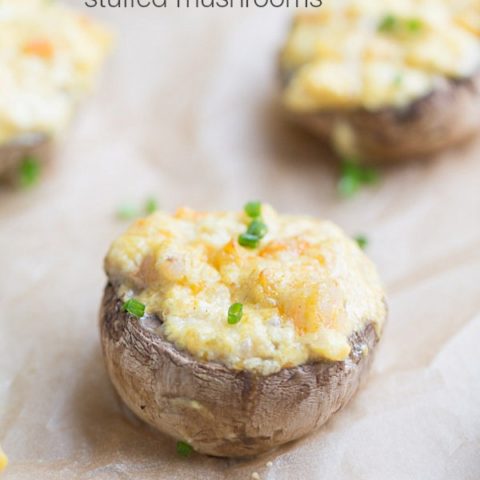 Curry Shrimp Stuffed Mushrooms
Yield: 15-20 mushrooms

Prep Time: 10 minutes

Cook Time: 20 minutes

Total Time: 30 minutes
Ingredients
2 12oz packages of white mushrooms. Look for packs with decent sized mushrooms.
1/2 small onion, finely chopped
1 tsp garlic powder
1 tsp seasoned salt
1 tsp curry powder
1/4 C mayo
1/4 C sour cream
4oz low fat cream cheese, softened
1/2 C shredded Mexican blend cheese
1 C of cooked shrimp
Instructions
Pre-heat your oven to 350. Drizzle a 13x9 baking pan with olive oil.
Chop the cooked shrimp into small pieces.
In a mixing bowl, combine the cream cheese, shredded cheese, sour cream, mayo, garlic powder, onion, seasoned salt and curry. Mix in the shrimp.
Stuff each mushroom with about 1 tsp of the mixture.
Place the mushrooms on the oiled baking pan and bake at 350 for 20-25 minutes.
Nutrition Information:

Amount Per Serving: Calories: 255 Total Fat: 20g Sodium: 425mg Carbohydrates: 7g Sugar: 4g Protein: 14g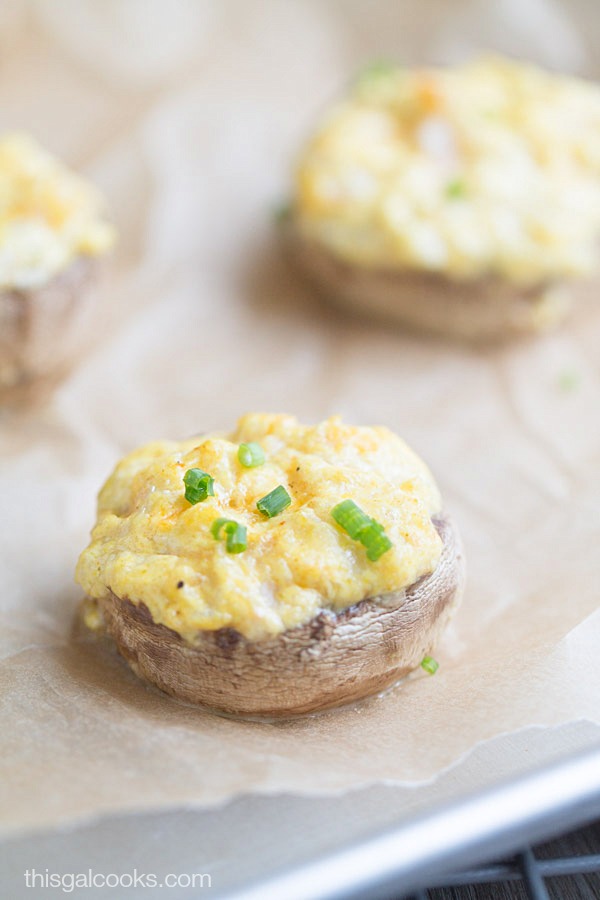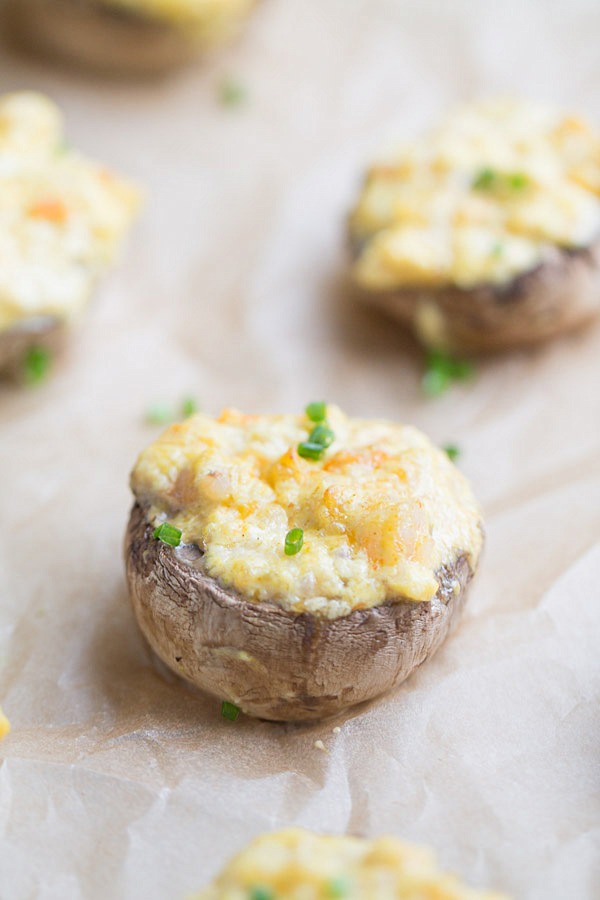 HUNGRY FOR MORE?
Appetizers from some of my favorite bloggers.
Hot Crawfish Cheese Dip from Call Me PMc.
Potato Pancakes with Shredded BBQ Pork from Culinary Hill.
Simple Spinach Dip from It Bakes Me Happy.
Looking for even more appetizers? Check out my collection of 10 Homemade Holiday Appetizers.