Crock Pot Beef Burgundy
On the menu tonight: Crock Pot Beef Burgundy. Tasty beef roast is seasoned, browned and slow cooked with red wine and onions to give you a hearty meal that the whole family will enjoy.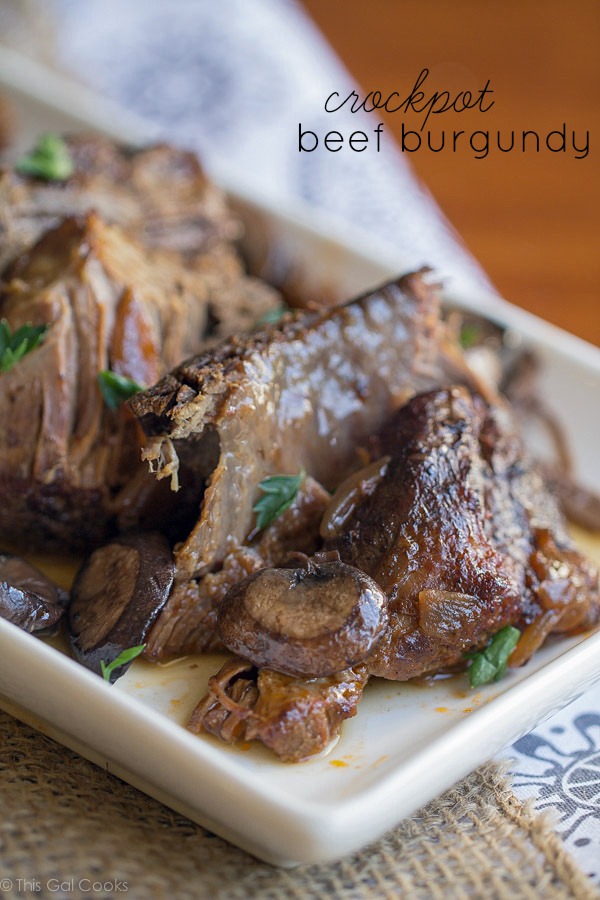 This recipe began down one path and ended on another. The path to the crock pot was not the intended path. But sometimes it's fun to bypass the intended path and experience something else. Something exciting. Who needs rules and intended paths anyways? In this case, the path to a tender beef burgundy was supposed to begin and end in a 5 quart orange dutch oven. But this gal was like "Oh no, this roast isn't going to cook right in a dutch oven" so she panicked and moved that roast over to the crock pot and the rest is tender beef history.
Silly me for thinking a dutch oven could win over a crock pot. Crock Pot > Dutch Oven. What can I say?  I'm a total crock pot kind of gal when it comes to a tender beef roast. Dutch oven: you will win when it comes to soups and chowders.
Crock Pot Beef Burgundy
I'm not someone you would call a wine connoisseur. I don't know much about it and I rarely drink it. I know which wines go great with chicken and seafood. But with beef, I wasn't sure. I knew red wine was the winner but I didn't realize there were so many different types of red wines. Luckily, my favorite grocery store in the world has these pretty sweet wine guides posted in the wine isle. They helped me realize that I needed a full bodied red wine to use for my beef recipe. Thank you, wine guide life saver.
Original Source: Different Types of Wine
That's not the sweet wine guide that saved my life but that just shows you how many different types of wines there are. Wowza.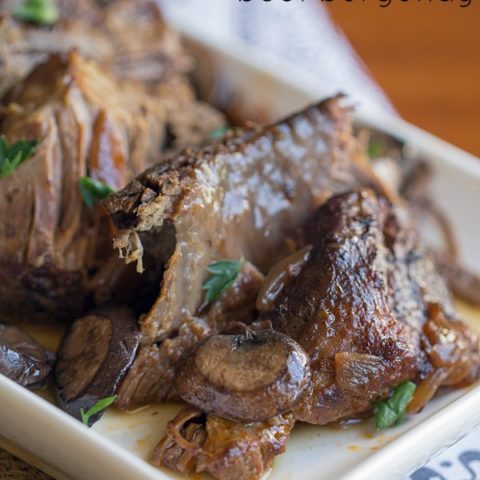 Crock Pot Beef Burgundy
Yield: 6

Prep Time: 20 minutes

Cook Time: 10 hours

Total Time: 10 hours 20 minutes
Ingredients
2 lb boneless beef shoulder roast
1/2 tsp ground black pepper
1/2 tsp kosher salt
1/4 tsp garlic powder
1/4 tsp ground chipotle pepper
1 1/2 C full bodied red wine of your choice
1 sweet onion, cut into chunks
2 tbsp butter
3 tbsp olive oil
3 tbsp whole wheat flour
1 tbsp tomato paste
8 oz package of sliced baby bella mushrooms
Parsley for garnish
Instructions
Whisk together the flour, salt, pepper, garlic powder and chipotle pepper powder. Coat the entire roast with the mixture and set aside.
In a large dutch oven, heat 1 tbsp of olive oil and add the onions. Saute over medium heat until tender, about 5 minutes. Remove from the pot and set aside.
Add 2 tbsp of olive oil to the pot. Increase the heat to medium high and add the roast. Brown all sides of the roast.
Place the roast in a slow cooker. Add the onions and place around the roast. Add the red wine and tomato paste, mix well and cover.
Cook on low for 8-10 hours or until fork tender.
Remove the beef and onions from the pot and strain the remaining liquid to remove any fatty or remaining solids. Slice or shred the beef and return the beef and the liquid to the pot and mix well.
Heat the 2 tbsp butter in a skillet over medium heat. Add the mushrooms and saute until tender.
Place the beef on a serving dish and top with the mushrooms and garnish with parsley.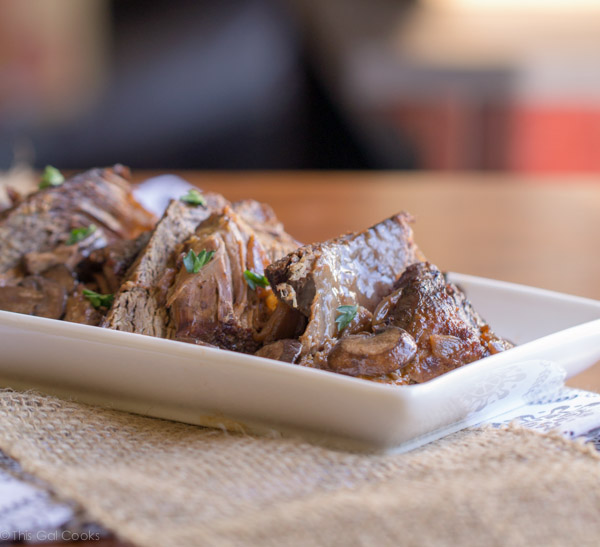 I hope you enjoyed this tasty Crock Pot Beef Burgundy Recipe.
More tasty recipes from This Gal Cooks