Cranberry Walnut Muffins
Thank you Eggland's Best for sponsoring this post! Be sure to enter the giveaway at the bottom of this post!
Cranberry Walnut Muffins are soft, flavorful muffins filled with fresh cranberries, crunchy walnuts, pumpkin puree and spices. Perfect with your cup of coffee.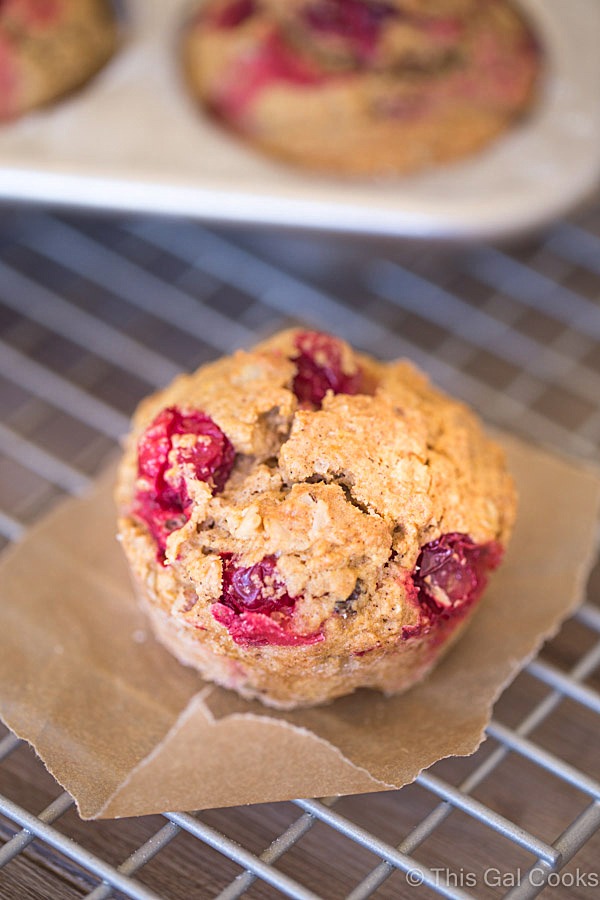 Last week I made the best homemade muffins in the whole world. Maybe that is an exaggeration. But they were good and I was THIS close to stuffing my face with all of them. Control Julie, control. I had control and I shared some of them with the gals at work. They loved them, too.
I've teamed up with Eggland's Best to bring you a delicious, from scratch holiday recipe made with Eggland's Best eggs. Eggland's Best eggs really are the best eggs. Know what I love about them, other than the fact that I rarely find a cracked egg in a carton of Eggland's Best eggs? They contain 25% less fat than other eggs and only 60 calories per egg. And they scream "I'm full of Omega-3s, Vitamin D and Vitamin E." What other egg can scream that?
On my quest to make a delicious holiday recipe to share with you, I settled on Cranberry Walnut Muffins. When I think of cranberries, I think of the holidays. When I think of the holidays, I think of cranberries. They go hand in hand. These muffins go in your hand. Then they go right into your mouth for maximum breakfast enjoyment.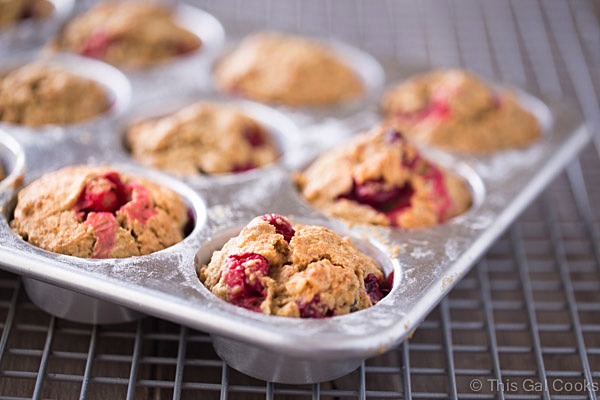 Cranberry Walnut Muffins
Cranberry Walnut Muffins
Author: This Gal Cooks
Recipe type: breakfast
Serves: 14 muffins
Ingredients
1½ C all purpose flour
¾ C granulated sugar
½ C chopped walnuts
½ C old fashioned oats
1 tsp baking powder
1 tsp cinnamon
½ tsp salt
½ tsp baking soda
½ tsp nutmeg
½ C pumpkin puree
½ C coconut oil, melted (needs to be in liquid form)
2 large eggs
1 tsp vanilla extract
1¼ C fresh cranberries
1 tbsp all purpose flour
Instructions
Preheat your oven to 350 degrees. Lightly grease and flour a 12 cup standard muffin pan. You can also line with cupcake papers. NOTE: this recipe makes 14 muffins so you can use 2 muffin pans or you can reuse the pan you used for the initial batch of muffins.
In a large mixing bowl, whisk together the flour, sugar, cinnamon, salt, baking soda, baking powder, nutmeg, walnuts and oats. In another mixing bowl, whisk together the eggs, vanilla extract, pumpkin puree, coconut oil and pumpkin puree. Pour the wet ingredients into the dry ingredients and gently mix until incorporated. The batter will be thick and lumpy.
Toss the cranberries in 1 tbsp of flour to coat. Carefully fold into the muffin batter.
Fill each muffin cup ⅔ full.
Bake at 350 for 20-25 minutes, or until slightly golden and a toothpick inserted into the center of one of the muffins comes out clean. If using fresh berries, reduce your baking time by about 5 minutes.
Cool on a wire rack for 15-20 minutes before serving.
Notes
This recipe makes about 14 muffins. You can either use 2 muffin pans or reuse the pan you used for the first batch of muffins.
Nutrition Information
Serving size: 1 muffin Calories: 212 Fat: 12g Carbohydrates: 25g Sugar: 12g Sodium: 162mg Protein: 3g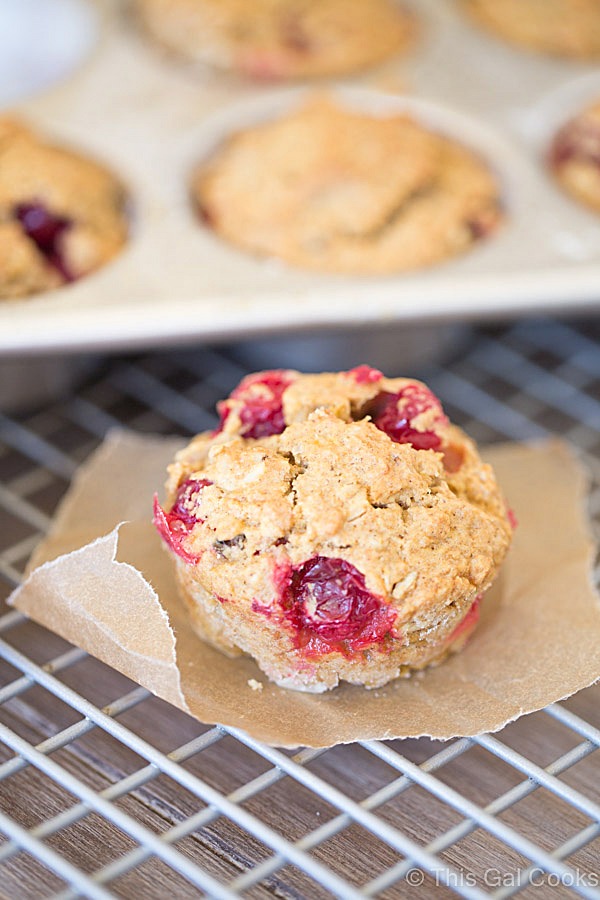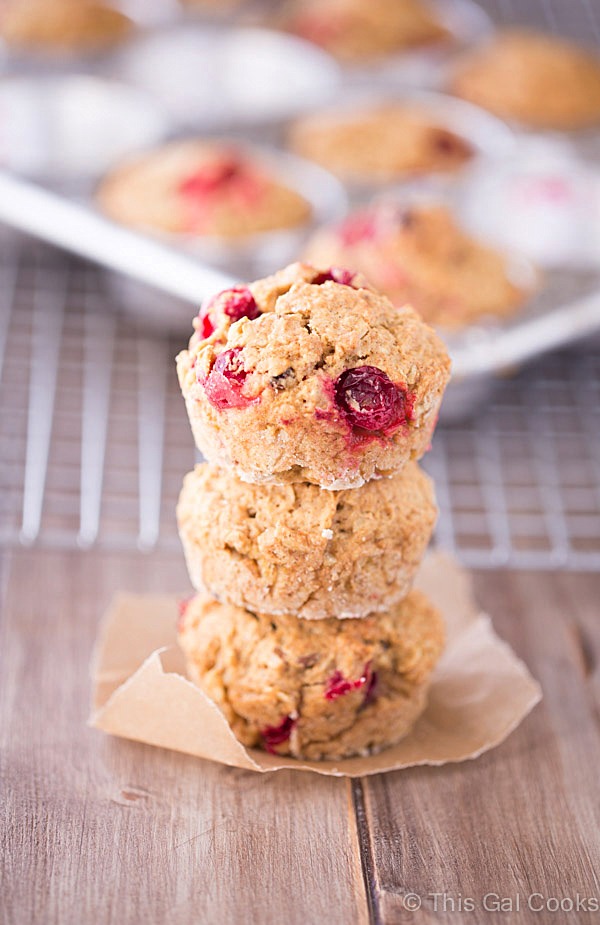 HUNGRY FOR MORE?
Try these Best Blueberry Banana Yogurt Muffins.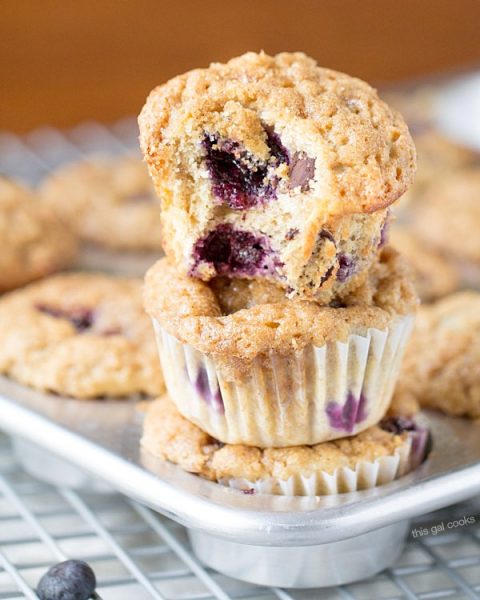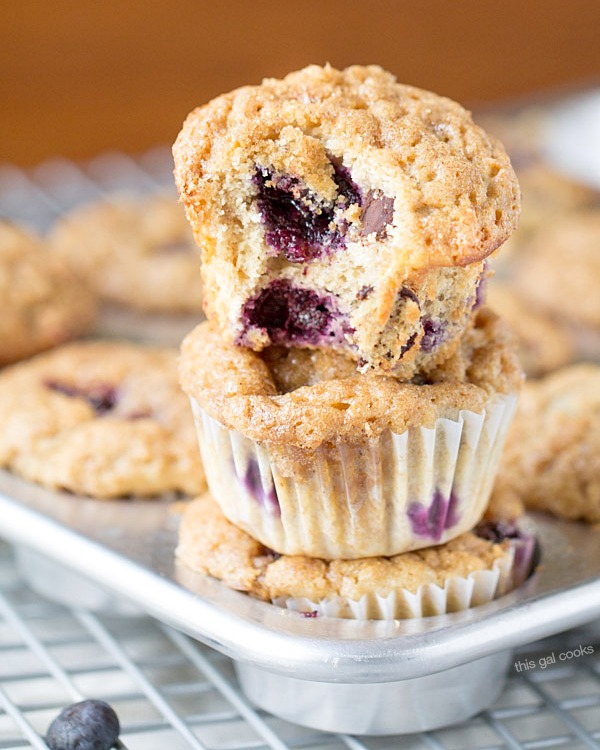 Or these Healthier Pumpkin Muffins.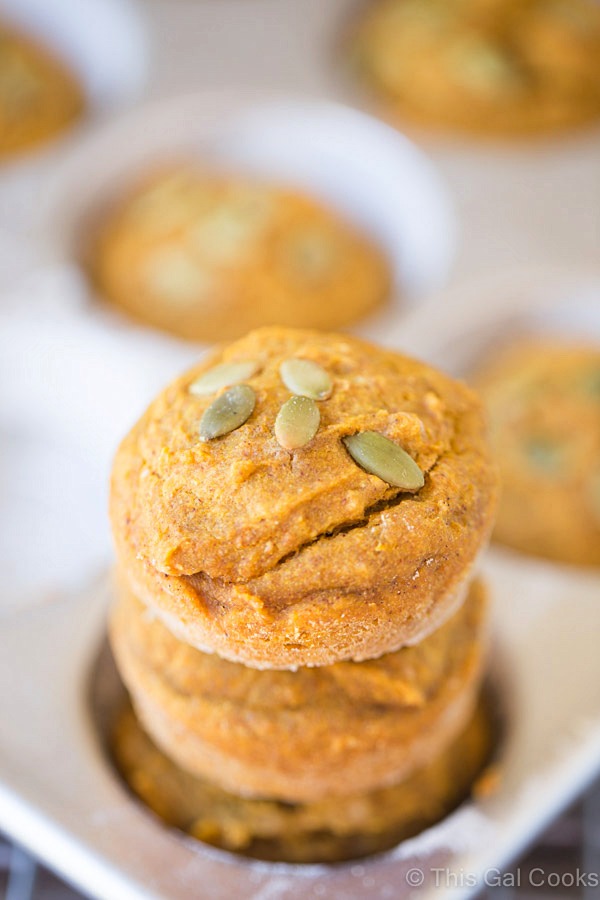 I was compensated for this post by Eggland's Best. However, all opinions and recipes are my own.
Ready for your shot at winning 2 coupons for free Eggland's Best eggs? How about a $25 gift card to help you purchase those baking supplies you've been eyeing? Leave a comment below letting me know what baking recipe you would make with Eggland's Best eggs. Winner will be randomly chosen on 11/29/14 and will be notified within 24 hours. A valid email address is required for entry. Prizes will be shipped via Eggland's Best.