Chocolate Cabernet Cake with Vanilla Bean Buttercream
Thank you Barefoot Wine for sponsoring this post!
I made a from scratch chocolate cake. And it's so good.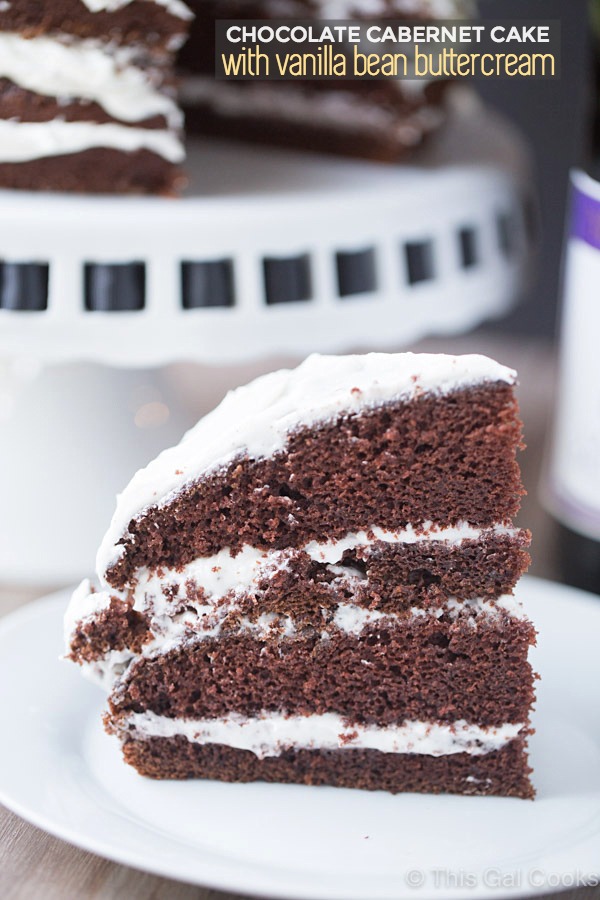 I've teamed up with Barefoot Wine to bring you delicious, budget friendly recipes that are easy to make. Today I'm sharing this Chocolate Cabernet Cake with Vanilla Bean Buttercream. What's the not so secret ingredient in this cake? Barefoot Cabernet Sauvignon. The Cabernet really boosts the chocolate flavor in this cake. And if you're a chocoholic like me, that's a very VERY good thing.
You may be hesitant to bake a cake from scratch but it's actually really easy to do. I used to be afraid to do it. In fact, I refused to do it. Every from scratch cake I attempted sunk in the middle. This caused me to grab a boxed mix whenever I wanted to make a cake. But then I made this Pumpkin Spice Cake from scratch and it came out perfect! My fears of from scratch cakes were over and now I almost always make cakes from scratch.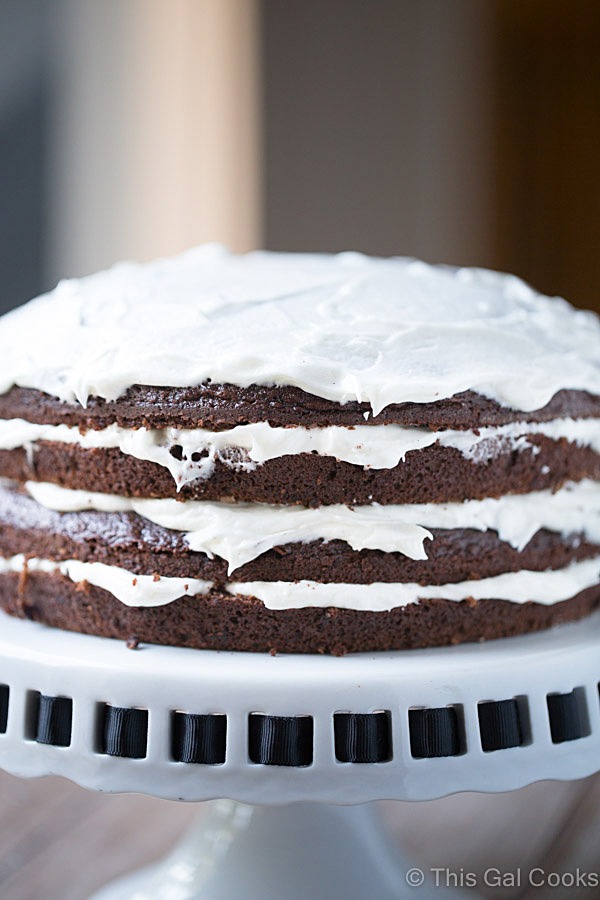 After doing extensive cake baking research, I found out that a few simple tricks would assist in baking a perfect from scratch cake. Always sift the flour before measuring it. Make sure your eggs and butter are room temperature before beginning the mixing process. And NEVER open the oven while the cake is baking. It's tempting but don't do it. After your cake is done baking, allow it to cool completely before removing it from the pan. If you remove it while it's still hot, it may fall apart.
So do you want to find out how to make this simple chocolate cake? Here are a few process photos. Then we'll get to the instructions. Enjoy the recipe!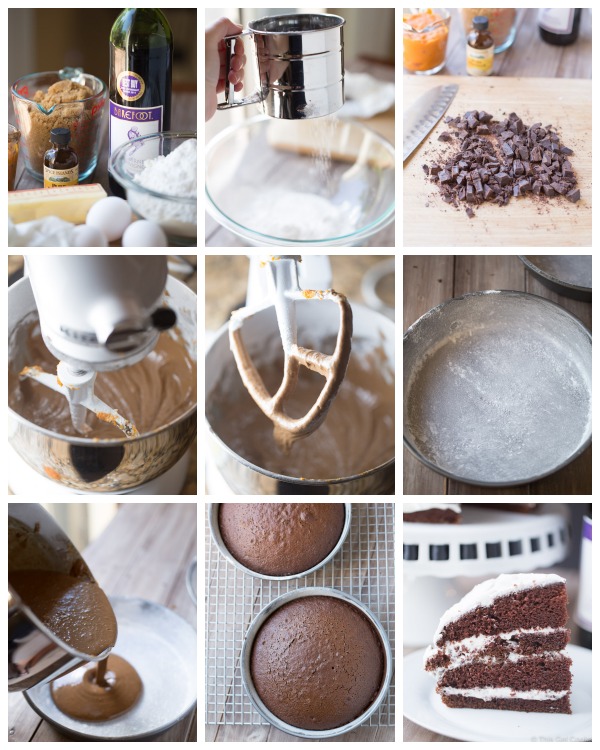 Chocolate Cabernet Cake with Vanilla Bean Buttercream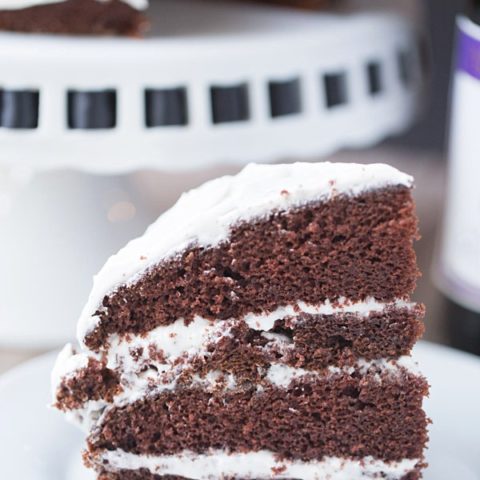 Chocolate Cabernet Cake with Vanilla Bean Buttercream
Yield: 10 slices

Prep Time: 20 minutes

Cook Time: 30 minutes

Total Time: 50 minutes
Ingredients
3 oz unsweetened chocolate, chopped
1 stick of unsalted butter, room temperature
2 1/4 C packed light brown sugar
3 large eggs, room temperature
1 1/2 tbsp vanilla extract
2 tsp baking soda
1/2 tsp salt
2 1/4 C sifted cake flour (sift before measuring)
1 C pumpkin puree
1/2 C Barefoot Cabernet Sauvignon
1/2 C water
Instructions
Preheat your oven to 350. Grease and lightly flour 2 9 inch round cake pans.
Add the unsweetened chocolate to a small sauce pan and heat over low heat. Stir often until melted. Turn off the stove but leave on the burner to keep warm. Stir occasionally.
In the bowl of a stand mixer using the flat attachment, beat the butter until smooth. Add the eggs and brown sugar and meat until fluffy, about 5 minutes. Add the vanilla extract and melted chocolate and beat on the lowest setting until combined. Once combined, mix in the salt and baking soda. Add the flour and pumpkin puree alternatively, mixing on low until combined.
Bring the water and the Cabernet Sauvignon to a boil. Pour into the cake batter and mix with a spoon until well incorporated.
Pour equal amounts of the batter into the prepared cake pans.
Bake at 350 for 30 minutes or until a toothpick comes out clean. Allow the cakes to cool completely. Once cooled, remove from the pans and slice each cake horizontally, into equal parts. If they aren't equal, it's fine. As you can see, my layers weren't exactly the same thickness.
Place one layer on a cake plate and top with some of the frosting. Repeat this process until all layers are assembled and frosted.