Cranberry Pumpkin Pancakes
Thank you Wholesome Sweeteners for sponsoring this post!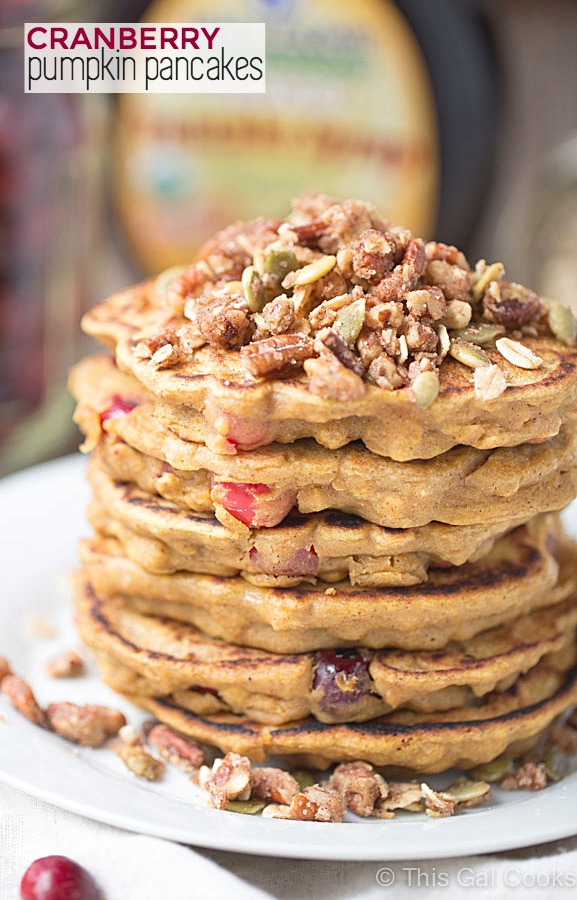 You guys. These are the pancakes you've been waiting for.
When I shared a sneak peek photo on Instagram, you all went crazy over them! So today the wait is over. I'm finally sharing these Cranberry Pumpkin Pancakes with you.
When I wake up on Sunday morning, sometimes I want pancakes. Ken ALWAYS wants pancakes. Whenever I ask him what he wants for breakfast, the answer is usually pancakes.  We often spend Sunday mornings stuffing our faces with pancakes. When the fall season arrives, we like to eat festive pancakes. One of my favs are these Pumpkin Swirl Pancakes. But this past weekend, I wanted to make a healthier pancake recipe. I had some fresh cranberries in my freezer, leftover pumpkin puree and a container of oats that was screaming use me now! I made these pancakes healthier by using almond milk, coconut oil and using 1/2 cup of whole wheat flour in the batter!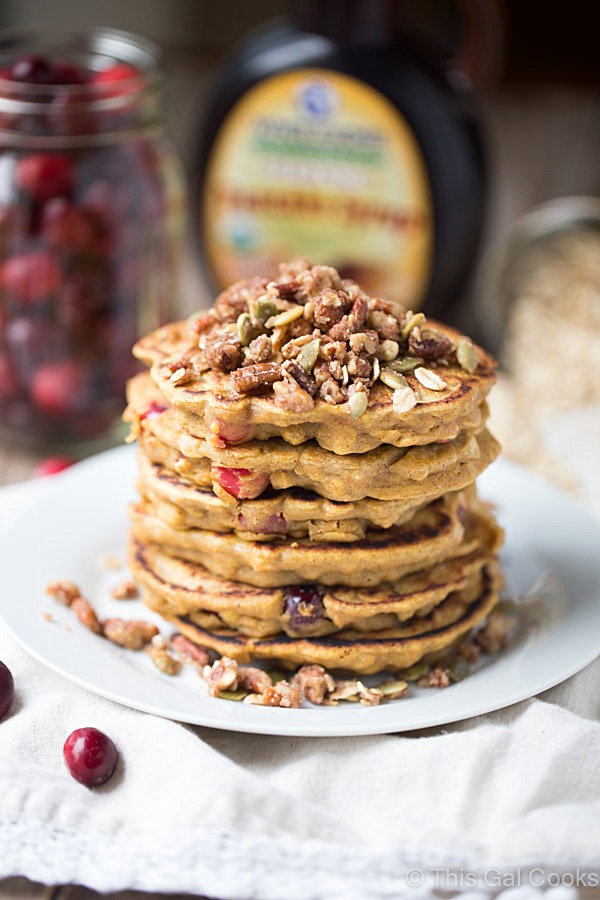 I teamed up with Wholesome Sweeteners to create this healthy pancake recipe for you. Wholesome Sweeteners products are non-GMO and free of additives. LOVE pancake syrup? Then you'll love their pancake syrup. It tastes amazing and unlike other pancake syrups, it doesn't contain high fructose corn syrup. Seriously, I could drink it straight from the bottle. But I didn't. Instead, I drizzled it all over this amazing stack of pancakes.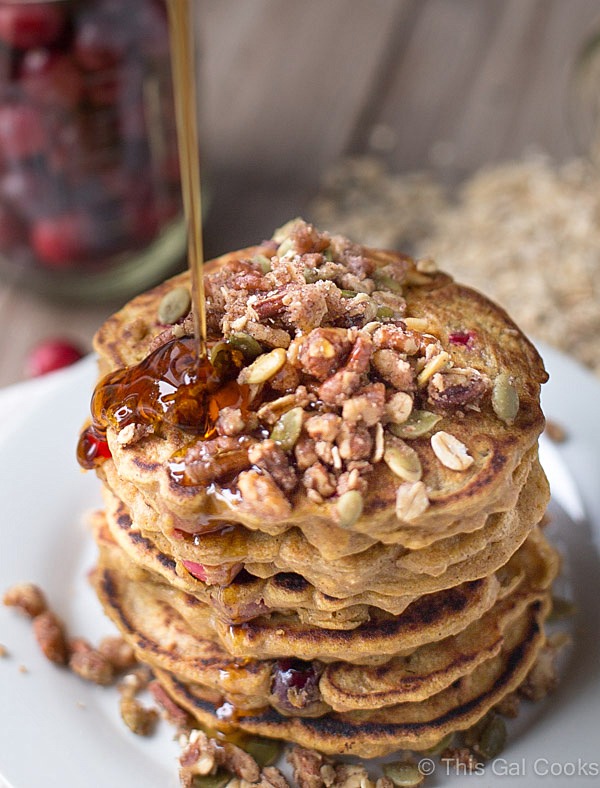 Cranberry Pumpkin Pancakes
Cranberry Pumpkin Pancakes
Author: This Gal Cooks
Recipe type: breakfast
Serves: 7 pancakes
Ingredients
½ C all purpose flour
½ C whole wheat flour
½ C old fashioned oats
¼ tsp salt
2 tsp baking powder
1 tsp pumpkin pie spice
1 tbsp organic sugar
⅓ C pumpkin puree
1 large egg
2 tbsp coconut oil, melted (needs to be in liquid form)
1 C unsweetened vanilla almond milk
1 C fresh cranberries
for the pecan pumpkin seed streusel
2 tbsp pumpkin seeds
¼ C chopped pecans
½ tbsp organic sugar
¼ tsp ground cinnamon
1 tbsp old fashioned oats
1 tbsp all purpose flour
1 tbsp butter or butter alternative (I used I Can't Believe It's Not Butter)
Instructions
Make the streusel topping. Whisk together all streusel ingredients, minus the butter. Add the butter and blend with fingers until well incorporated. Set aside.
In a large mixing bowl, whisk together the flours, oats, sugar, pumpkin pie spice, salt and baking powder.
In another bowl, whisk together the almond milk, coconut oil, egg and pumpkin puree. Pour into the dry ingredients and mix until just combined. Carefully fold in the cranberries.
Heat a skillet over medium low heat. I used my cast iron skillet. Spray lightly with cooking spray. Pour ⅓ C batter onto the skillet. Cook 2 minutes or until slightly bubbly. Flip. Cook for 2-3 minutes longer. Remove the pancake from the skillet and top with extra butter or butter alternative. Repeat this process until all of the pancake batter is used.
Divide the stack of pancakes between 2 plates. Divide the streusel and then top each stack of pancakes with the streusel. Drizzle with Wholesome Sweeteners Organic Pancake Syrup.
Notes
If using a cast iron skillet, be sure to lower the temp if the pan gets too hot. If the pan gets too hot, the pancakes will turn very dark.

This recipe makes 7 pancakes. You can split the extra one or battle it out to determine who gets the extra pancake.

Syrup and butter will alter nutrition content.
Nutrition Information
Serving size: 3 pancakes Calories: 530 Fat: 20g Carbohydrates: 76g Sugar: 13g Sodium: 410mg Protein: 14g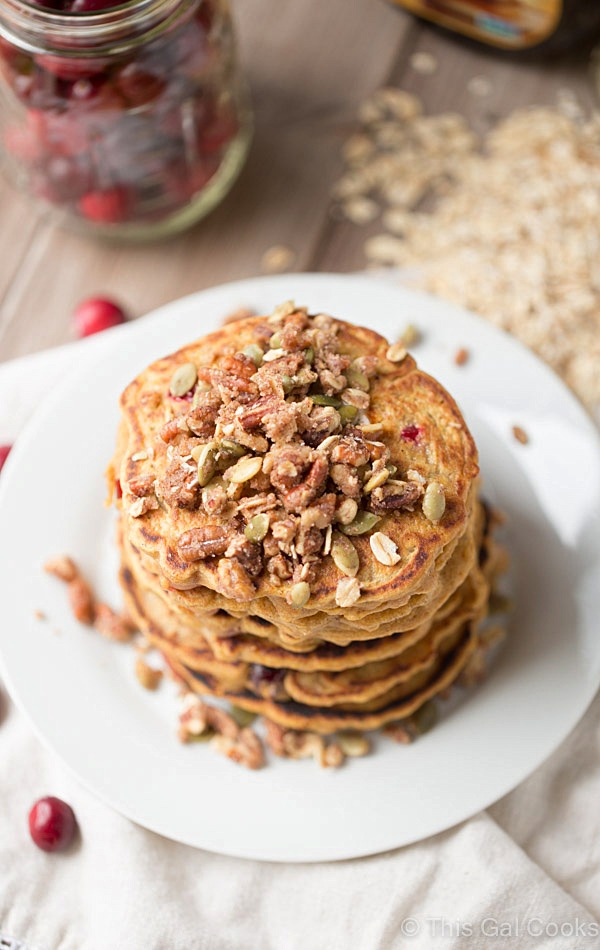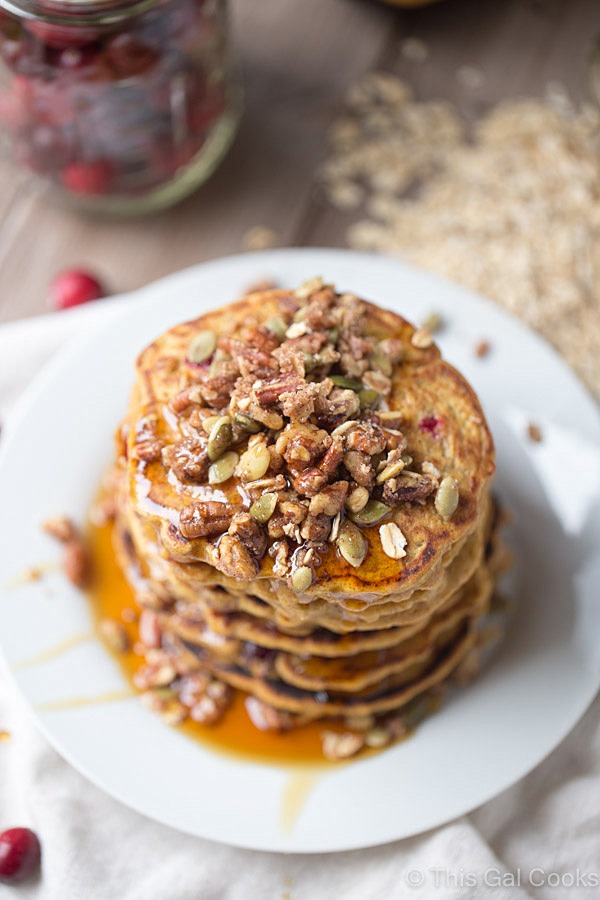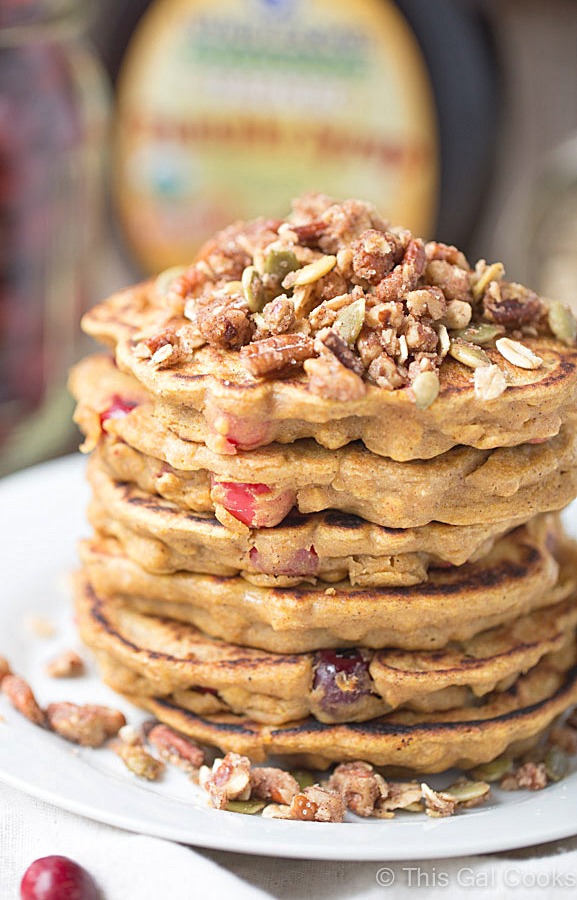 Wholesome Sweeteners compensated me for this post. However, all recipes and opinions are my own.
Ready to get your pancake making game on? Head on over to the Wholesome Sweeteners contest website to get details on the #PancakeParty pancake making contest. You could win a $500 Visa Gift Card and a KitchenAid Stand Mixer!