Chocolate Molten Cakes with Strawberry Sauce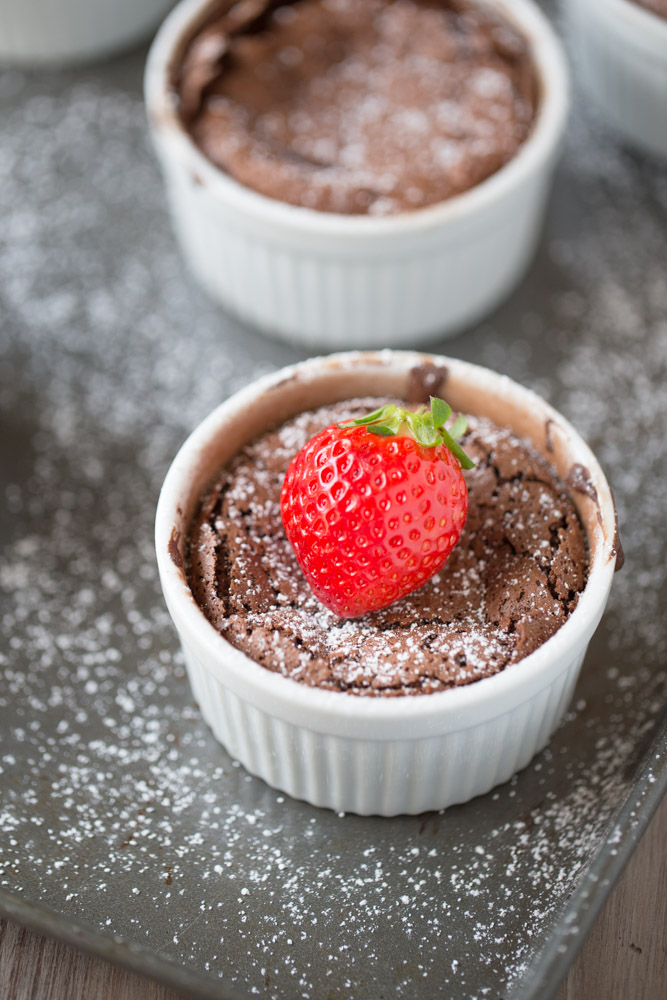 I HAVE to tell you about these chocolate molten cakes I made the other day. I made them because I had the urge to bake something and the other option was angel food cake and Ken did not want that. I wasn't going to be stuck eating an entire angel food cake on my own. Most of my friends at work are still sticking to their New Year's diets so they wouldn't have touched the cake with a 10 foot pole. So making 6 little chocolate molten cakes was the option I went with. Do you want to try some? Let's go get some coffee first because coffee goes really well with it because coffee goes really well with anything that's baked and chocolatey.
I'm not the best baker in the world by any means. I can bake stuff from cookbooks but creating my own baked goods recipe usually results in disaster. This one time, I tried making magic bars from scratch, using a recipe that I made up in my head. I was trying to be a math whiz and calculate ratios and all that fun stuff. Did I tell you math was my favorite subject? Probably not because it totally isn't. Said attempted recipe was a failure not only once, but twice. So back to the books I go, cookbooks, that is.
I got this recipe from the William's Sonoma Baking Book. The recipe said to top with optional Raspberry Coulis or Creme Anglaise. I don't think I've ever had raspberry coulis and the only Creme Anglaise I've ever had was so darn good that I want to keep my memory of it that way. So I made my own option and went with Strawberry Sauce. Said strawberry sauce recipe came from the WS Baking Book as well.
These chocolate molten cakes came out of the oven so pretty and puffed up but they undoubtedly sunk in the middle but they're still a winner in my book. They taste like my favorite thing ever, brownies. And I even made them look pretty for the pictures, too!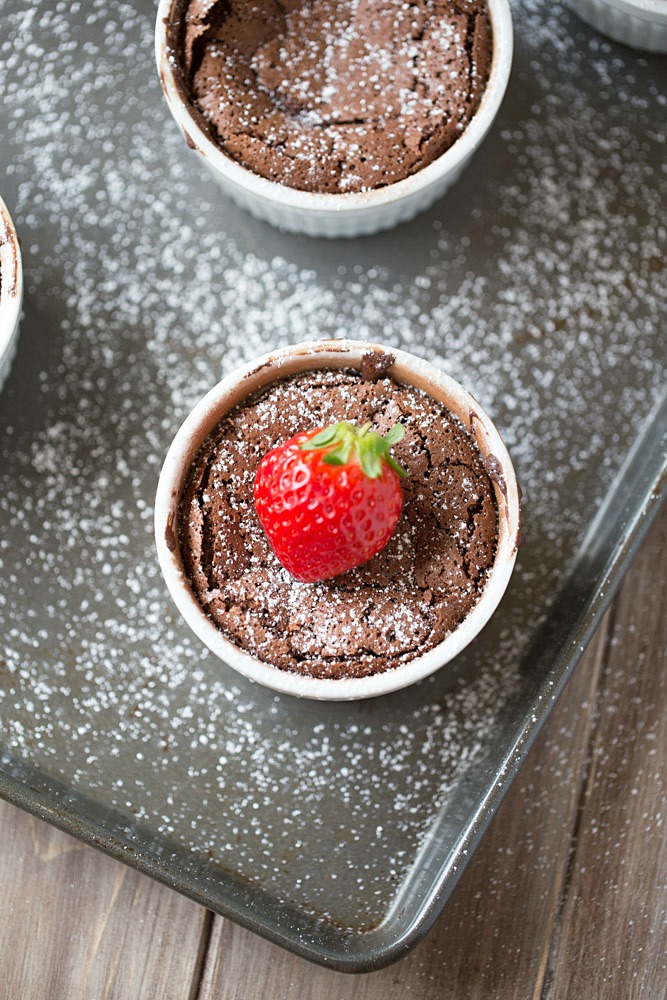 Chocolate Molten Cakes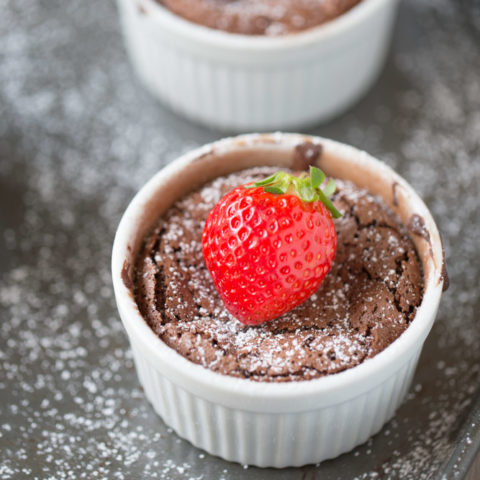 Chocolate Molten Cakes
Yield: 6 servings

Prep Time: 20 minutes

Cook Time: 13 minutes

Total Time: 33 minutes

Rich, chocolatey gluten free chocolate cakes are baked in ramekins and topped with homemade strawberry sauce.
Ingredients
8 oz bittersweet baking chips, such as Ghirardelli
1/4 C unsalted butter, cut into pieces
1 tsp vanilla extract
pinch of salt
4 large egg yolks
6tbsp granulated sugar
2 tbsp cocoa powder* (see notes - original recipe calls for dutch process; I did not use)
3 large egg whites, room temp
For the strawberry sauce
4 C of fresh strawberries, hulled and sliced thick
1/4 C granulated sugar
2 tbsp fresh lemon juice
Instructions
First, make the strawberry sauce. In a large sauce pan, bring the strawberries, lemon juice and sugar to a boil. Cook while stirring occasionally until the sugar is dissolved and the strawberries are softened, about 3-5 minutes. Remove from the heat and set aside to cool.
Preheat your oven to 400 degrees and prep six 3/4 C ramekins. To prep the ramekins, spray the insides with cooking spray and then wipe away excess with a paper towel. Then dust each ramekin with a little cocoa powder, enough to coat the bottom and sides (inside). Discard excess cocoa powder into a trash can. Place the prepped ramekins on a baking sheet and set aside.
Prepare the batter. Place the chocolate and the butter in double boiler (hint, if you don't have one, like me, you can place a pyrex glass bowl into a sauce pan filled with a small amount of water. Just make sure the glass bowl doesn't touch the bottom of the pan or the water.) and heat over low heat. Stir often until the chocolate and butter are melted and creamy. Then remove from the heat and stir in the vanilla extract and salt. In the bowl of a stand mixer, beat together the egg yolks, 3 tbsp of the granulated sugar and the cocoa powder on medium-high speed. Once incorporated, whisk in the melted chocolate mixture until blended. In a medium sized mixing bowl, beat together the egg whites with a hand mixer over medium-high speed until foamy. Add the remaining 3 tbsp of granulated sugar and beat on high until glossy stiff peaks form. Spoon half of the egg white mixture into the chocolate mixture and whisk until blended. Then add the remaining egg white mixture to the chocolate mixture and stir gently until combined. Divide the batter evenly among each ramekin.
Bake at 400 for about 13 minutes, or until the tops are puffed and cracked. Remove from the oven and serve with the strawberry sauce, if desired.
Notes
The original recipe calls for dutch process cocoa powder. If you have that, use it. If not, whisk together 3 tbsp of regular cocoa powder with 1/8 tsp baking soda. Use 2 tbsp of that mixture in the recipe. Store the rest in an air-tight container.

You can store uneaten cakes on the countertop, covered with plastic wrap. Store the strawberry sauce in a refrigerator for 3-4 days.

Adapted from William's Sonoma Baking Book.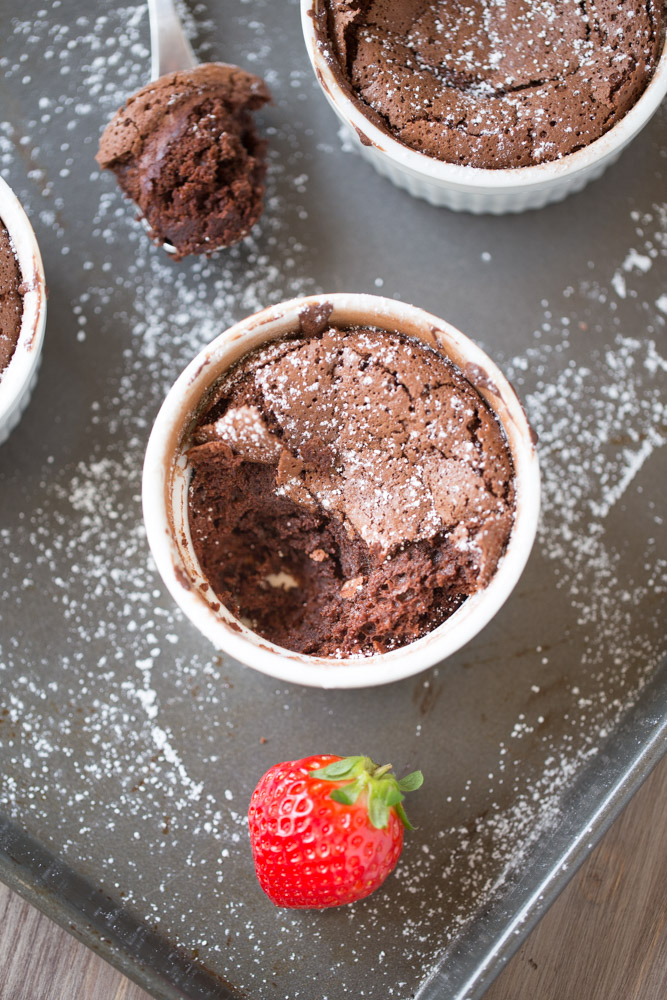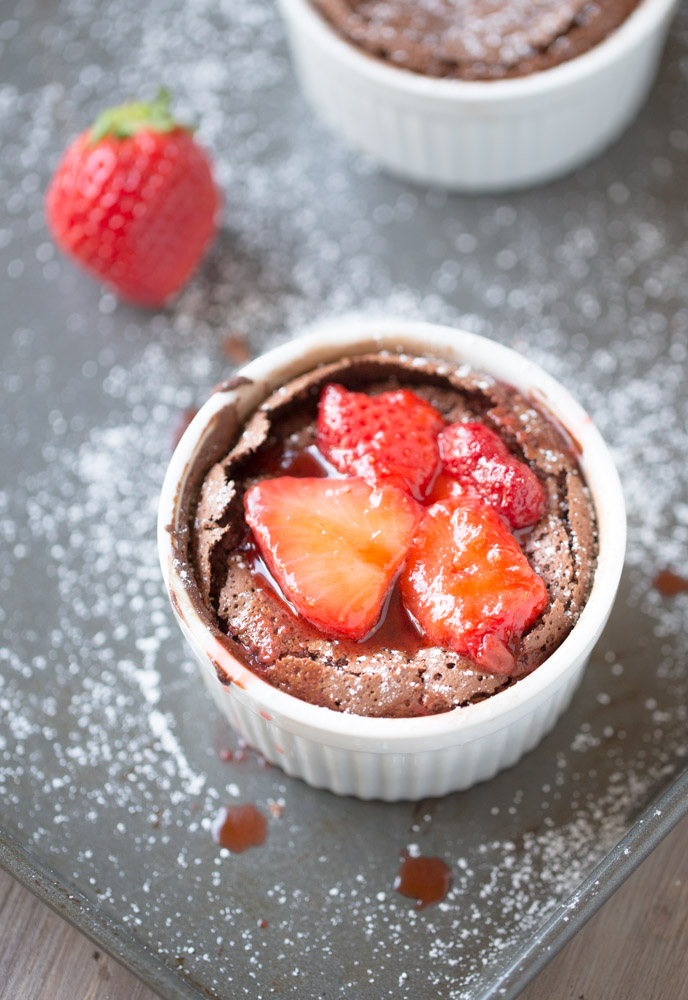 For more recipes, style and travel ideas, follow me around the web!
Instagram // Pinterest // Twitter // Facebook
RELATED POSTS
Homemade Chocolate Pudding Cups with Cherry Sauce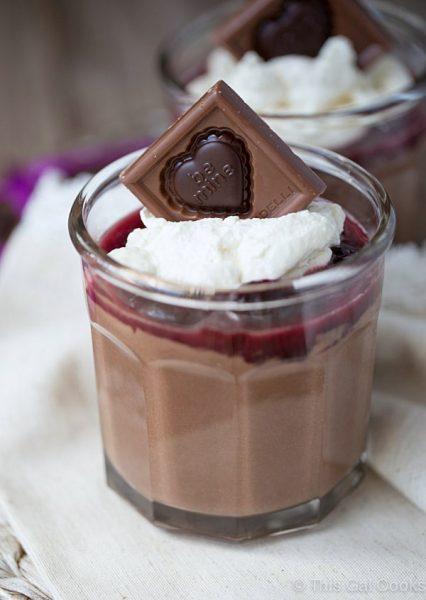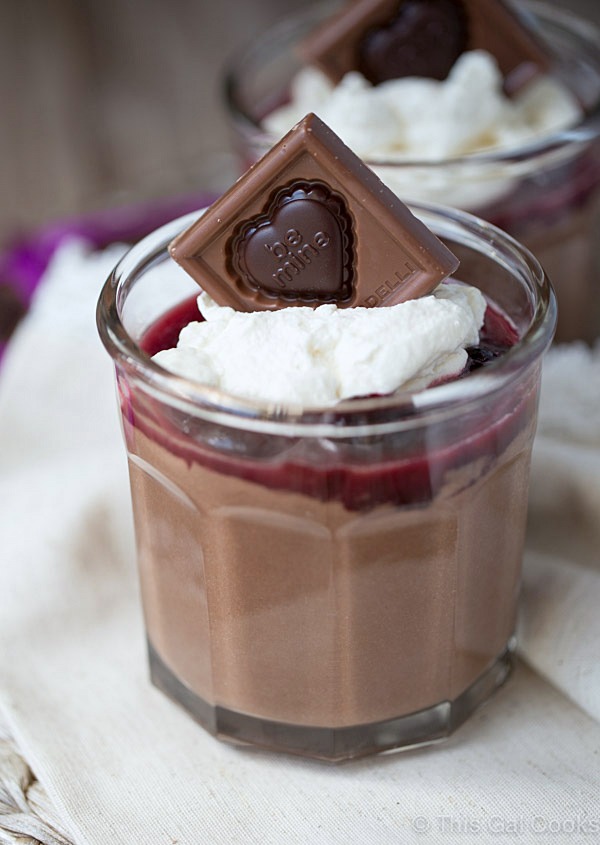 Dark Chocolate Oreo Pretzel Bark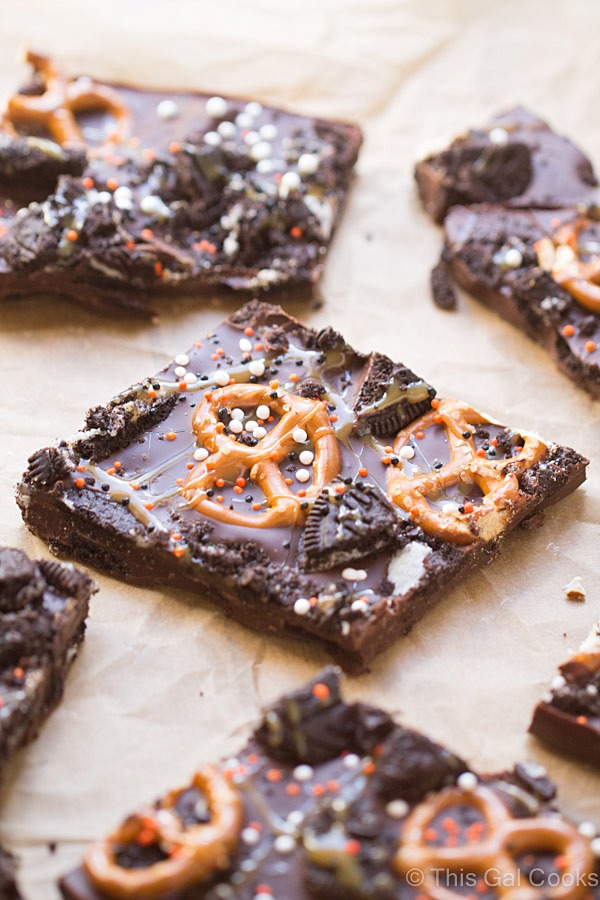 Peanut Butter Muffins with Peanut Butter Chocolate Streusel