Dark Chocolate Oreo Pretzel Bark
First I made this Candy Corn White Chocolate Halloween Bark. Then I decided to embrace my dark chocolate loving side and make this Dark Chocolate Oreo Pretzel Bark.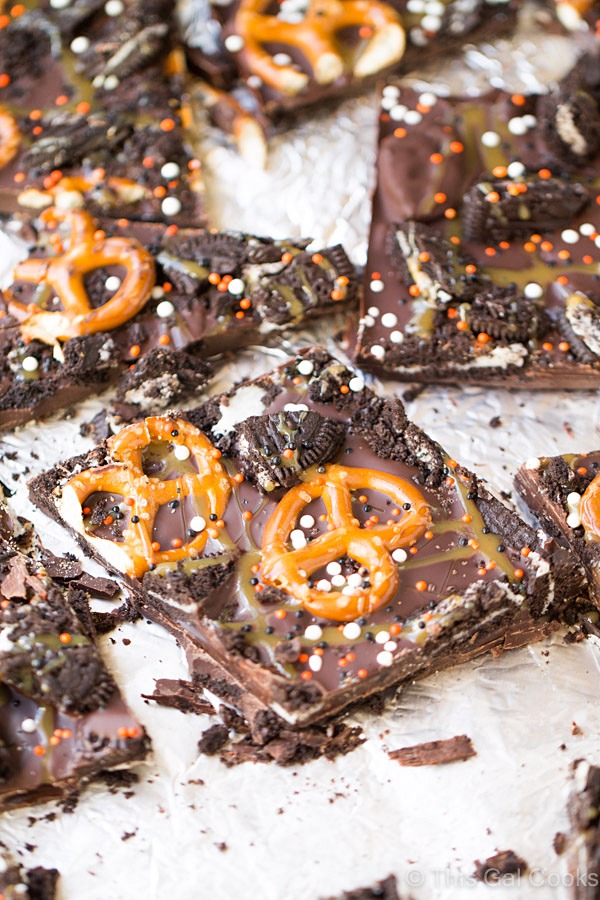 Since Halloween is less than 2 weeks away, I topped this bark with Halloween themed sprinkles.  But you can make this bark for any holiday or occasion. Change the color of the sprinkles used to coordinate with the holiday or event you're celebrating.
If you're a fan of sweet and salty treats, then this bark is totally for you. The crunchy, salty pretzels paired with Oreo cookies, bittersweet chocolate and salted caramel sauce is a match made in heaven for the sweet and salty lovers. I'm a fan of sweet and salty treats.  I've been stuffing my face with this bark since I made it. But as much as I like this bark, I wasn't totally selfish with it. I shared some of it with my co-workers. And I even let Ken have a piece.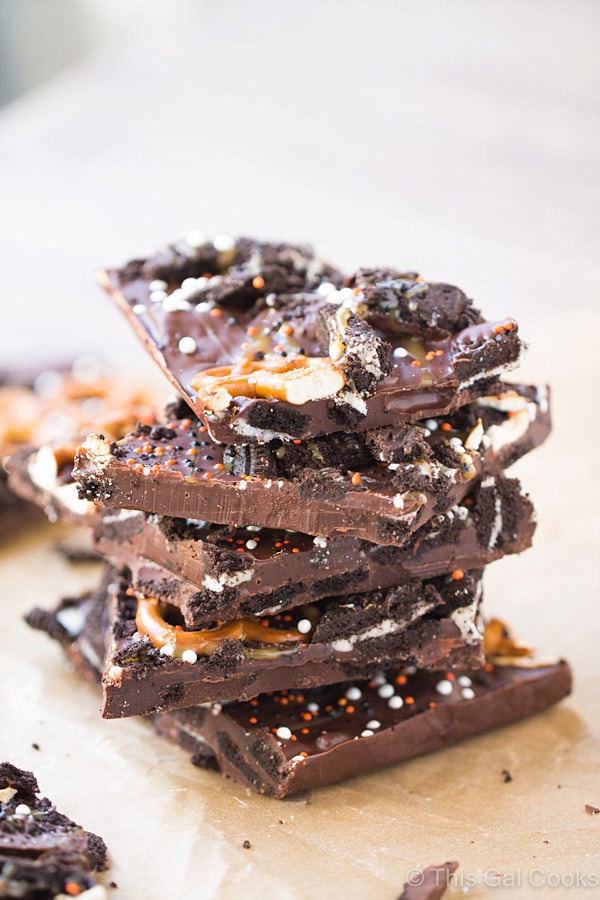 I don't know what's gotten into me lately but I'm turning into a full blown chocoholic. I may or may not dream about it and I've certainly dug into the candy bags that I bought for the trick-or-treaters. I even keep a stash of chocolate in my desk at work. I just restocked my pantry with more baking chips. You can bet that I'll be making more chocolate candy bark soon. Until then, I hope you enjoy this candy  bark recipe.
Dark Chocolate Oreo Pretzel Bark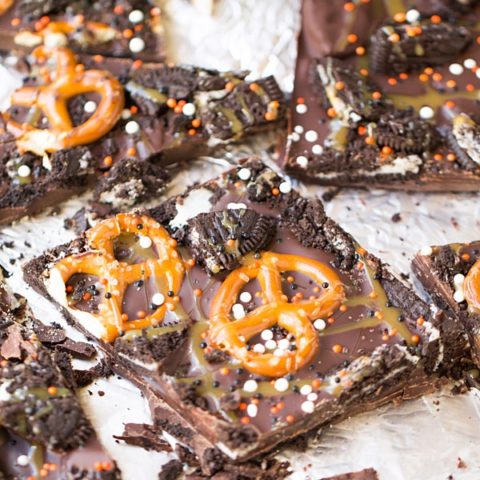 Dark Chocolate Oreo Pretzel Bark
Yield: about 36 oz of candy bark

Prep Time: 10 minutes

Total Time: 10 minutes
Ingredients
2 C chopped Oreo Cookies, divided
16 oz bittersweet chocolate baking chips
3/4 C mini pretzels
1 - 2 tbsp salted caramel sauce
1 tbsp sprinkles
Instructions
Line a 13x9 pan with foil. Lightly spray with cooking spray. Remove excess cooking spray with a paper towel.
Melt the baking chips. Start by microwaving for 1 minute. Stir. Then microwave for 1 minute more. Stir. Continue to microwave in 20 second increments, stirring between each increment, until the baking chips are completely melted. Once melted, stir in half of the chopped Oreo cookies.
Pour the mixture into the pan. Smooth with the back side of a spoon. Top with the mini pretzels, gently pressing each pretzel into the chocolate. Drizzle with the salted caramel sauce and then sprinkle with the sprinkles.
Refrigerate until firm, 30 minutes to 1 hour. Once firm, break into pieces.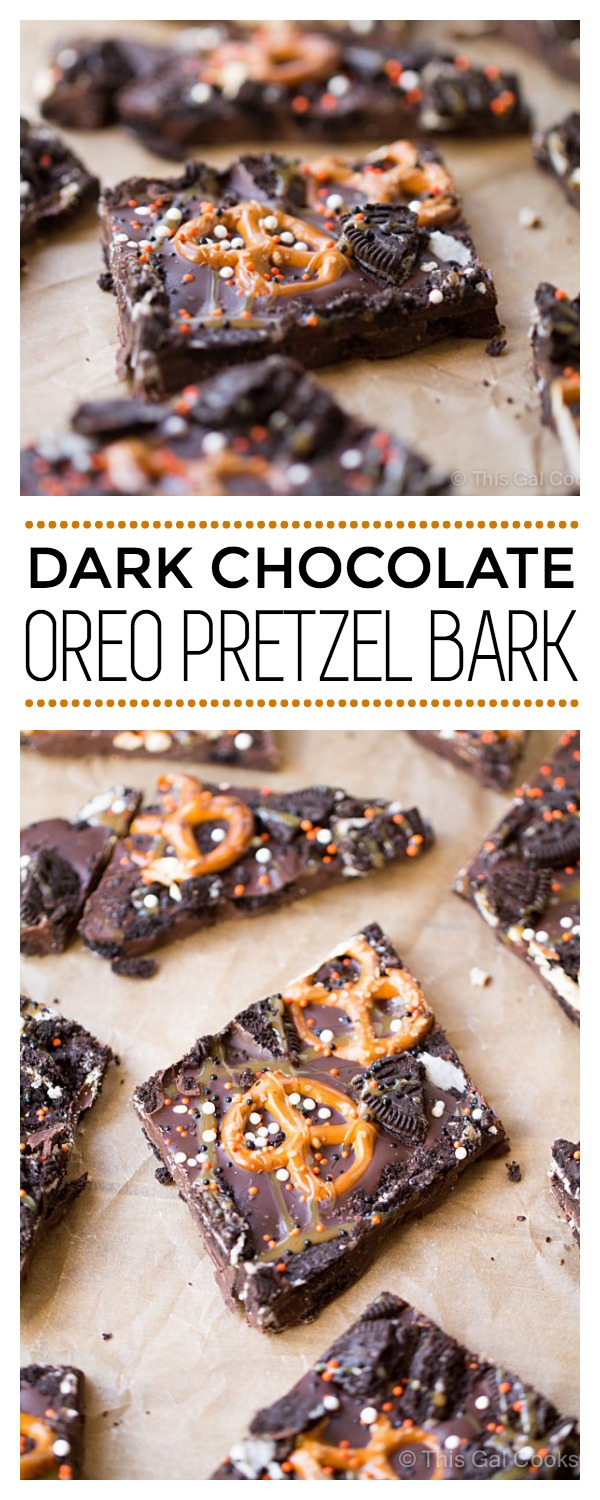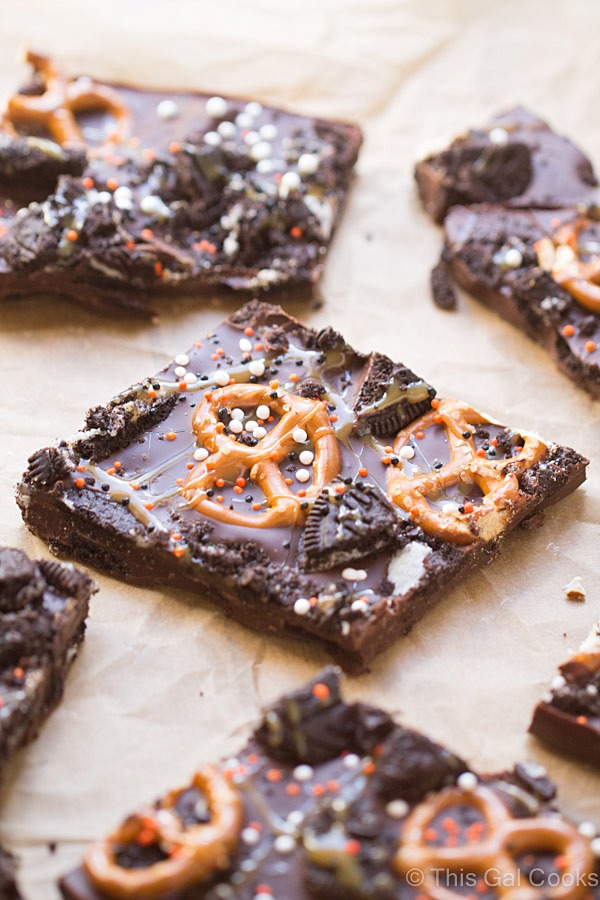 HUNGRY FOR MORE?
Try these recipes from other food bloggers.
Magic Bar Bark from Crazy for Crust.
Cowboy Bark from Averie Cooks.
White Chocolate Strawberry Truffle Bark from Call Me PMc.
Try these other recipes from me. 
No Bake Peanut Butter Pretzel Magic Bars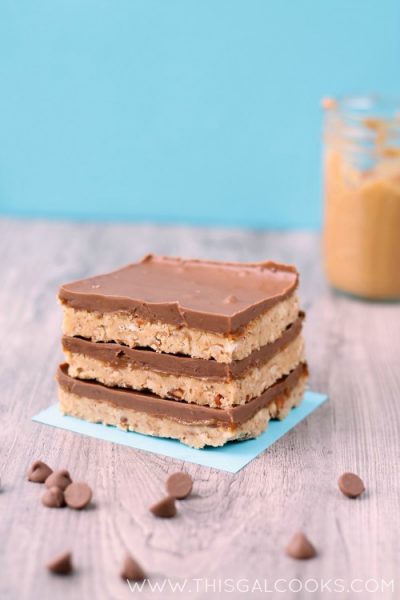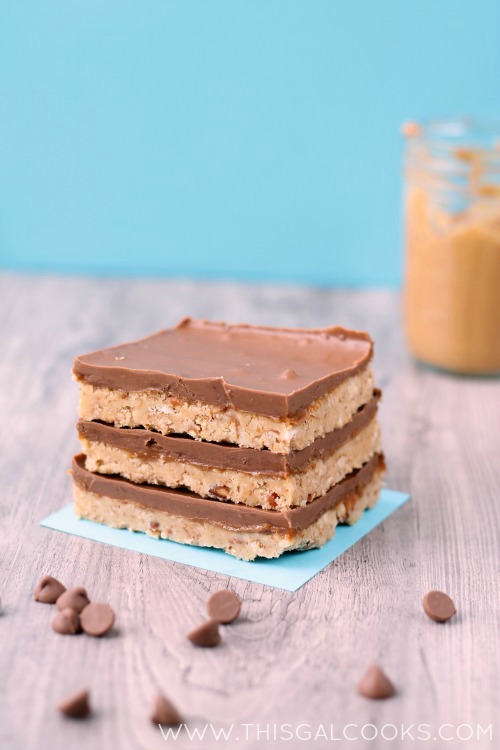 Dark Chocolate Chunk Pretzel Cookies