Pumpkin Cinnamon Chip Cream Cheese Cookies
You guys. These cookies are outta this world amazing.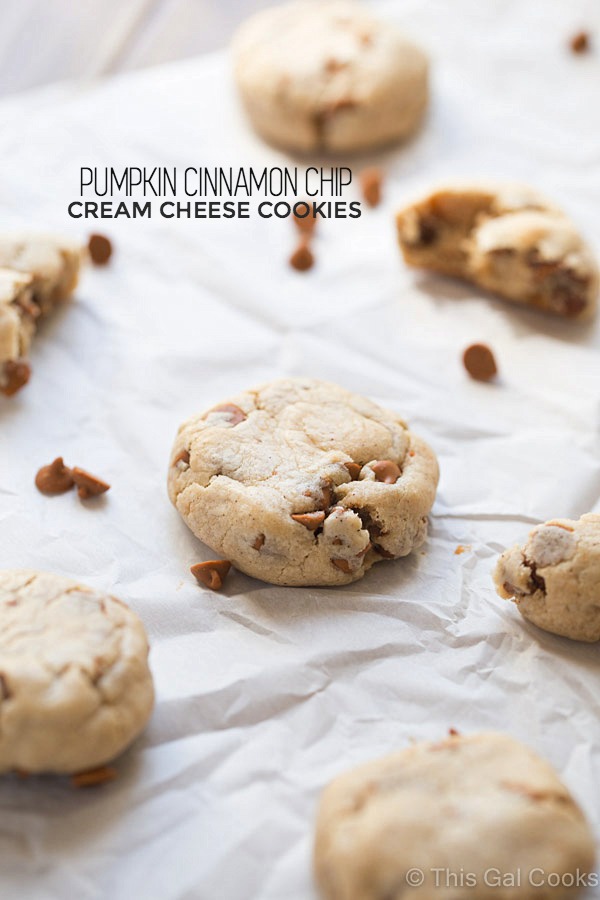 Last week I found something else that is outta this world amazing: pumpkin spice cream cheese. Say what? Yeah. I did not hesitate to put a container of it into my shopping cart. I ate that delicious pumpkin spice cream cheese on a bagel. I used it as dip for graham cracker sticks. Then I made these Pumpkin Cinnamon Chip Cream Cheese Cookies with it.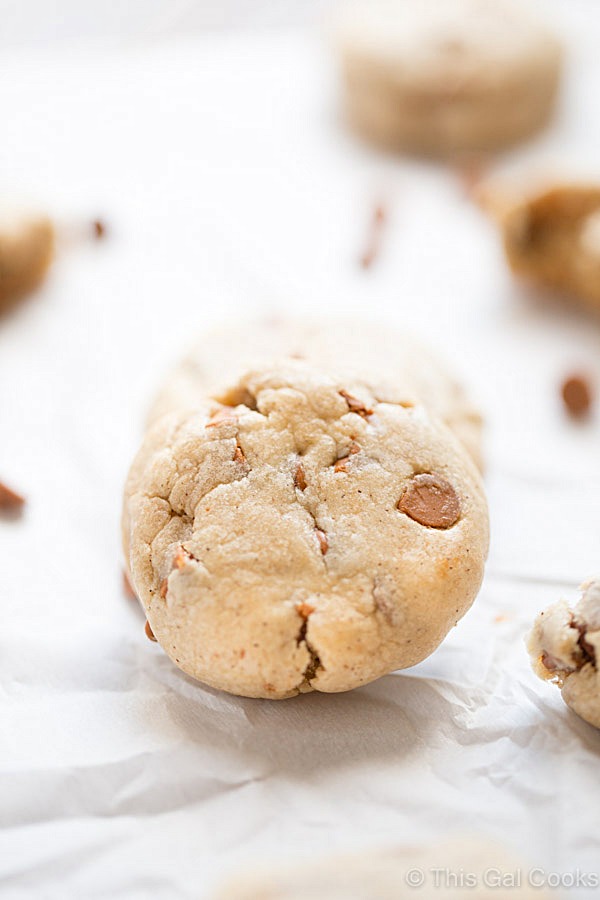 These cookies are soft, puffy and full of the flavors of fall. They were an instant hit at home, with the neighbors and the co-workers. And with me, of course. If there's any type of cookie that can totally win me over, it's the soft, melt in your mouth type cookie.
Have you ever tried cinnamon chips? They seem to be all the rage right now so I decided to give them a try. I was pleasantly surprised at how darn good they are! That's a good thing, considering two bags somehow made it into my shopping cart. I'm already thinking of all of the recipes to make with what I have left!
So I got a new camera. I got the Canon 6D. I used it to take pics of these cookies. In fact, these cookies are the first food shoot I did with the new camera. There's definitely a learning curve, coming from using a Rebel T3. BUT, I like learning new things and I like this camera. So it's a win-win situation.
One more thing before we get to the best cookie recipe ever. I spent a few hours updating my email subscription options for my readers. I've made it super convenient and easy for you to sign up for daily or weekly emails. If you haven't already subscribed, you can subscribe and choose your option here. If you area already a subscriber, you can easily update your subscription preferences by visiting your Mailchimp profile (accessible through one of my campaign emails).
Ok, now let's make some cookies!
Pumpkin Cinnamon Chip Cream Cheese Cookies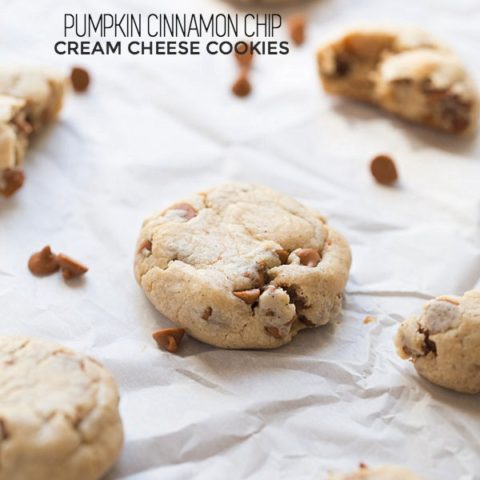 Pumpkin Cinnamon Chip Cream Cheese Cookies
Yield: about 28 cookies

Prep Time: 30 minutes

Cook Time: 10 minutes

Total Time: 40 minutes
Ingredients
1/2 C butter, room temp
1/4 C Philadelphia pumpkin spice cream cheese ***see notes for instructions if you cannot find this product***
3/4 C light brown sugar
1/4 C granulated sugar
1 large egg
2 tsp vanilla extract
1 1/2 tsp pumpkin pie spice
2 1/4 C all purpose flour
2 tsp corn starch
1 tsp baking soda
pinch of salt
1 1/2 C cinnamon chips
Instructions
In the bowl of a stand mixer with the flat attachment, beat together the butter, sugars, egg, vanilla extract and cream cheese on medium high speed for about 5 minutes or until fluffy.
Whisk together the flour, baking soda, cornstarch, salt and pumpkin pie spice. Add to the wet ingredients and mix on low until combined. Mix in the cinnamon chips with a spoon. Cover and refrigerate for 30 minutes to one hour. Do not skip this part or your cookies will flatten while baking.
While the cookie dough is chilling, preheat your oven to 350. Line a baking sheet with parchment paper. When the cookie dough is chilled, roll the dough into 1 1/2 tbsp balls. I used a cookie scoop to measure out the dough. Cookie scoops make life easier. Place the dough balls onto the baking sheet, about 2 inches apart.
Bake for 8 - 10 minutes. If your cookies are a little too puffy after baking, gently press down a little with the back of a wooden spoon. I did this and you can see that my cookies are still nice and thick.
Allow the cookies to cool for 5 minutes and then transfer to a wire rack to cool.
Notes
***I found the pumpkin spice cream cheese at Walmart but if you cannot find it, whisk together 3 tbsp cream cheese and 1 tbsp of pumpkin puree. Increase the pumpkin pie spice used in the recipe from 1 1/2 tsp to 2 tsp.***

Recipe adapted from Averie Cooks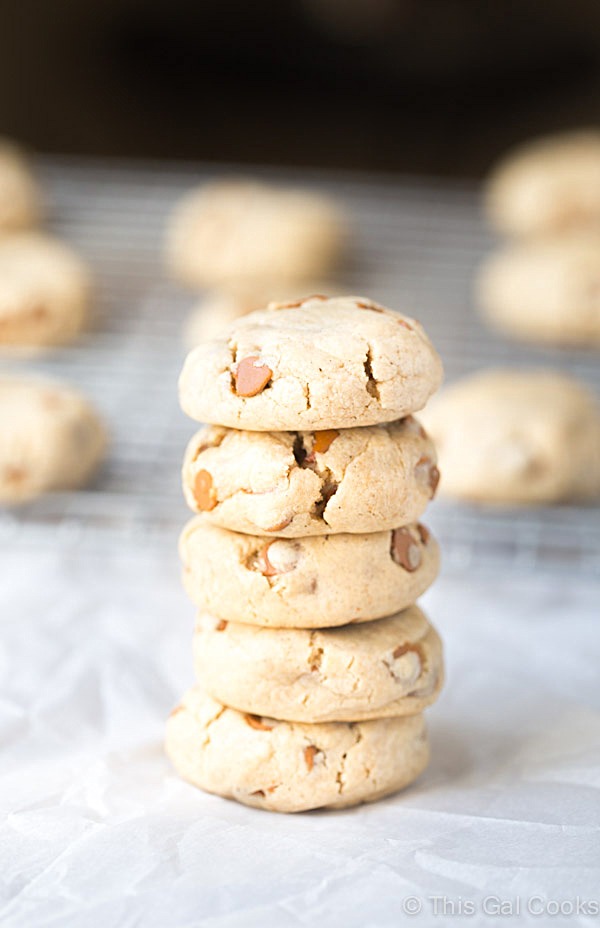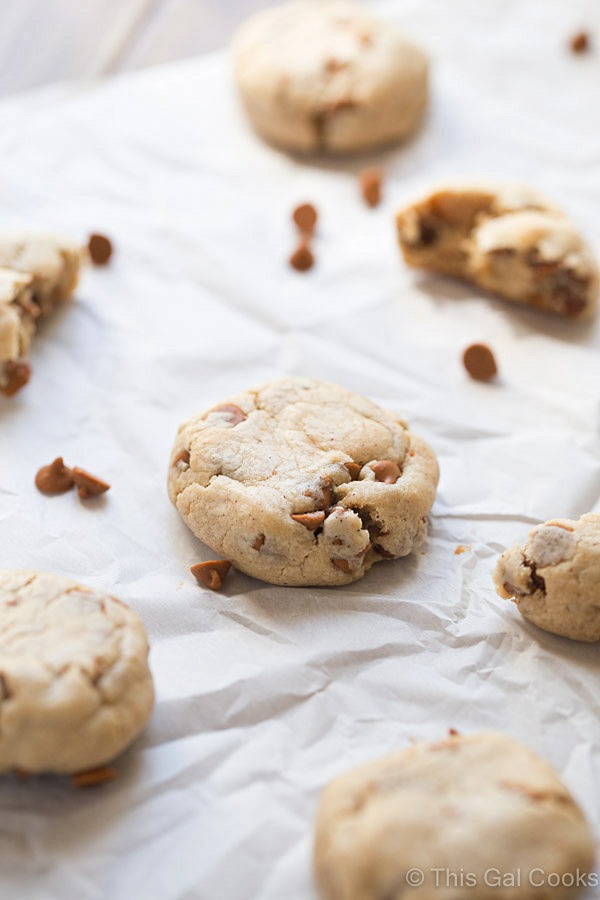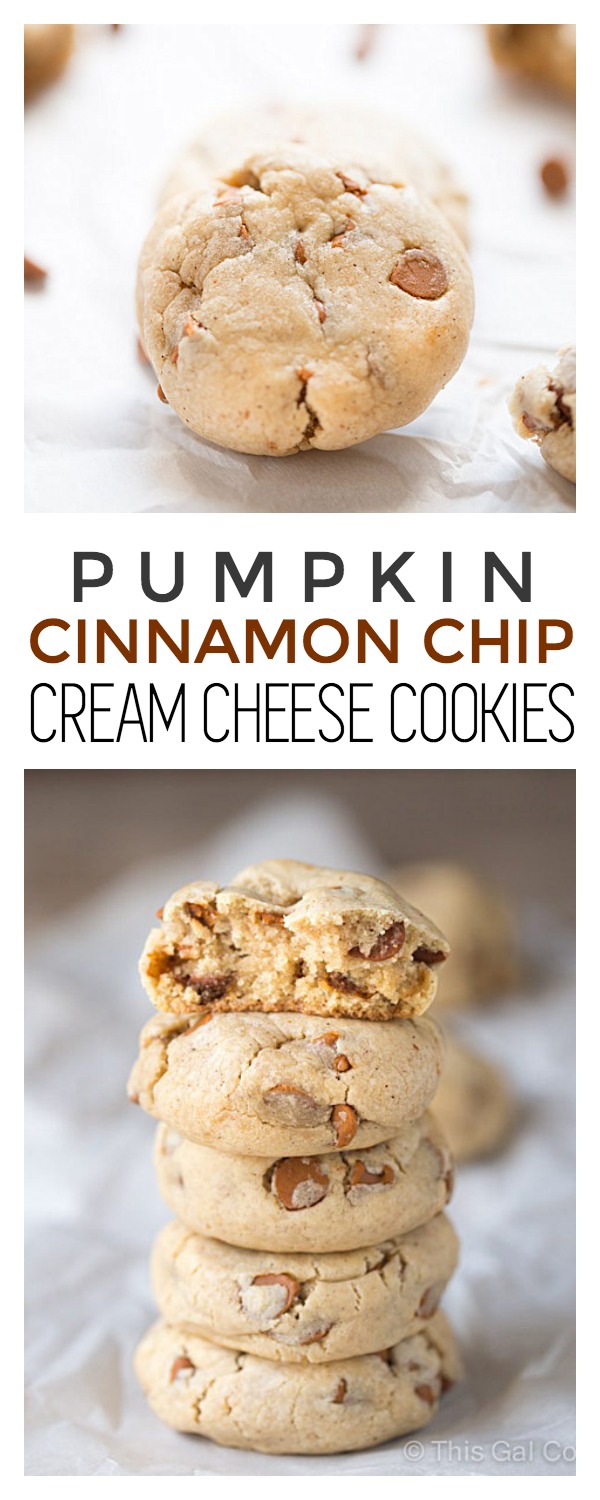 HUNGRY FOR MORE?
Try these recipes from other great bloggeres.
Salted Dark Chocolate Chunk Oatmeal Cookies from Spoonful of Flavor.
Carrot Cake Cookies from Inside BruCrew Life.
Graham Cracker Cookies from Buns In My Oven.
More cookies recipes from This Gal Cooks.
Peanut Butter Stuffed Nutella Cookies