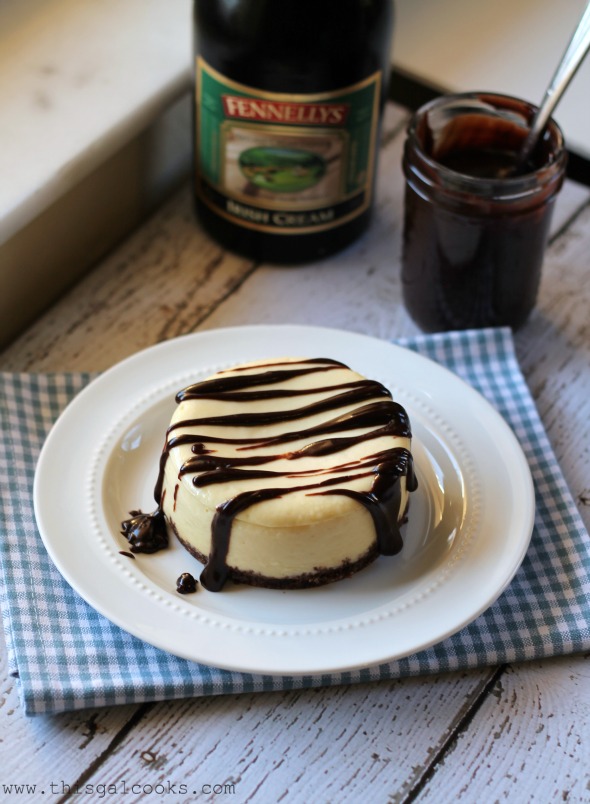 Irish Cream Mini Cheesecakes
Good morning and welcome to the Irish Cream Spiked! Recipe Challenge reveal day. Carrie and I cannot wait to see what you created with Irish Cream!  Carrie posted her recipe on Saturday. You can see her delicious Irish Coffee French Toast Casserole recipe here. You can link your recipes up below. Please be sure to include a Spiked! Button in your post. You can grab the button from my sidebar.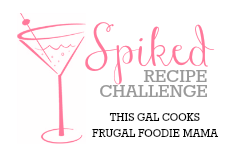 What did I decide to make? Well, if you read the title of this post, then you already know. But just in case you missed the title of the post, I'll tell ya right here..I made Irish Cream Mini Cheesecakes with an Irish Cream Chocolate Sauce!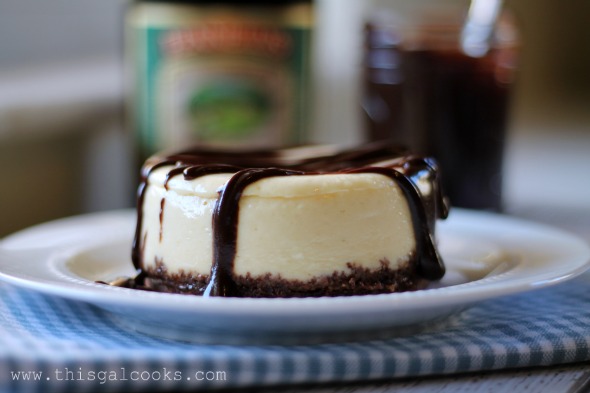 Now these cheesecakes aren't the muffin size mini cheesecakes. I was actually able to find a 3 pack of 4 inch spring-form pans at Target so I snagged those babies up because they were perfect for my recipe and I had wanted to buy some of them for a while. I made 3 4 inch mini cheesecakes and had enough batter left to make 3 muffin sized cheesecakes. This recipe would make 4 of the 4 inch pans but unfortunately, I only had 3. I hope you enjoy this recipe!
Spiked! Recipe Challenge Recipe: Irish Cream Mini Cheesecakes
Ingredients
1 C graham cracker crumbs
2 tbsp cocoa powder
3 tbsp melted butter
3 tbsp white sugar
3 eggs room temp
3 8oz packages of cream cheese, softened
¼ C Irish Cream
¼ C sour cream
¾ C white sugar
¼ tsp vanilla
¾ C semi sweet chocolate chips
½ C Irish cream
Instructions
To make the crust, combine the graham crackers, cocoa powder, melted butter and 3 tbsp of white sugar. Press into the spring form pans (and muffin cups, if you have leftovers)
To make the filling, beat together the cream cheese and ¾ C sugar. Add the vanilla and beat in the eggs, one at a time. Then beat in the sour cream and mix in the Irish cream.
Pour the filling into the spring form pans (and muffin pans, if you have leftovers) and smooth the top with the bottom of a spoon.
Bake at 300 for 40-45 minutes.
Meanwhile, make the chocolate sauce. In a sauce pan, bring ½ C Irish Cream to a boil. Add the chocolate chips and whisk together until melted and smooth. This will be a thick sauce.
All the cheesecakes to cool on a wire rack and then refrigerate overnight before serving.
The link to submit your recipes will be open until 11:59pm est on Wednesday night. Please check back on March 25th here at at Frugal Foodie Mama for the announcement of the Spiked! Irish Cream Recipe Challenge winner.
Now, link up your creations! Please be sure to check out everyone else's recipes. You know you want to view the competition, right?! ;)