Deep Dish Beer Crust Pizza
This tasty Deep Dish Beer Crust Pizza is made in a cast iron skillet. Topped with tomatoes, mozzarella and oregano, it will satisfy any pizza lovers craving!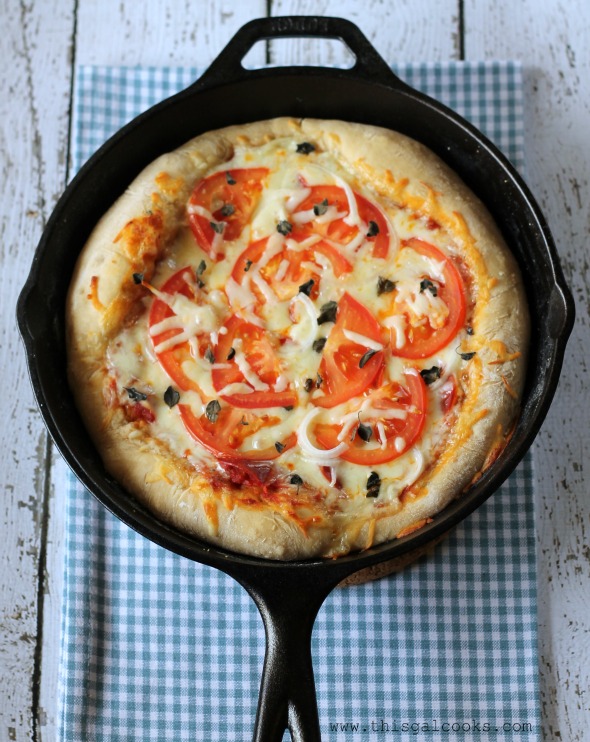 Good Tuesday morning to you! Today is an awesome day. Why is that? Because today is the day of the GYCO recipe reveals! What is GYCO? It's a bi-monthly recipe challenge hosted by Julie from White Lights on Wednesday and Jen from Four Marrs and One Venus.  This round's secret ingredient is beer, which is one of my favorite beverages to enjoy.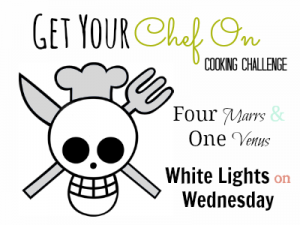 What was I going to make for this awesome challenge? Well, I thought of things that beer paired well with when determining the recipe I would make. It wasn't very difficult to realize that beer pairs well with pizza. It's pretty much a no brainer.  After all, we often have beer with our pizza at our house or when we go out.
I had seen recipes online for pizzas made in cast iron skillets and it was definitely something I wanted to try. So I decided to make pizza for my GYCO recipe. But not just any pizza; a deep dish pizza  made in a cast iron skillet with a crust infused with beer.  I hope you enjoy this recipe!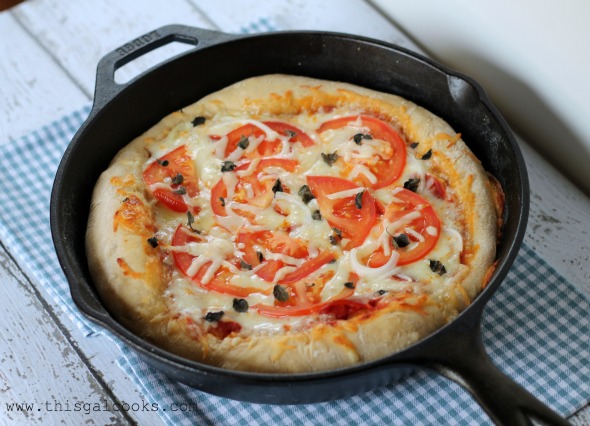 Deep Dish Beer Crust Pizza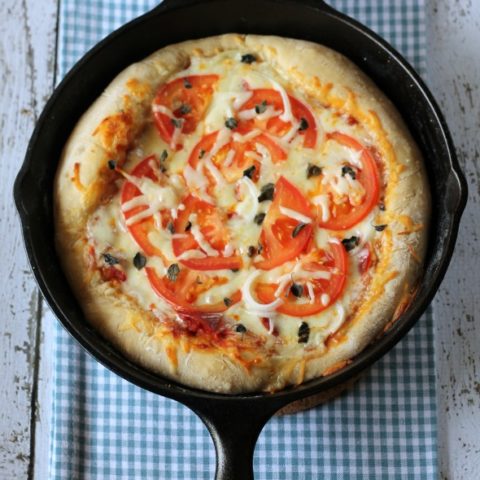 Deep Dish Beer Crust Pizza
Yield: 4 servings

Prep Time: 2 hours

Cook Time: 35 minutes

Total Time: 2 hours 35 minutes
Ingredients
1 1/2 - 2 C bread flour
1/2 packet dry active yeast
1 1/2 tbsp milk
1 tsp sugar
3/4 C beer (I used Newcastle Brown Ale. Be sure to use a darker beer similar to Newcastle)
2 tbsp olive oil
1/2 tbsp cornmeal
All-purpose flour for dusting and aiding in dough handling
Toppings of your choice (mozzarella, pepperoni, green pepper, onion, fresh oregano and pizza sauce were winners for my pizza)
Instructions
In the bowl of a stand up mixer, combine the flour, salt and sugar.
Heat the beer to 115 degrees and add the yeast. Let sit until the mixture is foamy on top.
Add the beer, milk and 1 tbsp of olive oil to the flour and combine with the mixers flat attachment. This will only take 20-30 seconds.
Remove the flat attachment and add the dough hook. Knead on speed two for 6-8 minutes, adding more flour until the dough is elastic like and barely sticking on the sides of the bowl.
Coat hands with all-purpose flour and remove the dough ball from the mixing bowl. Place in a greased bowl and cover and allow to rise for 1-2 hours or until double in size.
Coat a cast iron skillet with the remaining olive and lightly dust the bottom of the skillet with the cornmeal.
Coat hands and counter with all-purpose flour and roll the dough into a 12 inch circle. You may need to generously coat the dough with all-purpose flour in order to do this as it will be rather sticky.
Press the dough into the bottom of the cast iron skillet and form the outer crust by pressing up the sides.
Bake the crust at 350 for 10 minutes.
Remove from the oven and top with your desired toppings. Return to the 350 degree oven and bake for 25-35 minutes.
Remove from the oven and slice into 8 slices